The Film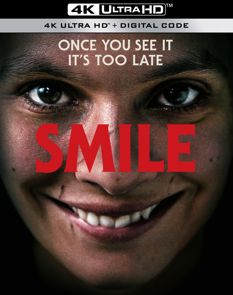 Dr. Rose Cotter (13 Reasons Why's Sosie Bacon) works long hours for a state mental health facility with little sleep and even less time for her relationship with careerist boyfriend Trevor (Independence Day: Resurgence's Jessie T. Usher). Her latest patient is emergency admission Laura Weaver (I, Frankenstein's Caitlin Stasey), a PhD candidate who claims that she is not crazy but being stalked by a demonic force that wears the faces of others and only reveals itself in a frightening smile and taunts her with her impending death. Laura experiences a psychotic episode only to suddenly calm down and smile at Rose before cutting her own throat with a broken flower pot shard. In spite of her superior Dr. Desai (Harold & Kumar Go the White Castle's Kal Penn) advising her to take time off, Rose maintains that she is okay; however, she starts seeing apparitions and hearing disembodied voices.

After a manic episode at her nephew's birthday party that has both Trevor and her own sister Holly (Savages' Gillian Zinser) questioning her sanity; especially when Rose starts to wonder if Laura was not crazy and that she herself might be cursed after discovering that Laura also witnessed the suicide of one of her own professors who bludgeoned himself to death with a hammer. Unable to confide in her boyfriend or even her own psychiatrist (Deadwood's Robin Weigert) - who both believe that she has never faced the trauma of her mother's own suicide when she was a child – Rose turns to her detective ex-boyfriend Joel (The Haunting in Connecticut's Kyle Gallner) and they discover that the professor himself witnessed a suicide a week before his own death and that suicide victim herself witnessed another, leading Rose to wonder if the deaths were actually suicides or murders by demonic possession. With her own death seemingly looming on the horizon, Rose and Joel discover a previous break in the pattern with one of the suicide witnesses; but the solution he proposes to Rose's survival may be a sacrifice she cannot make.

A feature-length spinoff of director Parker Finn's SXSW award-winning short Laura Hasn't Slept, Smile had some effective promotion by Paramount Pictures (who had previously had success with the trendsetting viral marketing of the first Paranormal Activity film); however, the end result is a mishmash of various post-Ringu/The Ring cursed chain films, like It Follows minus the slut-shaming and nerd-pining (particularly with the similar "rules" and the means of subverting them by passing it on). While Stasey reprises her role from the short film in the opening sequence, the film does not so much use the short as a launching point so much as parse out elements of it into four different major set-piece sequences in between drawn out but utterly predictable suspense sequences, many of which prove to be false scare hallucinations. The film's most effective jump was spoiled in the trailers and TV spots, and it is disappointing that it does indeed turn out to be a hallucination in the film since it might have taken things in a more unpredictable direction with more urgency if it had turned out to be real.

What the film and script do manage with some refreshing originality is to subtly reveal that Rose's own perception of her normal life before the inciting incident is a bit skewed, with a boyfriend who is not so endlessly patient and selfless that he should have victim stenciled on his head, and an ending monologue that reveals why Rose would gravitate to someone unwilling to probe beneath the surface. Surprisingly, the film does not really exploit the potential threat of other characters' smiles; however, in one effective sequence, Rose's own attempt to plaster an "I'm fine" smile on her face in the mirror does fleetingly resemble the smiles of those inhabited by the demon. The film does not really work as a metaphor for mental illness – apart from possibly providing an analog for the seeming lack of agency in the victims not to spread their own trauma to others – so the third act in which Rose attempts to confront her own inner demons feels more like an obligatory Hollywood "character arc" and is entirely negated by the film's own final set of twists. One hopes that director Parker follows the film up with something in the genre that is entirely different or, if the film must continue as a franchise, further explore the origins of the curse rather than just continuing the chain with new characters.

Video


Shot on the Arri Alexa 65 and finished in 4K, Smile looks stunning on Paramount's 2160p24 HEVC 2.00:1 widescreen UHD disc with Dolby Vision greatly enhancing one's appreciation of the film's textures from the shadows which simultaneously obscure and define the apparition – deliberately making ambiguous whether it is Laura or Rose's mother – to Rose's increasingly sickly pallor. Although the final reveal of the creature's horrid visage was spoiled in publicity photos, its rendering onscreen does elicit a little jolt due to an enhanced sense of depth as it lurches forward.

Audio


The primary audio track is an English Dolby Atmos track that delivers dialogue and music cleanly; however, the surprises in the width and height of the mix are not just in the stings and jump scares but also the pointed use of recurring mundane sound effects like a stopper pulled from a wine bottle as part of Rose's attempt to numb her perception (she does break every glass she hold to the benefit of the mix). In addition to an English Dolby Digital 5.1 audio description track, the disc authored for multiple territories also includes French (Canadian) Dolby Digital 5.1, French (Parisian) Dolby Digital 5.1, German Dolby Digital 5.1, Italian Dolby Digital 5.1, Japanese Dolby Digital 5.1, and Spanish (Latin American) Dolby Digital 5.1 as well as optional subtitles in Dutch, English, English HoH, French (Canadian), French (Parisian), German, Italian, Japanese, Spanish (Latin American), and Turkish that are also extended to the disc's bonus content.

Extras


Extras start off with an audio commentary by director Parker Finn which possibly speaks of the director's relative inexperience in providing a lot of play-by-play of onscreen action and explanation of his intentions with character and motivation that was readily apparent from the film itself as well as describing the use of upside down shots as "her world is literally turning upside down." There is also a lot of possibly studio-approved and -encouraged backslapping with plenty of "she nailed it" and "he hit the nail on the head" compliments. More interesting are the brief moments in which he discusses attempts to move away from the gothic aspects of horror in the film's look as well as his observation that smiles are masks for hiding not only evil but one's interior from the world.

More informative is "Something's Wrong with Rose: Making Smile" (29:07) in which Finn and the producers discuss the short and how it came to the attention of the producers during the pandemic in which SXSW was canceled but the shorts still screened and judged, and Paramount's role in helping him maneuver the studio machine and focusing on creativity (the producers' assessment of Finn's first draft as already fully developed may be an unintentional indicator of the film's actual faults). Bacon, Gallner, and Stasey are among those reflecting on the film's themes, but one wonders if Gallner's description of the one hundred and fifteen minute film as a "ninety minute long panic attack" was just a general remark or if the film's running time fluctuated quite so wildly in post-production,

"Flies Inside the Wall: Inside the Score" (8:50) is a nonverbal, entirely musical look at the unnerving, dissonant score. Only two deleted scenes are included with optional commentary by Finn, but they are interesting in terms of the finished film. The lengthy "Panic Attack" (9:03) seems to have been the original scene in which Rose faces a public event after Laura's suicide – entirely replaced in the finished feature by a dinner scene with her boyfriend, her sister, and her sister's husband – and the deleted version is much more effective in showing Rose's general disengagement with her husband's working life and colleagues but also the beginnings of her apparent hallucinations; however, it might have been too much too soon. "It's Gonna Be Okay" (2:36) is a scene with Joel that follows their upstate visit. While it might be dramatically-satisfying, the more abrupt transition to Rose alone in the feature goes some distance in addressing the pace.

The disc closes out with Finn's original short film "Laura Hasn't Slept" (11:19) with an introduction by the director. We can see the DNA of the feature in the short, and it is impressive what Finn achieves on a budget in a short length of time, but it is ultimately a punchline short derivative of Stephen King's "The Boogeyman" and even possibly a third act gag in Carnival of Souls.

Packaging


A slipcover is included with the first pressing.

Overall


A feature spinoff of an award-winning short film, Smile fails to break any new ground in the genre with a mishmash of current horror tropes.