The Film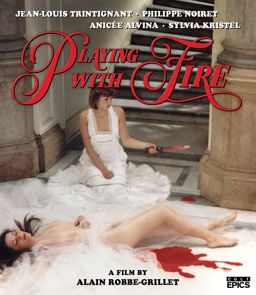 After making her debut in Pim de la Parra's drama Frank & Eva: Living Together Apart – on Blu-ray from Cult Epics individually or as part of the Scorpio Films: The Dutch Sex Wave Collection – and appearing in two other Dutch films, Dutch actress Sylvia Kristel was cast in Emmanuelle , fashion photographer-turned-filmmaker Just Jaeckin's screen adaptation of the scandalous Emmanuelle Arsan novel (reportedy actually written by her French diplomat husband Louis-Jacques Rollet-Andriane). Kristel shot to international stardom and would spend the next four years abroad in various arthouse erotica films including Walerian Borowcyzk's The Streetwalker, Roger Vadim's When a Woman is in Love… (an adaptation of "Les Liaisons Dangerouses"), and Emmanuelle sequels; however, Emmanuelle had not yet been released when she was cast in a supporting role in Alain Robbe-Grillet's Playing with Fire which Cult Epics previously released earlier this year as part of the four film Sylvia Kirstel 1970s Collection and this new solo standard edition on which she remains prominently-credited.

The star of the film is actually Philippe Noiret (Cinema Paradiso) as banker Georges de Saxe who is told that his daughter Carolina (Anima Persa's Anicée Alvina) has been kidnapped and will be kept in a brothel and her "economic potential" exploited until he pays a ransom; however, he discovers that his daughter has not been abducted and that the plea for help provided to him in her handwriting the result of a strange ruse by handsome stranger Frantz (Death Laid an Egg's Jean-Louis Trintignant). As much intrigued by the uncertain nature of this game as they are concerned that Carolina may yet be abducted, de Saxe winds up recruiting Frantz himself to hide Carolina at a private clinic that turns out indeed to be the brothel of Erica von Eide (Martine Jouot). Carolina is alternate gaslighted by Frantz and her father into believing that she is either a prisoner and future sex slave of the brothel or a guest in a luxurious hotel; seemingly the helpless pawn in the machinations of Frantz to outmaneuver his own trafficking organization for profit, both of whom themselves may be figures in the sadistic and incestuously erotic fantasies of de Saxe himself.

The highest-budgeted of novelist Robbe-Grillet's arthouse works of erotic game-playing, Playing with Fire looks ravishing with attractive Panavision photography by Yves Lafaye and the sets and costumes of Hilton McConnico (Diva), not to mention a supporting cast as rich in French character actors – including Marc Mazza (Joy House), Serge Marquand (Blood and Roses), Charles Millot (The Train), Vernon Dobtcheff (Catacombs), and Jacques Doniol-Valcroze (star of Robbe-Grillet's L'immortelle) – as beautiful starlets including the aforementioned Kristel, Agostina Belli (Night of the Devils) as the housemaid, Christine Boisson (Flic Story), Nathalie Zeiger (The Red-Headed Corpse), and Joëlle Coeur (Les Démoniaques). What is missing is the imagination of Robbe-Grillet's lower-budgeted works in which the stripped-down settings and characters were given life by the editing of Bob Wade (Trans-Europ-Express) and the manipulated "sound score" of Michel Fano (The Man Who Lies).

Here, those touches seem as much affectations as the various sexual tableaux vivant observed by Carolina which – in spite of threats of bestiality, cannibalism, rape, murder, and incineration – lack the primal sexual danger of the intimations of incest between de Saxe and his daughter. While Trintignant's wits drove the plots of his earlier collaborations with Robbe-Grillet, his amusing performance here seems to make light of the various characters' admitted inability to comprehend the scenario which they acknowledge is guiding their actions. If one subscribes to the notion that the entire thing is an erotic musing of sadist de Saxe, then Michel Lemoine's Seven Women for Satan (which also featured Zeiger and Coeur) might be a good companion piece. The film could be seen as pointing the direction towards the slicker, more accessible Robbe-Grillet works The Blue Villa and Gradiva.

Video


Unreleased theatrically or on home video in the United States, Playing with Fire was previously released in Italy in a 1.66:1 non-anamorphic transfer, followed by a Japanese DVD (reportedly from a newer HD master). Cult Epic's 1080p24 MPEG-4 AVC 2.35:1 widescreen Blu-ray comes from a new 2K scan by rights owner Studio Canal and is easily the best-looking film in the set since it is derived from the negative and has been meticulously cleaned of any archival damage. Colors are vibrant from the reds of fire, blood, and wardrobe accents to the multitude of shades of bare flesh.

Audio


Audio options include the original French track is offered up in DTS-HD Master Audio 2.0 and LPCM 2.0, and there is little difference between the two. Optional English subtitles are free of any noticeable errors.

Extras


The film is accompanied by a new audio commentary by Video Watchdog's Tim Lucas who provided commentaries for BFI's earlier British set of Robbe-Grillet films. Lucas notes that Trintignant and Noiret were the chief draws of the film when it was in production in 1974; however, upon the December 1974 release of Emmanuelle, Kristel became the chief draw for Playing with Fire's 1975 release. He reveals that the film's idea originated from one of three scenarios inspired by his reading of Jules Michelet's "La Sorcière", one of the others having been the inspiration for Successive Slidings of Pleasure (also starring Alvina with a cameo by Trintignant), and that Robbe-Grillet wanted that film's Michel Lonsdale for the role of de Saxe but the producers wanted Noiret who was encouraged to take the role by Trintignant (a decision Robbe-Grillet regretted because Noiret balked at the film's sexual content and the atypical script). Lucas also posits some interesting theories about the nature of the story in light of the revelation that Alvina was supposed to play all of the women seen abducted by the organization in various cutaways but that she was terrified of dogs, necessitating and inspiring Robbe-Grillet to cast other actresses, and that the use of other actresses might be a distancing device for a character not ready to acknowledge incestuous desire.

The disc also includes a short but very informative interview with Robbe-Grillet's wife and collaborator Catherine Robbe-Grillet (5:36) who explains the problem with Noiret as him not possessing the same sense of humor as Trintignant and also expounds upon the recurring themes of her husband's work including a narrator who not only takes charge but "projects" a story. Also included is a photo gallery and trailers for Mysteries and Pastorale 1943.

Packaging


The first pressing includes a booklet with an essay on Alain Robbe-Grillet by film scholar Marcus Stiglegger and a reversible sleeve with uncensored original poster art.

Overall


Only featuring a brief appearance by a pre-Emmanuelle Sylvia Kristel, Playing with Fire works better as a standard edition of a Robbe-Grillet film.