Evil Laugh [Blu-ray]
Blu-ray ALL - America - Vinegar Syndrome
Review written by and copyright: Eric Cotenas (15th December 2022).
The Film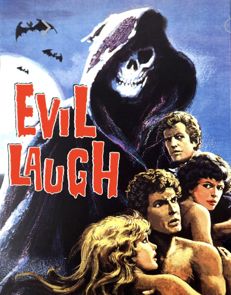 Pediatrics student Jerry (The 'Burbs' Gary Hays) invites some of his fellow medical student friends up for the weekend to a rundown mansion in the Los Angeles hills that he is thinking of buying. Realtor Burns (Howard Weiss) is eager to play up the mansion's assets to Jerry and his friends even as he is being undercut by his own shrewish wife Sadie (Susan Grant) who refuses to set foot on the property and the local sheriff (Barfly's Hal Shafer) who lets slip his negative feelings about the mansion while searching for a delivery boy (Bikini Drive-in's Tom Shell) who vanished after dropping off supplies there.

With Jerry also strangely nowhere to be found despite his car in the driveway, his girlfriend Connie (Dreamaniac's Kim McKamy) spills the beans about the mansion's past as an orphanage where caregiver Martin killed ten children after being falsely accused of abuse and molestation. Martin supposedly committed suicide but his body was never found and the locals believe he still haunts the property. That's enough for horror movie fan Barney (Remote Control's Jerold Pearson) with his encyclopedic knowledge of the genre's tropes to want to get the hell out but hunky Mark (Sexual Roulette's Myles O'Brien) is pushing best buddy Johnny (The Hunted's Steven Baio, brother of Scott) towards Connie so that he can get in the sack with Johnny's ex Tina (Jody Gibson), snobby Sammy (Drop Zone's Tony Griffin, son of Merv) and Betty (Private Resort's Karyn O'Bryan) finally have some privacy to explore bedroom kinks, and Connie is too starry-eyed about Jerry's plans to reopen the orphanage to notice a watchful, lurking presence with an evil cackle.

An early example of the meta-slasher with some of its attempts at comic relief predicated on genre-awareness, Evil Laugh is more There's Nothing Out There than Scream but certainly the least of the three (with the Wes Craven film actually falling in between). While the killer's motives are derivative, their identity is not so predictable; if only because the character has to be able to teleport between locations miles apart to be present in two successive scenes. Acting ranges from competent to godawful, with Pearson's Barney more irritating than entertaining – although because of this, he certainly earns his fate in the film's jaw-droppingly stupid coda – while McKamy (aka future porn star Ashlyn Gere) goes over the top as the final girl but can be forgiven because she is so obviously tries to be "Method" in whipping herself up into hysterics.

The amount of homoerotic displays of male flesh caressed by the camera gives the film the feel of a David DeCoteau slasher like Murder Weapon although far more mean-spirited. Gore effects are more imaginatively conceptually than in execution, including a scene that anticipates the climax of the Craven-produced remake of Last House on the Left. Director Dominick Brascia – who co-wrote the film with actor Baio – is perhaps best known to slasher fans as the obnoxious first victim of Friday the 13th: A New Beginning but in more recent years was mired in the controversy surrounding the identity of the sexual abuser of late actor Corey Haim as a child actor. Savage Streets's Johnny Venokur has a guest appearance as a bumbling deputy and also worked behind the scenes. Executive producer Krishna Shah had previously helmed the godawful horror comedy Hard Rock Zombies.

Video


Given scant theatrical release by future IMAX distributors Cinevest, Evil Laugh gained much of its audience on VHS and as part of the Lucky 13 line of horror DVDs – editions of films like Bloodsucking Pharaohs from Pittsburgh, Slaughterhouse, and The Boneyard that tarted up aged video masters with plentiful special features – and it was just a matter of time before this film joined the others in HD. Vinegar Syndrome's 1080p24 MPEG-4 AVC 1.33:1 pillarboxed fullscreen transfer of this 16mm-lensed feature is derived from a heavily-damaged 35mm print which the distributors discovered consisted of the original cut of the film before roughly sixty-seconds of additional gore inserts were added. Unable to find this footage on film, Vinegar Syndrome has created a composite of the film print and standard definition video footage. The good news is that the image looks decent under the occasional instances of damage, and the softness of the 16mm photography and the increased contrast of the blow-up material means that the video inserts stand out less than in some other composites of 35mm-originated productions.

Audio


The sole feature audio option is a DTS-HD Master Audio 2.0 mono track that conveys the dialogue, effects, scoring, and original songs – including an ear worm theme song and a Cyndi Lauper-esque piece that underscores the film's rump-focused cleaning/dancing montage – with reasonable clarity. Optional English SDH subtitles are included.

Extras


We won't speculate on why Vinegar Syndrome has not ported over the Lucky 13 archival extras which included a commentary by the late Brascia – but the film is accompanied here by an audio commentary by The Hysteria Continues whose individual experiences tracking the film down will likely mirror those of the listeners more so here than any other film they have discussed on disc due to the way it dropped out of circulation early on. Surprisingly (or perhaps not so), they convey mor affection for the film than seems warranted, highlighting not only the meta elements of the script but also dish on the odd career choices of some of the cast including McKamy's porn career, Gibson becoming a talent agent-turned-madam who once employed Heidi Fleiss before she struck out on her own, and O'Brien who became a globe-trotting photojournalist highlighting human rights violations in dangerous warzones. They also have some anecdotes from the cast and crew about their embarassment being remembered for this film.

Making up for the absence of the Brascia/Baio commentary and interview is the feature-lengh documentary "The Joy of Laughter: Making Evil Laugh" 2022 documentary (77:32) in which Baio recalls his family moving with his brother to Hollywood, his own acting career and meeting Brascia with whom he shared frustration at the lack of work before deciding to make a film of their own with little-to-no practical experience. Fellow actor Eric Brown (Private Lessons) similarly recalls his desire to work behind the camera as work was drying up onscreen, as well as dating McKamy (who everyone notes refused to do nudity and had to be doubled before venturing into porn). Associate producer Joe Barnard recalls securing the soon-to-be-sold estate of Zane Grey's mistress for the film while his parents were on vacation while Venokur recalls the many hats he wore behind the camera and being offered an onscreen role, as well as "grooming" the body double. Shell recalls not wanting to be typecast in his Surf Nazis Must Die role and knowing seemingly as little about his role as the director before the shooting day. Cinematographer Steef Sealey discusses his lighting of the film as well as his role as second unit director for the added scenes and inserts while make-up effects artist David Cohen recalls getting the opportunity to work on the film as his debut and working out some of the effects on the spot including the microwave scene.

The disc closes out with a still gallery (3:34).

Packaging


The disc is packaged with a reversible cover while the first 6,000 units ordered directly from Vinegar Syndrome include an embossed limited edition slipcover designed by Earl Kessler Jr. (link unavailable during December partner label-only month).

Overall


An early example of the meta-slasher, Evil Laugh is still pretty godawful but possesses meager charms for the genre completist.

---
Rewind DVDCompare is a participant in the Amazon Services LLC Associates Program and the Amazon Europe S.a.r.l. Associates Programme, an affiliate advertising program designed to provide a means for sites to earn advertising fees by advertising and linking to amazon.co.uk, amazon.com, amazon.ca, amazon.fr, amazon.de, amazon.it and amazon.es . As an Amazon Associate, we earn from qualifying purchases.