Julia [Blu-ray]
Blu-ray ALL - America - Cult Epics
Review written by and copyright: Eric Cotenas (17th December 2022).
The Film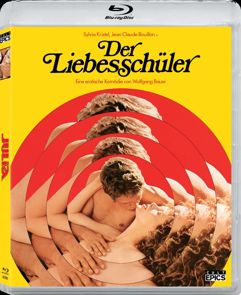 After making her debut in Pim de la Parra's drama Frank & Eva: Living Together Apart – on Blu-ray from Cult Epics individually or as part of the Scorpio Films: The Dutch Sex Wave Collection – and appearing in two other Dutch films, Dutch actress Sylvia Kristel was cast in Emmanuelle , fashion photographer-turned-filmmaker Just Jaeckin's screen adaptation of the scandalous Emmanuelle Arsan novel (reportedy actually written by her French diplomat husband Louis-Jacques Rollet-Andriane). Kristel shot to international stardom and would spend the next four years abroad in various arthouse erotica films including Walerian Borowcyzk's The Streetwalker, Roger Vadim's When a Woman is in Love… (an adaptation of "Les Liaisons Dangerouses"), and Emmanuelle sequels; however, before her international breakout role, Kristel was Julia; although she was not the main character, nor was the name of her character actually Julia.

Seventeen-year-old Pauli (Secrets of Sweet Sixteen's Ekkehardt Belle) is spending his summer holidays in Switzerland with his father Ralph (Made in U.S.A.'s Jean-Claude Bouillon). He arrives by train only to discover that his father's new girlfriend is Yvonne (Tower of the Screaming Virgins's Teri Tordai), the compartment traveling companion who had a quickie with a stranger (Schoolgirl Report 5: What Parents Should Know's Manfred Spies) in the lavatory after Pauli himself lost his nerve with her. Also joining them for vacation is deceptively dotty granny (Rose Renιe Roth), uncle Alex (Enigma Rosso's Peter Berling) who composes his opera "Lesbo Surf" in the nude using his lesbian wife Myriam (Devil Hunter's Gisela Hahn) and the maid Silvana (The Fifth Musketeer's Christine Glasner), Pauli's pudgy best friend Gerhard (The Flying Classroom's Alois Mittermaier) and girl next door Andrea (Kristel) who has blossomed since he last saw her. Rather than admit his own fears of inadequacy, he paints Andrea as frigid and is quickly humiliated. When the summer takes a tragic turn, Ralph thinks he can spark something between his son and Andrea with a trip to Verona to visit the setting of "Romeo and Juliet" but he may be the one who finds virginity irresistible; fortunately, Yvonne is also along for the trip, and she has a bone to pick with both Ralph and his ex-wife (Girl Slaves of Morgana Le Fay's Dominique Delpierre).

Although wrongfully dismissed as an Emmanuelle cash-in – it has more in common with the American teenage sex comedies of the eighties – the film certainly attempted to capitalize on Kristel's success with the original title "It Wasn't the Nightingale" changed in Germany to "Sylvia Kristel: The Niece of O" in reference to Jaeckin's follow-up film The Story of O, and then in English territories as Julia (with Andrea rechristened in the English dub along with Pauli becoming Peter). Belle's Pauli borders on the same kind of unlikability as the protagonist of The Last American Virgin – an American spin-off of the Israeli Lemon Popsicle sex comedy series – going further than disparaging his love interest's virginity and jealously attacking his more confident friend to nearly raping the maid in frustration. The supporting characters are played so broadly and depicted so absurdly – with an emphasis on La Grande Bouffe-like sexualizing of the act of eating – but their exaggerated sexual appetites are not presented as a projection of the young protagonist's sexual frustrations since Yvonne is similarly repulsed while Ralph seems to be at pains to ignore his family's behavior.

Early on, the sex scenes seem rather tame but they get more energetic and sticky in the second half with one coupling rolling smearing and squishing breakfast in bed while another has a pair rolling around in the mud of a tennis court after a rain shower. Julia is rather harmless as a coming-of-age drama but there are some poignant moments including a bittersweet climactic scene between Pauli and Andrea before a final scene that is not as cynical as it appears. The flagging pacing is buoyed by an upbeat score by Gerhard Heinz who is better known to Euro horror fans for his score for Jess Franco's Bloody Moon. Director Sigi Rothemund helmed a handful of Bavarian sex comedies like 3 Sexy Girls in Tirol, Bathtime in Bangkok, and Love Bavarian Style before pursuing a prolific career in television from 1979 to 2019.

Video


Released theatrically in the US by Focus Films, Julia was a staple of the Private Screenings video line, and that poor video master got a DVD from Twilight Entertainment – whose "Silver Series" line otherwise featured unrated versions of a handful of nineties erotic thrillers that had also been distributed by Platinum Disc Corporation and Artisan Entertainment in R-rated versions under different titles – while the native German DVD utilized an old video master under the "Niece of O" title.

Cult Epics' 1080p24 MPEG-4 AVC 1.66:1 widescreen Blu-ray - originally issued as part of the four film Sylvia Kirstel 1970s Collection - is not as sterling as Playing with Fire but generally looks crisper and more colorful than the two Dutch films – owing a bit to the sunny look of the film – apart from one obvious frame tear that zips across the image.

Audio


Julia includes German DTS-HD Master Audio and LPCM 2.0 mono tracks as well as the English dub in LPCM 2.0. While the English subtitles are not dubtitles, they do use the Julia and Peter character names even though the original names were not redubbed on the German track.

Extras


The feature is accompanied by an audio commentary by Jeremy Richey, author of "Sylvia Kristel: From Emmanuelle to Chabrol" who has plenty of anecdotes about the film from press coverage, pressbooks, and interviews including remarks by playwright-turned-screenwriter Wolfgang Bauer, Kristel's preference for the German style of filming over the French, the cast and crew's enjoyment of the sunny locale, as well as his feelings about the film in the context of Kristel's soon-to-come international fame.

Also included is a poster and still gallery, the film's U.S. theatrical trailer (2:26), and trailers for Mysteries and Pastorale 1943.

Packaging


The first pressing includes a booklet with an essay by Ulrich Mannes and a reversible sleeve with original German reissue poster art.

Overall


Before Sylvia Kristel was Emmanuelle, she was Julia but not really, and she certainly wasn't the "niece of O", but you have to watch the disc to find out how and why.

---
Rewind DVDCompare is a participant in the Amazon Services LLC Associates Program and the Amazon Europe S.a.r.l. Associates Programme, an affiliate advertising program designed to provide a means for sites to earn advertising fees by advertising and linking to amazon.co.uk, amazon.com, amazon.ca, amazon.fr, amazon.de, amazon.it and amazon.es . As an Amazon Associate, we earn from qualifying purchases.