The Film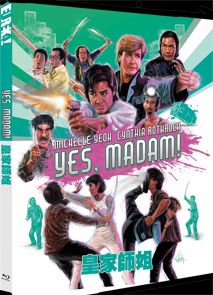 In spite of the newfound popularity Senior Inspector Ng (Tomorrow Never Dies's Michelle Yeoh) has gained after foiling an armored car robbery while in the middle of a vice operation, she is looking forward to nothing more than a vacation in Scotland with her former mentor Richard Nornen (Michael Harry) who is currently in Hong Kong. Little does she know that Nornen has set up more than one appointment that night in addition to their dinner date. He has in his possession a piece of microfilm that proves that a land development contract made up in favor of wealthy Henry Tin (The Big Boss' James Tien) was a forgery and he plans to profit off of it. Unfortunately, Tin has not sent Mr. Dik (The Seventh Curse's Dick Wei) to negotiate with him but to rub him out; unfortunately, thief-disguised-as-bellboy Aspirin (Ninja in the Dragon's Den's Mang Hoi) and his partner Strepsil (Painted Faces' John Sham) have inadvertently made off with the hidden microfilm when they swipe the "sleeping" man's wallet and passport, and Ng arrives soon after and goes after the two thieves before Dik can.

Aspirin and Stepsil sell the passport to partner Panadol (The Butterfly Murders director Tsui Hark) who specializes in fake IDs and passports. Only then do the pair discover that Nornen was murdered and realize that they could be implicated if someone is found trying to use Nornen's passport. They leave an anonymous tip to the police and Ng ends up apprehending a bail-jumping criminal ('s Eddie Maher) with the help of Scottish agent Carrie Morris (China O'Brien' Cynthia Rothrock) who impresses the local officers with her martial arts but not with her more direct methods of interrogation. Morris' police brutality, however, gives Ng the opportunity to engineer the crook's escape during a trip to the hospital in order for them to track him in his mission to butcher Panadol who he believes betrayed him. Panadol reluctantly sells out his partners, but Aspirin and Strepsil themselves come to the conclusion that they are safer in police custody when Mr. Dik and Vietnam wacko Mad Dog (Encounters of the Spooky Kind's Chung Fat) set out to eliminate them and find the microfilm. Strepsil believes that the only sensible thing to do is surrender the microfilm to the police and let them arrest Tin; however, Panadol and Aspirin endanger all of their lives when they decide it would be more profitable to sell it back to Tin.

Although shot and released before Royal Warriors which came to be known internationally as In the Line of Duty, Yes, Madam! came out as In the Line of Duty II even though it is regarded as the first of the "girls and guns" offshoot of Hong Kong's eighties crime film boom. Apart from the bookstore flasher bit, the first third of the film plays like a straight-faced crime thriller, with the acrobatics of Yeoh (Rothrock does not appear until roughly a half-hour in) punctuated by gunplay and bloodshed more brutal than your average Jackie Chan vehicle; however, the film shifts away from the investigation for long stretches and the antics of Aspirin, Strepsil, and Panadol take the film into action-comedy territory – the highlight being Hark Tsui evading Maher in his surprisingly "modular" apartment – and it appears that Yeoh and Rothrock are expected to shoulder all of the exposition and serious drama. The third act, however, balances things out once the thieves realize just how much hot water they are in and the sexism underlying the treatment of Ng and Morris by most of the men becomes outright sexism as Tin and his chauvinist thugs believe that the pair are no real obstacle to getting what they want, leading to a climactic battle of kicks, knives, swords, and lots of slow motion broken glass that earns chuckles while never letting the viewer forget the characters' peril. Perhaps more so than some of the film's contemporaries, the thin McGuffin plot works well in facilitating the action and comedy setpieces.

Only the third directorial effort of actor Corey Yuen (fourth if you count his uncredited direction on Game of Death II), Yes, Madam! sports some exciting editorial and visual flourishes that keep the pace from flagging in between the action sequences (staged jointly by Mang Hoi and Cory Yuen), which feature that complex arrangement of action choreography and usage of the environment fans have come to expect from the most exciting entrees in the genre. Tai Bo (Police Story) and Ka Lee (Eastern Condors) have supporting roles as junior officers; however, they have less to do than Billy Lau (Mr. Vampire) and filmmaker Wu Ma (The Dead and the Deadly) who have an altercation over parking ticket quotas or even the "special appearances" of Sammo Hung, Richard Ng, and David Chiang as Aspirin's and Strepsil's old folks home-dwelling former Sifu and his buddies who spend their days breaking their dietary restrictions and molesting nurses (including busty Shirley Kwan). It may or may not be a wasted opportunity that Ng's superior Melvin Wong is more ambiguously chauvinist than suspicious given his turns as corrupt officials in other films of the genre. Yeoh – who previously appeared in a featured "eye candy" bit in Twinkle Twinkle Lucky Stars – would appear in the follow-up but her she would step away from the camera after she married the film's producer Dickson Poon but she would return to the screen following their divorce with the Jackie Chan vehicle Supercop. Rothrock made her feature debut here and would follow it up with a smaller role in Sammo Hung's epic Millionaires' Express but her similar role in Righting Wrongs would be her next prominent Hong Kong role. The film is not to be confused with the 1995 Taiwanese action film of the same name which starred Cynthia Kahn (which was released on video in Hong Kong as "Yes Madam 5").

Video


Unreleased theatrically in the United States and only available as a Hong Kong laserdisc and VHS tape with bilingual subtitles, Yes, Madam! was easier to see in the UK where it was released theatrically in 1986 and then on video as "Police Assassins" with Royal Warriors retitled as a sequel to that. Stateside, Tai Seng imported the non-anamorphic Hong Kong Universe DVD for their 1998 DVD while Hong Kong Legends took advantage of the Fortune Star remaster for their anamorphic 2002 special edition DVD.

The film made its Blu-ray bow in 2011 in Hong Kong – no word on whether that is one of the infamous upscales of Fortune Star SD masters or not – followed earlier this year by a German mediabook with English subtitles but lossy audio. Eureka's 1080p24 MPEG-4 AVC 1.85:1 widescreen Blu-ray comes from a new 2K restoration and looks clean and sharp apart from the expected increase in grain during some in-camera and optical slow motion shots during the action scenes. The disc also includes the film's full English export version (87:33 versus 93:49) which replaces the adult bookstore bust with footage from Where's Officer Tuba? with Chiang in an entirely different role from the one he plays later in the film. This also purports to come from a new 2K restoration, although it is not clear whether it is a transfer of a separate element or a composite of the Hong Kong version transfer with a new transfer of footage specific to the export cut (either from the materials for the export version or newly transferred from the materials for Where's Officer Tuba?).

Audio


The Hong Kong version features the theatrical and home video Cantonese mono dubs in LCPM 2.0 along with Fortune Star's English 5.1 track in DTS-HD Master Audio – all of which retain the cues lifted from John Carpenter's Halloween cues – while the export version includes only the classic English dub in LPCM 2.0 mono with no subtitles or captions. Just as the new subtitles for Vinegar Syndrome's Blu-ray of Righting Wrongs rechristened the epithet directed at Rothrock from "white bitch" to "devil woman," it is here it is replaced with "white hag" (although the latter remains on the English dubs).

Extras


The Hong Kong version is accompanied by two commentary tracks. In the audio commentary by Asian film experts Frank Djeng and Michael Worth, they discuss the "girls and guns" genre, the confusion over the international titles, the casting of Yeoh and Rothrock, the mix of Hong Kong and mainland locations in shooting depending on the need to stage action scenes without traffic and crowds, and the various members of the noteworthy supporting cast. In the audio commentary by action cinema experts Mike Leeder and Arne Venema, the pair cover some of the same material as well as discussing the accuracy of the "Miami Vice" eighties hair and clothing in Hong Kong of the period as well as the actual crime rate of indecent exposure and the real disrespect and fights between cops and traffic officers who actually do fight over quotas, reveal that the "Richard Nornden" character is indeed a nod to actor/stuntman Richard Norton, as well as the assertion that Tsui Hark staged his own action scenes in the film.

Djeng moderates a select-scene commentary with actress and martial-arts movie icon Cynthia Rothrock (12:19) covering the airport scene and the final fight. Also new is the interview "Cynthia Rothrock on Yes, Madam!" (20:14) who covers her training, her affection for martial arts films, getting noticed during a casting call for the next Bruce Lee, getting cast in the film, her impressions of the industry, working with Yeoh and Yuen, as well as her input into the fight scenes. In "A Conversation with Mang Hoi" (15:34), the actor/stuntman reveals that Sammo Hung was supposed to direct the film but the shooting schedule conflicted with his other directorial effort The Owl vs Bumbo and Hoi recommended Yuen. He also discusses how Rothrock got cast and training Yeoh who was a ballet dancer with no martial arts training.

Yeoh appears in an archival interview (15:06) from the British DVD discussing her ballet training and her love of Hong Kong cinema developed while schooling in London, the injury that stopped her dance career, her TV commercial with Jackie Chan, and the training she underwent for Yes, Madam!. "Battling Babes" (10:24) is also ported from the DVD. The disc closes with the Hong Kong theatrical trailer (4:23) and a UK home video trailer (1:21) created for the DVD edition.

Packaging


The first pressing of 2,000 copies includes a collector's booklet featuring new writing by James Oliver and a slipcase featuring new artwork by Darren Wheeling (neither of which were supplied for review).

Overall


Boasting the novelty to two female fighting leads, Yes, Madam! gets a maximum of excitement, suspense, and comedy out of a skeletal McGuffin plot.