The Film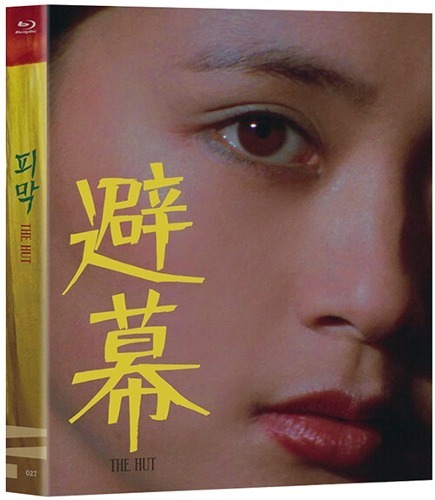 "The Hut" <피막> <避幕> (1981)

Due to the sudden serious illness of Gang Seong-min (played by Choi Seong-ho), the eldest son of the village chief (played by Hwang Jeong-sun), powerful shamans from all over Korea are called upon for help. The differing women use their exorcism techniques to try to get rid of his demons, though none seem to help him heal. One of the shaman, Okhwa (played by Yu Jin-in) finds a bottle hidden away in the village which she suspects is cursing Seong-min and making him fall ill. When confronting the Gang family about their past, a horrific tale from twenty years ago that took place comes back into the light...

With its pre-modern setting in a rural village without technological advancement and the honest belief in religious exorcism shown in "The Hut" may be a story from hundreds of years ago, though in Korean history it could have easily been in the early twentieth century, though a time stamp is not at all mentioned in the story. The practice of medicine has always been first and foremost in Asian cultures including Korea, and it's inferred that the Gang family's last resort comes with religious rituals, which is still a commonly called upon stance in modern society. With the uses of music, chants to physical strikes, there may be little to no effectiveness in the use of these ancient techniques, though seeing flailing bodies and the intensity of the shamans are almost theatrical and cinematic. But the film isn't focused entirely on exorcisms and religion entirely. For nearly half of its runtime, the story is devoted to the happenings of twenty years ago that supposedly led to the curse of the Gang family.

Many of the men of the Gang family have had short lifespans, leaving a number of their spouses to become widows at a young age. The Gang family's second daughter-in-law (played by Kim Yun-gyeong) was an unforunate case, in which she tried to kill herself by stabbing herself. As she was given little hope for survival, she was taken to a hut tended by keeper Samdol (played by Won Namkoong), an uneducated lowly servant-like man. As the hut represents a place between life and death, she is taken there and for him to watch over her in the final moments of her life. But miraculously, as he tended her wound with herbs, she is able to recover fully and able to return to the village, though remarrying would not be an option. She and Samdol slowly fall in love, resulting in a pregnancy that would stain the Gang family's legacy. Both of them would be silenced by Gang's men through violent methods, and Samdol's spirit becomes encased in a calabash shaped bottle. The quite lengthy flashback showcases the power of class and what it would take to cover up family shame. In this segment, "The Hut" feels like a melodrama with the love story element and forbidden desires. But the third segment which follows takes things in a twist altogether.

There is more to be said about the character of Okhwa who comes to the village to help the ill son, as the past she uncovers leads to vilagers seeking to silence her. Suspense elements are placed, as well as detective elements with Okhwa, though the biggest twist comes with why she arrived at the village and what her true intentions were. Structurally "The Hut" is a fascinating work that mixes suspense, mystery, and horror with genuine twists and turns while also having traditional elements in filmmaking and storytelling techniques.

Director Lee Doo-yong started his directorial career in film in 1970 and during the following decade made a name for himself as a Taekwondo action film director with films such as "Manchurian Tiger" (1974), "Left Foot of Wrath" (1974) and "Visitors in America" or as it is more well known by the bizarre title of "Bruce Lee Fights Back from the Grave" (1976). Looking to give a more serious tone to his filmmaking, he delved into historical dramas and melodramas while still keeping a commercially viable respectability. But with "The Last Witness" in 1980, a detective story written by Kim Seong-jong that was first published in 1974, this would push Lee's artistry forward with the murder mystery story told in a non-linear form with the audience having to piece the story together along with the detective. Unfortunately the film would suffer from censorship issues that cut thirty minutes from the narrative, leaving the story incomplete and incomprehensible, becoming a box office failure. While Lee was distraught with the outcome as the production was a lengthy one, Sekyung Enterprises, the production company urged him to make another feature, and that would become "The Hut", which was written by Yoon Sam-yook in just a week, with production starting only a month later. With such a rushed production and made in a short period as compared to "The Last Witness" which took a year just to film, it's quite incredible to see that "The Hut" doesn't particularly feel like a rushed project at all. Though with sets and costumes most likely recycled from other productions and having a rural village for production, and very minor use of visual effects with the very badly animated lightning effect in one sequence, the film seemed to have no particular major troubles in production and thankfully in release.

While "The Last Witness" was plagued with censorship issues leading to significant cuts, "The Hut" treads the line with depiction of violence and sex. Moments with undressing of characters and sexual encounters are close to explicit, though there is no instance of topless nudity from the female characters, with carefully placed arms to cover breasts to get passed government censors. The stabbing scene is quite brutal yet never explicit, with the image of the stabbing knife never being shown on screen. But like "The Last Witness" there is similarities in the detective aspect, the uncovering of a secret from decades back, as well as showing corruption with the hierarchy to cover up secrets, with anger leading to vengeance. While the former story depicted something much more in reality with wartime crimes, "The Hut" survivied censorship by being a period piece within the fictional world.

The film premiered on June 13th, 1981 in Seoul where it sold nearly 36,000 tickets in the city alone, which was a far bigger hit than "The Last Witness", which sold over 7,000 and pulled from cinemas quite quickly. Though this would still be a far cry from "Dissolute Wife", the biggest movie of the year which sold nearly 288,000 tickets in Seoul in 1981. Though "Dissolute Wife" may have been more popular with audiences, "The Hut" became a significant work internationally, as it was shown at the 1981 Venice Film Festival and winning an ISDAP prize, followed by screenings in other international festivals. Three years later, Lee's film "Spinning the Tales of Cruelty Towards Women" would become the first South Korean film to be screened at the famed Cannes Film Festival. "The Hut" may have some old fashioned points and a few flaws with the pacing, but the tension and twists are well done and certainly live up to its legacy.

Note this is a region ALL Blu-ray

Video


The Korean Film Archive/Blue Kino presents the film in the 2.35:1 aspect ratio in 1080p AVC MPEG-4. The original 35mm negative was collected for preservation by the Korean Film Archive in 1982, though there was a 20-second portion missing, which was restored using a preserved 35mm film print. The film was restored in 4K resolution in 2016, with the restoration supervised and approved by director Lee Doo-yong. Numerous instances of scratches, stains, and image warping were corrected, and the colors were balanced for stability as well. For the 20-second missing scene, surviving elements were compared and it was decided that a film print with burned-in English subtitles was the best looking. Restoration techniques removed the English subtitles digitally an the section reinserted into the appropriate section. The 2016 restoration was scheduled to premiere at the Busan International Film Festival. Though KOFA didn't have enough time to do a full scale restoration for the event, they were able to premiere it with a lot of work done with damage removal, color correction, and integrating the missing scene. In 2020, KOFA continued with fine tuning the restoration, balancing colors better, stabilizing the image more, and correcting any other inconsistencies. The result is actually quite stunning, with colors of the wardrobes, the details that can be seen, and having basically no damage marks visible while still keeping the film grain intact for a natural, filmlike image throughout. The 20-second scene that was taken from a lesser element is seamlessly integrated and does not at all feel out of place or weaker than other portions. There is a slight issue that is common with a number of KOFA restored Blu-rays leaning a little too heavy on blue hues, and yes, there are some points in which whites have a slightly blue hue. But skin tones are natural, and other colors look very good throughout. Another great restoration by KOFA presented here.

The film's runtime is 96:36 which includes the restoration credits at the start of the film.

Audio


Korean LPCM 1.0
The original mono audio is presented uncompressed. The sound was restored from five rolls of the 17.5mm sound negative and four rolls of 35mm film prints. Like the picture, the sound was also carefully restored from original elements to remove unnecessary noise such as pops and cracks, stabilize the audio and make dialogue clear against the music and effects. It does have a bit of weakness due to the source materials, though it sounds quite good and well balanced throughout, without any particular issues such as dropouts or errors to speak of. Another great job on the audio restoration.

There are optional English, Japanese, Korean subtitles for the main feature in a white font, which are well timed and easy to read.

Extras


Audio commentary with director Lee Doo-yong and film critic Ju Sung-chul
A newly recorded commentary with the director alongside film critic Ju Sung-chul is included here, though unfortunately without English subtitles for translation.
in Korean Dolby Digital 2.0 without subtitles

"Digital Restoration: Before/After" featurette (3:17)
A side by side comparison of the 2016 original 4K scan and the 2022 4K restoration are presented here without audio. To be honest, there is very minimal difference to be found between the examples, as the 2016 restoration already had quite a lot of work done in removing damage marks and balancing color correction. It would have been better if they had done a comparison featurette with the original 35mm negative's scan as they have done in their earlier Blu-ray releases.
in 1080p AVC MPEG-4

Image Gallery
A series of nine production stills, one in color and eight in black and white are presented here in a manual slideshow. Curiously there is no poster artwork included as they usually have, though post art can be found in the accompanying booklet.
in 1080p AVC MPEG-4

Booklet
A 48 page booklet is included, with half in Korean and the other half in English. There are printed film credits, a synopsis, and awards received, the director's filmography, and notes on the restoration. There is an essay on the director's career entitled "Troubleshooter of Genres - Lee Doo-yong" by film critic Kim Hyung-seok, looking at Lee's early features, the restrictive environment working in the censorship heavy South Korean cinema of the 1970s and 1980s, his acclaim outside of the country, his later work, and more. Kim also provides a review of "The Hut" and the impact it had. There are also stills and disc credits included.

Packaging


This is spine #27 in KOFA's Blu-ray series. The disc is packaged in a clear keep case which also holds three postcards, featuring three color stills. The keep case and booklet are housed in a slipbox. Note that the packaging lists the film's year as 1980, though it was theatrically released in 1981.


Overall


"The Hut" is certainly a breakthrough work for director Lee Doo-yong and South Korean cinema, and the tense and mysterious vengeance story certainly works even if there are some flaws attached. The Korean Film Archive's Blu-ray has a top notch transfer from the 2020 4K restoration, though a repeated complaint comes with KOFA not subtitling their audio commentaries anymore. Still comes as recommended.

Note the film can also be found with English subtitles on the KOFA YouTube Channel, which also seems to be the 2020 4K restoration.
| | | | | |
| --- | --- | --- | --- | --- |
| The Film: B+ | Video: A | Audio: A | Extras: C | Overall: B |