The Film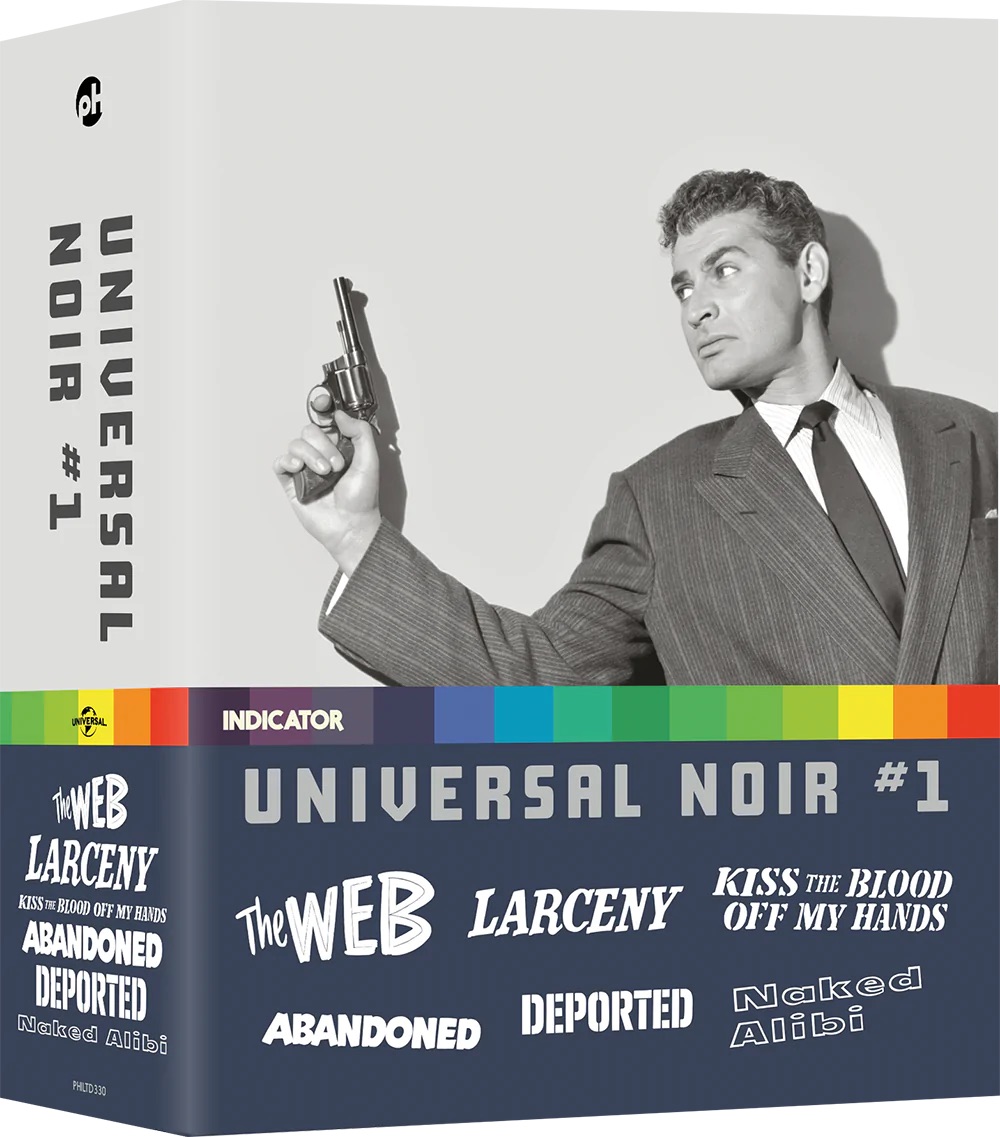 A new series of box sets – following Indicator's acclaimed Columbia Noir series – focusing on the film noir output of another of the major Hollywood studios, Universal Pictures.

Starring such high-profile talents as Burt Lancaster, Joan Fontaine, Shelley Winters, Dan Duryea, Vincent Price, Edmond O'Brien, Sterling Hayden, Gloria Grahame, and Jeff Chandler, the six films in this volume feature embezzlement and murder (The Web), confidence tricksters (Larceny), lovers on the lam (Kiss the Blood Off My Hands), an adoption racket (Abandoned), transatlantic criminals (Deported) and police brutality (Naked Alibi).

This stunning collection marks the UK Blu-ray premiere of all six films, and also features an array of fascinating contextualising extras, including newly recorded commentaries for each film, critical appreciations, archival short films, and a 120-page book. Strictly limited to 6,000 numbered units.

Video


Unusual noir which has Italian born American gangster deported to Italy and his attempts to romance a local woman and find a way to get $100K into the country. Jeff Chandler was a well known face in American movies in the '50s but sadly died whilst having an operation in 1961.

Image is very strong with a beautifully grainy monochrome image in the Academy aspect ratio. Grain is ever present and very fine, very filmic. The image is, typical for a Powerhouse Films release, stable and well encoded. Detail is strong and gamma is perfectly balanced so we get no colour bias. Image is stronger when it's standard shots, softer with optical work like fades, scene changes and during the credits. One of the stronger transfers in this Universal Noir #1 set ('A-').

1080p24 / AVC MPEG-4 / BD50 / 1.37:1 / 88:36

Audio


English LPCM 1.0
Subtitles: English HoH

Sound is the standard mono with the usual, limited range that we've come to expect from a 1.0 track from this era. It gets the job done well with clarity, some mild hiss when played very loud. It's on a par with most of the 1.0 tracks I've experienced from films of this vintage. Dialogue is always clear, the score well balanced in the mix and sound effects are crisp. There's obviously little base. Excellent hard of hearing subtitles are provided ('B+').

Extras


Audio commentary with filmmaker and film scholar Daniel Kremer (2022)

Kremer is a new name to me but he's a knowledgeable commentator and a welcome addition to Powerhoue Films' stable of historians, academics and journalists to lend their knowledge and expertise to the Indicator releases. Presented in lossy Dolby Digital 2.0 mono.

"Return to Europe: Christina Newland on Robert Siodmak" 2022 interview (10:28)

New interview covers the career of Siodmak and how Deported (1950) fits into his oeuvre. We hear about the true life source for the story - the 1946 deportation of Charles "Lucky" Luciano) - and about Siodmak's life and career. Newland also directly looks at the film's uneven qualities. Presented in 1080p24 1.78:1 with lossy Dolby Digital 2.0 stereo sound.

"A Salute to France" 1944 short film (35:54)

Vintage short looks at France's role in WWII, heavy promoting how the three major military forces depicted (UK, USA and France) must work together. Starring Burgess Meredith, Claude Dauphin (who also features in Deported) and Philip Bourneuf. A fascinating propaganda piece presented in 1080p24 1.37:1 with lossy Dolby Digital 2.0 mono sound. There's mild damage throughout in the form of speckling. The image starts out pretty rough but soon settles down. Sound isn't as strong as the main film with more mild distortion in the form of noticeable mild sibilance issues and a slight bur on dialogue. It's from a film source (35mm finegrain composite master elements).

Deported Image Gallery: Original Promotional Material

HD still gallery of promotional images.

120-page liner notes book with new essays by Iris Veysey, Jill Blake, Karen Hannsberry, Sabina Stent, Sergio Angelini and Walter Chaw, extensive archival articles and interviews, new writing on the various short films, and film credits

14 pages are devoted to Deported. The usual superb hard-copy companion that enhances one's enjoyment of the films contained within the set. These booklets are worth the price almost on their own.

Packaging


Not provided for review.

Overall


Disc five is devoted to this adequate noir about an Italian born American gangster deported to Italy and his troubles. It didn't blow me a way as a film but image and sound are well up to the standard we've come to expect from Powerhouse Films' '40s and '50s transfers. The extras package is strong if not overloaded in any way ('B+').
| | | | | |
| --- | --- | --- | --- | --- |
| The Film: C+ | Video: A- | Audio: B+ | Extras: B+ | Overall: B+ |