The Film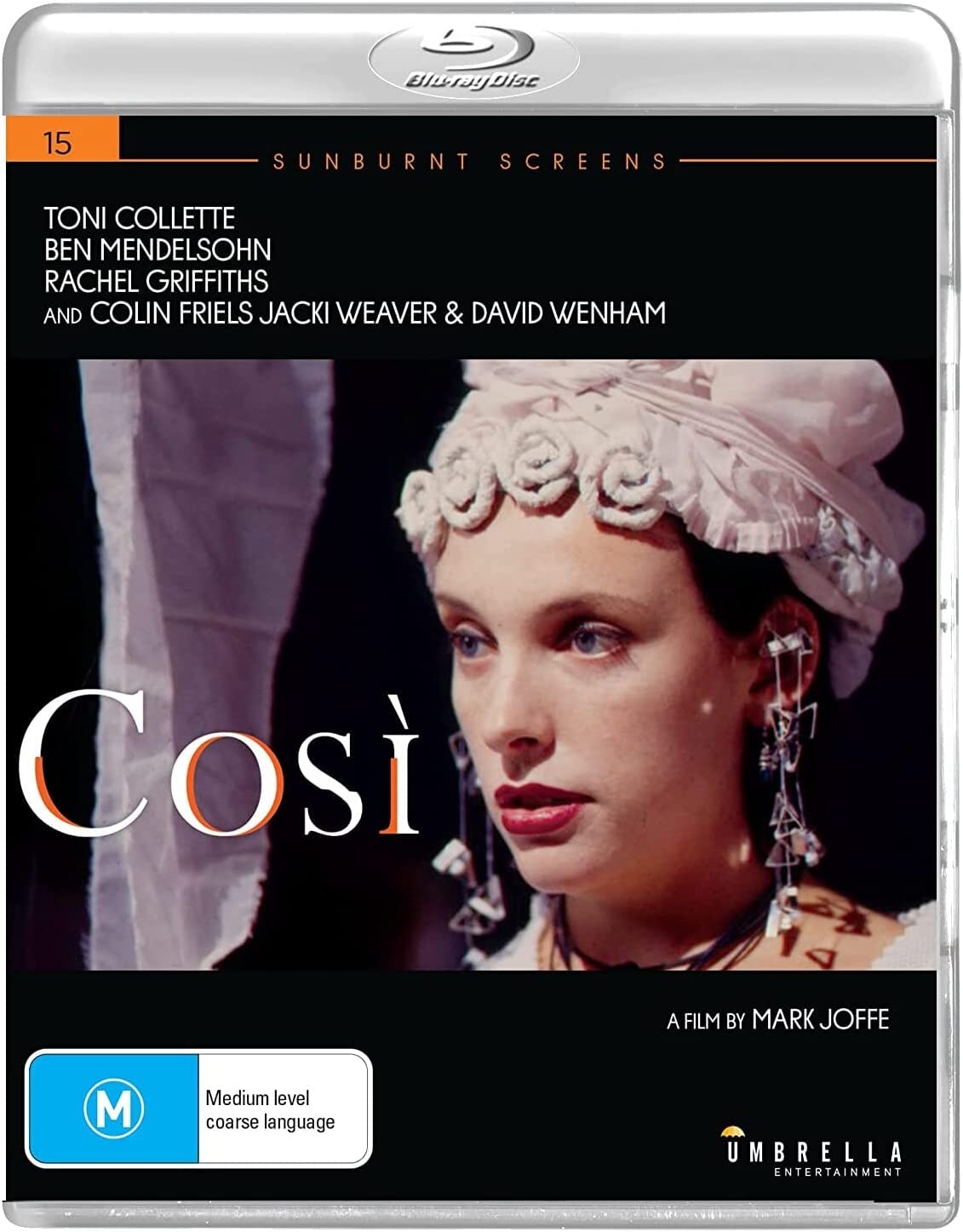 "Cosi" (1996)

Lewis (played by Ben Mendelsohn) is a young man that landss a job at a mental hospital with an unusual request - to become a drama teacher for the patients. The hospital administrator Mr. Kirner (played by Tony Llewellyn-Jones) is confident that it would help the patients for their mental health, but head nurse Errol (played by Colin Friels) knows the difficulty that might be faced. Opera obsessed patient Roy (played by Barry Otto) is overly excited to have a drama teacher help them, as he is ready to have Lewis make this way as a stage director for "Cosė fan tutte", the opera by Wolfgang Amadeus Mozart. But with patients having little to no stage experience, little singing ability, and no one being able to speak Italian for the dialogue, the idea seems like a pipe dream. Though Lewis and the crew have numerous roadblocks along the way, little by little they overcome their difficulties to hopefully make a dream come true.

Writer Louis Nowra had seen the issues of mental health at a young age with his grandmother being sent to a mental hospital. Volunteering and working at a mental hospital in his early twenties, he made quite an achievement by directing an adaptation of "Trial by Jury" with the hospital's patients in 1971. Nowra would continue his career as a successful playwright and stage director, and just over twenty years later, he produced the stage play "Cosi", which was based on his experience directing his first play at the Plenty Mental Hospital. Rather than "Trial by Jury", it was set as an adaptation of "Cosė fan tutte", an opera on war, gender inequality, and infidelity, with the themes of the opera bleeding into the reality of the director character's personal life. Focusing on both the troubles that the director was going through in his home life as well as the various issues faced in directing mental patients in a complex work in a comical and dramatic fashion.

The 1992 production would be adapted into a feature film in 1996, which was adapted to screen by Nowra himself and directed by Mark Joffe and produced by Richard Brennan. Joffe and Brennan previously worked together on the critically acclaimed "Spotswood" in 1992, and for "Cosi" it would not only be a reunion for the director and producer, but for other cast and crew members as well. Cinematographer Ellery Ryan. editor Nicholas Beauman, production designer Chris Kennedy, costume designer Tess Schofield and others worked on "Spotswood" previously. Actors Ben Mendelsohn and Toni Collette who shared a number of great scenes together in "Spotswood" would reunite for "Cosi" four years later.

There are some similarities to the narrative with "Spotswood" and "Cosi" as well, with the story of an outsider introduced to a quirky environment and the comedy that takes place with clashes, as well as the growth in characters, but they are both unique stories from one another in many ways. Lewis' story is the focal point in "Cosi", as the audience are introduced to his home life with his girlfriend Lucy (played by Rachel Griffiths) who is in law school and his theater actor/director friend Nick (played by Aden Young) who comes to stay with them after being kicked out of his ex's place. With the mental hospital job being the first job that Lewis has had in a while, he is not too serious with the tasks initially, as he sees little to no hope for successfully pulling off an opera with the patients, but little by little his heart grows for each of them even if frustrations are a dime a dozen on the way. But with the time he puts in for his theater work, it takes a toll on his life at home and his relationship with Lucy starts to deteriorate gradually.

The patients at the mental hospital that take part in the opera casting are interesting as well. There's the opera obsessed Roy, who is overjoyed and excited that his dream is coming true, but clashes with Lewis (who he calls "Jerry" as in Jerry Lewis) and the other cast members when things don't go the way he imagines. Doug (played by David Wenham) is a pyromaniac that certainly likes to provoke more than perform on stage. Cherry (played by Jackie Weaver) is always ready to get into a physical altercation, though she has her eyes on Lewis in more than just a director. Henry (played by Paul Chubb) is a stutterer who is always ready to give up. Ruth (played by Pamela Rabe) is stiff and stoic, paranoid and questioning. Zac (played by Colin Hay) just wants to be at the piano to create the music. And there is Julie, Toni Collette's character who is a young junkie with a wonderful singing voice, but is not putting her heart into the production. Each of the patients have their own backstory, from their past to their families, and while interesting the film adaptation unfortunately cuts things short for each of them, so only glimpses are seen throughout the film in comparison to Lewis, who is given a full scale to work with.

The mental and emotional growth of each character and the friendships made are truly positive notes, though there are the flaws to be had. A slight spoiler to be said, but after Lewis loses his job and he starts to work with the patients in secret at night, he is without a job or salary, yet there never is a conversation about finances with he and Lucy when she is still going to school and they have a struggling artist also living with them. How he is able to sneak in and out of an institution like that as well as Doug's one time escape is also not gone into detail with. With the original play being over three hours and the film adaptation being 100 minutes, there are some sacrifices to be made, and another unfortunate change was making the original setting of 1971 to a then modern 90s setting. Granted it would have been an additional cost to dress everything as the 1970s, one of the focal points of the original play was the parallel of the wartime setting of the opera and the reflection of the Vietnam War that was ongoing in 1971. For the film version, the war aspect is not discussed much and instead the emphasis placed on the infidelity issue of the opera and Lewis' paranoia that his relationship with Lucy is being tested.

The treatment of the mental patients are handled fine, though it seems to be quite toned down in comparison to reality. There probably would be more nursing care than what is shown and there would be more difficulties had than the film's sequences, though the factors do tend to be different from person to person. "Cosi" does have its charms and laughs, as well as dramatic moments, but there are some marks that are missed. Performances from the actors are great, but the shortening of the story does hurt the character development and the time period shift also hurts the narrative with the missing theme.

The film was a coproduction with Miramax Films, which (barely) distributed "Spotswood" in the United States. Executive producer Harvey Weinstein made suggestions with the casting, wanting some international stars to be included, such as Tony Curtis, Ethan Hawke and Elle Macpherson for roles but Nowra and Brennan were insistent on having an Australian cast as it would make no sense why some non-Australians were committed in the mental hospital. In addition, they cast a number of actors including Mendelsohn who performed in the original play for the film adaptation. The Australian team won over by having an all Australian cast for the production, and the film was first released in Australia on March 28th, 1996, grossing a respectable but not so big $3 million at the box office. Miramax's release in America was a year later where it barely found an audience. Critically it was well liked, and the film received a Best Adapted Screenplay award by the Australian Film Institute. Thirty years after the original play's first stage performance, the film version gets its first Blu-ray treatment courtesy of Umbrella Entertainment here.

Note this is a region ALL Blu-ray

Video


Umbrella Entertainment presents the film in the 1.90:1 aspect ratio in 1080p AVC MPEG-4. The aspect ratio looks slightly cropped from the original 1.85:1 aspect ratio, so there are slightly thicker than normal black bars on the top and bottom of the screen. The transfer has a very thick look throughout. Detail doesn't look quite sharp and colors are on the darker and bolder side, with more emphasis on blues and blacks than brighter colors. Though it has been digitally cleaned to remove more obvious damage marks, there are still some speckles that remain on the image, and more prevalent on certain scenes. Overall, the transfer doesn't seem quite right, though it is perfectly watchable and the eyes will get used to the look.

The film's runtime is 100:32.

Audio


English DTS-HD Master Audio 2.0 stereo
The original stereo track is presented in lossless form. The audio is quite good here, with the dialogue being centered and left and right separation being used effectively for music and effects. Dialogue is always clear and easy to hear, with music and effects being well balanced against the dialogue. There are no examples of dropout or crackle or other damage to the audio for a nice, clean track. A great job with the audio transfer here.

There are optional English HoH subtitles for the main feature in a white font, which are well timed and easy to read.

Extras


Interview with producer Richard Brennan (12:07)
In this new interview, Brennan looks back at the production, from watching the original play, the adaptation, choosing Joffe as the director, Miramax's involvement and their international demands, recollections of the actors, the reception and more. The interview seems to have been recorded remotely, and there are times that the camera has slight trouble focusing on Brennan.
in 1080p AVC MPEG-4, in 1.78:1, in English Dolby Digital 2.0 without subtitles

Interview with screenwriter Louis Nowra (24:43)
This new interview has Nowra sitting with film critic David Stratton, as the two discuss Nowra's early life, his time working at a mental hospital and being a drama director, the making of the film and the awkward Weinstein meeting with their demands, the dedication to Bruno Lawrence who was originally cast but passed away during production, and more are talked about.
in 1080p AVC MPEG-4, in 1.78:1, in English Dolby Digital 2.0 without subtitles

Excerpt of Oral History with film buff Paul Harris and Richard Brennan (21:56)
This undated audio interview has film critc and Film Buffs Forecast's Paul Harris chatting with Brennan on the making of "Cosi". Discussed were the buzz that the production had, the Miramax involvement and troubles, and more. There are production stills that play as a slideshow in the background which are different from the stills gallery found on the disc.
in 1080p AVC MPEG-4, in 1.78:1, in English Dolby Digital 2.0 without subtitles

Stills Gallery (4:01)
A series of stills from the production in an automated slideshow form with music accompaniment.
in 1080p AVC MPEG-4, Music Dolby Digital 2.0


Umbrella has gathered a good selection of new extras, though slightly lacking. No involvement from Mark Joffe or other crew members (who appeared on a number of extras for the "Spotswood" Blu-ray, no input from the cast members, and not even the theatrical trailer.



A clip from the film, courtesy of Umbrella Entertainment.

Packaging


This is #15 in Umbrella Entertainment's "Sunburnt Screens" line. The inlay is reversible, with the opposite site having identical front artwork with the exception of the Australian M rating being removed. The reverse back artwork is of the original theatrical poster.
The packaging states the aspect ratio is 1.85:1, but it is in fact at 1.90:1 as stated above.
In a strange choice, the spine has the film's title written from the bottom to the top, which is the opposite of all other Umbrella titles, and this is also true for the reversible side. It certainly sticks out as being the odd one out when displayed on a shelf.

Overall


"Cosi" is heartwarming and fun with good performances, though there are some marks that are missed with the film adaptation from the original play. Umbrella Entertainment's Blu-ray is a bit underwhelming, with the video transfer being slightly off and the extras being a bit light compared to some of their other releases. Still comes as worth a look.
| | | | | |
| --- | --- | --- | --- | --- |
| The Film: B | Video: B- | Audio: A | Extras: B- | Overall: B |