The Film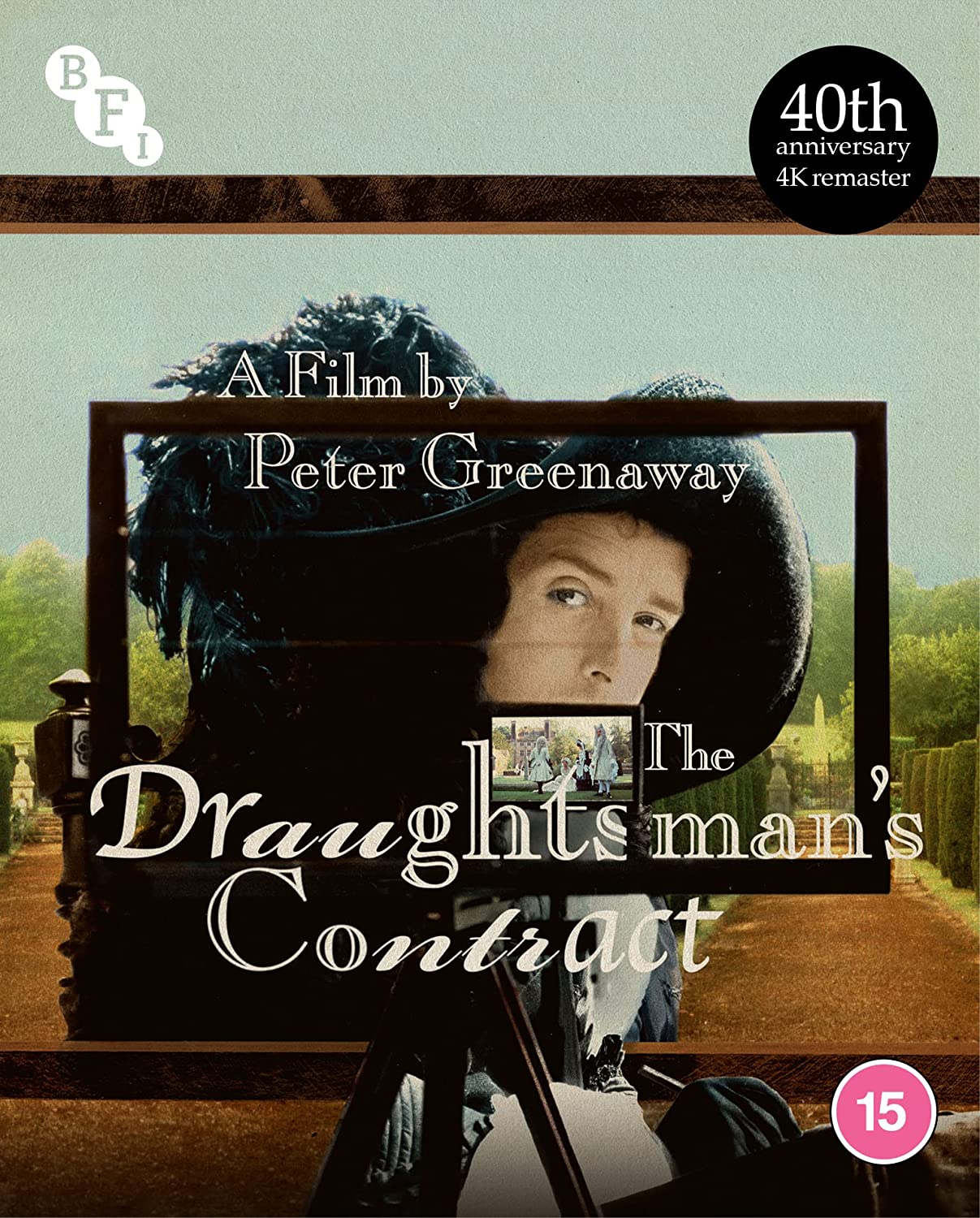 "The Draughtsman's Contract" (1982)

Artist Mr. Neville (played by Anthony Higgins) is hired by the wealthy Mrs. Herbert (played by Janet Suzman) to have him compose twelve drawings of their countryside estate while her husband is away. Neville is reluctant, so asks for a high fee as well as being able to have sexual favors from Mrs. Herbert as part of the contract. To his surprise she agrees with the deal, and so Neville starts his time consuming work. But while drawing the locations over a few days, he starts to notice some unusual and inconsistent elements appearing within his frames day by day. Was he really getting the better deal with the contracted work or is there more that he is unable to see?

Artist and filmmaker Peter Greenaway made his mark with documentary shorts in the 1960s and 1970s, and his first feature length film "The Falls" from 1980 was comprised of 92 short stories in the three hour runtime that blurred the lines between documentary and fiction. His next film from two years later would take a more conventional approach, with a period drama murder mystery, though it would take a unique approach in its construction and its completion. "The Draughtsman's Contract" takes place in 1694 in England, a time that saw major changes in politics, religion, and social order in the country. From the Married Woman's Property Act, the formation of the Bank of England, the death of Queen Mary II are all historical landmarks, and the changes are reflected in the story though it is not at all necessary to know the details to follow the story of an artist and his work.

The look of the film certainly a standout as it feels more like a painting itself come to life rather than a conventional feature film. The camera is almost always stationary with the actors appearing in frame in very precise stances and positions. Some frames may have people taking up the entire frame in close comfort while others feature the landscape and the large home with people being secondary. Everything is lit naturally with sunlight for outdoor sequences and windowlight and candlelight for interiors. In addition, there are multiple examples of a frame within the frame with Neville's optical device that he uses to frame his drawings being visible with the camera right behind it. The bold colors, the dark interiors, the extravagant clothing, make-up, and wigs are straight from period paintings and each shot is closer to a walk in the museum and not on a screen. Greenaway is a painter and his artistic work can be seen in the film itself, with all the artwork done by the character of Neville is actually by Greenaway. Each of the drawings must be done over a period of a few days, as the light source of the sun would change shadow positions and change the artist's view, so the path that Neville sets over the course of a day would repeat but with slight differences for each day. The cinematography by Curtis Clark is simple yet effective in how the camera sees with great depth and detail, and this includes when the extremely rare tracking shots come in.

The story may sound conventional in description, but there is much more, or much less with the presentation of the murder mystery in "The Draughtsman's Contract". As Neville's drawings over a few days start to show anomalies with objects such as a shirt, a ladder, and boots that appear on different days, there is suspicion from the audience that something is odd with the work. Neville is out of the loop from everyone else, from Mrs. Herbert, to her daughter Mrs. Talmann (played by Anne Louise Lambert) and others that grace the premises. He does voice frustration with the different objects as they interfere with his laborious work, but he doesn't question about where Mr. Herbert has gone or why Mrs. Herbert was fine with sexual favors as part of the exchange. Like any other murder mystery, the clues are laid forth and the suspicions are always around, though "The Draughtsman's Contract" is closer to that with "The Wicker Man" with an outsider looking in and unknowingly becomes part of a bigger plan. Neville is not a detective or a man to piece things together rationally, rather one that sees what he sees within his viewfinder and not what is outside the frame, literally. Because of this, the story is centered entirely on Neville's account, meaning there are a lot of holes in the mystery that are never resolved in the end. Clues are seen and much can be implied, but for a murder mystery to not have a conclusion to who did exactly what, this may baffle some audiences as to what was experienced. Apparently Greenaway's first cut ran three or four hours, but with many trims placed, he kept the bare minimum to have the story take place. While the rest of the footage which has never been shown may show all the details to fill each gap, Greenaway's condensed story is like a painting itself in which the viewers are only given a singular viewpoint rather than everything as a whole. One person (or being) that would have seen everything is the mysterious statue (played by Michael Feast). A body painted entirely in black and seemingly invisible to adults but visible to only children, the character is always present in the unusual circumstances, and is an unexplained character altogether. Is he representing a spirit? A madman in disguise? A jester in secret?

The film also was the first of many collaborations with composer Michael Nyman and Greenaway, with the score comprised of new arrangements and containing elements from English composer Henry Purcell who passed away in 1695, a year after the film's setting at the age of 36. Beautiful and effective, yet never overbearing or taking center stage, it's one of the more memorable film scores that can also be fully enjoyed on its own.

Shot over an eight week period in summer at a single location with a small budget of a little under £400,000 with funding from the BFI Experimental Film Fund and the newly established Channel 4 Television, the film premiered at the 1982 Venice Film Festival on September 4th, with the UK theatrical opening on November 12th, 1982, and in other territories from 1983 onward. While it was not a major awards winner, it was certainly recognized by critics for its controlled and unique visuals, as well as going against the conventional murder mystery storytelling techniques and becoming a small arthouse hit. Greenaway hinted at a follow-up film entitled "The Hedgecutters" though the project was unfortunately abandoned. Forty years after its initial release, the BFI restored and remastered the film in 4K for a theatrical re-release as well as for this Blu-ray edition.

Note this is a region B Blu-ray set

Video


The BFI presents the film in the original 1.66:1 aspect ratio in 1080p AVC MPEG-4. The original Super 16mm Eastmancolor negative and the 35mm magnetic track master were used for the 2022 4K remaster at the BFI National Archive's Conservation Centre, and at Dragon Digital and Molinare. With colors referenced from an original release print, the digital restoration brings the lush colors of the beautiful green exteriors to life, as well as the dark tones of the indoor sequences. Damage marks such as speckles and scratches have been removed for a very clean image, while also keeping the original film grain intact and keeping its natural filmic look. Detail is sharp, the image is very stable and there are no particular defects or weaknesses to speak of. Basically a flawless transfer to be found here.

The film's runtime is 107:43

Audio


English LPCM 2.0 mono
German LPCM 2.0 mono
English Audio Descriptive Dolby Digital 2.0 mono
The original mono audio track is presented here in uncompressed form, and also has been remastered. Dialogue is well balanced against Nyman's beautiful score, with no particular issues such as hiss or pops to be heard. There are no issues with fidelity and the sound is consistently excellent throughout. There is also an uncompressed German dub track as well as a newly created audio descriptive track in mono.

There are optional English HoH subtitles for the main feature in a white font. There are a few passages in German and Dutch as well in which some of the German is captioned in German while the Dutch portions are intentionally left without translations or captions.

Extras


This is a 2-disc set with the film on DISC ONE and the extras spread across both discs.


DISC ONE

Audio commentary by Peter Greenaway
In this solo commentary from 2003, Greenaway discusses the making of the film, the timeframe of 1694 in British history, the importance of property in social status, the costume designs, finding the location, the optical device used by the draughtsman, the details laid out for the puzzle to unfold, the casting sessions, the long takes, and much more. Greenaway is an excellent speaker and there are barely any silent spots during this commentary as he gives wonderful insight throughout. Note this commentary was previously available on a number of DVD releases, including the BFI's DVD release.
in LPCM 2.0 without subtitles

An Introduction by Peter Greenaway (9:55)
This introduction from 2003 has Greenaway discussing the BFI's experimental film fund's involvement, the Baroque inspiration in the compositions, the logistics of shooting due to sunlight and shadows, the period setting, the eight weeks of shooting in summer and more, though without spoilers to be said. Note this was previously available on a number of DVD releases, including the BFI's DVD release.
in 576i AVC MPEG-4, in 1.78:1, in English LPCM 2.0 without subtitles

On-set Interviews with the Director and Cast (4:52)
Presented here are interviews with Interviews with Janet Suzman, Peter Greenaway, and Anthony Higgins during the production. The actors talk about how much they loved the script and Greenaway's direction, and Greenaway talks about the ensemble relationship with the cast and crew for the production. Note this was previously available on a number of DVD releases, including the BFI's DVD release.
in 576i AVC MPEG-4, in 1.33:1, in English LPCM 2.0 without subtitles

Behind-the-Scenes Footage (5:29)
Presented here is behind the scenes footage of the pomegranate scene, featuring Greenaway directing, making changes, while the cast and crew shoot the sequence. Note this was previously available on a number of DVD releases, including the BFI's DVD release.
in 576i AVC MPEG-4, in 1.33:1, in English LPCM 2.0 without subtitles

Deleted Scenes and Outtakes (with Play All) (10:33)
- Chair (5:30)
- Misadventure (2:26)
- Rain (1:17)
- Watercress (0:25)
- Headshot - Mr Herbert (0:34)
- Headshot - Mr Neville (0:18)
A series of scenes cut from the main feature, which do not particularly add or change much to the narrative. The final two scenes are without sound, though there is no sound necessary for them. There are some damage marks and colors are slightly faded, though the sound quality is quite fair. Note these were previously available on a number of DVD releases, including the BFI's DVD release.
in 576i AVC MPEG-4, in 1.33:1, in English LPCM 2.0 without subtitles

Gallery (4:09)
An automated silent stills gallery featuring the twelve pieces of black and white artwork featured in the film and on set stills in color and black and white.
in 1080p AVC MPEG-4

Original Theatrical Trailer (1:39)
The original trailer features some slightly washed out colors, though in a good state altogether.
in 576i AVC MPEG-4, in 1.66:1, in English LPCM 2.0 without subtitles

2022 Restoration Trailer (1:31)
The restored colors show vibrancy as well as the restored sound, the new trailer is with critical quotes and edited quite differently compared to the original. The trailer has also been embedded below.
in 1080p AVC MPEG-4, in 1.66:1, in English LPCM 2.0 without subtitles




DISC TWO

"Visions: A Film Comment by Angela Carter" 1982 episode (20:39)
"Visions" was a cinemagazine series that ran on Channel 4 from 1982-1985. Its first broadcast was on November 10th, 1982 when Channel 4 was just a week old, and its first episode featured an interview with filmmaker Paul Schrader, an in-depth review of the about to be released "The Draughtsman's Contract" by writer Angela Carter and an overview of what "Vision" would aim to be by film critic Tony Rayns. Presented here is the segment devoted to "The Draughtman's Contract", in which Carter praises the visuals, the characters, and the setting, while also explaining the elements of the murder mystery and the secrets within, without trying to spoil things too deeply.
in 576i MPEG-2, in 1.33:1, in English LPCM 2.0 without subtitles

"The Guardian Interview: Michael Nyman" (2002) (6:38)
This excerpt from an on stage interview at the National Film Theatre with Michael Nyman by critic David Thompson was conducted on October 12th, 2002. Nyman discusses his time as a music critic in the 1970s influencing his composing style, as well as his work with Greenaway on "The Draughtsman's Contract" in this all too short excerpt. Note this was previously available on a number of DVD releases, including the BFI's DVD release.
in 576i MPEG-2, in 1.33:1, in English LPCM 2.0 without subtitles

"The Greenaway Alphabet" 2017 documentary by Saskia Boddeke (60:25)
Greenaway's wife Saskia Boddeke directed this intimate documentary on her husband's life as both an artist and as a family man in an abstract form. From art, marriage, life, death, past, present, and future are all discussed in a non-linear fashion, which are connected with film clips from Greenaway's features, as well as the influence he has had on his then 16 year old daughter Pip. Fascinating as well as touching and humorous, it's certainly a major highlight of this set. The documentary is also available in the BFI Player.
in 1080p AVC MPEG-4, in 1.78:1, in English LPCM 2.0 without subtitles

"H Is For House" 1976 short by Peter Greenaway (8:48)
This 1976 short film by Greenaway features a house in the English countryside through quick cuts and edits like an old memory, as the voice of a young girl gives an abstract innocent narration. There are some damage marks to be found though the image looks quite good and the sound is fairly clean as well. The short can also be seen on the BFI Player for free.
in 576i AVC MPEG-4, in 1.33:1, in English LPCM 2.0 without subtitles

"A Walk Through H" 1978 short by Peter Greenaway (42:13)
Subtitled "The Reincarnation of an Ornithologist", this 1978 Greenaway short features a series of drawings and maps from a museum as well as a number of shots of a bird filled countryside connected by narration. The colors are quite bold, with very little damage marks for a very nice transfer as well as a clean audio track. The short can also be seen on the BFI Player for free.
in 1080p AVC MPEG-4, in 1.33:1, in English LPCM 2.0 without subtitles

"Insight: Zandra Rhodes" 1981 short by Peter Greenaway (14:39)
This 1981 short by Greenaway is a portrait of fashion designer Zandra Rhodes, with footage at home and at work plus interviews with Rhodes and others on her craft. The transfer has some damage marks such as speckles, though colors are quite vivid. The documentary can also be seen on the BFI Player for free.
in 1080p AVC MPEG-4, in 1.33:1, in English LPCM 2.0 without subtitles


Booklet
A 38 page booklet is included with the first pressing. First is a statement from Greenaway from the summer of 2022 on the film and its 4K restoration. Next is the essay "We could have had a cinema of painters instead of a cinema of writers!" by artist and filmmaker Simon Barker, who recalls his first viewing of the film and an analysis of it in depth. This is followed by a 2004 written piece on the film by Greenaway. "New directions in British filmmaking?" is a vintage Sight and Sound piece from Winter 1981/1982 by writer Robert Brown. "Gathering Greenaway" is a piece by the BFI's William Fowler on Greenaway's influences. "The Composer's Contract" is a written piece on Greenaway and Nyman's collaborations by film critic Charlie Brigden. There are also special features information, transfer information, acknowledgements and stills. Interestingly, the special features info is incomplete, only providing written information on the documentaries and shorts, without transfer information on them or information on the other extras such as the commentary and other vintage extras like they have on previous Blu-ray releases.


The film was previously released on Blu-ray in Japan by IVC, Spain by A Contracorriente, and Germany by Arthaus/Studio Canal. The extras found on the Japanese and Spanish discs are all found on the UK Blu-ray, though the German release has a few exclusives with some additional Greenaway short films plus a dated restoration featurette from two decades back. The BFI Blu-ray ports over most of the BFI DVD extras from two decades ago, though again it loses the old restoration featurette.

Other notable clips:


A clip from the restored version of the film, courtesy of the BFI.


The BFI Player introduction by Mark Kermode, which the film itself can be found here.


Peter Greenway in conversation with film critic Justin Johnson, as part of the 2022 Greenaway retrospective "Frames of Mind".

Overall


"The Draughtsman's Contract" is a unique painting brought to life with its intricate and controlled visuals, with an unnerving sense of mystery that surprisingly works while still giving slight frustration with the missing elements of the story. But that is part of the charm as well. The BFI's Blu-ray features an excellent 4K restoration transfer with a great selection of lengthy extras making this highly recommended.
| | | | | |
| --- | --- | --- | --- | --- |
| The Film: A- | Video: A | Audio: A | Extras: A- | Overall: A- |