Blood-Red Ox
R1 - America - Breaking Glass Pictures
Review written by and copyright: Eric Cotenas (5th February 2023).
The Film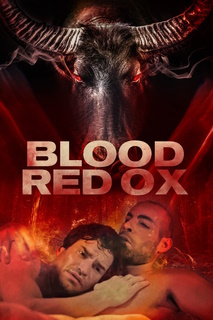 In an effort to mend their on-again-off-again relationship, journalist Amir (Mazin Akar) brings his boyfriend Amat (Kaolin Bass) with him to Bolivia to do a story on the conservation efforts of his best friend Amancaya (Andrea Camponovo) and her brother Amaru (Vitorio Lema) who are convinced that the pure water of a single mountain stream is hope for all humankind due to the rare and endangered vegetation it fosters in the surrounding jungle. Amir is fascinated by his friend's efforts in the face of sabotage attributed to foreign parties who want to exploit the jungle's resources. Amat, however, is unnerved by unfriendly faces as he is by the local mythology of a jungle deity that demands the blood of those who would take from its wonders, and he starts having horrible dreams in which his own childhood traumas are intertwined with the very new and foreign presence of an ox-horned, red-skinned humanoid threat. As Amat becomes more and more terrified, he confesses to Amir his ongoing battle with schizophrenia. When Amat fails to recognize Amir and attacks him before disappearing into the jungle, Amir himself starts experiencing the odd and unnatural as even his trusted friend Amancaya, her brother Amaru, and her boyfriend Amru (Julián Mercado) no longer seem to know who Amir is talking about when he tries to get them to help him find his boyfriend. Has Amat been sacrificed to or has he become the blood-red ox.

From Bolivian director Rodrigo Bellott – whose debut feature Sexual Dependency was the country's submission to the 2004 Academy Awards – Blood-red Ox (co-written by Nate Atkins of Netflix's A Christmas Prince franchise) is a frustrating viewing experience as either an arty psychological thriller or a horror-tinged gay film. Early on, tensions are evident but understated, from Amancaya's possible frustrated attraction to Amir when she learns that he has brought a boyfriend with him to the question of whether the suspicion with which the couple are viewed by the locals is the stated suspicion of foreigners who exploit their resources, out-and-out homophobia, or superstition; and the eye-candy scene of Amat taking a skinny dip in a purse stream he was initially offered a drink out of seems less gratuitous because it might be a transgression of a sort. The hellish dream imagery owes as much to David Lynch as scenes at a local bar in which the "soulful" wailing of Amancaya and Amaru (seen earlier in separate sessions and then later cutting back and forth as if they were the same person) singing with the band. More distracting is the stylistic choice to both echo certain lines of dialogue or cut in a non-liner fashion to different scenes in which the same line is echoed. The non-linear aspect is cleverly used in a few occasions to cast doubt on heretofore lucid Amir's perspective of his boyfriend cracking up; however, the more the film tries to mindfuck the viewer, the more tiresome it becomes starting with the similar sounding "Am" names of all of the characters – even two characters who are not given proper names are listed in the credits as "A Mother" and "A Machete Handler" – to the groan-worthy reveal that undercuts the efforts of the actors to convey their characters emotions and just makes them chess pieces for cinematic game-playing.


Video


Shot in high definition - specifications not disclosed - Blood-red Ox looks spectacular during the daylight jungle scenes while the night scenes and hellishly-graded nightmare scenes feature varying degrees of noise and clarity (at least somewhat intentional).

Audio


The sole audio track is an English/Spanish Dolby Digital 5.1 mix that is largely front-oriented with some jungle atmosphere, only really bringing the surrounds into play during nightmare scenes and scenes with diegetic music. Spanish dialogue is translated with burnt-in subtitles.

Extras


The only extras are the film's theatrical trailer (1:43) and trailers for horror-oriented Breaking Glass titles.

Overall


Blood-red Ox is interesting and even stimulating at first but gives way to cinematic game-playing where you care less about the characters because you are waiting for the twist.

---
Rewind DVDCompare is a participant in the Amazon Services LLC Associates Program and the Amazon Europe S.a.r.l. Associates Programme, an affiliate advertising program designed to provide a means for sites to earn advertising fees by advertising and linking to amazon.co.uk, amazon.com, amazon.ca, amazon.fr, amazon.de, amazon.it and amazon.es . As an Amazon Associate, we earn from qualifying purchases.