The Film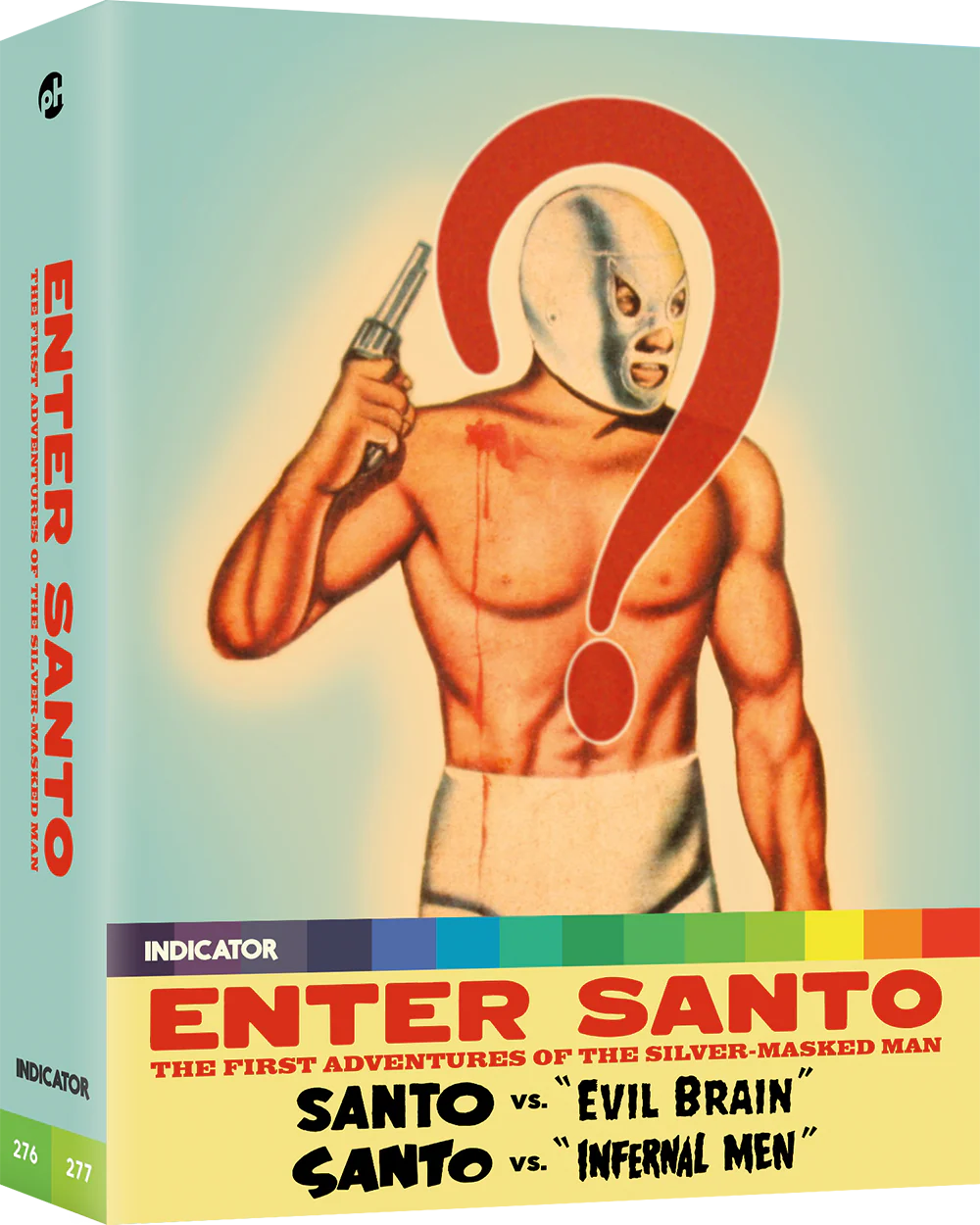 Immediately recognisable by his distinctive silver mask, the heroic wrestler known as El Santo ('The Saint') was Mexico's most popular luchador, becoming a folk hero and the star of a hugely popular series of action films. Enter Santo: The First Adventures of the Silver-Masked Man presents the two earliest cinematic excursions of this icon of Mexican popular culture.

In Santo vs. Evil Brain (Santo contra cerebro del mal), the dastardly Doctor Campos is kidnapping and brainwashing scientists. When undercover detective Santo falls prey to Campos' scheme, Lieutenant Zambrano (Enrique Zambrano) and El Incognito (Fernando Osés) must come to his assistance to foil Campos' plans. Meanwhile, in the same year's Santo vs. Infernal Men (Santo contra hombres infernales), the trio of Santo, El Incognito, and Zambrano team up once again to fight a band of drug smugglers.

Shot in Cuba in the final days before Fidel Castro entered Havana, these two films represent the celluloid birth of a true screen legend, and spawned a further fifty Santo films. Beautifully restored in 4K from the original negatives, these thrilling films finally receive their world Blu-ray premieres in this individually numbered Limited Edition two-disc set, complete with new and archival extra features, including a feature-length documentary, a poster, and an 80-page book.

Video


Prior to seeing these two discs my experience of the whole Santo phenomenon was limited to reading in genre histories and having seen some documentary material about Mexican wrestling and the Santo franchise. I'd also seen, and thoroughly enjoyed, the Jack Black classic Nacho Libre (2006) which was made with a great deal of love and affection.

Both films are slick little genre pieces and are well worth seeing, especially being the wellspring from which Santo (Rodolfo Guzmán Huerta, 1917-84) began his film career. The series had 52 entries when it came to an end in 1982.

Both films are preceded by the following text:

This film and Santo vs. the Infernal Men were shot in parallet in Cuba during the Revolution [in 1958 according to online sources, but unreleased til 1961]. The Mexican crew left the country with the films still incomplete, just days before Fidel Castro entered Havana. This was Santo's first appearance in the movies.

From the booklet concerning the restoration:

Santo vs. Evil Brain and Santo vs. Infernal Men were restored in 4K by Permanencia Voluntaria and Preservation Cinema Alliance. The original mono audio for both films was restored at the same time as the picture restoration took place. Perdida was supplied in HD by Permanencia Voluntaria.


Two modestly budgeted little action films shot in black and white 35mm in the matted ratio of 1.66:1. Interestingly the first is actually titled "Cerebro Del Mal" (Evil Brain) with no sign of "Santo" anywhere in the title card (the second is "Santo Contra Hombres Infernales, Santo Vs. infernal Men). Speckles appear at various points throughout the films but are very minor indeed; these are beautiful restorations. Gamma is perfectly balance with no colour bias and black levels are nice and rich with decent show detail. Contrast is supportive allowing detail and grain to shine. No signs of digital tinkering and the images are all expertly handled by the superb encode. Grain is ever present and usually fairly course and it all looks pretty sharp. Exceptions being optical fades, wiles and in the credits sequences.

These aren't the most distinguished looking films in that their cinematography is slick, very professional but won't win any awards. They look as good as the the 4K scams will allow in 1080p24. Obviously, more range will be gleaned in an UHD BD presentation with HDR etc. but, these BDs are about as good as it's likely to get. Both have generally excellent transfers ('A-').

1080p24 / AVC MPEG-4 / BD50 / 1.66:1 / 72:38, 76:27

Audio


Spanish LPCM 1.0 (48kHz)
Subtitles: English (optional)

Both films feature basic and fairly hollow sounding mono mixes. They were shot with production sound in Spanish with ADR used to patch up dialogue that wasn't successfully recorded on set or location, as per Hollywood productions. Dialogue is clear and discernible but sometimes sounds echoey, music is strident but doesn't interfere with the dialogue, not that it matters to a non-Spanish speaker like myself because the accompanying English subtitles are excellent. These are modest tracks and will never be optimal even when set against contemporaneous European or American productions. They get the job done well but lack finesse ('B-').

Extras


DISC ONE: Santo Vs. Evil Brain

"Looking for El Santo: A Four-Day Search in Havana" 2022 featurette (30:33)

Viviana García Besné, grand daughter of producer Jorge García Besné (who also appears in the film as a baddie, Mr. Yuri) returns to Havana, Cuba where, in late 1958, the first two Santo films were shot. Besné is joined by fellow film preservationist Peter Conheim, husband Alistair Tremps, producer Lia Tamame, local driver and urban archeologist Luis and they retrace the steps her grandfather and his film unit made when they shot the first two Santo epics just before the Cuban revolution kicked into gear. A thoroughly engrossing, humorous, "locations then and now" type piece. Presented in 1080p24 1.78:1 with 1.66:1 clips pillarboxed. Sound is lossy Dolby Digital 2.0 stereo. English and Spanish with optional English subtitles.

"A League of Gentlemen: Joaquín Cordero on Jorge Garcia Besné and working with El Santo" 2009 interview (11:39)

Vintage interview in which the late actor (1922-2013) recalls working on the film. Presented in 1080p24 1.78:1 with lossy Dolby Digital 2.0 stereo in Spanish with optional English subtitles.

"Mascára vs. Mascára: The Killer Film, el critico enmascarado on El Santo, the foundations of Lucha Libre and the Cinema of Luchadores" 2022 interview (32:44)

"The Killer Film and the Masked Film Critic" a Mexican personality and film historian takes us through the historian of Mexican wrestling and it's connections to cinema and beyond as a cultural touchstone in Mexican culture. Presented in 1080p24 1.78:1 with lossy Dolby Digital 2.0 stereo in Spanish with optional English subtitles.

DISC TWO: Santo Vs. Infernal Men

"Perdita" 2011 documentary (95:45)

Viviana García Besné, granddaughter of Jorge García Besné is back again (with Mate Calderón) for this substantial documentary which explores her family's contribution to Mexican cinema, the most important aspect was initiating the Santo series. Presented in 1080p24 1.78:1 with lossy Dolby Digital 2.0 stereo in Spanish with optional English subtitles.

Perdita Image Galleries:
- Perdita Image Gallery: The Calderóns: A Family Business (50 images)
- Perdita Image Gallery: Azteca Studios: Behind the Scenes (60 images)
- Perdita Image Gallery: The Alcázar Cinema Chain (90 images)

200 HD images in this whopping set of galleries.

In the box

An 80-page book with a new essay by Luciano Castillo, an archival newspaper article on Mexican wrestling, Christian Cymet on the history of the mask in Mexican wrestling, extracts from Carlos Monsiváis' The Rituals of Chaos and Jimmy Pantera's Los tigres del ring, an archival interview with Griselda Cruz, daughter of comic-book writer José G Cruz, Michael Donnelly on Perdida, an archival interview with Viviana García Besné and Alistair Tremps and film credits

Another outstanding hardcopy extra from Powerhouse Films which collects together a series of articles that put these first two films in context.

Double-sided poster

Not provided for review.

Packaging


Not provided for review.

Overall


An outstanding addition to Powerhouse Film's Indicator range brings to the UK the first two seminal El Santo adventures together as a fun double bill. Image and sound are excellent considering how these films were originally made (on the fly in revolution-torn Cuba). Extras are substantial and extremely interesting. One of the discs of the year.
| | | | | |
| --- | --- | --- | --- | --- |
| | Video: A- | Audio: B- | Extras: A+ | Overall: A- |