Eight for Silver [Blu-ray]
Blu-ray B - United Kingdom - Mediumrare Entertainment
Review written by and copyright: Eric Cotenas (21st February 2023).
The Film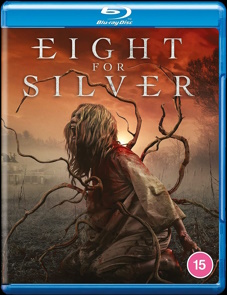 When Roma gypsies claim ownership of a chunk of their shared soil, land baron Seamus Laurent (The Terror's Alistair Petrie) and the local elders are frustrated that the gypsies will not be bought off a claim that they must admit has some validity. Seamus and the elders elect to hire a band of mercenaries to frighten the gypsies away, but their campaign of terror quickly devolves into a brutal massacre with the slaughtered gypsies dumped in a mass grave in the field with their leader (Pascale Becouze) buried alive after she places a curse on them and her son crucified and strung up to die in the field as a scarecrow. Not long after, Seamus' daughter Charlotte (Huntsman: Winter's War's Amelia Crouch) and son Edward ('s ) start having dreams of the monstrous scarecrow and a "buried treasure" and they soon discover that all of the children of the settlement are having the same dreams. Older boy Timmy (Rocketman's Max Mackintosh) tells them that he has seen the scarecrow in the field the elders have forbidden them to play in, and the trio set off in search of the treasure. Timmy digs up a box containing a pair of silver wolf fangs and is compelled supernaturally to use them to bite Edward. In shock and beholden to the oath she and Edward made to Timmy, she can only stand by dumbly when the local doctor diagnosis an attack by a vicious animal. After Edward vanishes from his bed in the middle of the night, Charlotte learns that Timmy has no memory of attacking Edward and has hidden the silver fangs in holy ground; that, however, does not stop a series of increasingly violent murders among Laurent's workers. When police lieutenant Moliere (Nigel Betts) brings pathologist John McBride (Logan's Boyd Holbrook) with him to investigate Edward's disappearance, McBride realizes that the murderous beast that he destroyed in Gévaudan is wreaking havoc once again. With Laurent and the elders insisting on tracking and destroying a beast, McBride must look to Edward's concerned mother (Puffball's Kelly Reilly) and sister to discover how the evil manifested itself and how to destroy it.

Released stateside under the unimaginative title The Cursed, Eight for Silver – deriving its meaning from a thematically-relevant rope-skipping song – is a return to the horror genre for director Sean Ellis whose second feature was the horror-tinged The Broken; however, his latest is less a satisfying genre jaunt and more a Brotherhood of the Wolf-enamored concoction that seems like a portfolio piece in hopes of an invite west to Hollywood. Period detail is striking but the visuals are buried under the usual desaturated grading, exposition scene are perfunctory, performances uneven (Holbrook mutters most of his dialogue and Reilly is hampered by a French accent that none of the other French characters use), action set-pieces are punctuated by fades in and out, and the low-lit, shallow-focus photography seems to be less a matter of long lenses and available light and more of digital tinkering. Ellis indulges in several of the recent genre filmmaking cliches, including a tiresome bit where something rushes past a character who then notices that he's now missing a limb (old school horror fans may find a late "homage" to Mario Bava's Black Sabbath just as groan-worthy, although I thought a bit with the scarecrow and the in-camera trick from Shock/Beyond the Door II would have been coming had the film not dropped the scarecrow apparitions midway). Most of the practical effects suffer from rubbery textures exacerbated by the lighting and grading and the full body CGI creature and its digitally-augmented mayhem are no more improved over the Gans film or the likes of An American Werewolf in Paris. The World War I wraparound makes for a less satisfying resolution and seems tacked on in spite of directly referencing the title.

Video


A low-budget horror film lucky enough to be shot on 35mm in anamorphic scope, Eight for Silver's 1080p24 MPEG-4 AVC 2.35:1 widescreen Blu-ray went through the usual digital intermediate process so the cliché warm-leaning, desaturated look of the film is determined more by the digital grading than the organic qualities of the high speed film stock. Outside of the aesthetics of the image, there is nothing to complain about the technical presentation.

Audio


English DTS-HD Master Audio 5.1 and LPCM 2.0 stereo options are offered with optional English HoH and French subtitles (the inclusion of the latter on a UK release makes one wonder whether there is going to be a French Blu-ray edition that makes use of the same disc image). The stereo downmix option is serviceable, but the discrete surround option does make use of the rears for atmosphere and suspense.

Extras


Besides the film's theatrical trailer (2:11), the disc also includes the usual EPK puff piece behind the scenes (4:38). There are no start-up trailers or previews.

Overall


Eight for Silver feels less like a satisfying genre jaunt and more a Brotherhood of the Wolf-enamored concoction that seems like a portfolio piece in hopes of an invite west to Hollywood.

---
Rewind DVDCompare is a participant in the Amazon Services LLC Associates Program and the Amazon Europe S.a.r.l. Associates Programme, an affiliate advertising program designed to provide a means for sites to earn advertising fees by advertising and linking to amazon.co.uk, amazon.com, amazon.ca, amazon.fr, amazon.de, amazon.it and amazon.es . As an Amazon Associate, we earn from qualifying purchases.