The Film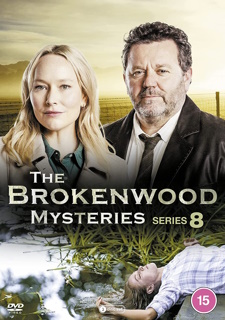 Touted as New Zealand's answer to Midsomer Murders, The Brokenwood Mysteries trades village fêtes for cheese rolls as four-times divorced, country & western music-loving city officer Detective Senior Sergeant Mike Shepherd (The Irrefutable Truth About Demons's Neill Rea) first turned up in the North Island town of Brokenwood to put the "field in field investigator" and takes over investigation into a death that everyone else would rather believe was a suicide or accidental death, replacing the local senior inspector implicated in the case. Ditching the city for Brokenwood and a vineyard, Shephard finds his outsider status both alienates him from the locals but also allows him to view cases from a perspective lacking in partner Kristin Sims (The Almighty Johnsons' Fern Sutherland) and young Detective Constable Sam Breen (Power Rangers Mystic Force's Nic Sampson) who was subsequently replaced last season by D.C. Daniel Chalmers (Fantail's Jarod Rawiri). And yet, they are as much sources of background information and incriminating gossip as feisty pensioner Mrs. Marlowe (30 Days of Night's Elizabeth McRae), hapless entrepreneur Frankie 'Frodo' Oades (Karl Willetts) who finds himself a suspect more than once, while the outlandish theories posited by humorless Russian pathologist Gina (Filthy Rich's Cristina Serban Ionda) are sometimes as fruitful as Shephard's habit of interrogating corpses.

As with the aforementioned Midsomer Murders and other small-town procedurals, dirty laundry and skeletons in the closet could do with some airing out to expose culprits and the motives which sometimes are rooted in the past Suspects from earlier cases often pop up in later episodes with much more frequency than the British series and are not always readily available to help; indeed, some like to hinder the investigations just for the sake of it like attorney Dennis Buchanan (The Almighty Johnsons' Shane Cortese) who often turns up as defense council just as the team bring in a suspect, or Trudy Neilson (Tracy Lee Gray) who defended her hapless brother Ray (What We Do in the Shadows' Jason Hoyte) when he was suspected of murdering his wife and then landed in some hot water of her own.

Series seven said goodbye to Constable Breen who was replaced by Chalmers and the extended season gave him four episodes to find his footing after he was introduced at the tail end of the season's second episode; yet, in this new season of six cases it seems that the series is trying to find its footing again after the more tragic bent of several of series seven's cases (including the death from terminal illness of a person from Mike's past). The "cozy" elements of the small town detective procedural that audiences desire over character arcs are such that it can perhaps be forgiven if it feels as though this season is spinning its wheels on the matter of Mike's secretive personal life – including the possibility of a new relationship – the increasing awkwardness of Gina's unrequited interest in Mike becoming a joke among his colleagues, and yet another ill-advised and ill-fated love interest for Kristin while comic relief is divided between the stoic Chalmers and the ever-hapless Frodo. The cases feel more so than previous seasons like a shuffling of settings, characters, and scenarios from previous cases; although, like the aforemtnioned Midsomer Murders, there are only so many village fêtes as murder settings or country house gardens where Rosemary and Thyme can unearth corpses before the viewer must acknowledge and either welcome or reject the formulaic nature of the cozy. After four routine episodes, the season's fifth and sixth episodes are the most compelling and emotionally-moving while just pulling back from the potential of some eccentric characters to turn out truly nasty while the murderers in the two cases have more complex and tragic motives. The eccentricities of the characters feels even more over-the-top than before; however, this may either be an effect of the show working out the kinks brought about by major changes or a (re)viewer assessing the season in the context of all that came before rather than just tuning in as one does with other detective series not under review.


Series 8 Overview:
8.1: "From the Cradle to the Grave" (94:55): Mike and his team must figure out how Frodo's aunt wound up inside an Egyptian sarcophagus and the whereabouts of the mummy his cousins were supposed to steal from it.

8.2: "Death n' Bass" (89:25): Mike and his team investigate the death of a rock musician seemingly murdered by sound waves and discover that he gave his colleagues, groupies, and the locals plenty of reasons to hate him.

8.3: "Spark to a Flame" (91:35): When the local busybody of a seaside community is brutally-murdered, the only neighbor with a motive for murder starts to seem less likely a suspect as Mike, Kristin, and Daniel uncover plenty of dirty laundry.

8.4: "Three Coins in a Fountain" (94:10): When the gentleman's sport of "spoofing" comes to Brokenwood, Frodo's chances to move up in the world and Kristin's flirtation with a playboy get derailed by murder.

8.5: "Good as Gold" (93:50): Th e murder of a female gold panner ignites a century-old family feud over the existence of a legendary avocado-sized gold nugget.

8.6: "Four Fires and a Funeral" (91:32): After the Brokenwood volunteer fire department responds to two separate fatalities being investigated by Mike and his team, they look into seeming connections between the department, a series of robberies, an earlier fatal fire, and the activities of the local funeral director and his creepy embalmer.

Video


The digitally-shot production's anamorphic 1.78:1 widescreen encodes are well-served by spreading the six episodes over three dual-layer discs, but the location visuals are screaming for a Blu-ray release.

Audio


As usual, audio is Dolby Digital 2.0 stereo, boasting clear dialogue, directional effects, and the ever present soundtrack full of local country and western artists whose lyrics are transcribed in the English HoH subtitles.

Extras


Extras consist of a short "Making of Series 8" promotional piece (3:03) – also with optional English HoH subtitles – and a picture gallery (2:06). All three discs feature the same mystery-oriented Acorn start-up promo.

Overall


Regular viewers of The Brokenwood Mysteries are as likely to feel that season eight is spinning its wheels but there is always plenty to savor for fans of the comfortable cozy.