The Film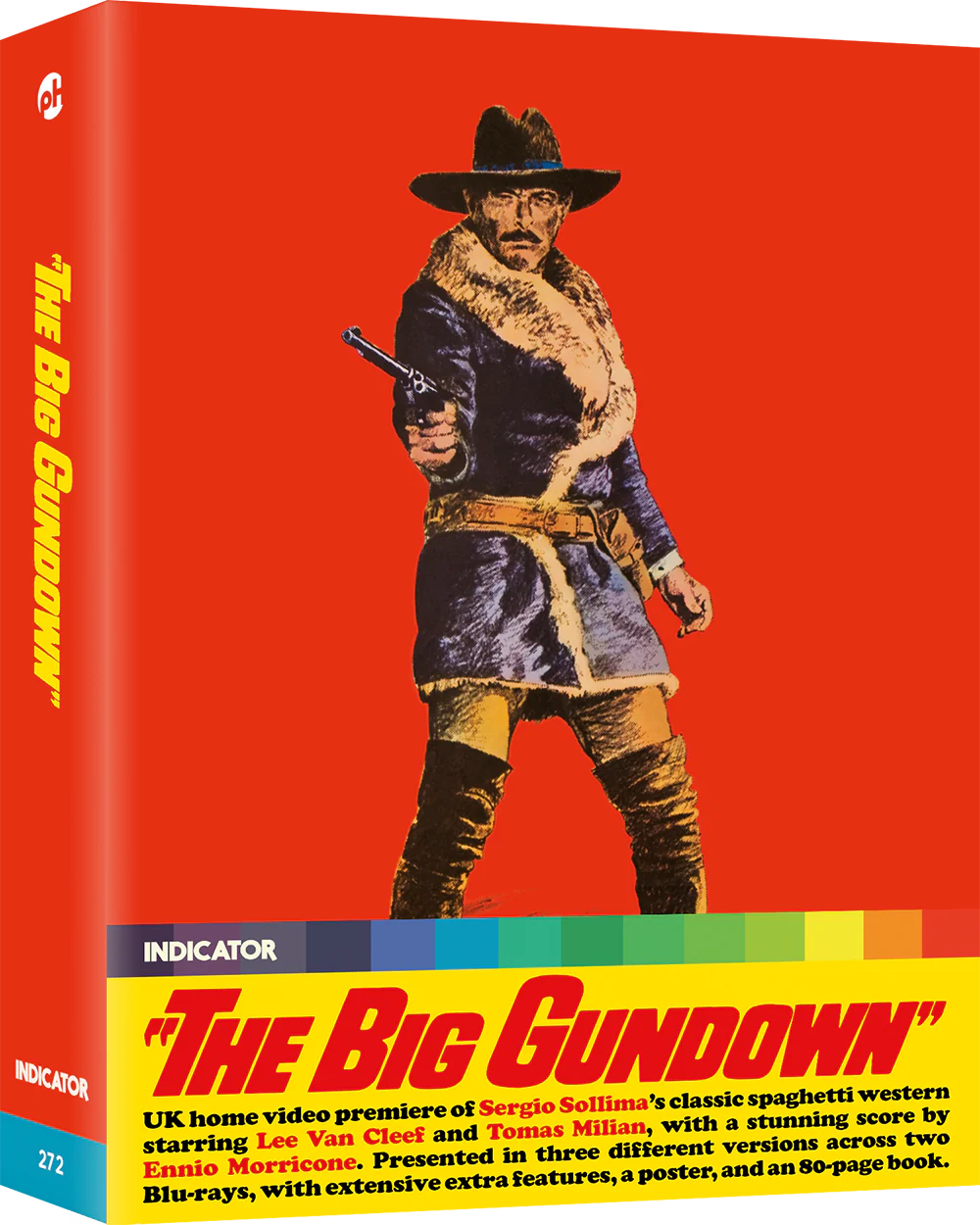 Released the same year as Sergio Leone's The Good, the Bad and the Ugly and Sergio Corbucci's Django, The Big Gundown (La resa di conti) is a classic spaghetti western. Directed by the great Sergio Sollima (Face to Face, Violent City) this brutal film elevated western regular Lee Van Cleef (Ride Lonesome) to his first ever starring role.

When bounty hunter Jonathan Corbett (Van Cleef) is hired to track down a Mexican peasant (Tomas Milian, in a career-defining role) who has been accused of an appalling crime, he is initially outwitted by the wily bandit. However, the relationship between the two men soon takes an unexpected turn and they team up to take on railroad baron Brockton (Walter Barnes).

With its rousing score by legendary composer Ennio Morricone, and its politically charged screenplay by Sergio Donati (Once Upon a Time in the West) and Franco Solinas (The Battle of Algiers), The Big Gundown has earned its reputation as one of the greatest and most influential Italian westerns.

This individually numbered Limited Edition includes three versions of the film – the US theatrical cut, the extended US cut, and the original 110-minute Italian version – along with a fascinating selection of new and archival extra features, a poster, and an 80-page book.

Video



Sony's 2K restorations, supervised by James Owsley, were the sources of this Indicator edition. The film's original mono soundtracks were remastered at the same time.

Amusing, exciting, though-provoking spaghetti western classic, complete with a belting theme tune "Run Man, Run!" sung by the late "Christy" (real name Maria Cristina Brancucci, 1940-2022) that turns up throughout the film even in the diegetic music ala The Long Goodbye (1973). Lee Van Cleef (1925-89) takes the co-lead position and is a magnetic, charismatic screen presence. Ennio Morricone's score (including that great theme tune) is one of his best and director Sergio Solima (1921-2015) gives it his all. The first in a duet of westerns telling the story of Cuchillo (co-star Tomas Milian, 1933-2017) and as luck would have it, the fine sequel, Run Man Run! (1968) has just been released by Eureka in a special edition so fans ought to be in Spaghetti hog heaven!

This is almost certainly the same restoration that appeared on the excellent 2013 US BD from Grindhouse Releasing and it gets a superb encode from Fidelity in Motion that probably bests the older disc, if only due to the decade of improvements in encoding technology and techniques. Flesh tones are warm and healthy with the general colour palette having strong reds, blues and greens. Blacks are deep and strong with layered supporting contrast. Sony's masters, especially those by James Owsley, have a great reputation and this holds true despite being older. I didn't notice a single speckle or sign of print damage. Ditto digital manipulation. Grain is course and filmic as one would expect from a 2-perf Techniscope film and handled expertly by the encode.

The Sony master is used as the basis for all three variants and my comments apply to all three. I watched the definitive 110 minute Italian version (with hybrid English-Italian track) but spent some time scanning and assessing the two versions of the US release and image was as good on all three.

Widely considered one of the great pasta westerns this is mostly likely it's definitive home video presentation with a superb transfer ('A+') and will play well on large displays and projection systems. In my experience, this is one of the finest Techniscope restorations on BD and it looks like it was shot yesterday. This could only be bested by a 4K UHD release but that would involve a new scan due the 2K source used here.

1080p24 / AVC MPEG-4 / BD50 x 1, BD25 x 1 / 2.35:1 / 110:19, 94:56, 89:21

Audio


Italian Theatrical Version
Italian LPCM 1.0 (48kHz)
English LPCM 1.0 (48kHz)

Both US Versions
English LPCM 1.0 (48kHz)

Subtitles: English (on Italian version), English HoH (on the US versions)

Sound is crips and clear on all variations of the LPCM 1.0 on offer here. Decent base, although no LFE presence, with no distortions that I could detect. As with the video, a topnotch presentation even if the vintage 1.0 presentations are inherently limited in range. I favoured the English dub which has Van Cleef's own voice dubbing his scenes and besides the film seems to largely be shot in English, not exclusively, but largely. However, some sections were never dubbed in English (approximately 15 minutes worth). The following appears on the menu when you select which soundtrack for the 110 minute cut to listen to:

As was common for Italian productions of the era, the dialogue for The Big Gundown was post-synchronised. Whilst a complete Italian track was produced for the La resa dei conti version, English-language dialogue was only ever recorded for the shorter US cuts. It should therefore be noted that the newly prepared English-language version of La resa dei conti presented here necessarily includes some Italian language sections (with English subtitles) to compensate for the gaps in the original English track.


All variations of subtitling included are excellent and the hard of hearing comprehensive catching all nuance and not dropping any dialogue. At least in the sections I sampled.

Extras


Audio commentary on the Italian version with Barry Forshaw and Kim Newman (2022)
Audio commentary on the extended US version with C. Courtney Joyner and Henry Parke (2013)

Collectively these two tracks (205:15 worth), one from 2013 and the Grindhouse disc and the other a new one exclusive to the Powerhouse Films release cover all the ground one needs to appreciate this classic. Although there is crossover at times it's obvious that Forshaw and Newman are aware of what Joyner and Parkes discuss and they take a different tack. Between both the cast, crew, the genre, the various different versions all come under scrutiny. Both are presented in lossy lossy Dolby Digital 2.0 mono (well, they may be stereo but I could detect no separation).

"Spaghetti Western Memories as Remembered by Sergio Sollima and Tomas Milian" 2012 interview (51:43)
"Tomas Milian: 'Acting on Instinct'" 2013 interview (29:48)

81:31 worth of vintage interviews taken from older releases of The Big Gundown. Co-star Milian and maestro Sollima are the focus and we get plenty about their careers and the film. I've seen Milian in other interviews before and he's a lively presence and on great form here. Presented in 1080p24 1.78:1 with lossy Dolby Digital 2.0 stereo.

"Heroes and Villains: Stephen Thrower on the Themes and Politics of The Big Gundown" 2022 interview (29:30)
"A Settling of Accounts: Austin Fisher on Allegory and Ideology in The Big Gundown" 2022 interview (22:33)
"Prelude to a Gundown: Stephen Thrower on Sergio Sollima and the Cast of The Big Gundown" 2022 interview (9:34)

61:37 worth of new interviews each with their own focus (see the titles). The main areas of interest are on the subtexts, themes and political eye of the film, although aspects of Sollima's (and van Cleef's and Milian's) career and the film's production. I'm very familiar with Thrower's work and he's his usual engaging, knowledgeable self. Fisher I know less well but he's just as good. Collectively and in concert with the older pieces above we have a nice making-of retrospective analysis.

Trailer and TV spots (Play All - 10:32):
- US Theatrical Trailer #1 (2:14)
- US Theatrical Trailer #2 (2:14)
- Italian Theatrical Trailer (3:56)
- TV Spot #1 (60 secs) (1:02)
- TV Spot #2 (20 secs) (0:22)
- TV Spot #3 (20 secs) (0:18)
- TV Spot #4 (10 secs) (0:12)
- TV Spot #5 (10 secs) (0:12)

This would seem to be the complete vintage promotional package created for this film. Presented in 1080p24 2.35:1 for the trailers, 1.33:1 monochrome for the TV spots.

Image Galleries:
- The Big Gundown Image Gallery: Production Stills (14 images)
- The Big Gundown Image Gallery: Promotional Materials (121 images)

Extensive, comprehensive HD galleries.

80-page liner notes book with a new essay by Italian cinema expert Roberto Curti, archival interviews with Lee Van Cleef, Tomas Milian, and Sergio Sollima, extracts from the film's promotional materials, an examination of the work of co-screenwriter Franco Solinas, an overview of contemporary critical responses and full film credits

The usual superb hard copy companion only double the size of the usual Powerhouse booklet.

Exclusive Poster

Not sent for review.

Packaging


Not sent for review.

Overall


A classic of the western genre and more specifically of the Spaghetti western subgenre gets the deluxe treatment from Powerhouse Films showcasing Sony's excellent (if aging, although you'd never be able to tell) master with topnotch image, sound and encoding. Extras are not everything that has been on prior releases but are very comprehensive in their own right and excelelnt offering masses of contextual added value. One of the discs of the year, at least for me ('A+').
| | | | | |
| --- | --- | --- | --- | --- |
| The Film: A | Video: A+ | Audio: B+ | Extras: A+ | Overall: A+ |