The Film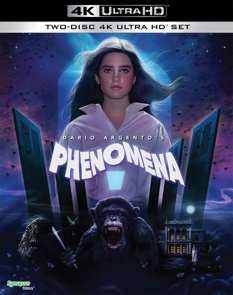 "Jennifer has a million close friends and she's going to need them all" when Synapse Films brings their their two-disc 4K UHD set of Dario Argento's Phenomena to wide release standard edition.

Jennifer Corvino (Labyrinth's Jennifer Connelly) is shipped off by her movie star father to the Richard Wagner Academy for Young Girls in the "Swiss Transylvania" where she learns from her French roommate Sophie (Federica Mastroianni, daughter of editor Ruggero Mastroianni and niece of actor Marcello) that a killer who decapitates young girls and takes their bodies and leaves behind their heads has made the area his hunting grounds. On her first night at the academy, Jennifer sleepwalks and unknowingly witnesses the brutal killing of a classmate (Fiorenza Tessari, daughter of filmmaker Duccio Tessari). Startled from her trance by a fall from one of the academy's parapets, she also makes the acquaintance of Inga, the personal helper chimpanzee for wheelchair-bound entomologist John MacGregor (Halloween's Donald Pleasance) who has been assisting police inspector Geiger (The Rapture's Patrick Bauchau) in investigating the string of murders of which his own assistant Rita was one of the victims.

Jennifer has long had a love for insects, but MacGregor realizes that her relationship with them may indeed be telepathic when a firefly draws her to a glove left behind by the killer and maggots inside them trigger flashes of Sophie's murder. The academy's headmistress (The Pyjama Girl Case's Dalila De Lazzaro), head instructor Miss Bruckner (Deep Red's Daria Nicolodi), and the catty classmates go from thinking that Jennifer is crazy to diabolic when she responds to their bullying by calling a swarm of flies to attack the school. Believing that Jennifer's abilities may help lead her to the killer, he gives her a corpse-eating sarcophagus fly to track the path of the killer starting in area of the first disappearance: that of a Danish tourist (Argento's oldest daughter Fiore Argento) who missed her bus and stumbled upon an isolated chalet. Frightened off by the chalet's estate agent before she can discover anything, and before the arrival of Geiger who is also on a similar track in his investigation, Jennifer returns to MacGregor's only to discover that he has been murdered. Eager to escape Switzerland and return home, she reluctantly accepts the hospitality of someone who leads her right to the killer's lair.

Considered by some to be Argento's last great movie – others might pick Opera (1987) or The Stendhal Syndrome (1996) – and by some others as the start of his decline, Phenomena is a hybrid of both his gialli and horror films – emphasizing the latter over the former in an inverse of what he did with Deep Red (in which a psychic's real vision sets off a chain of murders by a human culprit) – as well as the closest Argento has gotten to aping the American slasher film (although the girl's school setting has also been used as a setting for body counts with Narciso Ibαρez Serrador's The House That Screamed, Amando de Ossorio's The Loreley's Grasp, and Argento's own Suspiria). The plot is jam-packed with Argento weirdness from telepathy, insect swarm attacks, razor-wielding chimps, heavy metal-scored murders, severed heads, maggots galore, and high-tech security systems meant to trap victims in rather than keeping killers out that it is a miracle any of the cast makes an impression in the near two-hour running time unless they go completely over-the-top (character actor Bauchau certainly deserved better).

Fresh-faced Connelly (whose only previous film role had been as the child version of Elizabeth McGovern's character in Sergio Leone's sprawling Once Upon a Time in America) anchors the film with a warm performance that gives the proceedings an emotional core (with her throwaway line "Screw the past" giving her journey a sense of a rite of passage). The film is gorgeously-lensed by Romano Albani (Inferno) with a heavy use of the color blue – also an early credit for prolific Steadicam Operator Nicola Pecorini(Stealing Beauty) – with costumes designed by Giorgio Armani, early animatronic and special make-up effects by Sergio Stivaletti the year before he really got to strut his stuff in Demons, and Argento's first compilation score with score tracks by former Goblin members Claudio Simonetti and Fabio Pignatelli, and Lord of Illusions' Simon Boswell (in his first film scoring assignment) with songs by Iron Maiden ("Flash of the Blade"), Motorhead ("Locomotive"), and Boswell's band Andi Sex Gang ("The Quick and the Dead"). Argento's protιgι Michele Soavi ( – who got his first directorial opportunity under Joe D'Amato with the inventive slasher Stagefright before Argento offered him The Church and The Sect – served as assistant director and has a brief role as Geiger's partner.

Video


One of the last Argento films to receive a wide theatrical release in the United States (apart from Demoins the following year), Phenomena was released by New Line Cinema in a version that ran only eight-three minutes (consisting of MPAA cuts and nearly a half-hour of exposition) under the title "Creepers" (with Enigma Records putting out a soundtrack LP). This version has been readily accessible on Media Home Entertainment's SP-mode tape, Video Treasures' LP sell-through reissue, and New Line Cinema's own SP tape in the nineties. The film was released in its longer export version (110 minutes) in Japan in 1985 by Columbia on fullscreen tape and laserdisc in an edition featuring a few variations in music and sound effects, but this cut became more accessible to American viewers (outside of bootleg tapes) when The Roan Group put out a special edition laserdisc in the waning days of the format in 1999 (meanwhile the Japanese got the 116 minute Italian version in a letterboxed transfer on laserdisc in 1997 with a 110 minute documentary by Luigi Cozzi). The letterboxed Roan transfer – along with its commentary and Chase Surround 5.1 remix of the original Dolby Stereo mix – was carried over by Anchor Bay for their DVD and clamshell tape release in 1999. While anamorphic transfers appeared overseas – albeit with a mono English track along with an Italian DVD of the 116 minute cut with English subtitles that unfortunately was warmer and less blue than the film was supposed to look – Anchor Bay's 2008 upgrade was a 16:9 upscale of the older 4:3 master.

The film's first Blu-ray release turned up in the UK from Arrow Video, but the HD master had issues and the synchronization of the English audio to the longer Italian version was also problematic. In France, the export version was one of a handful of cinematographer-approved 2K remasters of Argento titles by Wild Side, although it was the only one of these not to have been released by them on Blu-ray (presumably because some missing footage had to be augmented with SD video) with a DVD-only release. Working with the same master for their 2016 three-disc (two Blu-ray, one CD) limited steelbook edition, Synapse Films accessed Warner Bros.' New Line Cinema vault material of the shorter American version in order to replace that footage as well as reconstruct the US version. Their 2017 two-disc standard edition – which dropped the soundtrack CD and booklet – featured the Italian version (116:00) and the US version (83:06) on the first disc and the export version (110:06). The export and US versions are derived from the same Albani-approved master and look the best while the Italian version was derived from a different master and has some DNR baked into it, and Synapse apparently elected not to do a reconstruction of this version using the Wild Side master due to the disparity in image quality (the footage derived from the Warner/New Line version include the alternate crane shot and opening credits with a different title card contain some white specks and bits of dirt but these are brief and not distracting). The same year, Arrow in the UK put out their own four disc (three Blu-ray/one soundtrack CD) limited edition that utilized new 4K scans of the original camera negative and the original four-track Dolby Stereo elements for the Italian and export versions and a 35mm print for the credits of the "Creepers" reconstruction, with Arrow obviously blowing Synapse's Italian version out of the water while Arrow's international version was sharper and a touch less blue than Synapse's fixed Wild Side master. Arrow's subsequent standard edition featured only the Italian version but was not a direct port of the limited edition.

In 2021, Synapse and Arrow collaborated on a new 4K restoration of Demons and Demons 2, combining the extras from their previous standard Blu-ray editions (with Synapse further tweaking their package which otherwise shared the same menus and extras as the Arrow). For Phenomena, Synapse's 6000-copy 2022 limited edition and the standard edition here under review are identical in audio, video, and extras to Arrow's edition, both utilizing Arrow's 4K masters for their 2160p24 HEVC 1.66:1 widescreen encodes of the Italian, international, and U.S. versions – now with Dolby Vision HDR metadata – with the Swiss vistas finally taking on a depth and sense of texture to match the aggressiveness of the Dolby Stereo mix's sound design even before the murders and heavy metal. Details once less apparent unless one knew to look for them are more evident (the reflected water shot of Vera's headless body being dragged through the frame, the killer's face seen by Jennifer in the window glass when once our focus was solely on the face of his victim), and some throwaway details finally assert themselves (MacGregor's remark that Inga never forgets something once he points his laser at it). Since Arrow utilized a print for the material specific to the "Creepers" cut, the image does become coarser and contrastier during those moments including the opening credits. Fiore Argento's slow-motion death scene will always be grainy and softish since it was shot with a high-speed camera (at 340 frames per second) made for military purposes rather than cinematic ones.

Audio


Arrow was able to access the original 4-track Dolby Stereo master for remixing the audio and creating a new hybrid of the English and Italian audio for the Italian version. The Arrow Blu-ray edition included for the Italian version the aforementioned hybrid track in DTS-HD Master Audio 5.1 – with the option of full English subtitles or subtitles for the Italian sections only – as well as Italian DTS-HD Master Audio 5.1 and LPCM 2.0 stereo tracks while the international version includes English DTS-HD Master Audio 5.1 and LPCM 2.0 stereo tracks and an LPCM 1.0 mono track for the "Creepers" version. The Arrow and Synapse 4K include DTS-HD Master Audio versions of all tracks while also adding from the Synapse Blu-ray package the international version's alternate stereo track – featured on the Japanese VHS and original laserdisc release (the later Japanese laserdisc featured the Italian cut) – with some different sound effects and music cues (for instance, the sting when the McGregor uncovers severed head he is examining and a different crash of thunder sound effect when Jennifer discovers the contents of the killer's glove). Overall, some of the more subtly-mixed music cues are also have more presence (the lovely track "Jennifer" can be better heard during the sequence in which she recalls her mother walking out on her father). English SDH subtitles are also included for the international and U.S. cuts.

When creating their own composite cut of "Creepers" with the Warner/New Line materials, Synapse discovered that the 3-track DME stems had its sound effects mixed down to mono but that the music was still in matrixed stereo, so they included in their version a DTS-HD Master Audio 2.0 stereo track only. After announcing specs for 4K editions on both sides of the pond with mono audio only for the "Creepers" cut, this was quickly amended, and the U.S. version includes both the Synapse DTS-HD Master Audio 2.0 stereo and Arrow mono track (this time in DTS-HD Master Audio 1.0). The mono track may be "truer" to the theatrical experience but the stereo track is the more enveloping (and it may have been what New Line used when they issued their own cassette in 1996 with a Dolby Surround logo on the spine and cassette label).

Extras


The Italian version is accompanied by Arrow's audio commentary by film historian Troy Howarth which is a mixed bag, finding him fully up-to-date on the film's history and production anecdotes – the film's autobiographical aspects, wanting Isabella Rossellini for the headmistress role and Peter Ustinov for the Pleasance role, the breaking down of Nicolodi's relationship with Argento, and cameo appearances of Fulvio Mingozzi (Suspiria's taxi driver) and Soavi – but he spends an inordinate amount of time pointing out the film's faults of which the film's fans are already aware and have probably fully embraced. He also does point out less obvious tidbit: the muffled music cue that accompanies the ethnographic footage on Sophie's television set before Jennifer's first sleepwalking episode is the same track heard during the ammo store scene in Dawn of the Dead.

The export version is accompanied by Synapse's audio commentary by film scholar David Del Valle and "The Argento Syndrome" author Derek Botelho. They discuss the origins of the project in a radio news story Argento heard about the police using insects to determine time of death in murder investigations, a visit to a Swiss asylum, as well as his first collaboration with co-writer Franco Ferrini (Opera) and their initial treatment being titled "Killing Monkey" (although Botelho is not sure if the chimp actually was the killer or a red herring in the earlier incarnations). Factoids revealed include Argento initially offering the role of MacGregor to Ustinov, Di Lazzaro's role to Rosselini, and Nicolodi's role to Liv Ullman who had also turned down Angie Dickinson's part in Dressed to Kill because she had a family and did not want to appear in a horror film. Topics of discussion include Argento's use of family members onscreen and off (he was grooming Fiore as an actress and offered her this small role before a more substantial one in Demons), his rocky relationship with Nicolodi, the themes of bad parents (whether distant or resorting to murder to protect their children), Connelly's fear of the chimp (pointing out shots in which she is obviously doubled), and the filmic and literary antecedents of the film (particularly Poe's "The Murders in the Rue Morgue"). Botelho is soft-spoken but not afraid to contradict Del Valle when he misremembers a plot point of the film or other Argento works, but often uses those corrections as a jumping off point to anecdotes from his interviews with Argento and his collaborators.

Also ported from the Arrow release is "Of Flies and Maggots" which features interviews with most of the surviving Italian cast and crew. Argento discusses the origins of the story in a radio story he heard while on vacation with his mother, researching forensic entomology in France, and scripting with Ferrini who recalls the shoot and his friendship with Nicolodi who was convinced that the film would be the last time they worked together (although she would also appear prominently in Opera). Nicolodi recalls being sent to America for casting and meeting with volatile reactions to the script's violence from Ullmann among others as well as befriending Connelly. Fiore Argento and Fiorenza Tessari recall their friendships with Connelly and shooting their death scenes (in both cases, sugar glass is apparently harder than one imagines). Executive producer Angelo Iacono recalls stepping up from production manager due to disagreements Argento had with his father Salvatore and brother Claudio on Tenebrae as well as helping them reconcile. He also recalls with great joy securing Orson Welles for the Pleasance role only for the actor to fall ill and have to withdraw. Other collaborators interviewed include cinematographer Albani – who makes some bad taste comments about the questionable treatment of the chimp – underwater photographer Gianlorenzo Battaglia (The Barbarians), make-up artist Pierantonio Mecacci (Contamination), optical effects artist Luigi Cozzi (Starcrash), dwarf actor Davide Marotta (who also doubled for a transformed child actor in Demons 2), as well as composers Boswell and Simonetti.

Also ported from the Arrow edition is the wonderfully informative "The Three Sarcophagi" (31:02), a visual essay by Michael Mackenzie comparing the different cuts in which he notes just how minor the differences are between the Italian and international cuts with the cuts consisting mainly of shortening the film with trims to beginnings and ends of scenes, lulls in conversation, and a few instances where bits of character interaction were removed – such as a tourist on the bus trying to get Jennifer to shut her window – sometime amounting to a few frames difference. These cuts were done by Piero Bozza after Franco Fraticelli completed his Italian version cut while the U.S. "greatest hits" version was done by New Line editor and post-production supervisor-turned-director Jack Sholder (The Hidden) who had access to outtake material. The discussion of the differences between the Italian and international cuts is especially interesting as Mackenzie goes on to discuss how he attempted to better earlier attempts in creating a hybrid English/Italian track between the production sound of the former and the cleaner ambiance of the latter, having to degrade the Italian audio in some instances to match the English track while also looping ambient noise and even music to smooth differences that sometimes amounted to a few seconds to a few frames.

The first disc also includes the "Claudio Simonetti: Jennifer" music video (4:11) directed by Soavi and promotional materials in the form of the Italian theatrical trailer (2:36), the English export trailer (2:36), and a Japanese pressbook gallery while the second disc includes the film's U.S. theatrical trailer (1:27) and U.S. radio spots (1:03).

Packaging


None of the paper extras from the Arrow and Synapse limited editions have been carried over to the standard edition, although Synapse's standard edition does include a reversible cover and a slipcover.

Overall


For 4K-ready casual Argento fans and the cost-conscious obsessives, Synapse's standard edition of Phenomena presents the thus-far definitive presentation of the film in all three of its principal versions.