The Film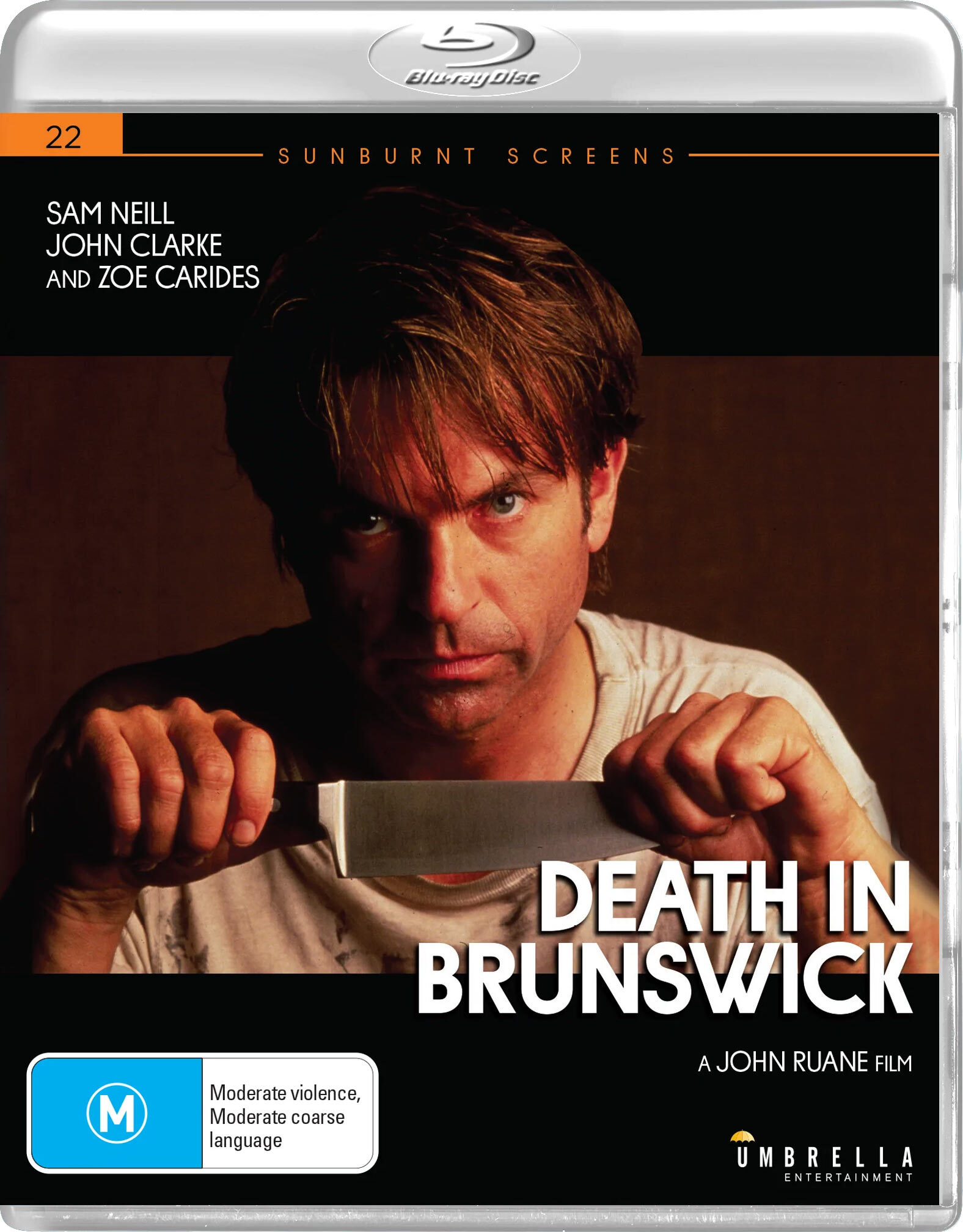 "Death in Brunswick" (1990)

Carl (played by Sam Neill) is a 40-year-old jobless slob, living along and in squalor in Brunswick, a suburb of Melbourne. He gets a bit of luck by being hired as a cook at a nightclub called Bombay, owned by Yanni (played by Nicholas Papademetriou) who doesn't care much for skills but just hiring someone who could do the basic minimum in their unsanitary kitchen. With club bouncer Laurie (played by Boris Brkic) being extremely pushy against Carl, the coworker cook Mustafa (played by Nick Lathouris) who rarely feels like cooking or cleaning, and his conservative mother (played by Yvonne Lawley) staying at his place for a week to help him get settled, there is little happiness in Carl's life at the moment. The only things that bring a smile on his face are his best friend Dave (played by John Clarke) who is a gravedigger and his coworker at the nightclub Sophie (played by Zoe Carides) who may only be 19 years old but is no stranger to flirting. But things don't seem to get better for Carl, especially when he gets involved in a slight case of accidental murder...

Based on the novel of the same name by Boyd Oxlade who based the dark comedic story on his time working as a cook and a gravedigger in the multicultural suburb of Brunswick, the film adaptation would be carried out by director John Ruane as his feature film debut. The story relied on quirky characters in dangerously awkward situations, whether it was hiding a dead body or sexual encounters in various places, the story's elements were quite different from the tone of other Australian features from the period. Taking inspiration from overseas films such as "Blood Simple" (1984), "After Hours" (1985), and "Withnail & I" (1986), the production was looking to inject a similar tone of dark unease and hilarious happenings for a feature, but into the Australian environment. "Death in Brunswick" opens with a scene in which Carl sees his mother's head in the oven, which was her just cleaning it out. But from the initial misunderstanding comes the overall tone of the film, which is playing with death and danger but with laughs in unexpected places.

Another interesting note is the portrayal of the multicultural Melbourne with the characters. There are white characters like Carl and Dave, Sophie's Greek family, Mustafa's Turkish family, and the clashes between everyone. Religion also plays a part as seen with Carl's mother's devotion to Catholicism, the artwork seen in Sophie's family's home, and some characters disregarding them as a part of their lives. It's not a film that tries to cover every cultural group but gives an example of slices of backgrounds colliding in awkward ways rather than in racist ways, though there are a few moments of stereotypes being played out. As for gender roles, "Death in Brunswick" shows men as fussy and childish to the extremes - from Carl's laziness, Laurie's bullying, and Dave's weakness when he's confronted by his wife. The women on the other hand are much stronger and direct - as stated with Dave's wife June (played by Deborah Kennedy having her finger wrapped tightly around her husband, Carl's mother who is straightforward in bossing, as well as Sophie and her best friend Carmel (played by Doris Younane) who use sex appeal for their own advantage.

Cinematographer Ellery Ryan (whose cousin is novelist Boyd Oxlade) does an excellent job capturing various areas of Brunswick, from the streets to certain landmarks such as the Progress Cinema all in differing conditions from bright outdoors to dark and dreary nights. Not at all flashy with the look, yet the visuals certainly come to life with emphasis on the dark there are a number of visual treats in the film such as the midnight graveyard scene (in which the production crew's generator broke down and caused problems with filming) and the dirty cockroach infested kitchen that was constructed as a set by designer Chris Kennedy.

The performances by the cast are strong, though there seems to be a strong emphasis placed on Sam Neill in the lead, yet I personally think his casting was not as good as some have praised. It's a bit difficult to believe that Neill was a slob as he is fairly well kept in looks and is in normal shape physically. He doesn't look too dissheveled with ratty hair or a beer belly, and his demeanors don't quite fit as naturally as the character. Not to say his performance is bad at all, as Neill performs in a number of excellent moments throughout and is able to express himself in an unusual comical tone, far from his many more notable roles. Neill was already a well known actor in a number of Australian and New Zealand productions, as well as in Europe with "Possession" (1981) and Hollywood, where he had just appeared in "The Hunt for the Red October" (1990). Ruane felt extremely lucky that such a major actor would express interest in a small budget Australian comedy when he was making a name for himself internationally, and so was the case for hiring Clarke in the supporting role, as he was a major fixture in Australian and New Zealand television for decades. Clarke is especially wonderful as Dave, who may be a supporting figure but is interestingly the straight-man in comic terms, as a voice of reason to help Carl whenever he can (except of course when his wife comes home).

As stated, the comedy does work in the film, with the situations and reactions being awkward rather than over the top, even if some of the happenings are quite insane. It's not perfect though, as there are some situations that sometimes go a little too far and other gags not going far enough. But overall the film works in its attempt to bring black comedy down under with a witty and awkward story with a great cast even on a very low budget.

Shot on location in Brunswick in early 1990, the completed film first screened on November 8th, 1990 at the London Film Festival. Released theatrically in its home country on April 25th, 1991, the film was a surprise hit with audiences and critics, grossing $2.7 million and was the highest grossing Australian feature excluding "Green Card", which was an American-Australian-French international co-production. Philip Judd of Split Enz composed the soundtrack, which won the APRA Music Award for Best Film Score and the film was nominated for five AFI Awards with Best Film, Best Director, Best Actor, Best Screenplay and Best Cinematography. The feature didn't quite achieve success financially or as a cult film overseas over the years, though it did have some theatrical and home video releases in other countries. A restored version of the film played at the Melbourne International Film Festival in 2022, and the restored version was given a Blu-ray release by Umbrella Entertainment a few months later, which included all the previously released DVD extras and additing a great deal more.

Note this is a region ALL Blu-ray

Video


Umbrella Entertainment presents the film in the theatrical 1.85:1 aspect ratio in 1080p AVC MPEG-4. There is no information on the packaging about the transfer or restoration, but it looks absolutely great here. The gritty and grimy colors or the interiors and the bright tones of the exterior sequences look excellent, with stable colors throughout for both light and dark tones. Detail is also excellent with sharpness, stability is always excellent, and damage marks are basically non-existent with cleanup, while still keeping consistent and natural film grain. There is little if anything to fault with the restoration and should please any fans old or new to the film.

The film's runtime is 109:34.

Audio


English DTS-HD Master Audio 5.1
English DTS-HD Master Audio 2.0 stereo
There are both lossless 5.1 and 2.0 stereo options available. Originally released in Dolby Stereo, both lossless tracks sound excellent and well balanced. The 5.1 centers the dialogue while the surrounding channels are focused on music and effects. Dialogue is always clear and well balanced against the music and effects. For the surround channels they are not used quite actively, though the effects are certainly noticeable in scenes such as the club's music performances, the explosion scene, and others. There are no issues of hiss, pops, or damage to be heard.

There are optional English HoH subtitles for the main feature in a white font. They are well timed, easy to read, and without errors.

Extras


Audio Commentary with stars Sam Neil and John Clarke
This commentary with the two actors was recorded in 2007, as they look back at their performances from seventeen years ago. Discussed are information on their characters, working with the other actors, dealing with real cockroaches flown in from Sydney for the production, memories of the graveyard sequence, and other background information. The two could have used a moderator to help, as sometimes it leads to just them narrating what is on screen or laughing uncontrollably. While portions are fun to hear, much of the information here ends up being repeated in other extras included on this disc. Note that this was originally released on Umbrella's DVD release from 2007.
in English Dolby Digital 2.0 without subtitles

Audio Commentary with Director John Ruane and Cinematographer Ellery Ryan
This commentary recorded from 2007 has Ruane and Ryan looking back at the making of the film, with information on adapting the novel to screen, the changes made, working with the actors, the set design, use of real locations, the use of "The Howling III" scenes in the theater, the wardrobe, the budgetary restrictions, the pressures of making an Australian comedy at the time, the reception and much more. This commentary is much better than the actor's commentary with a lot more information provided.
in 1080p AVC MPEG-4, in 1.78:1, in English Dolby Digital 2.0 without subtitles

MIFF 2022 Q&A with Director John Ruane, Cinematographer Ellery Ryan and Production Designer Chris Kennedy (21:34)
This post-screening Q&A at the 2022 Melbourne International Film Festival has Ruane, Ryan, and Kennedy on stage recalling the film's production, from the casting of Sam Neill, troubles at the graveyard scene, the set design, worries with the film's reception, and more. Ruane is properly miced so his comments are clear, though Ryan and Kennedy's answers are sometime difficult to hear.
in 1080p AVC MPEG-4, in 1.78:1, in English Dolby Digital 2.0 without subtitles

"Where Was It Filmed?" featurette (16:07)
Presented here is the episode of YouTuber Paul Hagl's "Reel Streets of Melbourne" series focusing on the locations used in "Death in Brunswick". Shot in 2019, he is able to find a number of places including Carl's house, Dave's house, the Progress Cinema, the cemetery, the nightclub and more, with a good job matching the angles to the original footage. The episode has also been umbedded below.
in 1080p AVC MPEG-4, in 1.78:1, in English Dolby Digital 2.0 without subtitles



"Death in Brunswick Hits the Road" Archival Publicity Tour Featurette (79:20)
While labeled as a "featurette" in the menu, this is an 80 minute compilation of archival clips from television specials, news broadcasts, and more. There are behind the scenes and interviews with the cast and crew on set, studio interviews with the cast and crew for news programs, premiere footage, film review clips, TV spots, and much more. Most of the footage is in good shape, though there are some issues with background hiss and even video dropout. Though all the footage comes from standard definition PAL, they have been upscaled to HD and slowed down to 24fps here.
in 1080p AVC MPEG-4, in 1.78:1, in English Dolby Digital 2.0 without subtitles

"Memories of Murder" documentary (48:37)
This 2007 documentary features interviews with John Ruane, John Clarke, Boyd Oxlade, Ellery Ryan, Zoe Carides, Boris Brkik, and Chris Kennedy looking back at the production. Discussed are changes from the book to script, behind the scenes stories including the Progress Cinema sequence and graveyard sequence, praises for the performances, the set creation, the multicultural aspect, and more. Note that this was originally released on Umbrella's DVD release from 2007.
in 1080p AVC MPEG-4, in 1.78:1, in English Dolby Digital 2.0 without subtitles

"The Grass Is Greener: Sam Neill" TV episode (22:53)
"The Grass Is Greener" was a 6-episode New Zealand documentary series produced in 1991, profiling New Zealanders working in entertainment, the arts and journalism. This episode focuses on the career of Sam Neill, which includes behind the scenes footage of "Death in Brunswick" and clips of other films he had worked on, an interview with the actor discussing his early career, moving to Australia, and much more. Note that this was also released on Umbrella's DVD release from 2007.
in 1080p AVC MPEG-4, in 1.33:1, in English Dolby Digital 2.0 without subtitles

"The Grass Is Greener: John Clarke" TV episode (22:53)
Here is another episode of the series, this time looking at the career or John Clarke. There are numerous interview clips and other clips of his film and television work including "Death in Brunswick", interviews with other cast and crew members that had worked with him, and more. The other four episodes of the series were profiles of director Jane Campion, Dragon musicians Marc and Todd Hunter, promoter/agent Harry M Miller, and television host Derryn Hinch. Note that this was also released on Umbrella's DVD release from 2007.
in 1080p AVC MPEG-4, in 1.33:1, in English Dolby Digital 2.0 without subtitles

Deleted Scenes (23:30)
Presented are the following scenes as stated by title cards:
- Alternate opening
- Carl goes to Bombay and inside club meets Sophie and Yanni
- Carl and his mother
- Sophie and Carmel in women's toilet
- Laurie heavies Carl
- Carl and Dave in kitchen - discuss what to do with the body
- Dave and Carl in cemetery - alternate fart take
- Alternate Carl comes home from the cemetery to his mother
- Dave takes a shower while June grills him
- Alternate cut Carl, Dave with Mrs Mustafa and son
- Carl buys a ladder, Carl buys a bigger ladder
- Guess Who's Coming to Dinner - Prue!
- Carl at the "Brunie" baths
- Carl and Sophie argue at the "Brunie" baths
- "Come away with me"
- Carl "Let's sleep together"
- Carl comes home to find his mother praying
- Carl hails a taxi, having seen the light
- "You are an only child, Mr Fitzgerald?" doctor saying about mother's stroke
From Carl's job interview at nightclub, additional dialogue scenes, and some alternate takes, there was a lot cut from the final release version, though none that were entirely consequential. There are additional moments of Carl's mother's Catholicism being pushed, talks between Carl and Sophie in terms of their relationship, added dialogue at the Brunie Baths (the Brunswick City Baths where the swimming pool scene took place) but nothing that entirely changes the narrative flow. Each scene is separated by title card and there are nicely chapter stops for them, though note the word "cemetery" is wrongly spelled as "cemetary" twice in the cards. The scenes come from an analog video source and look quite rough, as there are damage marks from the film, faded colors and the audio is a bit distorted. Note that these were also released on Umbrella's DVD release from 2007.
in 1080p AVC MPEG-4, in windowboxed 1.85:1, in English Dolby Digital 2.0 without subtitles

Trailer (2:15)
The original Australian trailer, which sells the romantic comedy and the dark comedy angles is presented here in restored form, with the picture quality looking as good as the main feature. The unrestored trailer is embedded below.
in 1080p AVC MPEG-4, in 1.85:1, in English Dolby Digital 2.0 without subtitles




This Blu-ray carries over all the extras found on the Umbrella 2-disc DVD release and adds a lot more.


Other notable clips:


A table reading of "Death in Brunswick", directed by John Sheedy as part of the MIFF 68½ Talks program in 2020. Due to COVID restrictions the performance was done remotely.


A short interview with John Ruane.



Packaging


This is #22 in Umbrella Entertainment's "Sunburnt Screens" series. The inlay is reversible, with alternate artwork on the opposite side. There is also a limited edition slipcase available from Umbrella Shop, which has additional alternate artwork on both sides.

Overall


"Death in Brunswick" is a quirky dark comedy with sex, death, gravedigging, drugging, all in a suburban town with a character getting into deeper and deeper trouble with no way out. A long loved Australian hit, the film never got quite international attention, but hopefully this restored version in HD from Umbrella Entertainment could change that. The Blu-ray features a great transfer for video and audio plus a wealth of extras. Highly recommended.
| | | | | |
| --- | --- | --- | --- | --- |
| The Film: A- | Video: A | Audio: A | Extras: A | Overall: A |