The Film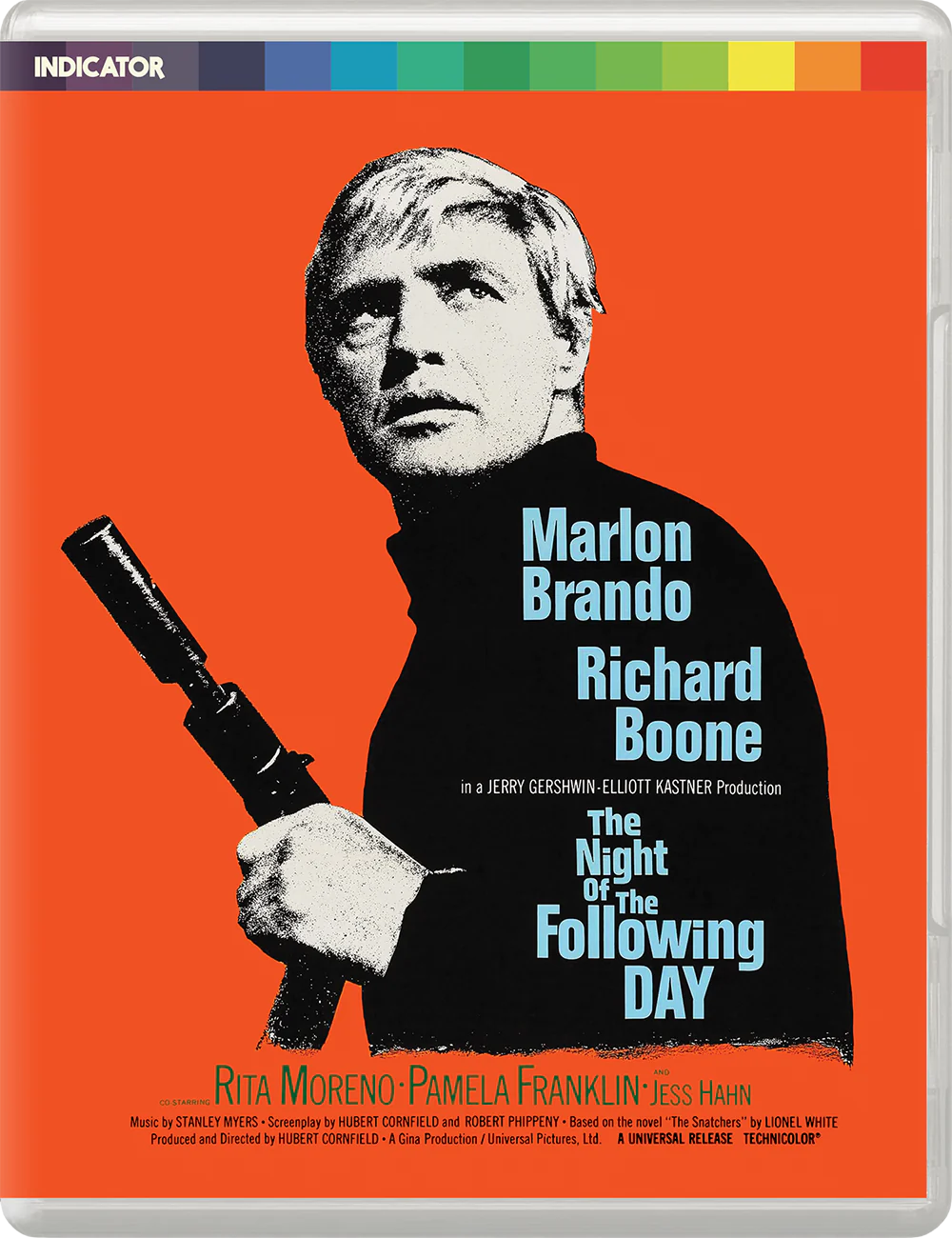 Marlon Brando (The Wild One), Richard Boone (Winter Kills), Rita Moreno (Carnal Knowledge), and Pamela Franklin (The Third Secret) head the all-star cast of The Night of the Following Day, a thrilling tale of kidnap, and cross and double-cross.

An ingenious criminal gang captures an heiress as she disembarks a plane in Paris. However, whilst holed up in a seaside resort, the criminals become increasingly suspicious of one another, and their fool-proof plan soon begins to unravel...

Based on a novel by Lionel White (The Killing, Pierrot le fou) and directed by Hubert Cornfield (Pressure Point), The Night of the Following Day is an eccentric and stylish crime drama, shot on location in France by cinematographer Willy Kurant (Masculin féminin) and featuring an evocative score by Stanley Myers (Otley, The Deer Hunter).

Video


A moody, atmospheric if not entirely successful attempt by Hollywood to produce a European noir in the style of Jean Pierre Melville et al. Good performances and direction coupled with fine location work make this work pretty well. It's big twist ending however is most likely going to torpedo most viewer's opinions because this twist these days is seen as a complete cop-out, but judge for yourself. It's a rather bleak, nihilistic film with some surprising violence and a nude insert that took me completely by surprise given this is a 1968 American film and must have caused more of stir back then. Brando apparently threw his weight about (no surprise) and caused director Hubert Cornfield to be fired with co-star Richard Boone to take over for the final week or so of shooting. Overall, I really enjoyed the film and didn't mind the ending and don't feel the twist ending was a cop-out, especially given all the subtexts and layers to the piece.

Universal's HD remaster was the source this Indicator edition. The film's original mono soundtrack was remastered at the same time.

Universal doesn't always have a good reputation when it comes to their HD masters with sometimes overzealous use of DNR (digital noise reduction) and sharpening. I do believe that some has been used here but it's not egregious, despite this being an older master. It has that rather distinctive late '60s look, with an overall naturalistic, muted colour palette that favours blacks, greys and blues. Flesh tones are cool but solid, black levels deep and satisfying with no unintended crush that I could see and a fair amount of shadow detail. Contrast is supportive and low key, no blown out highlights. Grain is good with filmic sheen. Detail in fabrics and skin comes off best in closeups of which there are a fair amount. The encoding is, as usual, excellent ensuring that there are no compression issues. Not the best late '60s transfer in Powerhouse's catalogue but generally very fine ('A-').

1080p24 / AVC MPEG-4 / BD50 / 1.85:1 / 93:07

Audio


English LPCM 1.0 (48kHz)
Subtitles: English HoH

The basic mono track is about as good as we can expect given the technology of the time. It gets the job done well wIth some obvious sound effects occasionally standing out that have been layered on the soundtrack in post production. Dialogue is always crisp and clear, the score supportive and doesn't interfere. There's no LFE activity even during the odd moment where one would expect it in a modern film (explosions, engines, gunfire). Solid ('B').

Extras


Audio Commentary by director Hubert Cornfield (2004)

This track was recorded for the 2004 Universal DVD in the 4-disc "Marlon Brando: 4-Movie Collection" and it's obvious that Cornfield (1929-2006) was not in the best of health, using an electronic voice box to talk which isn't always an easy listen. Essentially we get Cornfield's side of the story on this troubled production, which ended wit him falling out with Brando (one of many who did down the years) with Boone taking over briefly. He starts by discussing Lionel White's book The Snatchers (1953) and how Stanley Kubrick considered making it but there were legal issues which had been cleared up by the mid '60s when Cornfield took it on. An essential track for fans of the film obviously and it's not hard to see why some (like Joe Dante) consider Cornfield something of an auteur. There are quite a few passages of silence but overall, well worth a listen. Presented in lossy Dolby Digital 2.0 mono.

"Rita Moreno in Conversation: Filmed at the BFI Southbank, London, 3 March 2013" 2013 interview conducted by Matthew Sweet (62:40)

A terrific overview of Moreno's career covering all her highs and lows her experiences with typecasting (she describes the door in Hollywood is now ajar as opposed to closed to latino actors), her inability to get substantial roles outside of her pidgeonhole she had been put in, the studio system, working as a dancer, being "arm candy" on dates set up by the studio, sexual harassment and assault, the whole gamut told with frankness. West Side Story gets discussed a fair amount but The Night of the Following Day comes in towards the end of the interview where she discusses the film and her relationship with Brando (she's quite cutting). Includes clips from the film plus Singin' in the Rain and West Side Story (1961). Presented in 1080p24 1.78:1 with lossy Dolby Digital 2.0 mono. No subtitles are provided.

"Dangerous to Know: Neil Sinyard on The Night of the Following Day" 2023 interview (19:18)

Sinyard is always a welcome presence and he's on fine form here discussing this film ("a real curiosity") and it's poor box office performance and it's polarising effect on critics. It's one of those films that one either loves or hates it would seem. Covered are Brando's low opinion is of the film, his scenes with Moreno, the film's cult following, the cast, the twist ending (which Sinyard states is not a cop-out) ... lots to savour. Presented in 1080p24 1.78:1 with lossy Dolby Digital 2.0 stereo.

Trailers from Hell with Joe Dante: The Night of the Following Day (3:44)

Dante recalls his first experiences of seeing the film in the late '60s on a double bill and mentions of the controversial ending. Presented in 1080p24 1.78:1 with lossy Dolby Digital 2.0 sound.

Theatrical Trailer (3:11)

Vintage promo in 1080p24 1.85:1 with lossy Dolby Digital 2.0 sound.

The Night of the Following Day Image Gallery: Original Promotional Material (53 images)

Chunky HD gallery with some choice images.

36-page booklet featuring a new essay by Jeff Billington, archival interviews with Marlon Brando and Hubert Cornfield, an overview of contemporary critical responses and full film credits

The usual excellent hard copy companion we've come to expect from Powerhouse Films.

Packaging


Standard, clear BD Keepcase.

Overall


This is an interesting and unusual American made thriller made in the style of French filmmakers like Jean-Pierre Melville. Grim, bleak, absorbing and moody. It's not 100% successful having characters with little appeal who engender mostly zero empathy and the ending is largely going to be seen as a swizz, although I don't personally see it that way and the film is short and briskly paced enough to avoid rubbing one's face in misery for too long. A fine film. The transfer is decent with good image and sound. Extras are excellent and bring great contextual value. Recommended ('B+').
| | | | | |
| --- | --- | --- | --- | --- |
| The Film: B+ | Video: A- | Audio: B | Extras: A | Overall: B+ |