The Film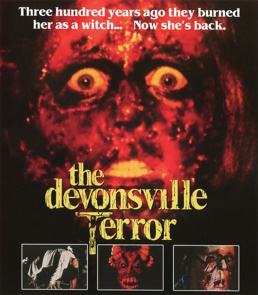 In the late seventeenth century, the New England village of Devonsville sentenced three suspected witches to death and have been damned since then. Three hundred years later, the town's male populace has barely evolved with the likes of domineering Aaron Pendleton (Twister's Revenge's Bill Dexter), son Ralph (Stricken's Michael Accardo), and general store owner Walter (Office Space' Paul Willson) wanting to commemorate "what our ancestors had to go through," while the women in their lives are almost non-entities: Walter has just smothered his sickly wife to death for the insurance and Aaron's default retort to his wife (Priscilla Lowe) whenever she tries to interject some reason into dinnertime conversation is "Shut up, Myrtle." In contrast, Aaron's mild-mannered elder son Matthew (Road to Salina's Robert Walker Jr.) evades interaction with his family in favor of the solitude of looking after the hunting cabins during the off-season while Dr. Worley (Halloween's Donald Pleasance), descendant of "The Devonsville Inquisition" executioner (Invasion from Inner Earth's Paul Bentzen) – who has studied the effects of the curse including a hereditary infliction involving parasitic worms – has come to believe that "only evil will out evil." Things come to a head when a trio of single women settle in and around Devonsville. Scientist Chris (Mary Walden) quits the big city to carry out scientific experiments on the local fauna and shuns male company, DJ Monica (Deanna Haas) is advising women who feel unfulfilled by their relationships that there are "more fish in the sea," and new schoolteacher Jenny Scanlon (The Boogeyman's Suzanna Love) opens up class discussion to comparative religion and the possibility of God being a woman, giving the men of Devonsville a thirst for some old time religion and inadvertently fulfilling the curse.

A decidedly feminist take on the witch genre – possibly even "woke" without any trace of derision, certainly more so than The Witches of Eastwick and its John Updike source novel – Ulli Lommel's The Devonsville Terror unlike other examples of cursed towns with buried sins does not present supernatural menace as simply "happening" to the town descendants. The film presents their present day sexism and misogyny as a direct result of their ancestors being able to violently suppress any instance of female "power" with the men caught in their company evading any kind of punishment – with the male inquisitors aroused by the violence they inflict and the women silent spectators cataloging what distinguishes themselves from the accused – and the present day form of "defiance" takes the form of liberated female sexuality combined with intellectual superiority. Walter's attempted courtship of Jenny is both clumsy and aggressive, and it seems quite obvious that his visions of her taunting him are less supernatural than his own projections, Ralph relives his past life under hypnosis by Worley and reveals that one of the witches deserved to die for "teasing" him by letting him see her naked – followed then by the admission that he was spying on her from behind a tree – and tells Worley that if he could not get a female doctor into the sack he would call her a "quack." While Aaron is the loudest of Devonsville men, he spies on the new inquisition from a hidden spot and appears aroused by the violence inflicted on the women. Matthew disappears from the film without resolution after not only warning Jenny that the town sees her, Chris, and Monica as a threat but also revealing that he too believes it but he "loves witches." This may be a deliberate ambiguity since Lommel does not try to cover his absence from the rest of the film with dialogue or even a bit of repurposed outtake footage to establish whether he is still alive or not (Walker had previously appeared with Love in Lommel's Olivia which was shot in 1981 but did not receive theatrical release until the year of this film's production). Chris and Monica receive less screen time than Jenny, although that may either be an attempt to maintain an ambiguity about just which side is more threatening or Lommel giving the audience credit that the women are how they present themselves. The climax directly rips off the climax from Raiders of the Lost Ark without the Industrial Light & Magic effects budget, a satirical touch by Lommel who would further skewer Hollywood and its hypocritical monetary distinctions between exploitation and the mainstream in Boogeyman II. The film was crewed by family and regular collaborators of Bill Rebane and The Devonsville Terror shares with Rebane's sillier but thematically-related The Demons of Ludlowa number of crew and cast including Dexter, Accardo, Bentzen, Walden, and Haas. Character actor Willson would soon join the cast of NBC sitcom Cheers just two years later.
.
Video


The theatrical release history of The Devonsville Terror is rather unclear; however, the film likely did most of its business on Embassy Home Entertainment's dark VHS release – which had a behind the scenes still of one of the film's effects set-pieces on the back – with a somewhat improved, non-anamorphic 1.66:1 letterboxed transfer appearing on a double-sided DVD with The Boogeyman from Anchor Bay in 1998 (utilizing transfers created for an Elite Entertainment laserdisc that never materialized). 88 Films' in the UK released the film on Blu-ray in 2016 from a 2K scan of "original film materials" that was an improvement over the tape and DVD but made the film look like a 35mm blow-up of 16mm materials. Vinegar Syndrome's 1080p24 MPEG-4 AVC 1.85:1 widescreen transfer comes from a 2K scan of the original interpositive reveals that there are defects inherent in the original photography and processing but it still blows the previous transfer out of the water with a color scheme that is somewhat similar to the Anchor Bay DVD master rather than the overbaked 88 Films one while also revealing that the UK picture was shifted downwards and zoomed in slightly. Vinegar Syndrome has more comfortable headroom and additional slivers of side information that balance the composition better. The slightly cooler picture sports richer colors, which not only gives the color scheme some punch in general while also revealing more detail in the highlights that greatly enhances the several bucolic landscape shots.

Audio


The sole audio option is a DTS-HD Master Audio 2.0 mono rendering of the original mono track. The dialogue recording was uneven while the effects track is sparse but gets the job done when it comes to underlining the film's few optical effects, but the electronic score by Ray Colcord does most of the work for atmosphere. Optional English SDH subtitles are provided.

Extras


Extras start off with "God is a Woman" (35:22), an interview with co-writer/actress Love who reveals that her involvement in the writing was limited – with an amusing anecdote about her reaction to an article about "The New Scarlet Letter" – as well as in pre-production because she had had a miscarriage and was still feeling sick during production. She relates the film's themes to her experience of the location and its hostility towards outsiders (which also extends to the rest of the country at the time). She also reveals that they tried to get Earl Owensby's studio for The Boogeyman but it was too expensive while Rebane's studio facilities were the main draw but also that Lommel was attracted to the location and its visual possibilities. She sidetracks into discussion of how not taking the business side of her career seriously had her more concerned about credit for her SAG insurance than paychecks for collecting Social Security. Some side comments do suggest that she also recorded a separate interview at the same time for The Boogeyman.

In "It's Melting Men!" (15:16), special effects artist Matthew W. Mungle (I Know What You Did Last Summer) recalls coming to Hollywood and studying at make-up at Joe Blasco's school and subsequently teaching where he got his first jobs through referrals including The Devonsville Terror and that his effects shots were done back in Hollywood to "enhance" the film. He describes how he figured out how to achieve the effects without the ILM budget as well as how to photograph them, and also provides some behind the scenes photographs that look even grislier than how they photographed on film.


In "The Incredible Melting Man!" (42:05), actor Willson recalls joining The Committee, a San Francisco improv comedy group by Second City alumni, which included a role in The Goodbye Girl. He reveals that his role in Lommel's BrainWaves was created on the spot to deliver all of the expository dialogue that Tony Curtis did not want to memorize. Of The Devonsville Terror, he recalls being asked to bring equipment on the plane with him, the cold shoot at the Rebane studio, and the uncomfortable conditions of his drowning nightmare scene. Although he was present on the set of Boogeyman II, he parted ways with Lommel when he went non-union for his casts. He speaks well of the film but also demonstrates some Vinegar Syndrome literacy by drawing comparisons of the story elements to Death by Invitation which he stumbled upon on Amazon Prime.

In "Not Very Nice People" (12:10), makeup artist Erica Ueland who had first worked on independent films in England before returning to the states and getting her first American work by calling around, starting with Forbidden Zone but also extending to the likes of Halloween and The Fog and Lommel's Olivia before The Devonsville Terror where she recalls having a blast with the crew on location.

While Willson briefly discussed the primacy of images over dialogue in Lommel's films, in "Mind of a Chess Player" (18:45), camera operator Jόrg V. Walther (Revenge of the Stolen Stars) asserts that Lommel was very deliberate with his use of dialogue and double meanings. He also discusses his excitement at the time at the development of a then-fast ASA 100 film, makeshift effects, the excitement of working with Pleasance, Lommel's preference for small crews, his roles in the film behind the camera (and that of prolific Hollywood camera operator Philippe Carr-Forster) while also confessing that much of the film's meaning went over his head.

Ported from the UK disc is a short "Ulli Lommel on The Devonsville Terror" (7:16), an archival interview in which he recalls being inspired by a visit to Salem, Massachusetts, Rebane's studio resources in Wisconsin, cold nights but brilliant natural lighting during the day, eighteen-to-twenty-two hour shoots, operating the camera in some scenes, working with Pleasance, Love's different looks for each of their films, and his pleasure at reviews of the time that saw the feminist intent.


The disc also includes a theatrical trailer (1:55) that seems more like a film market promo piece than an actual release trailer, and a behind-the-scenes still gallery (1:10).

Packaging


The cover is reversible and the first 6,000 units ordered directly from Vinegar Syndrome include a special limited edition spot gloss slipcover designed by Haunt Love.

Overall


Ulli Lommel's eighties horror film The Devonsville Terror disarms by being a film about witchcraft with a nuanced feminist perspective.