The Film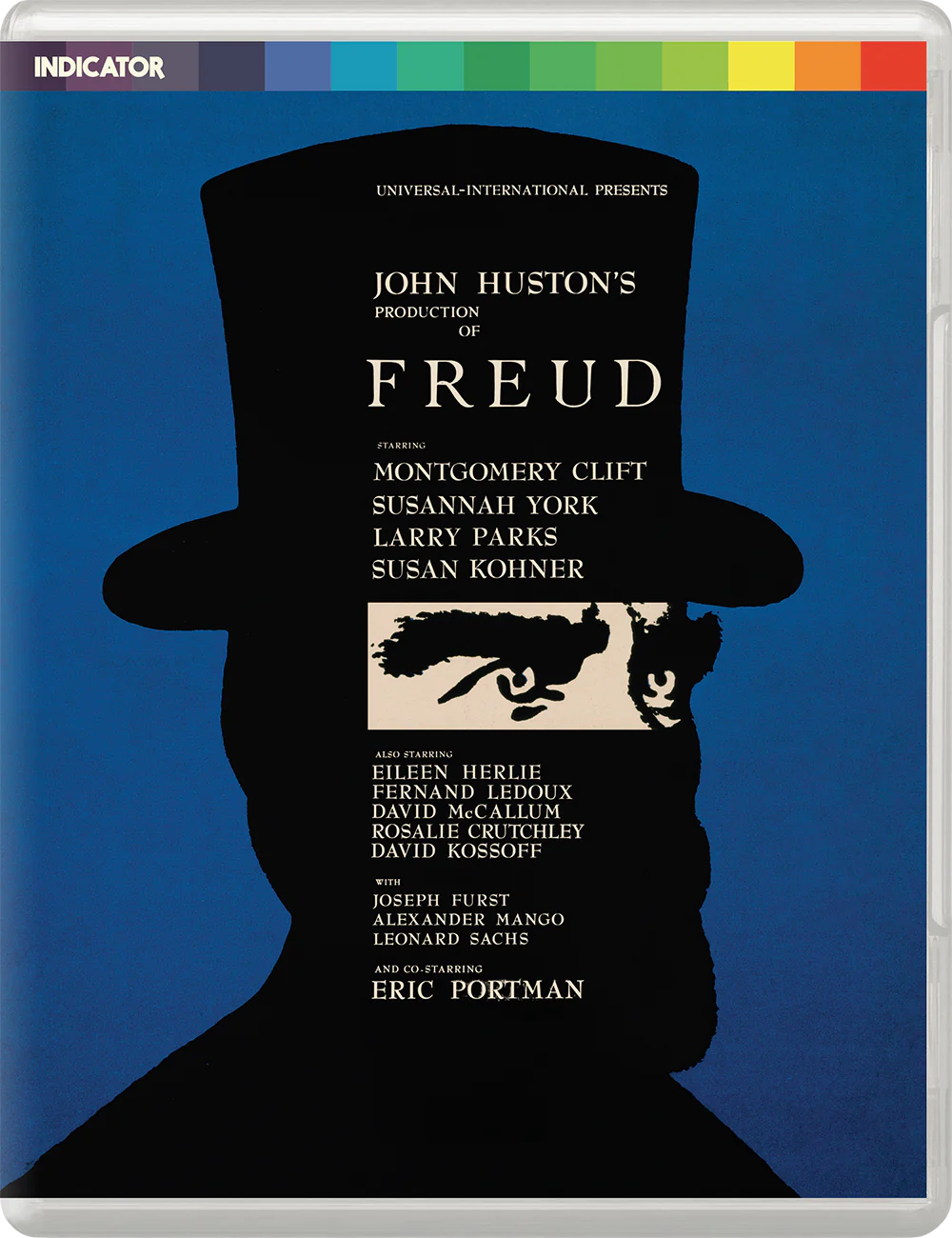 Montgomery Clift (Suddenly, Last Summer) and Susannah York (Images) star in this examination of the early career of Sigmund Freud from director John Huston (The Maltese Falcon, Fat City).

The film charts Freud's journey from graduating medical school, to his early investigations into hysteria, hypnosis, and the analysis of dreams, and on to his formulation of the radical concepts which would underpin his psychoanalytic theory, scandalise the medical world, and change the face of the twentieth century.

Born from an epic screenplay by the philosopher and writer Jean-Paul Sartre, the film was praised for its inventive and expressionistic attempts to represent the workings of the unconscious mind.

Video


The accompanying booklet (see extras below) states:

Universal's 2K restoration was the source of this Indicator edition. The film's mono soundtrack was remastered at the same time.
An excellent transfer that has perfectly balanced gamma with no colour bias creeping in, filmic grain throughout and it's encoded to a high standard by Fidelity in Motion. Blacks are deep and stygian with plenty of shadow detail and no unintended crush. Contrast is subtle and supportive allowing textures in fabrics and flesh shine through along all focal planes, so lots of fine detail. The exception being the high contrast dream sequences which are intentionally blown out and boosted. The presentation has been beautifully presented and restored most likely from the negative or a source not too far removed. I noticed the odd moment of very minimal damage, like a feint tramline scratch at around the 70 minute mark but it's largely pristine. Excellent ('A+')!

1080p24 / AVC MPEG-4 / BD50 / 1.85:1 / 140:37

Audio


English LPCM 1.0 (48kHz)
Subtitles: English HoH

A crisp, solid mono track of the period that kicks off with a snatch of score by Jerry Goldsmith that director Ridley Scott purchased (with some other tracks) for the Alien (1979) score, apparently without Goldsmith's knowledge at least initially. As is to expected this is vintage so no range or death by modern expectations, dialogue is always clear, the superb score never overwhelms the clarity and is nicely mixed. Sound effects are pretty standard. This was well before complex sound design really kicked in in the Dolby Stereo era (from around 1975 with the release of Tommy and Lisztomania). For it's time this is probably about as good a analogue mono track as I've heard, nicely restored with zero distortion and minimal hiss. We also have the usual, superb hard if hearing subs which in the sections I sampled got all of the dialogue and nuance ('A-').

Extras


"The Guardian Lecture with Suzannah York: Recorded at the National Film Theatre, London on 23 May 1982" plays as an alternate audio track over the film (74:22)

These screen talks are always worth a listen and this one is no exception. A full career overview starting with how she got into films from theatre and leaving RADA. Presented in lossy Dolby Digital 2.0 mono.

"Conflict and Trauma: Matthew Sweet on Freud" 2023 interview (28:57)

The seemingly ubiquitous Sweet, always good value, kicks off with a description of the 1956 car crash which seriously injured Clift and how Clift's great friend Elizabeth Taylor saved his life by pulling his knocked out teeth from his throat. From that great opening we go into detail about how Huston met with Jean-Paul Sartre (1905-80) and the making of the film with anecdotes about script supervisor Angela Allen (b1929), star Montgomery Clift (1920-66), actress Marilyn Monroe's (1926-62) replacement with Susannah York (1939-2011) etc. presented in 1080p24 1.78:1 with lossy Dolby Digital 2.0 stereo.

1961 Interviews with John Huston and Montgomery Clift (13:32)

Audio interviews set against a black background (albeit in 1080p24 1.78:1 with lossy Dolby Digital 1.0 sound!). It kicks of with the narrator briefly discussing Freud (1856-1939) before delving straight into the interviews starting with Huston who says he made Freud (1962) partially because of his experience making Let There Be Light (1946). The film, Freud, his theories, the use of hypnotism amongst other related topics concerning the film are touched on. Clift is up next who discusses his approach to the part.

"The United States Army Presents PMF 5019 - Let There Be Light" 1946 short film (57:54)

Interestingly, this bears the copyright date of 1948 and yet it was made in '46. The last of four films Huston made for the US Army Signal Core in which he was serving during World War II and narrated by his dad, Walter. Essentially an educational short designed to educate the public about Post Traumatic Stress Disorder (PTSD) and how it is treated. Sadly, it sat on the shelf until the 1980s. In his biography Huston stated thus (the full entry is quoted in the accompanying booklet, see below):

I think it boils down to the fact that they wanted to maintain the 'warrior' myth, which said that our American soldiers went to war and came back all the stronger for the experience, standing tall and proud for having served their country well. Only a few weaklings fell by the wayside. Everyone was a hero, and had medals and ribbons to prove it. They might die, or they might be wounded, but their spirit remained unbroken.
Sadly, I think that although we've made great progress in the understanding of mental health, we still have a long way to go.

As is usual for these kind of public information film shorts from this period there are plenty of signs of age with speckles, scratches etc (nothing major) and the sound is hissy and scratchy but this is an on the fly documentary after all and not a slick, studio product. Presented in 1080p24 1.37:1 with lossy Dolby Digital 2.0 mono.

Theatrical Trailer (1:15)

Vintage promo under the alternate title of "The Secret Passion" presented in 1080p24 1.37:1 with lossy Dolby Digital 1.0 sound.

Trailers from Hell with Howard Rodman: Freud (2:40)

Another wonderful boosted trailer from the excellent Joe Dante Trailers from Hell website. Director Rodman concentrates initial on how Hollywood tries to get great artists to work for them and the conflict betwixt art and commerce citing examples such as George Bernard Shaw and Sergei Eisenstein. In this case director Huston went to the existentialist philosopher .jean
Paul Sarte to write the script ... which was rejected! A nice compact précis of the film's history. Presented in 1080p24 1.78:1 with lossy Dolby Digital 2.0 stereo.

Freud Image Gallery: Original Promotional Material (88 images)

A nicely sizeable still gallery in glorious HD!

40-page booklet featuring a new essay by John Bleasdale, John Huston's official statement on the making of Freud, extracts from Huston's autobiography, An Open Book, an overview of contemporary critical responses, Huston on the production and suppression of Let There Be Light, and full film credits

The usual superb hardcopy companion worth the price of the disc by itself.

Packaging


The usual clear BD Keepcase.

Overall


Powerhouse Films have resurrected this now rather obscure study of the great Sigmund Freud starring Montgomery Clift and Susannah York. Crisply shot in matted 1.85:1 monochrome the presentation taken from Universal's excellent HD master is top notch with well restored sound. Extras are also of a high standard with all being fabulous and informative, but the inclusion of Huston's documentary "Let There Be Light" being especially valuable (overall 'A'). Highly recommended!
| | | | | |
| --- | --- | --- | --- | --- |
| The Film: B+ | Video: A+ | Audio: A- | Extras: A | Overall: A |