The Film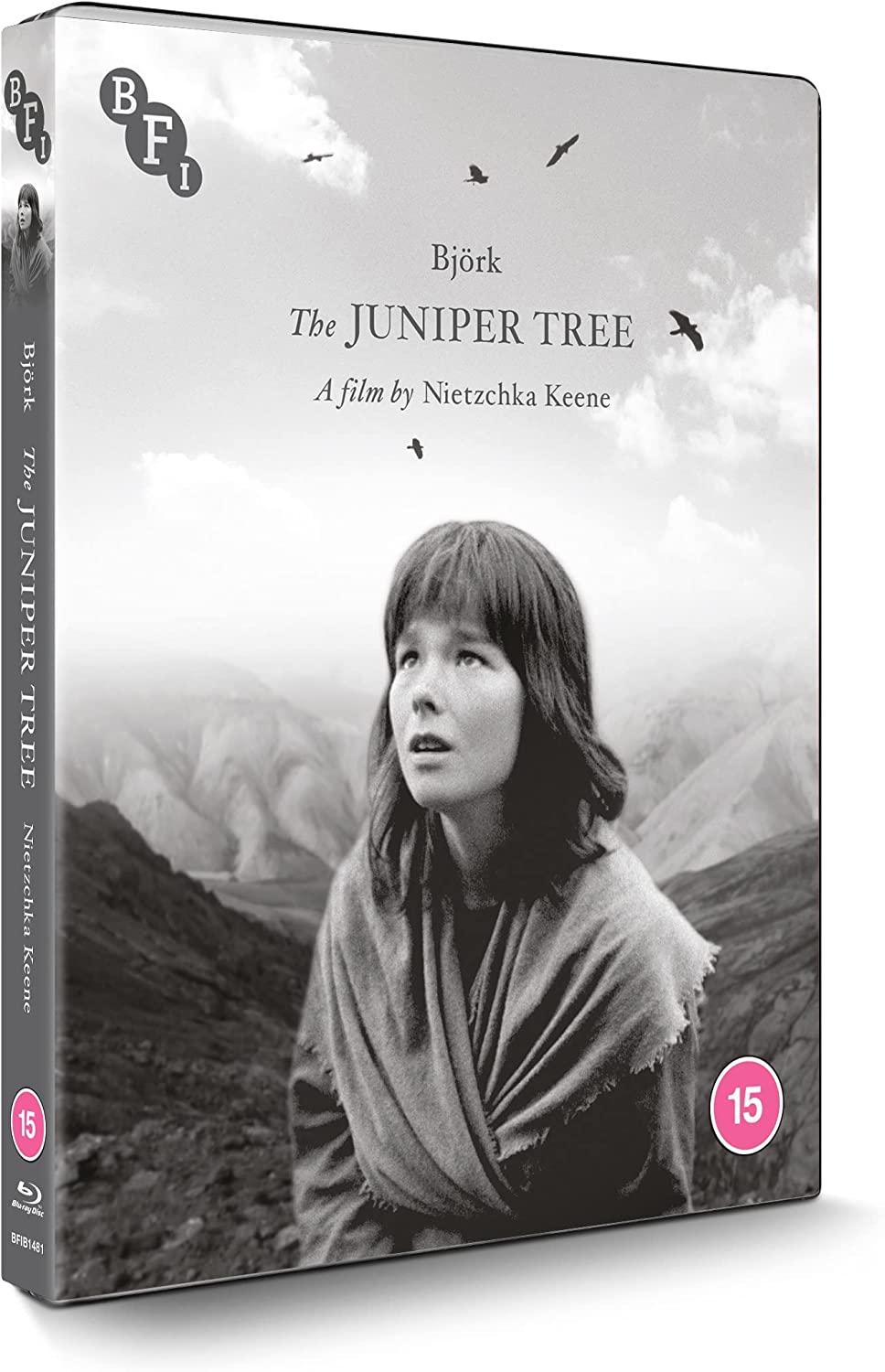 "The Juniper Tree" (1990)

After their mother is stoned and burned for witchcraft, daughters Katla (played by Bryndis Petra Bragadóttir) and Margit (played by Björk) move far away to find a better life without ridicule. Katla meets Jóhann (played by Valdimar Örn Flygenring), a widowed father who is taking care of his young son Jónas (played by Geirlaug Sunna Þormar). Using a spell on him, Katla is able to win his heart and the two start a relationship, which also means that Jónas would have a new mother and a new teenage sister with Margit. Unfortunately there is tension between the young Jónas not being able to accept Katla as his mother, while Margit is having visions of her dead mother calling out to her.

Based on a tale published by the Brothers Grimm of the same name, "The Juniper Tree" is not one their most well known tales, but it is one of their most gruesome and horrifying. For the film adaptation, there are a number of differences, with viewpoints being swapped and outcomes being completely different. Writer and director Nietzchka Keene served as a research assistant in Old Icelandic language and linguistics at UCLA where she directed some shorts. Through a scholarship, she was able to stay in Iceland where she started to scout, finance, and produce a feature film. She knew that she wanted to adapt the Grimm tale and set it to an Icelandic setting, as there were parallels with Icelanic mythology and tales with the Germanic, though as stated, the story had a number of changes, especially with the viewpoint overall being given to the younger teenage sister Margit.

One of the director's biggest discoveries was that of the young Björk, as this was before her band The Sugarcubes had recorded anything as they had just formed, and years before she became a true force of nature in the music world as a solo artist. Interestingly, though she was 20 years old at the time and just giving birth to her first child, she was playing a young teenage character that was as innocent as can be, asking about what love is to her older sister. Between takes she was nursing her newborn on the set, which was incredibly small as the feature was produced independently on a miniscule budget.

Cinematographer Randy Sellars had previously worked with Keene on a short film, and would give the film its unique look through black and white film, shot on location in mostly exteriors in the summer season of 1986. (There are some sources that say 1987, but it was in fact 1986.) Inspiration from the film's look and tone came from Carl Theodor Dreyer, Andrei Tarkovsky, and Ingmar Bergman, and the film pays many respects to the works by those filmmakers. From the interiors in the cottage, the vast rural landscapes, and the closeups on faces, the film could have easily been a film from the 1950s rather than the 1980s.

"The Juniper Tree" may be short with a runtime of less than 80 minutes, though it is a work that feels much longer, in part due to the sparse nature of the plot moving forward. Silences and quiet moments play a part with the storytelling, and while it usually works, there are some moments that can feel lackluster without clear execution. The film was shot in the English language, and even though the cast members were not native English speakers, the dialogue still works and does not feel too stunted or blocky with their performances. Björk's performance of Margit is held back quite a bit, so audiences expecting the performance artist to bring her full force will be disappointed with the restrait, though it is noteworthy to hear her singing voice in a few sequences.

The production was mostly shot in Iceland with a few pickup shots in the United States in 1986, but the film would not see a screening until 1990 in the United States at the Sundance Film Festival. The film's Icelandic release came in 1993, which by that time The Sugarcubes had broken up and Björk was soon to release her worldwide hit album "Debut". "The Juniper Tree" didn't receive much attention anywhere even with a famous name in the lead, but some attention was given with a DVD release in Japan in 2001 and a release in America in 2002. The US DVD also included an interview with Keene on the production and had some deleted scenes with commentary. Yet the film still remained in obscurity for the masses. Keene passed away in 2004 at the age of 52 from pancreatic cancer. She was teaching film at the University of Wisconsin–Madison, and it was there that her archival work was stored. The only known print for "The Juniper Tree" was stored at the university's archives, which would be loaned for screenings worldwide. With the original negative being available, it was restored in 2019 with help from The Film Foundation, which were looking to expand their restorations with more female filmmakers. The 4K restoration version was screened throughout 2019 in various countries and the reception was much better than before. It may have taken Keene four years to bring her filmed work to screen for the first time, but it took another 29 years for appreciation. While unfortunate that she couldn't live to see it grow to its current reception, but it's sure to being discussion and inspiration for future generations, especially with the restored version becoming available. The 2019 restoration was first made available on Blu-ray by Arbelos Films in the US. Now, the UK is able to experience the film from the BFI in this Blu-ray edition.

Note this is a region B Blu-ray

Video


The BFI presents the film in the theatrical 1.66:1 aspect ratio in 1080p AVC MPEG-4. The notes on the restoration and transfer are as follows:

Arbelos' release of The Juniper Tree has been fully preserved in 35mm and remastered to 4K digital video by the Wisconsin Center for Film and Theater Research and The Film Foundation, with funding provided by The George Lucas Family Foundation.

Photochemical picture source was the original 35mm BW picture negative A & B rolls. These were used by Fotokem as the source for a fully timed 35mm answer print, release print, and preservation fine grain master positive. In parallel to the photochemical work, the original 35mm BW picture negative A & B rolls were scanned in 4K on a Lasergraphics Scan Station, and digitally reconstituted, cleaned up, and graded at Illuminate Hollywood. The 35mm film's natural grain has been left untouched. The black-and-white grading was approved by cinematographer Randy Sellars.

The 4K restoration looks absolutely beautiful, bringing rich blacks, greys, and whites to life with exceptional detail and sharpness. Film grain is left intact while damage marks have been basically eliminated for a clean image. There is some weaving especially in sky shots, but overall the color correction is mostly well balanced without shimmering and stability is excellent without instances of telecine wobble, including in the credit sequences.

The film's runtime is 79:02 including restoration credits.

Audio


English LPCM 2.0 mono
The film may have been shot in Iceland with a number of Icelandic performers and crewmembers, the production was scripted and filmed in the English language. The sound source was the original 35mm magnetic soundtrack mix, which was captured and remastered at Audio Mechanics, Burbank. The mono track's remastering also keeps the dialogue, music and effects well balanced and free of errors such as hiss or pops. It is a fairly quiet film, with sparse sounds separating scenes, so one shouldn't expect a full workout from the mono channels. Another excellent job with the restoration.

There are optional English HoH subtitles in a white font for the feature which are well timed and easy to read.

Extras


Audio commentary by Dr Guðrun D. Whitehead
In this new and exclusive audio commentary, Dr Guðrun D. Whitehead, an assistant professor in Museum Studies at the University of Iceland. She discusses how the film's story fits in with traditional Icelandic folklore, the horror elements, Iceland's history with religion, information on Björk and her character, the motherless aspect and gender roles, and much more. A lot of excellent information is to be found here and it is a great listen.
in English Dolby Digital 2.0 without subtitles

"Still" 1978 short (4:04)
This student film directed by Keene features a bathing woman and her life reflected through a series of shots and literal reflections through a mirror. Shot and presented without sound, the black and white short is transferred from the original film material and looks quite sharp with excellent grey levels, though there are a number of scratch and damage marks prevalent throughout.
in 1080p AVC MPEG-4, in 1.33:1

"Hinterland" 1981 short (24:50)
Susan (played by Lila Waters) is a middle-aged woman living reclusively on a farm on the outskirts of Portland. She is suddenly visited by John (played by David Michael Sterling), an old family friend who brings young Liza (played by Caitlin Davies), who recently lost her parents and is orphaned. With Susan being the sole relative of Liza, she reluctantly takes her in. There are some similarities between this short, directed by Keene in 1981 and "The Juniper Tree" a few years later. The rural setting, the tension between an adult guardian and a young child, and the consequences of their actions. It certainly has a large build-up and can get quite tense, though the finale could have used a better conclusion than Susan having to reflect on herself internally. It is still a wonderfully shot and sometimes unsettling piece, which was shot in color and like the short film listed above, transferred from the original film source. Damage marks have been cleaned and removed, colors have been balanced and detail is strong throughout. For the audio, there is some inconsistency, as there are parts recorded on location while others are clearly looped in post-production having an off-balanced tone and slightly out of sync with mouth movements. There is also a bit of hiss underneath, though there are no distracting pops or cracks to be heard.
in 1080p AVC MPEG-4, in 1.33:1, in English LPCM 2.0 without subtitles

"Aves" 1998 short (6:56)
This short by Keene showcases work in animation, using techniques with stillframe editing as well as handdrawn techniques with a nun and crows. Again coming from a transfer from film elements, colors and sharpness are excellent, with clear audio which is comprised entirely with music cues and without dialogue.
in 1080p AVC MPEG-4, in 1.33:1, LPCM 2.0

2002 Interview with Nietzchka Keene (14:44)
This archival interview with Keene has her discussing the film, from the changes made from the original story, the dreamlike quality of shooting in black and white, the locations, the costumes, the writing process, the casting of the unknown Björk in the lead, the film's release, and more. Note this was originally available on the US Rhino DVD release from 2002.
in 1080p AVC MPEG-4, in 1.33:1, in English LPCM 2.0 without subtitles

Outtakes (4:30)
Presented here are some silent and some sound sequences from the film that are labeled as "outtakes" though "deleted scenes" may be more appropriate as they are not flubs or gaffes, but scenes that were removed from the final edit, multiple takes, and a few shots of the crew with slates. Keene gives mandatory audio commentary on the shots as to what they were and the reason for their edits and some other background information. These scenes are transferred from the original film elements which were thankfully kept in fairly good condition over the years. They are presented without matting so they are in the full frame of 1.33;1, and these have not been given any sort of restoration, so there are damage marks and other issues to be seen. Since there is no option to turn on or off the commentary, there are some parts where the scene's dialogue can't be heard. Note this was originally available on the US Rhino DVD release from 2002.
in 1080p AVC MPEG-4, in 1.33:1, in English LPCM 2.0 without subtitles

2019 Interview with cinematographer Randy Sellars (28:41)
In this interview, Sellars discusses working with Keene on the production, their time in a Russian van driving around Iceland, the rehearsal process, the influences and references with the look and the tone, shooting in black and white, the weather and sunlight issues with 23 hours of daylight in summer, working with a small crew, shots he was most proud of, pickups in Los Angeles, the film's restoration in 4K, and more. Note this was originally available on the US Arbelos Blu-ray from 2019.
in 1080p AVC MPEG-4, in 1.78:1, in English LPCM 2.0 without subtitles

"The Witch's Fiddle" 1924 short (7:03)
In this silent short made by the Cambridge University Kinema Club, it is a story of a bewitched fiddle that makes everyone dance. The text is quite faded but the film is in pretty fair shape. Note this short is also avaialble on the BFI Blu-ray of "Legend of the Witches"/"Secret Rites". The short is also free to watch on the BFI Player and it has also been embedded below, courtesy of the BFI.
in 1080p AVC MPEG-4, in 1.33:1, Music LPCM 2.0 with English Intertitles



"Iceland: The Land of Ice and Fire" 1929 documentary short (21:43)
This silent educational documentary by Visual Education Limited was produced for British students to learn about the country of Iceland. From its population to its climate, to its culture and its history, they are presented with animated segments, footage shot in the country including singing and wrestling, they are described with intertitles. The music track uses several library cues from the Audio Network library, and a few cues are especially powerful sounding for an educational documentary.
in 1080p AVC MPEG-4, in 1.33:1, Music LPCM 2.0 with English Intertitles

US Theatrical Reissue Trailer (1:44)
Presented here is the American trailer by Arbelos Films of the 4K restoration from 2019. The trailer has also been embedded below.
in 1080p AVC MPEG-4, in 1.66:1, in English LPCM 2.0 without subtitles



Booklet
A 28 page booklet is included with the first pressing. First is the essay "Picking the Bones out of the Adult Fairytale Film" by Dr Deborah Allison which looks at the film and its story and comparisons to other various fairytale based films over the years. Next is a review of the film by artist and filmmaker Angeline Gragasin from 2019 originally published on Screen Slate. "Personal Reminiscences of The Juniper Tree" is a piece by producer Patrick Moyroud on the production. This was originally featured in the booklet for the US Arbelos Blu-ray. "A Visionary Rediscovered" by Amy Sloper of the Harvard Film Archive looks at the film's restoration and rediscovery. This was also originally featured in the booklet for the US Arbelos Blu-ray. "Björk: From Ice to Fire" is a biography on the singer by journalist Paul Fairclough. There are also full film credits, special features information, restoration information, acknowledgements, and stills.


This BFI release ports over all the extras found on the US Arbelos Blu-ray (which included the US Rhino DVD extras) and adds a few exclusives. While it would have been interesting to hear from Björk herself about the production, there are no vintage or new interviews from her or the other performers to be found here.

Overall


"The Juniper Tree" is a minimalist retelling of the fairytale of the same name, with an exceptional if restrained performance by Björk in the lead. It may be slow moving and quiet, but it certainly is able to capture audiences with its dreamlike qualities in its visuals and storytelling. The BFI's release has a great transfer of the 2019 4K restoration, plus a great number of extras including a few exclusive ones. Highly Recommended.
| | | | | |
| --- | --- | --- | --- | --- |
| The Film: B+ | Video: A | Audio: A | Extras: A | Overall: A- |