They Might Be Giants (Blu-ray) [Blu-ray]
Blu-ray B - United Kingdom - Powerhouse Films
Review written by and copyright: Rick Curzon (11th March 2023).
The Film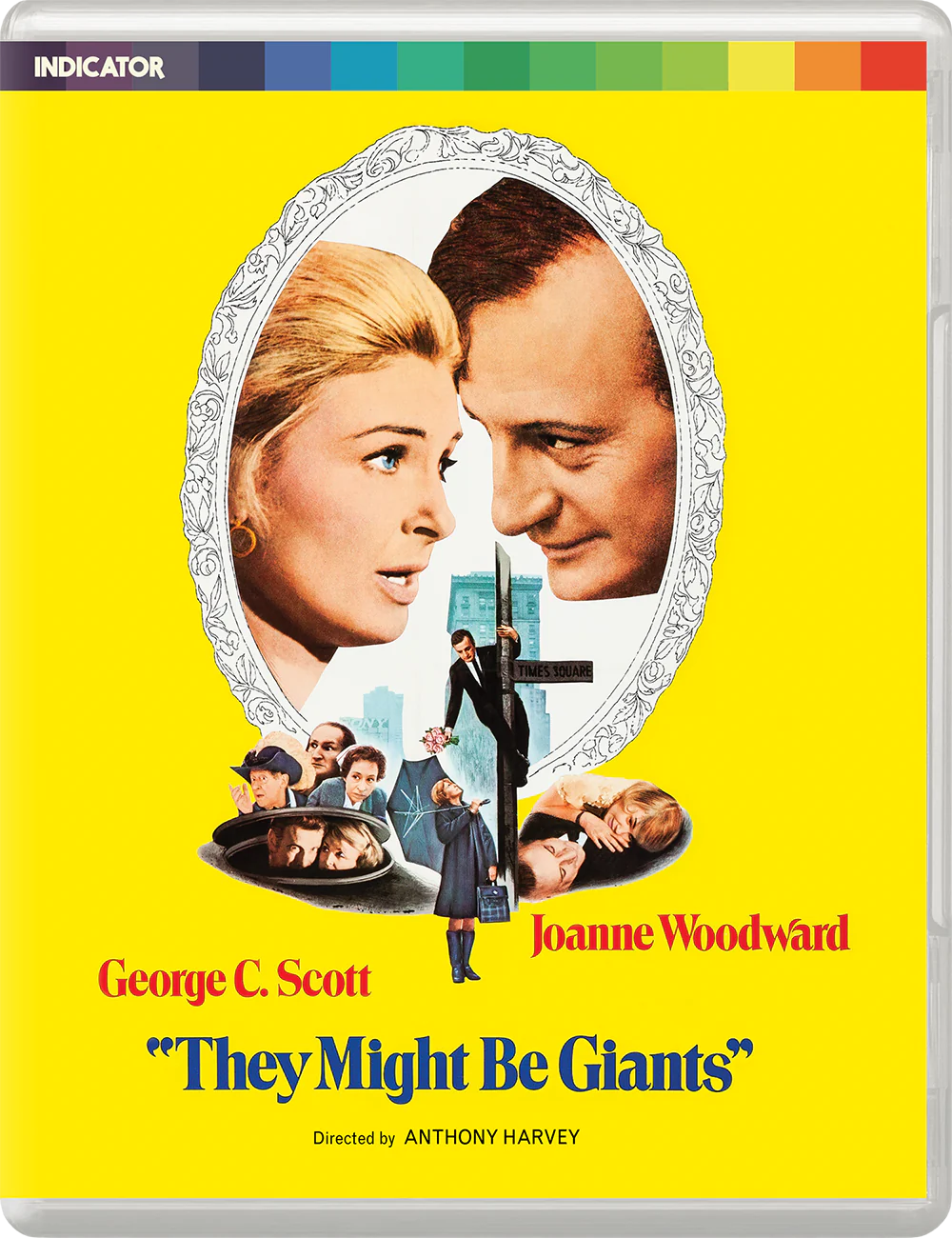 The stellar duo of George C Scott (The Day of the Dolphin) and Joanne Woodward (The Effect of Gamma Rays on Man-in-the-Moon Marigolds) headline They Might Be Giants, an eccentric and touching comedy.

Grief-stricken widower Justin Playfair begins to believe he is Sherlock Holmes. Briefly institutionalised, he teams up with his doctor – coincidentally named Watson – and, together, they follow a string of clues across New York City as they search for their elusive arch-enemy, Moriarty...

Based on a play by award-winning writer James Goldman (The Lion in Winter, Robin and Marian) and directed by Anthony Harvey (Dutchman), They Might Be Giants is an innovative reworking of Don Quixote, and is presented here in two variant cuts.

Video


This film has a pretty typical, unfussy, naturalistic visual style with rich but subdued flesh tones and an overall emphasis on reds, browns, blacks and greens but overall is warm. Black levels are satisfying and rich with plenty of shadow detail and no unintended crush. Contrast is low key and supportive in the modern tradition for video transfers in HD or higher. It looks great even if the master being used is an older one. I saw no signs of any print damage, nor any signs of egregious use of DNR which quite a few of Universal's DVD-era masters can have and which have drawn flak from enthusiasts down the years. Overall, a strong presentation of a film that isn't particularly visually distinguished ('B+').

(Both versions are from the same restoration)

1080p24 / AVC MPEG-4 / BD50 / 1.85:1 / 91:16, 86:08

Audio


English DTS-HD Master Audio 1.0 (48kHz)
Subtitles: English HoH

A straightforward, simple mono track typical of a film of this ilk and of the period. No great range but it gets the job done and is robust with dialogue and base being generally well served, the latter in the John Barry score which never overplays it's hand. It's been restored at the same time as the image and I could detect no issues at all. Some mild hiss if the volume is raised but no distortions and, pops, crackle etc. A nice clean track in lossless Master Audio (most Powerhouse Films are uncompressed LPCM). Sampled hard of hearing subtitles are excellent and on the sections I sampled covered all dialogue and nuance ('B+').

Extras


Audio commentary on the US version with Anthony Harvey and Robert H. Harris (2000)
Audio commentary on the US version with Barry Forshaw and Kim Newman (2023)

Two excellent yaktraks, one vintage from the old US Anchor Bay DVD with director Harvey and restoration expert ("A Few Words About") Robert Harris. The second is from journalists and authors of books on Holmes Forshaw & Newman who've done plenty of tracks together and they're always filled with great info and trivia from a historical perspective and this one is no different. They start with the original play and go from there. In the first track, Harris starts the by saying his involvement on the track was because he was a huge fan of director Harvey's classic The Lion in Winter (1968) and he owned a copy on 16mm. He got to know Harvey and acts as interviewer-moderator-prompter. He gets much good information and anecdotes out of Harvey and being a friend always helps. This was Harvey's first American film. Both are in lossy Dolby Digital 2.0 mono with no subtitle option.

"A Study in Sherlock: Kim Newman on the Screen Legacy of the World's Most Famous Detective" 2023 interview (26:53)

It's Newman discussing the genre of the Sherlock Holmes film sitting in his favourite chair, in his favourite corner of his den. We a single clip from Sherlock Holmes Baffled (1900) and many, many stills from many other international SH films dating from the earliest days of cinema up to the most recent. Television is also covered. Presented in 1080p24 1.78:1 with lossy Dolby Digital 2.0 stereo sound with no subtitles.

"Madness ... It's Beautiful" 1971 featurette (8:01)

Vintage promo short that would be released to theatres months in advance of the film itself and would've whetted the appetite for cinemagoers. This one focusses on New York city before segueing into the topic of eccentricity and mental illness and how it relates to the film. Presented in 1080p4 1.37:1 with lossy Dolby Digital 2.0 mono with no subtitle option.

Theatrical Trailer (2:18)

Vintage promo presented in 1080p24 1.85:1 with lossy Dolby Digital 2.0 mono with no subtitles.

They Might Be Giants Image Gallery: Original Promotional Material (71 images)

A chunky HD still gallery.

36-page booklet featuring a new essay by Chloe Walker, an account of Anthony Harvey's career as actor, editor, and director, an overview of contemporary critical responses and full film credits

Another excellent hardcopy companion to the film that brings much additional context and value to the overall package. Limited to the first 3,000 copies.

Packaging


The usual clear BD Keepcase.

Overall


An unusual comedy that tackles the issue of mental illness and eccentricity gets the deluxe limited edition Indicator treatment from Powerhouse Films. Image and sound are well up to the usual high standards we've come to expect for a catalogue title utilising and off the shelf master from Powerhouse; excellent and aided by the usual top notch encode from Fidelity in Motion ('B+').
| | | | | |
| --- | --- | --- | --- | --- |
| The Film: B | Video: A- | Audio: B+ | Extras: B+ | Overall: B+ |

---
Rewind DVDCompare is a participant in the Amazon Services LLC Associates Program and the Amazon Europe S.a.r.l. Associates Programme, an affiliate advertising program designed to provide a means for sites to earn advertising fees by advertising and linking to amazon.co.uk, amazon.com, amazon.ca, amazon.fr, amazon.de, amazon.it and amazon.es . As an Amazon Associate, we earn from qualifying purchases.