The Film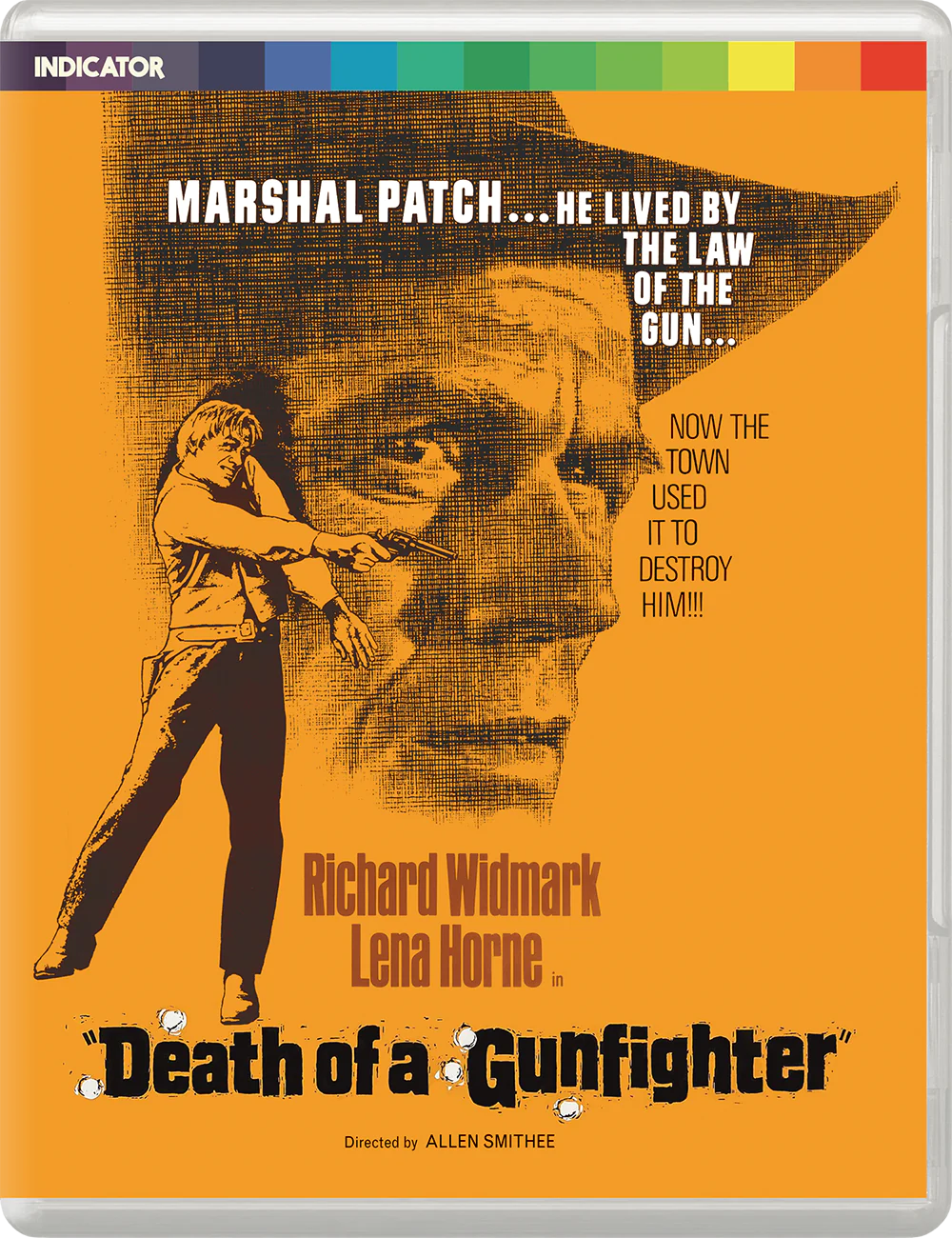 Starring Hollywood legends Richard Widmark (Madigan) and Lena Horne (Stormy Weather) – the latter in her first dramatic role – Death of a Gunfighter is an elegiac tale of the last days of the Old West.

In Cottonwood Springs, Marshal Frank Patch kills a man in self defence. The town council, wishing to move away from frontier justice and into the modern world, decide that it's time for Patch to retire. Patch refuses, but with the dead man's son swearing revenge, and the council refusing to take no for an answer, he senses his time might be up.

Based on a novel by Lewis B Patten, the film made history when, due to director Robert Totten's late replacement with Don Siegel (The Lineup, Charley Varrick), the pseudonym 'Allen Smithee' was born, prompting critics to praise Smithee's debut!

Video


The very first troubled Hollywood film in which the director's credit "Alan Smithee" was created hetsbthe deluxe Powerhouse Films treatment as part of their beloved Indicator Series.

From the excellent hardcopy booklet:
Universal's HD remaster was the source of this Indicator edition. The film's original mono soundtrack was remastered at the same time.


This is a very richly coloured film with strong reds and flesh tones, beautifully shot by Andrew Jackson, a TV cinematographer, which is obvious because Death of a Gunfighter looks like a lush, widescreen television production of the era ... but in a good way. Black levels are very well handled with plenty of shadow detail and absolutely no crush at all that I could see. Contrast is bold and strong in the original photography but well balanced by the transfer so there are no unintended blowouts, detail is exceptional. You can see every drop of sweat, strand of hair, the weave of fabric, pores in the skin, creases in Carol O'Connor's linen clothes. And, it's strong on all focal planes.

There's plenty of grain throughout that's mostly very fine but it does get occasionally course in darker moments and exteriors. I noticed no print damage or signs of wear and tear, not any obvious, egregious digital tinkering. The encode is typically excellent and well up to the very high standards we've come to expect from David MacKenzie's Fidelity in Motion. An excellent transfer ('A+').

1080p24 / AVC MPEG-4 / BD50 / 1.85:1 / 93:56

Audio


English LPCM 1.0 (48kHz)
Subtitles: English HoH

A strong mono track typical of the era. Dialogue is always clear and on point, the score and sound effects well balanced and not intrusive. Base occasionally is well served with some brief moments where my subwoofer kicked in. The track doesn't have a great deal of range but gets it's job done very well. Excellent hard of hearing subtitles are provided ('B+').

Extras


Audio commentary with historians and filmmakers C. Courtney Joyner and Henry Parks (2023)

This track with old hands kicks Joyner (in studio) and Parkes (via phone?) off by praising this troubled film and lamenting that it's not better known. From there they start by discussing producer Richard Lyons and his extensive credits producing westerns like Ride the High Country (1962), Mail Order Bride (1964) and Coogan's Bluff (1968). Other topics covered include the novel Patch by Lewis B. Patton, director Robert Totten, cinematography Andrew Jackson, the sets. The big subject of Richard Widmark and his behaviour on set directing other actors leading to director Totten being fired by Lew Wasserman and Siegel brought in gets plenty of coverage. Others discussed include Royal Dano, Morgan Woodward, Lena Horne, Victor French, Carol O'Connor, Jacqueline Scott etc etc along with plenty of trivia about the production. Tangential themes covered include encroaching technology within the fictional world in the era in which the film was set. An excellent track presented in lossy Dolby Digital 2.0 mono with no subtitle options.

"Man Out of Time: Neil Sinyard on Death of a Gunfighter" 2023 interview (21:32)
"Siren Song: Richard Dyer on Lena Horne and the Themes of Death of a Gunfighter" 2023 interview (23:58)

First up is the ever listenable and knowledgeable Sinyard kicks off talking about how Alan Smithee was praised in reviews. The whole situation leading up to the creation of the Director's Guild of America creating the Smithee name is covered in detail, the state of westerns in the late '60s and how they were becoming more psychologically complex, the role of cars in westerns as a signifier to change. Sinyard is always worth listening to. The second piece looks at the casting of Lena Horne (and her career and her rocky experiences with Hollywood), which is the big focus of Dyer who is - he admits - not a fan of westerns. How she came to be cast gets lots of coverage, that it was an early example of colourblind casting and the racial undertones within the film involving John Saxon's character and his dialogue within the film. Both featurettes are presented in 1080p24 1.78:1 with lossy Dolby Digital 2.0 stereo with no subtitle option.

Theatrical Trailer (1:45)

Vintage promo presented in 1080p24 1.37:1 with lossy Dolby Digital 2.0 mono sound and no subtitles.

Death of a Gunfighter Image Gallery: Original Promotional Material (55 images)

Extensive promotional image gallery in HD.

"Exercise No. One" 1962 short film (9:44)

From the booklet (see below):
Exercise No. One was supplied in HD by University of Southern California School of Cinematic Arts (USC SCA) HMH Foundation Moving Image Archive.
An excellent USC short film featuring Richard Widmark has been restored and presented as a contextual extra. Widmark plays a man who's cars tyre goes flat and he stops to fix it and an unseen loon (Whit Bissell) starts sniping at him. The image is nice and clean with no damage, some grain and maybe some DNR but not much. Presented in 1080p24 1.37:1 with lossy Dolby Digital 1.0 sound with optional English hard of hearing subtitles.

40-page booklet featuring a new essay by Paul Duane, an archival interview with Lena Horne, an extract from Don Siegel's autobiography, an overview of contemporary critical responses, Michael Neyman on Exercise No. One, and full film credits

The usual superb hard copy companion to the film, worth the price of admission on it's own!

Packaging


The usual clear BD Keepcase.

Overall


The original Alan Smithee film gets the deluxe treatment in this new limited edition from Powerhouse Films as part of their Indicator Series in the UK. Image is excellent, sound very good and the extras choice. Highly recommended and given the troubled production the film is seamless ('A-').
| | | | | |
| --- | --- | --- | --- | --- |
| The Film: B+ | Video: A | Audio: B+ | Extras: B+ | Overall: A- |