Bluebeard's Eighth Wife AKA Bluebeard's 8th Wife (Blu-ray) [Blu-ray]
Blu-ray B - United Kingdom - Powerhouse Films
Review written by and copyright: Rick Curzon (14th March 2023).
The Film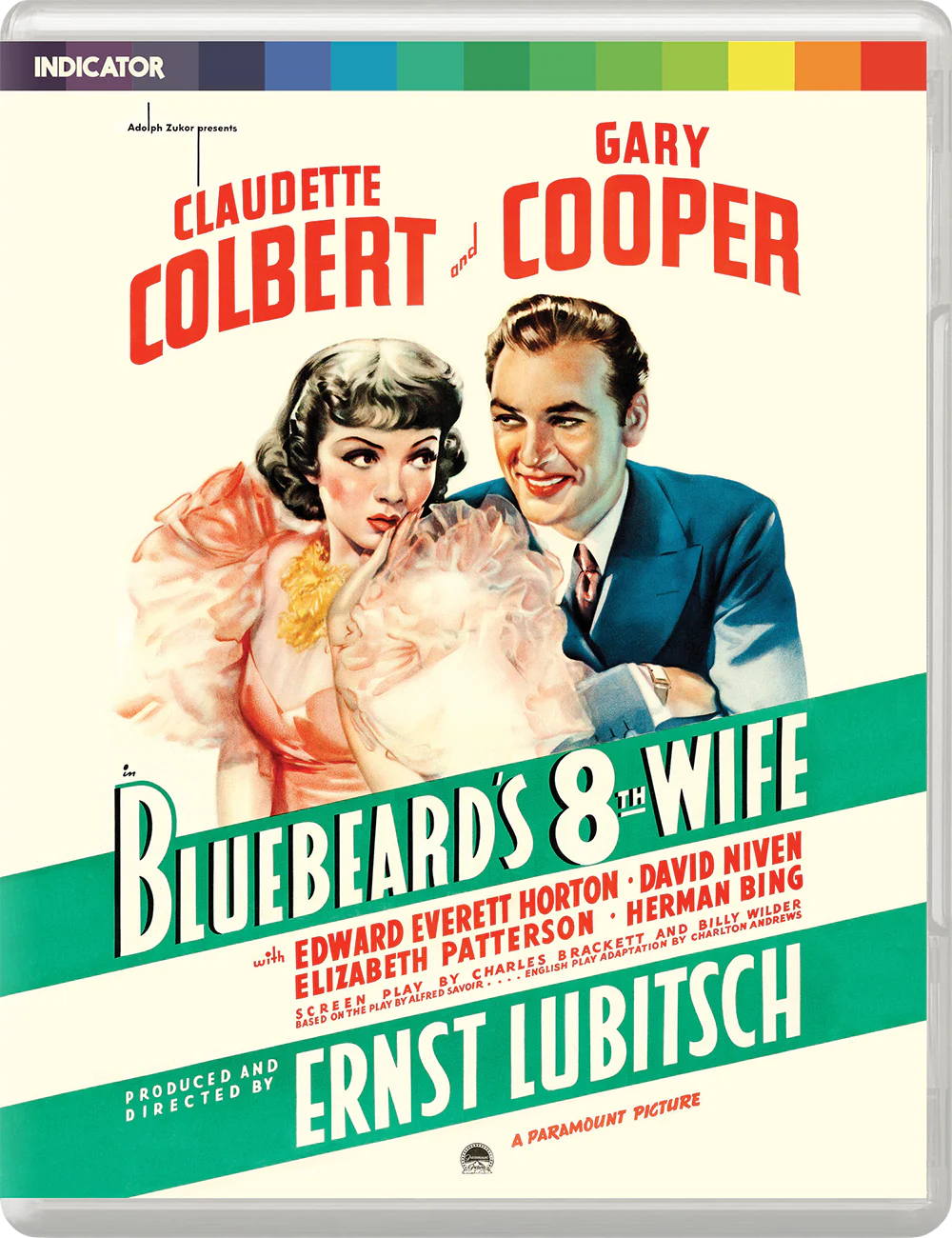 Claudette Colbert (It Happened One Night) and Gary Cooper (Morocco) play the leads in Bluebeard's Eighth Wife, a classic comedy from director Ernst Lubitsch (Broken Lullaby).

Seven-times married, the wealthy playboy Michael Brandon meets the beautiful, tempestuous Nicole, and makes her his eighth wife. Determined she won't be just another of his conquests, Nicole contrives to frustrate Michael's advances in order to keep him keen. Michael, however, believes she is trying to force him to divorce her in order to take advantage of a generous pre-nuptial agreement, and a battle of wills ensues.

One of Lubitsch's greatest films, and a huge influence on the modern romantic comedy, Bluebeard's Eighth Wife boasts a sizzling screenplay by Charles Brackett and Billy Wilder (The Lost Weekend, Sunset Blvd.), and a memorable supporting turn from David Niven (A Matter of Life and Death).

Video


From the booklet (see below):
Bluebeard's Eighth Wife was sourced from Universal's HD restoration, created from a 35mm nitrate finegrain print in 2008. The film's original mono soundtrack was remastered at the same time.
This is a very crisp transfer considering it's not taken from the OCN. There is a natural softness as befitting the way films were made in the 1930s, filters were common and the films socks used had plentiful grain. Nitrate stock also had certain quality that almost ... glowed when projected. The contrast range was incredibly vivid and this film has been beautifully restored with plenty of detail in both highlights and in shadows. Blacks are satisfying and contrast supportive, no crush and no blowouts.

Detail is slightly compromised by the filtered, grainy look but a surprising amount does manage to stand fast. Fabrics come off best but skin textures are strong in closeups. Gamma is perfectly balanced for this monochrome film with the no colour bias creeping through. On first inspection sitting at normal viewing distance I saw no signs of age related wear and tear in this seemingly pristine presentation which is in the upper end of transfers from the '30s that I've seen. However, when scrutinised up close there are plenty of very fine scratches which have mostly been minimised ('A')

1080p24 / AVC MPEG-4 / BD25 / 1.37:1 / 85:31

Audio


English LPCM 1.0 (48kHz)
Subtitles: English HoH

Sound is strong and clear and had virtually no distortion even with the volume cranked up much higher than is usual. Dialogue is always clear, sound effects and scoring never interfere. It lacks range but is among the stronger soundtracks from a '30s production that I've heard. Excellent hard of hearing subtitles are provided ('B+').

Extras


Audio commentary by film historian Eloise Ross (2023)

An Australian academic with whom I'm not familiar. She's done her research and knows here stuff covering all the bases one would expect. Presented in lossy Dolby Digital 2.0 mono, no subtitles.

"The Guardian Interview with Claudette Colbert: Conducted at the National Film Theatre, London on 8 July 1984" plays as an alternate audio track over the film (56:29)

Another valuable screen talk featuring a subject no longer with us, Colbert (80 at the time) is on fine form and is as sharp as a tack and has plenty of stories from her long career. Presented in lossy Dolby Digital 2.0 mono, no subtitles.

Theatrical Trailer (3:11)

Vintage promo presented in 1080p24 1.37:1 with lossy Dolby Digital 1.0 with no subtitles.

Bluebeard's 8th Wife Image Gallery: Original Promotional Material (44 images)

Solid HD gallery.

"United States" 1944 short film (45:12)
United States was scanned in HD by the Imperial War Museum (IWM).
An unusual shirt designed to show UK residents American life beyond what Hollywood films showed them. A very soft presentation a couple of generations off the negative and from a print source. Plenty of crush and uneven contrast. Plenty of minor print damage. Presented in 1080p24 1.37:1 with lossy Dolby Digital 2.0 mono. Hard of hearing subtitles are provided.

40-page booklet with a new essay by Pamela Hutchinson, archival production reports, contemporary profiles of producer-director Ernst Lubitsch, an account of the lost 1923 adaptation of Bluebeard's Eighth Wife starring Gloria Swanson and Huntley Gordon, an overview of contemporary critical responses, Fiona Kelly on United States and full film credits

Another chunky hardcopy companion that offers excellent value.

Packaging


The usual clear BD Keepcase.

Overall


Another film from Hollywood's Golden Age (one of Universal's Paramount acquisitions) gets the deluxe treatment from Powerhouse Films in the UK. Image and sound are strong, extras well chosen and well produced. Fans of Golden Age cinema won't want to miss this disc.
| | | | | |
| --- | --- | --- | --- | --- |
| The Film: A- | Video: A | Audio: A- | Extras: B+ | Overall: A- |

---
Rewind DVDCompare is a participant in the Amazon Services LLC Associates Program and the Amazon Europe S.a.r.l. Associates Programme, an affiliate advertising program designed to provide a means for sites to earn advertising fees by advertising and linking to amazon.co.uk, amazon.com, amazon.ca, amazon.fr, amazon.de, amazon.it and amazon.es . As an Amazon Associate, we earn from qualifying purchases.