The Film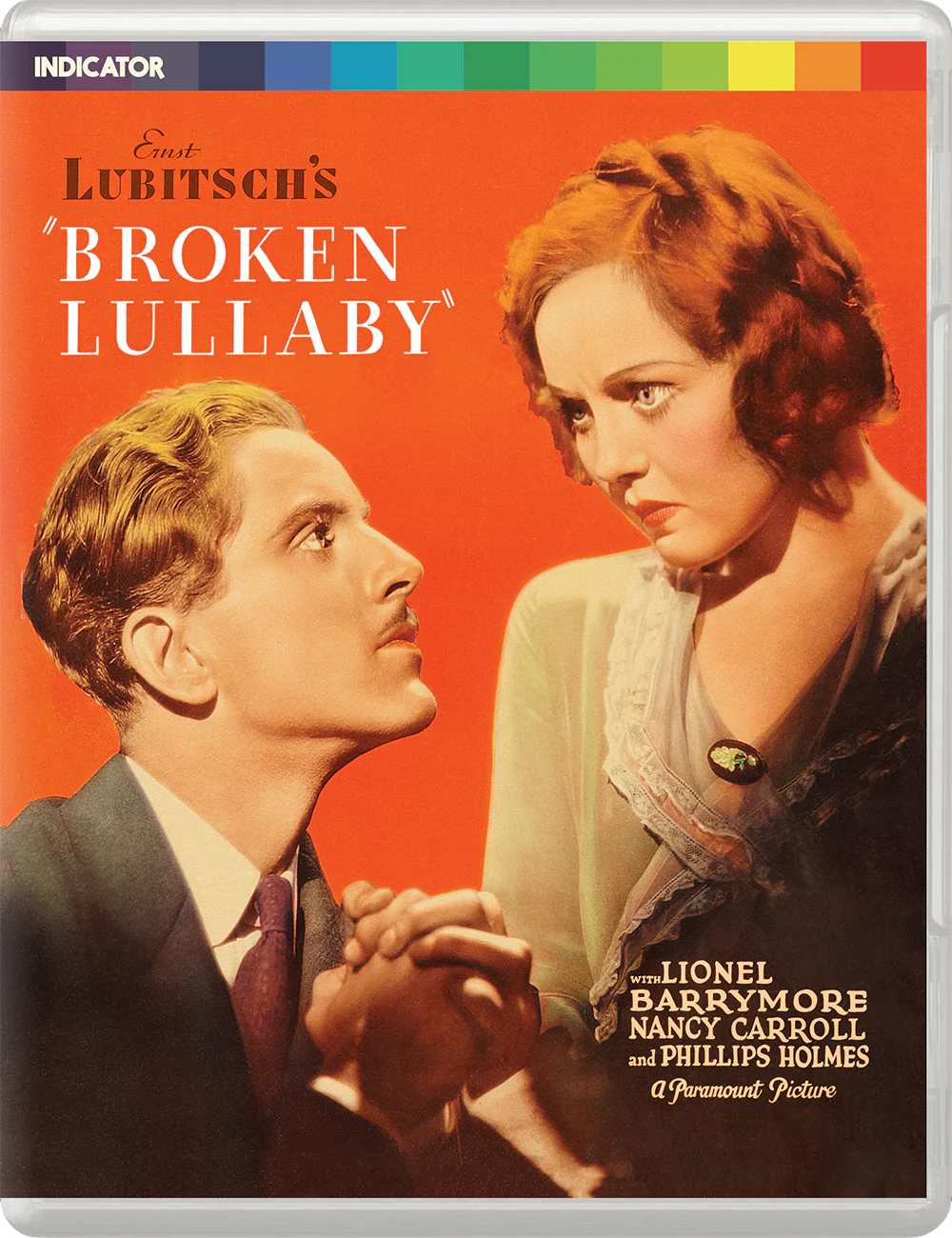 Often overlooked amongst director Ernst Lubitsch's comedies and musicals, Broken Lullaby is a riveting and brilliant romantic drama from the pre-Code era, starring Lionel Barrymore (It's a Wonderful Life), Nancy Carroll (The Kiss Before the Mirror), and Phillips Holmes (The Criminal Code).

Musician Paul Renard is haunted by the memory of Walter, a German soldier he killed during the First World War. He travels to Walter's home town, and, passing himself off as a friend of the deceased, is taken in by his grieving family. But when he finds himself falling in love with Elsa, Walter's fiancée, he becomes worried that the truth will emerge...

With a screenplay by regular Lubitsch collaborator Samson Raphaelson (The Shop Around the Corner, Heaven Can Wait), Broken Lullaby was rapturously received by critics at the time, with one describing it as 'the most unusual and dramatic situation the screen has presented'.

Video


From the booklet (see below):
Broken Lullaby was sourced from Universal's HD restoration, created from a 2021 2K scan of a 35mm composite finegrain print. The film's original mono soundtrack was remastered at the same time.


Generally speaking another excellent monochrome release from Powerhouse Films. It's an off the shelf 2K restoration from the Universal vault that's stable, largely clean and with strong black levels, good shadow detail, perfect gamma and excellent layered contrast. There are some moments of mild age-related print damage (mainly mild speckling but occasionally worse), density changes at optical transitions but all of this is mostly to be expected on a film of this vintage. Encoding is excellent and the bitrate high and supportive on this single layered disc. A very filmic transfer ('B+').

1080p24 / AVC MPEG-4 / BD25 / 1.37:1 / 77:35

Audio


English LPCM 1.0 (48kHz)
Subtitles: English HoH

Sound is fairly basic, gets the job done with some mild hiss when the volume is cranked up. Fidelity is generally excellent although it has that ever so slightly fuzzy quality typical of early sound recordings for films. Dialogue is clear and the main focus. Sound effects are fairly robust (gunfire, explosions) but do have more mild distortion typical of the era. Music is supportive and doesn't interfere with dialogue. The usual excellent hard if hearing subtitles are provided ('B-').

Extras


Audio commentary with historian Joseph McBride (2021)

McBride kicks off by stating that Lubitsch is one of his favourite filmmakers and he's written a book on the great man - How Did Lubitsch Do It? (2020). As one would expect, McBride knows his onions on this subject and covers all the bases one would expect. He has a matter of fact, chatty delivery. Not showy and to the point. Presented in lossy Dolby Digital 2.0 mono.

"The Films of Ernst Lubitsch: The Following presentation by Scott Eyman was given at the National Film Theatre, London, on 6 December 2001, as part of an Ernst Lubitsch retrospective" plays as an alternate audio track over the film (69:24)

Another in the seemingly endless line of audio recordings done for UK institutions where screen talks with the filmmakers are interviewed or in this case (Lubitsch died in 1947) a screen talk by historian Eyman designed to accompany a series of Lubitsch's films being shown at the NFT. It essentially acts as a commentary that plays over the film although it's specifically about his life and career and not Broken Lullaby directly. It runs most of the length of the film and has obviously had clips from various Lubitsch films cut out. Presented in lossy Dolby Digital 2.0 mono.

"The Men I Killed: Maurice Rostand's L'Homme que j'ai tué and it's Stage and Screen Adaptations" 2023 video essay by Michael Brooke (13:15)

What it says on the tin. A visual essay featurette that covers the Rostand, his 46-page 1921 novella - "The Man I Killed" - and the versions presented on stage and on the cinema screen. We get a brief look at Rostand's life and career (and his more famous father's in passing), where this story fits in context of anti-war polemics from around the same time, the 1930 stage adaptation which led to the, the UK version which in turn led to the Lubitsch film adaptation which is the focus on this disc. Also mentioned is the 2016 version, Frantz. Clips from the Lubitsch version play along side the more recent film by way of comparison. Overall, a meticulous piece that adds a great deal of appreciation for both films. Make sure you watch it only after you've seen the main film (and preferably the 2016 one if possible). Presented in 1080p24 1.78:1 with lossy .dolby
Digital 2.0 stereo sound.

Broken Lullaby Image Gallery: Original Promotional Material (45 images)

Solid HD gallery of interesting publicity images.

36-page booklet with a new essay by Christina Newland, contemporary profiles of producer-director Ernst Lubitsch and star Lionel Barrymore, a brief look at the career of screenwriter Samson Raphaelson, an overview of contemporary critical responses and full film credits

Powerhouse Film's hardcopy booklets are always good value and this one is no different; a new essay that covers the film and it's context in terms of when it was made and where it sits within it's maker's career (Lubitsch), interest pieces on the film's star (Barrymore) and screenwriter (Raphaelson) and the usual look at contemporary critical reviews. As always, adds great contextual added value which bolsters appreciation of the film itself.

Packaging


The usual clear BD Keepcase.

Overall


Another off the shelf Universal 2K restoration is the basis of this otherwise excellent presentation from Powerhouse Films. Image os generally very good although there is some signs of age-related wear and tear. Sound is solid, decent and extras are strong, informative and involving ('B').
| | | | | |
| --- | --- | --- | --- | --- |
| The Film: B | Video: B+ | Audio: B- | Extras: A- | Overall: B |