Kiss Before the Mirror (The) (Blu-ray) [Blu-ray]
Blu-ray B - United Kingdom - Powerhouse Films
Review written by and copyright: Rick Curzon (26th March 2023).
The Film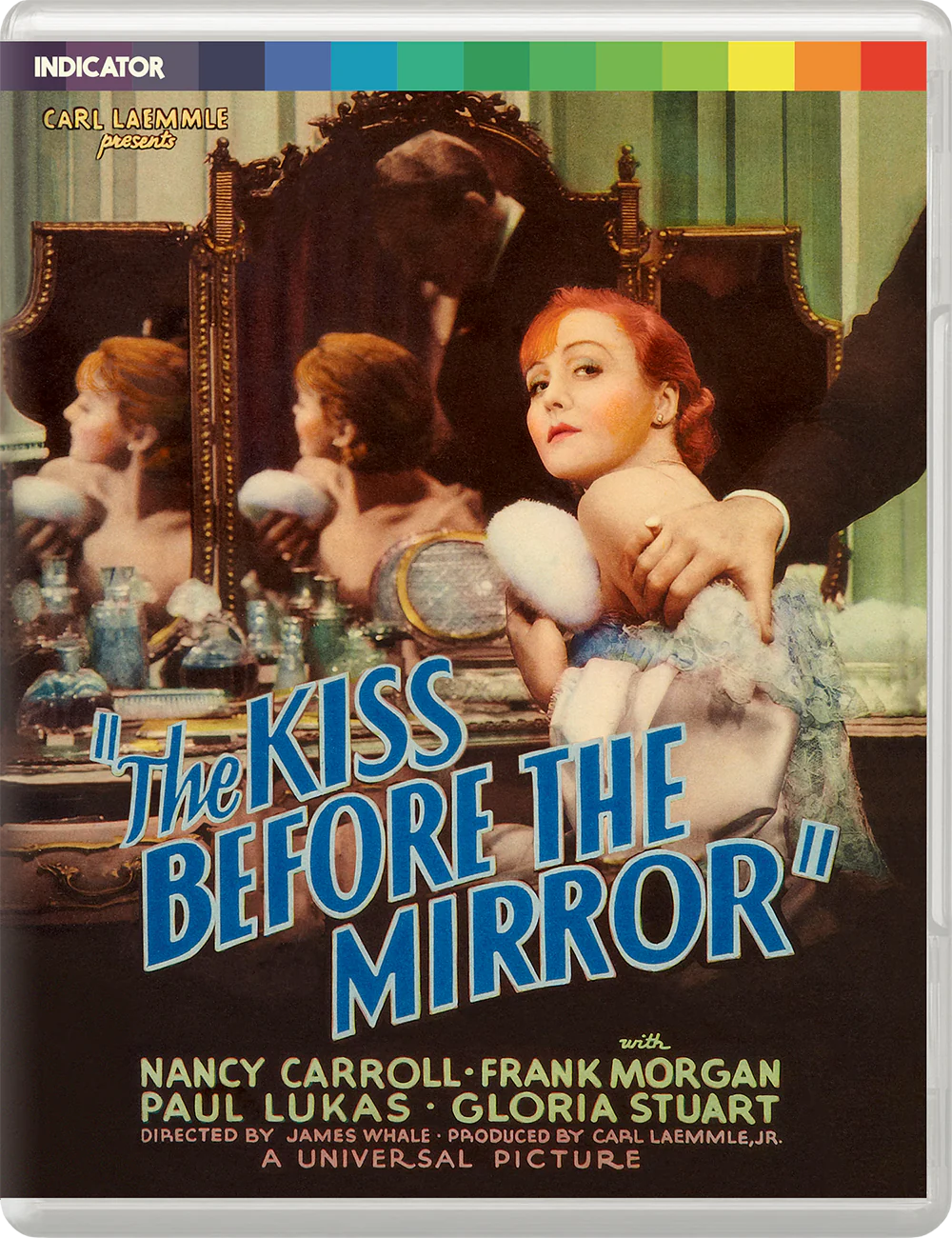 Director James Whale (Frankenstein) directs Nancy Carroll (Broken Lullaby) and Frank Morgan (The Wizard of Oz) in this mysterious and atmospheric drama.

Whilst defending a man who stands accused of murdering his wife, attorney Paul Lukas comes to suspect that his own wife is being unfaithful. Following her through the streets of Vienna, he becomes increasingly obsessed with the idea of her infidelity.

Made in between Whale's Universal horror classics The Old Dark House and The Invisible Man, The Kiss Before the Mirror is a ravishingly staged pre-Code classic.

Video


Very dated look at a case where a husband murders his wife in a fit of rage when he finds that she's had an affair and how this also affects his council for the defence who is having a similar problem. Based on the 1932 stage play by Ladislas Fodor (1898-1978). It's very well made and acted in that style we've come to expect from 1930s studio productions and ably directed by the great James Whale. His trademark wit is much in evidence but the dated approach to sexual politics is still quite startling. A case in point is the scene where the character of Hilda (Jean Dixon) - a junior lawyer for the defence and a strong character - is asked for her opinion on whether the murderer will get off based on momentary insanity brought on by jealousy:
"As a woman, I would instinctively find him guilty. One shouldn't encourage men to commit murder. Although, it's a great compliment to us that, under the circumstances, men might even murder us."


From the booklet (see below):
The Kiss Before the Mirror was sourced from Universal's HD restoration, created from a 2020 2K scan of a 35mm composite finegrain print. The film's original mono soundtrack was remastered at the same time.


A stunningly well shot film in that wonderful style and on nitrate film which lends highlights a glow that hasn't quite been achieved by subsequent technologies.

First off, the gamma is perfectly balanced so no colour bias. When I was a child and growing up into the from the '70s to the '90s it was common to see monochrome films with colour bias evident. I distinctly recall watching episodes of The Outer Limits (1963-65) on Galaxy, one of the now long defunct BSB Satellite channels. They had a green cast. What was good about the BSB box was that it allowed you to remove colour so that when you watched/recorded material in B&W you could get the image pristine, inky B&W. This disc, like all Powerhouse Films monochrome releases it has been my pleasure to cover over the years is pristine with deep, inky black levels. Lots of shadow detail and no unintended crush.

Contrast is also very agreeable being low key and supportive allowing highlights to glow but not blow out. Detail across the board is strong despite the film having that filmic grainy softness we want from a film shot on celluloid. There are some signs of wear and tear but on a correctly set up display they're limited to the odd speckle and are pretty rare. Encoding is exceptional and although a single lyere disc the bitrate is very high ('A-').

1080p24 / AVC MPEG-4 / BD25 / 1.37:1 / 68:19

Audio


English LPCM 1.0 (48kHz)
Subtitles: English HoH

Sound is crisp and clear with no major issues. It's an old, dated mono track from the 193ps and the early sound era so don't expect crystal clarity. It's fairly soft and has some hiss but there are no signs of pops of clicks. Dialogue is always clear. Excellent, comprehensive hard of hearing subtitles are provided. As good as it can be given it's age and elements ('B-').

Extras


Audio Commentary by film historian Nora Fiore (2023)

Fiore, AKA The Nitrate Diva as she tells upfront, covers all the bases with humour throughout. Filled with trivia and information this is very much a "performance" type of track. Presented in lossy Dolby Digital 2.0 mono.

"A Shattered Reflection: James Whale's The Kiss Before the Mirror and Wives Under Suspicion" 2023 featurette (11:10)

A comparison featurette that covers The Kiss Before the Mirror (1933) and Whale's own remake Wives Under Suspicion (1938) contrasting the two versions and highlighting how The Production Code (which came into play in 1934) necessitated the changes. When are we getting Wives Under Suspicion Powerhouse? Presented in 1080p24 1.78:1 with lossy Dolby Digital 2.0 sound. Has onscreen text explaining over clips.

The Kiss Before the Mirror Image Gallery: Original Promotional Material (22 images)

Brief HD gallery of imges from the production.

"Classifications of Enlisted Men: Personal Placement in the Army - The Army A.G.O. Form 20 Card" 1943 short film (11:57)
Classification of Enlisted Men was scanned in HD from 35mm duplicate negative composite print elements by the US National Archives and Records Administration (NARA) especially for this Indicator edition.


A US Army information film that bizarrely uses the UK national anthem "God Save the King". One would've expected "The Star Spangled Banner" to play over the opening montage of the USA. Then again, this was directed (uncredited) by James Whale. Maybe he was having a joke at the expense of the USA and no one in the US noticed. In any case it's about how recruits / draftees are categorised according to their skills. Presented in 1080p24 1.37:1 with very tinny, lossy Dolby Digital 1.0 sound. Very watchable even if littered with age-related wear and tear throughout. No colour bias, decent black, moderate contrast and well encoded.

40-page booklet with a new essay on the film by Philip Kemp, a contemporary profile of director James Whale, an interview with filmmaker Curtis Harrington on Whale, an overview of contemporary critical responses, new writing on Classification of Enlisted Men and full film credits

The usual, superb hardcopy companion covers the main film and the accompanying short.

Packaging


The usual clear BD Keepcase.

Overall


A rare, if dated artefact dealing in legalities and sexual politics wrapped up in a witty melodrama from James "Frankenstein" Whale. It gets high quality treatment with image and sound as good as can be shy of a 4K release and HDR. Extras are choice and complimentary. Recommended ('B+').
| | | | | |
| --- | --- | --- | --- | --- |
| The Film: B- | Video: A- | Audio: B- | Extras: B+ | Overall: B+ |

---
Rewind DVDCompare is a participant in the Amazon Services LLC Associates Program and the Amazon Europe S.a.r.l. Associates Programme, an affiliate advertising program designed to provide a means for sites to earn advertising fees by advertising and linking to amazon.co.uk, amazon.com, amazon.ca, amazon.fr, amazon.de, amazon.it and amazon.es . As an Amazon Associate, we earn from qualifying purchases.