State of the Union AKA The World and His Wife (Blu-ray) [Blu-ray]
Blu-ray B - United Kingdom - Powerhouse Films
Review written by and copyright: Rick Curzon (11th April 2023).
The Film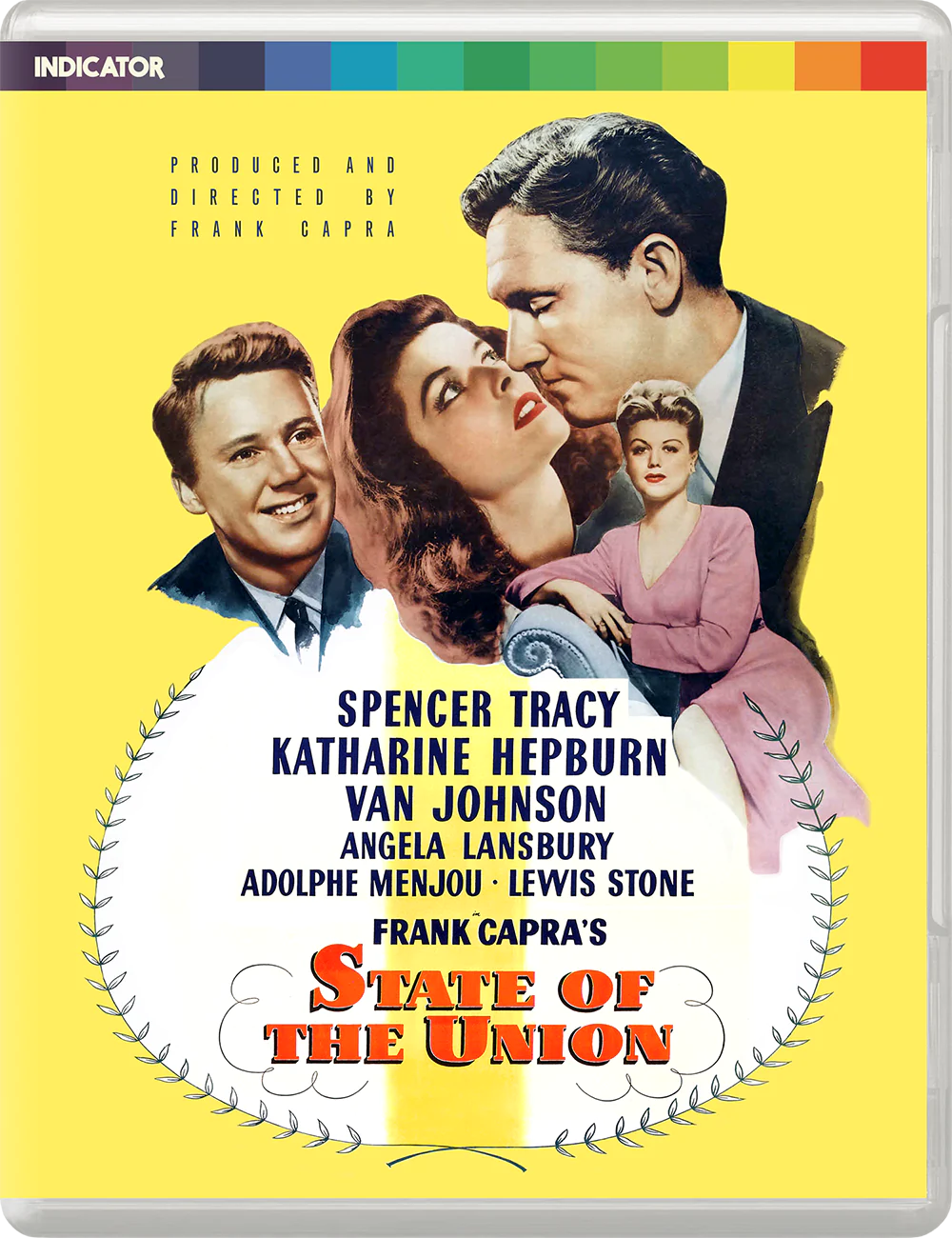 The immortal screen couple Spencer Tracy and Katharine Hepburn (Guess Whoís Coming to Dinner) take the lead in this fabulously witty political comedy drama from director Frank Capra (Itís a Wonderful Life), filmed against the background of the 1948 Presidential election.

Wealthy aeroplane manufacturer Grant Matthews is encouraged to become a presidential candidate by his girlfriend, press baron Kay Thorndyke. Forced to publicly reunite with his estranged wife Mary in order to present the illusion of a happy marriage, he comes close to nomination. But, as Grant and Mary realise that political success will mean compromising their principles, Grant has a change of heart.

Based on the Pulitzer Prize-winning play by Harold Lindsay and Russel Crouse (The Sound of Music), and with supporting turns from Angela Lansbury (Gaslight) and Adolphe Menjou (The Sniper), State of the Union is a brilliant blend of political satire and romantic comedy.

Video


From the booklet (see below):
State of the Union was sourced from Universalís HD restoration, created from a 35mm nitrate composite finegrain print in 2009. The filmís original mono soundtrack was remastered at the same time.


The monochrome film looks fabulous in this Universal restoration although it's not from a negative it's extremely sharp with plenty of fine detail and plentiful grain, as one would expect. Black levels are strong, well balanced, decent shadow detail, no signs of crush and contrast low key but supportive with no blowouts. Gamma is perfect, we have an a lovely, velvety, icy B&W image with no colour bias showing through. Textures in faces and fabrics are wonderful. If I didn't know better I'd have said it was from the OCN. As usual, top notch encoding which maintains a filmic texture throughout with no digital tinkering. Top notch for the format and for a film of it's technical background and er ('A-').

1080p24 / AVC MPEG-4 / BD50 / 1.37:1 / 122:33

Audio


English LPCM 1.0 (48kHz)
Subtitles: English HoH

Sound is strong and clear if obviously limited. Dialogue always to the fore and easy to follow, no distortions in musical crescendos even when the volume is cranked up. It lacks range but that's to be expected. As good a mono track from a studio film of the '40s I've heard. Excellent hard of hearing subtitles that catch all the nuance of the dialogue ('B+').

Extras


Audio commentary with film historians Claire Kenny, Glen Kenny and Farran Smith Nehme (2023)

Glen Kenny kicks the track off with an explantion about how the film started out being released by MGM. We also have Claire, Glen's wife and a film historian and Nehme another critic and historian who's been appearing in quite a few yaktraks in the last half decade or so. Topics covered are the stage origins, how this followed the failure of It's a Wonderful Life (1946), adaptations from stage to film, the cast and key crew, the films place in Capra's and it's stars careers ... very wide ranging and detailed, as one would expect. Presented in lossy Dolby Digital 2.0 mono. No subtitles are provided.

"The John Player Lecture with Angela Lansbury: Conducted by Rex Reed at the National Film Theatre, London in 1973" plays as an alternate audio track over the film (88:32)

As one would expect from a personality as vibrant and full of life as Lansbury she's on fine form. Reed introduces her by quoting lyrics from Stephen Sondheim and stating that she's a survivor on a Sunday afternoon (with Lansbury mother in the audience). She kicks off discussing her mother's influence being an actress herself and her childhood which led to her career. Also covered is her move to the North America in 1940 and at the time of this recording had moved to Ireland in '71 with a view to staying in the UK (although maintaining a flat in NYC). We now know that she returned to the US and had a late career renaissance starring in Murder, She Wrote (1985-96). Her versatility and decision early on to be a character actress, who tackled a wide range of roles, takes centre stage. Lots of questions from the audience follow (hard to hear at times), withs lots of interest for fans. Presented in lossy Dolby Digital 2.0 mono and sounds slightly canned at times with some mild hiss at times and limited but is always clear and easy to follow. No subtitles are provided.

"National Treasure: Lucy Bolton on Angela Lansbury" 2023 interview (29:00)

Lengthy interview with academic Bolton covering the life and career of Lansbury which covered eight decades. The main thrust is that she was the ultimate supporting actress and her range. Bolton is an engaging interviewee and has obvious affection and passion for her subject. I was happy to see the emphasis placed on Lansbury's great performance in .the Manchurian Candidate (1962). Presented in 1080p24p 1.78:1 with lossy Dolby Digital 2.0 stereo sound. No subtitles are provided.

Original Opening and Closing Titles (2:28)

The original opening when MGM was handling the film (see the commentary above) in a very much lesser condition that the main film. Presented in 1080p24 1.37:1 albeit slightly zoomed. Sound is lossy Dolby Digital 2.0 mono with no subtitles.

Theatrical Trailer (2:54)

Vintage promo in 1080p24 1.37:1 with LPCM 1.0 sound. Subtitles are not provided.

State of the Union Image Gallery: Original Promotional Material (82 images)

Extensive HD image gallery with bags of great promotional material.

40-page booklet with a new essay by Raquel Stecher, archival interviews with director Frank Capra, an account of the working relationship and contrasting politics of co-stars Katharine Hepburn and Adolphe Menjou, an overview of contemporary critical responses and full film credits

Another comprehensive hardcopy companion well up to the usual high standard of Powerhouse Films' other booklets.

Packaging


The usual clear BD Keepcase.

Overall


A Frank Capra classic gets the deluxe treatment and although not from the OCN it's still a fine transfer with excellent image and sound. Extras are absorbing and add great value. Highly recommended ('A-').
| | | | | |
| --- | --- | --- | --- | --- |
| The Film: A- | Video: A- | Audio: B+ | Extras: A- | Overall: A- |

---
Rewind DVDCompare is a participant in the Amazon Services LLC Associates Program and the Amazon Europe S.a.r.l. Associates Programme, an affiliate advertising program designed to provide a means for sites to earn advertising fees by advertising and linking to amazon.co.uk, amazon.com, amazon.ca, amazon.fr, amazon.de, amazon.it and amazon.es . As an Amazon Associate, we earn from qualifying purchases.