The Film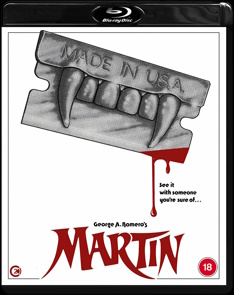 "Things only seem to be magic. There is no real magic. There's no real magic ever."

Braddock, Pennsylvania butcher Cuda (The Amusement Park's Lincoln Maazel) takes troubled cousin Martin (Toxic Zombies' John Amplas) into his home in exchange for working in his shop. Although he looks barely twenty, both Martin and his cousin are of the belief that he is actually eighty-four years old and a vampire. Martin believes that his vampirism is a physical illness while Cuda believes it is a family curse from the old country that has afflicted others throughout the generations. Cuda's granddaughter Christina (Monkey Shines' Christine Forrest) , on the other hand, believes that Martin is even more of a psychological victim of her grandfather's fanaticism than she is and tries to befriend him in the frequent absences of her mechanic boyfriend Arthur (Effects' Tom Savini) who may be planning to leave her behind in search of greater opportunities outside their dying town. Cuda has vowed to save Martin's soul and destroy him, allowing him only to take victims from outside the city and promising to kill him without spiritual redemption should he hear of him taking any local victims. In between stalking victims and drinking their blood (with the aide of syringes, razor blades, and pointy sticks) and calling in to a talk radio line, Martin tries to reach out to similarly unhappy human beings – including depressed housewife Mrs. Santini (Elyane Nadeau) and that may just prove to be his downfall.

Although he was internationally-known for his landmark touchstone zombie films Night of the Living Dead and Dawn of the Dead – so much so that those films overshadowed many of the unrealized projects he attempted in order to stretch his creative range – writer/director George A. Romero considered the 16mm-lensed his own personal favorite of all of his films. Turning away from the broad social commentary and gory thrills of his first and at-the-time only living dead film and the subsequent troubled production of the counter culture romantic comedy There's Always Vanilla, Romero turned to suburbia and its hypocrisies with the feminist psychological horror film Jack's Wife which was sadly unsuccessful at the box office despite attempts to market it as a softcore sex romp as "Hungry Wives" and a more overtly supernatural horror film as "Season of the Witch". His attempt at a film more like his living dead feature with The Crazies which has developed a cult reputation subsequently but at the time was another failure. Martin marked the feature film debut of Romero's collaboration with several key talents who would work with him on subsequent films – some all the way through to his final films – including producer Richard P. Rubinstein – cinematographer Michael Gornick, make-up effects artist Savini, sound recordist Tony Buba who had been making documentaries about steel town Braddock's slow death that informed the film's depiction of the setting, his brother editor Pasquale Buba, future assistant director Nicholas Mastandrea, camera assistant Tom Dubensky (who later edited Savini's Night of the Living Dead remake, stage actor Amplas (who would take supporting character roles in some of Romero's subsequent films), and Forrest who would become both a key collaborator and his wife.

Just as important as Martin is in terms of the direction of Romero's filmography behind the scenes, the film is even more compelling and stimulating in terms of the way it thematically anticipates some of his non-zombie films like the underrated Bruiser as well as the ways in which it distinctly feels as much an outlier in his filmography as Jack's Wife. While the film never truly confirms whether Martin is an actual vampire or just a serial killer, it even raises the possibility that not only are his black-and-white memories of the old country possibly fantasies inspired by old movies and vampire lore – so much so that "reliving" them often reveals the disconnect between fantasy and reality as he "stumbles" in the actual commission of his murders – but that even the killings we see him commit may or may not be fantasies (the only "victim" of which we have any confirmation apart from Martin's perspective is the one only one who he did not kill and never even remotely wanted to harm). Given how far-fetched his stalking and killing abilities are – supposedly honed from decades of experience – one even wonders if the victim on the train (Joe's Fran Middleton) may actually be his first victim since he later says to Christina that people "always go away so they can forget where they were," and the only past memories we see of Martin's appear to be quite distant if real at all.


However much Martin may just be a "freak rapist asshole" (as one of his victims calls him), Romero's sympathies are clearly with this outsider who is destroyed as much by Cuda's fanaticism as the hypocrisy of his clientele who express concern about Christina sharing a house with a young man even a cousin but indulging in salacious gossip that Cuda himself further distorts as a justification to finally destroy Martin. Romero's feelings about Cuda are further revealed in the way he describes the family curse, accepting responsibility of Martin as much out of fear of being stricken with the curse for refusing as out of "shame," explaining it in supernatural terms to a disbelieving Christina while reframing it as a vague hereditary insanity in trying to dissuade Arthur from having children ostensibly so that she will not spread the curse but possibly because of his own possessiveness. When she discovers this, she decides to skip town with Arthur while bitterly assuring Cuda that she will not end up with Arthur who is just a means of getting away. One wonders if Cuda actually kills Martin because he believes his cousin has killed an apparent suicide or if the distinctively different mockeries of his superstitions by Christina and Martin – not to mention the incredulity of the parish's new priest (Romero himself) who does not believe in literal demons – may actually be a danger to his belief system to the point where he dooms himself to an existence like Martin's in which he can never truly open up or connect with anyone else lest they also think him a madman and a murderer; an existence just a little more lonely than that of Joan Mitchell who emerges out of widowhood introducing herself as a witch only to overhear herself still being referred to as "Jack's wife." Martin proves definitively that George A. Romero was just as effective at presenting personal apocalypses as global ones.

Video


Released theatrically by arthouse distributor Libra Films in 1977 – who also reissued The Crazies the year before – and not until 1979 in the U.K., Martin enjoyed close to a year on the midnight movie circuit but probably gained a lot of its current audience via HBO Video's eighties videotape edition. Anchor Bay Entertainment's 2000 DVD breathed new life into the film with a colorful, fullscreen transfer – the film was framed for 1.85:1 but evidently without a viewfinder matte since Romero prefers the 1.33:1 aspect ratio and admits in one of the commentaries that some shots do not work at the wider ratio – followed in 2004 by Lionsgate with an HD-mastered anamorphic widescreen DVD that was less satisfying, looking softer but also losing some of the richness of its colors to a greenish tinge most evident in the whites and highlights. In the U.K., Arrow Films released a fullscreen DVD in 2003 and a widescreen DVD in 2006; however, under their Arrow Video banner in 2010 they released a real novelty of a special edition two-disc set that featured both widescreen and fullscreen transfers but also a neat digital recreation of the Italian cut of the film which featured completely alternate score by Goblin (made up of tracks from their "Roller" album).


The film was long in coming to the Blu-ray format, with an expensive Japanese release presumably making use of the Lionsgate HD master; and Second Sight initially announced their limited edition UHD/Blu-ray, standard edition UHD, and standard edition Blu-ray releases (the latter under review) of a new restoration in 2022 with the long delay having viewers anticipating that it might include the long-lost three hour black-and-white cut of the film which had recently been discovered and offered up at auction. Sadly, this was not to be; however, Second Sight's 1080p24 MPEG-4 AVC 1.37:1 pillarboxed fullscreen Blu-ray of the theatrical cut comes from a new 4K restoration of a 35mm dupe negative and is a thing of beauty, purer in color than the Lionsgate master but also more accurately grainy than the more superficially-pleasing Anchor Bay master. Considering that the film was shot on low ASA 16mm reversal stock, the low-key lighting used throughout the film's moodier sequences holds up well in high definition, eking out a finer degree of shadow detail than evident before in practical locations and night exteriors. The monochrome sequence sport wonderfully deep blacks with enhanced gradations of contrast compared to the earlier transfers, looking more art film than underground.

Audio


Audio options include DTS-HD Master Audio 5.1, 2.0, and 1.0 mono options with the dialogue and effects centered and oriented towards the front on all three tracks while the stereo music track gets spread – unless it is mentioned in the booklet, it is unknown to us whether the assets included stereo pre-mix materials of the mono music stem of the DME or if they music track has been recreated using Donald Rubinstein's original stereo tape recordings (which have recently been released on CD) – so the mono track is the most authentic but both the 2.0 track (which decodes to ProLogic and is likely a downmix of the 5.1 rather than a separate remix) and the discrete 5.1 tracks also work in that the added depth of the score seems appropriate to the desolate settings and Martin's mind. Optional English HoH subtitles are also included.

Extras


Extras are quite comprehensive, including the two archival Romero commentary tracks recorded for the Anchor Bay and Lionsgate editions as well as two new tracks. First up is the audio commentary by writer/director George A Romero, actor John Amplas, and actor/make-up effects artist Tom Savini from 2000 in which they discuss for the first time – outside of Paul Gagne's book The Zombies that Ate Pittsburgh: The Films of George A. Romero – the then-lost longer, black-and-white cut of the film as well as the compromise of shooting in color with the plan of printing in black-and-white, Savini urging Romero to get email to answer questions fans have about the film, the use of the Buba household for the Cuda residence – with the Buba brothers' mother feeding the cast and crew, only lightly dressing the set which already had many of the Catholic icons seen in the film, how the parents would go upstairs while they filmed downstairs, and grandma Buba's reaction to seeing Amplas staked – how they met some of their regular collaborators here and just before on television projects, Gornick taking over photography after the first few days of Romero shooting (with Tony Buba taking over sound from Gornick), how producer Ben Barenholtz (who later reunited with Romero on Bruiser) not only convinced him to cut down the film from three hours but also that less is more in terms of the excessive amount of narration they recorded with Amplas, working with Mazzel who started out in Hollywood but came to Pittsburgh for his orchestra conductor son Lorin, and discovering on their own some practices which were also becoming more common in Hollywood including creating foley effects before they knew what to call them.

Next is the audio commentary by writer/director George A Romero, producer Richard P Rubinstein, actor/make-up effects artist Tom Savini, cinematographer Michael Gornick, and composer Donald Rubinstein from 2004 in which Rubinstein recalls developing an instant rapport with Romero, scoring from silent dailies and the prose-like script, the others recalling how many of the featured extras and secondary roles were actors and actresses either working at or patronizing the New York restaurant Lady Astor's – among them Christine Forrest even though Romero had already shot Season of the Witch in her parents' home – the unrealized film project Savini auditioned for Romero while he was still in high school and then meeting him again years later after returning from Vietnam, and Rubinstein's trick of getting around the MPAA-mandated frame cuts.

A bittersweet contribution is the audio commentary by film historian Travis Crawford who had also recorded commentaries for There's Always Vanilla, Season of the Witch, and The Crazies for Arrow's dual-territory George A. Romero Between Night and Dawn Blu-ray/DVD combo set as well as a track for Second Sight's Dawn of the Dead as well as this one for Martin before his death in July of last year at the age of fifty-one. This track shares with those Crawford's decision to focus less on scene-specific remarks than on contextualizing the film within the transitional stage of Romero's career and discussing his key collaborators including Rubinstein who he makes a case for being not a mere money man and axe-man (pruning down Image Ten's staff) but encouraging Romero to take a break from feature films which netted projects like the now rediscovered The Amusement Park and the ten-episode TV sports documentary The Winners which was made entirely on spec. Crawford does not let Rubinstein entirely off the hook, noting some suspect maneuvers to diversity Image Ten and later Laurel Entertainment, but his expertise with tax shelters and courting investors made Martin possible even when Romero's script was still in the form of a two-hundred page prose piece.


Finally, there is an audio commentary by film historian Kat Ellinger who name in commentaries has become synonymous with the cinematic and literary gothic; and here, she makes the case on the other side of the industrial revolution that Romero was not only using the gothic form but also commenting on and subverting it – Cuda's Van Helsing appears crazy and foolish while Martin seems logical and relatable – at a time when the genre was giving away to more hyper real horrors and the vampire genre was being reconfigured by various filmmakers around the world. She also notes the ways in which the film also incorporates elements of the American Gothic in associating the outsider with the savage and the displacement of tensions within the community.

"Taste the Blood of Martin" (69:15) is a brand new documentary intercutting a visit to the locations by Gornick, Amplas, and Dubensky and interviews with Forrest, Savini, Tony Buba, actress Sara Venable, Richard Rubinstein, and Donald Rubinstein. Topics include how they all became associated with Romero – Gornick first worked sound on The Crazies and then was tasked with conforming the negative of Jack's Wife while Forrest as a young actress turned down the offer to be an extra in Night of the Living Dead and actually met Romero when she used his facilities to record a tape for voice-work auditions – some unrealized projects including a Bigfoot comedy, Forrest going away with Romero to Massachusetts to be a sounding board as he worked on the script, Savini developing effects gags and terrifying Forrest by trying them out in her presence, deciding to shoot in Braddock since Pittsburgh was on the rebound, Tony Buba's documentary shorts on the area (which he is still making), Venable studying psychology and working in a mental hospital leading to her auditioning for "Marat/Sade" and the children's television role she was doing while working on the film, and some remarks about the long version of the film (with a text card updating what was subsequently learned about the rediscovered print).

"Scoring the Shadows" (17:30) is an interview with composer Donald Rubinstein who recalls meeting Romero, scoring sketches he presented to Romero during post-production, and how Romero's skill as an editor included re-editing and sonically reashaping the tracks themselves as the editing became more fine-tuned rather than the traditional cue spotting. "J Roy - New And Used Furniture" (11:13) is one of the Tony Buba short documentaries from the period of the film's production while the disc also carries over the Lionsgate piece "Making Martin: A Recounting" (9:34) as well as a selection of trailers, TV, and radio spots (4:40).

Packaging


The standard edition Blu-ray comes in a black keep case while the aforementioned UHD/Blu-ray limited edition comes in a rigid slipcase with original classic artwork, a 108-page book with new essays by Daniel Bird, Miranda Corcoran, Travis Crawford, Heather Drain, Kat Ellinger, Andrew Graves, Alexandra Heller-Nicholas, Elena Lazic, Stephen Thrower, Jon Towlson, Simon Ward, and Tony Williams plus rare stills and behind-the-scenes images, an original soundtrack CD by Donald Rubinstein, and five collectors' art cards illustrated by Adam Stothard.

Overall


Director George A. Romero's favorite of all of his films, Martin proves definitively that Romero was just as effective at presenting personal apocalypses as global ones.