The Film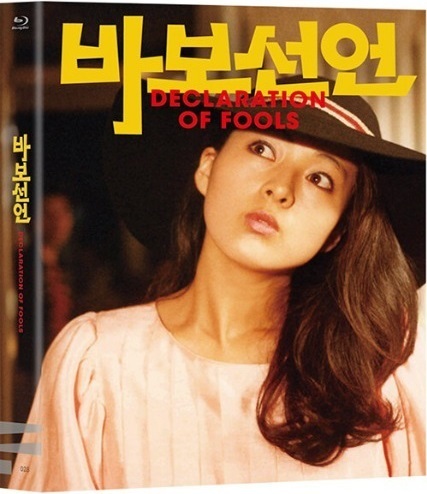 "Declaration of Fools" <바보 선언> (1983)

Dongchil (played by Kim Myung-gon) is a young adult male who walks with an odd limp and has no friends, no money, no prospects, while also lacking common sense and intelligence. There is one thing that gives him direction, and that is when he suddenly encounters the young woman Hye-yeong (played by Lee Bo-hee). He fantasizes about her and what it would like to be in a relationship with her by his side, but with Dongchil's has an odd plan to grab her heart. He stops a taxi and asks help from the driver Yuk-deok (played by Lee Hee-sung) to kidnap the girl, which doesn't go according at all to plan.

Describing the plot of "Declaration of Fools" is a difficult one, as it changes tone and shifts gears constantly, as it is a slapstick experimental avant garde comedy with a non-linear structure with a multitude of dream sequences and borrowing efforts from silent films with most of the feature being without dialogue. It's not easy to predict where any of the story is going and it does everything it can to make the story as non-traditional as possible. The sound design is incredibly intricate with its use of music cues that range from traditional Korean music, western classical, video game sounds, and even the American pop song "Gloria" by Laura Branigan. Director Lee Jang-ho set out to make an anti-cinema film by breaking as many rules as possible, yet it strangely had an extremely positive reception with audiences and becoming a major hit in South Korea.

The director had make quite an impact with his first feature as a director in 1974 with "Heavenly Homecoming to the Stars", breaking box office records and becoming a cultural milestone. But as a left-wing young filmmaker which raised yellow flags with the dictatorship government of President Park Chung-hee, his career came to a standstill after he was arrested at the end of 1975 for marijuana usage and barred from filmmaking. He was not a lone target, as the government arrested more than eighty people including musicians and other entertainers in a month's period. After the assassination of Park Chung-hee in 1979 and Lee was exonerated, "A Fine, Windy Day" was his return to filmmaking in 1980, which was another critical hit focusing on the lower class and outsiders of society. By 1983, Lee was getting disillusioned with filmmaking, as the government still had strict guidelines with censorship and the public did not give loving interest to the artform in comparison to other countries. 1983's "Declaration of Fools" was Lee's effort to unleash his frustrations in an artistically bizarre form. The film starts off with a sequence in which a man (played by Lee Jang-ho himself) screams "Ready, go!" as he jumps from a tall building to his death. It is revealed he is a filmmaker that gives up on life as Koreans were no longer interested in cinema as they had become more interested in sports. While focus would most likely be about what had happened to his man and how the events came to be, instead the audience is treated to the foolish character of Dongchil seeing the dying filmmaker on the ground, in which he steals the man's wristwatch as well as his shoes and clothes which were left at the top of the building. The filmmaker is never mentioned again as the course of events are following the odd world of Dongchil and his mind.

Things are seemingly straightforward, with the audience following Dongchil following a beautiful girl with breaks into his imagination. But once the kidnapping scene occurs in which both she and he sniff chloroform and are knocked out, the film suddenly turns to an extremely long dream sequence with Dongchil's thoughts of the future. Sex with Hye-yeong, meeting her parents for the first time, their marriage, and their lives together. But when reality hits, it hits hard, as Hye-yeong uses her physical strength to knock out both the lanky Dongchil and the chubby Yuk-deok quite easily, proving that there is no such thing as a damsel in distress. It must be noted that during all this time, until the time that Dongchil and Yuk-deok bring her back to her home in a shanty town that there is actual spoken dialogue in the feature, and that is about 38 minutes into the story. And even when the first words are spoken, in which Hye-yeong reveals that she is not some rich kid in university, but a brothel worker trying to make ends meet, the dialogue is also done in an unconventional sense by not showing the speaker on camera but instead showing the reactions of others until halfway in the conversation. From the scene onwards, the film reverts back to being mostly dialogue-less like the first half, and convention is thrown out altogether. Not to say there is no spoken words to be heard, as there is narration and background chatter throughout. The narration provided by a child is also unconventional, as his cadence is like a nursery rhyme describing events rather than traditional speech, making even the narrated segments sound more abstract than straightforward.

As "Declaration of Fools" mostly relies on filmmaking without dialogue, it is up to the characters to physically have characteristics mimicking a silent feature with grand gestures and oddball behavior. Dongchil has an odd way of walking that takes inspiration from Charles Chaplin's The Tramp character. The heavyset Yuk-deok and his bumbling antics are reminiscent of Fatty Arbuckle, while Hye-yeong is the straight-man (or woman) that portrays the character with more realism than the others. But it is not just the performances that have the spirit of silent films, as Lee cleverly changes the camera's film speed in various situations. Characters appear to move faster than normal in slapstick situations like the fight scene, various dream sequences, and the fun beach scene. There is slow motion used for the unhappy latter scenes in the gentlemen's club. Yet cinematographer Seo Jeong-min doesn't make the film a total homage to silents, as it is in the cinemascope aspect ratio and has bold modern colors to reflect the time that the film takes place in, which the narration states is in the late twentieth century.

Loosely adapted from the novel by Lee Dong-cheol and adapted for screen by Yun Si-mon, "Declaration of Fools" does whatever it takes to separate itself from convention. Lacking dialogue and a structured narrative, yet having quirky characters with social frustrations, the feature had no prospects of becoming a hit, as there were no distributors or cinemas interested in the abstract film. Interestingly it was first screened in the United States at the Chicago International Film Festival on November 14th, 1983. It finally received a South Korean release on March 11th, 1984 in a single theater, where screenings sold out quickly and word of mouth made the film expand into a cultural phenomenon. It's not easy to pinpoint what it was that hit the nerves of audiences, but the combination of seeing something so different in structure and oddball character actions alongside frustrations against class struggles made it a film to cheer for. It is by no means a perfect film as it can sometimes drag into the wrong directions and there are unusual character decisions. But maybe that is what an art film is set out to do, as in this case. The Korean Association of Film Critics Awards gave the film the Best New Actress award for Lee Bo-hee and at the 1988 Berlin International Film Festival four years later gave the film a special jury prize. It revived Lee Jang-ho's interest in filmmaking and he would return with a number of notable works including the slightly ironic "Lee Jang-ho's Baseball Team" recalling how audiences were more into sports than films, and the pseudo-sequel to "Declaration of Fools" entitled "Declaration of Genius" in 1995 which reunited Lee with Kim Myung-gon. Over the years, "Declaration of Fools" has been seen as a turning point in South Korean cinema with a new wave, as it had a similar style in freeform filmmaking like what France and Japan experienced in the late 1950s and 1960s. While the South Korean new wave didn't have the same impact, the film and others would have an impact on the next generation of South Korean filmmakers who were able to embrace the artistic nature for groundbreaking internationally acclaimed works in the 2000s.

Note this is a region ALL Blu-ray

Video


The Korean Film Archive/Blue Kino presents the film in the original 2.35:1 aspect ratio in 1080p AVC MPEG-4. In 2013, the original 35mm negative was scanned at 2K resolution and given a basic restoration with color correction and digital editing. It was not given a full restoration, as KOFA was focused on digitization of their archive first before working on individual restorations. Work on restoring the film was started and completed in 2021, in which damage such as scratches and cuts were removed, warped frames were correctly adjusted, and telecine wobble was stabilized. Colors which were already corrected look excellent with stable colors without shimmering or inconsistencies, with deep colors coming to life. The film looks nearly brand new with no damage marks or errors to speak of, while still having a filmic look with a healthy amount film grain. Another solid restoration and transfer from KOFA with this release.

The film's runtime is 92:38 including restoration text at the start.

Audio


Korean LPCM 1.0
The original mono track is presented uncompressed. The 35mm sound negative was the source, in which pops, crackle, hiss, and other damage was digitally corrected. As the film relies heavily on sound effects and music, the mono track is actually fairly active throughout, and the restored soundtrack balances the highs and lows very well. Dialogue is also fair throughout, which was entirely recorded in post production like every other South Korean production of the era. Everything is well balanced and free of damage, and like the image is an excellent example of sound restoration from KOFA.

There are optional English, Japanese, Korean subtitles for the main feature in a white font, which are easy to read, well timed and free of errors.

Extras


Audio commentary with director Lee Jang-ho, actor Kim Myung-gon, and journalist Im Soo-yeon
This newly recorded commentary has Lee and Kim reuniting to recall about the film with journalist Im Soo-yeon as moderator and bring her thoughts and information about the feature. Unfortunately the commentary is not subtitles for non-Korean audiences.
in Korean Dolby Digital 2.0 without subtitles

"Digital Restoration: Before/After" featurette (1:41)
A side by side comparison of the film before and after restoration is here, comparing the 2013 restoration with the 2021 restoration. Color correction has already been applied, so they are showcasing the cleanup done with speckles, scratches, and warps to the image. There is no audio for these clip, so it is presented silent with text.
in 1080p AVC MPEG-4, with English and Korean text

Image Gallery
Included here are 10 stills, with original poster artwork, outside a cinema when it was first screened, and behind the scenes shots.
1080p AVC MPEG-4

Trailer (4:08)
The original South Korean theatrical trailer, which is in very good condition being remastered as well.
in 1080p AVC MPEG-4, in 2.35:1, in Korean Dolby Digital 1.0 without subtitles

Booklets
Included are two 48-page booklets. One is a photo book with high quality production stills, with many more that shown in the image gallery on the disc. The other booklet includes the film's information and essays in bilingual Korean and English. First are film credits, a synopsis, an awards list, and the director's filmography. Next are lengthy restoration notes on the image and sound. The first essay included is "Lee Jang-ho: Films for Youth or Auteur of Contemporaneity" by researcher Yi Young-jae, which looks at the impact that Lee's "Heavenly Homecoming to the Stars" had, South Korean censorship and difficulties for artists, as well as other films and political incidents in the 1970s. Yi returns for the second essay, entitled "Declaration of Fools: The Origin of the Korean New Wave", which focuses more on the film itself with its themes and its impact. In addition, there are stills, poster art, a still of the commentary recording and disc credits.

Packaging


This is spine #28 in KOFA's Blu-ray series. The disc is packaged in a clear keep case which also holds three postcards, featuring three color stills (with the third being quite a spoiler for the ending). The keep case and two booklets are housed in a slipbox.


Overall


"Declaration of Fools" is unique with its homages to silent cinema and the avant garde, yet being s cultural milestone for South Korean cinema for its groundbreaking turns. Odd, quirky, confusing, while still being fun and entertaining, it's an anti-cinema work that goes against every convention. The Korean Film Archive/Blue Kino Blu-ray has a stellar transfer with the restored film, though the extras are a little thin and it is unfortunate the new commentary is not subtitled. Still comes as recommended.

The film is also available to watch for free on the KOFA YouTube channel under the title "Declaration of Idiot", using the 2013 2K restoration.
| | | | | |
| --- | --- | --- | --- | --- |
| The Film: B+ | Video: A | Audio: A | Extras: C+ | Overall: B |