The Film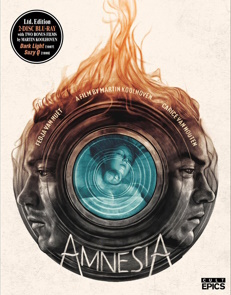 Golden Calf (Best Actor): Fedja van Huêt (winner) and Best Actress: Sacha Bulthuis (nominee)- Nederlands Film Festival, 2001

For photographer Alex (Loft's Fedja van Huêt), AmnesiA is a place: his rural family estate, the land of which is a labyrinth of wrecked cars from the family's once-thriving garage that are prone to spontaneously combust. Alex prefers photographic inanimate objects because when he points a camera at a person, he sees someone else entirely through the viewfinder; someone he wants to forget. When his twin brother Aram (also van Huêt) calls him out of the blue and asks him to come home to look after their mother (Sacha Bulthuis) while he must be away for a few days, Alex nearly runs his car off the road upon discovering that he has at some point picked up a hitchhiker in the mysterious Sandra (Game of Thrones' Carice van Houten). Alex introduces Sandra to his mother as his girlfriend and then they make it official in bed. Alex's mother has a reputation as a hypochondriac but Alex thinks this time around that she may actually be ill; and it appears that she has not visited the doctor due to her reputation but because of Aram's own distrust of doctors that finds him dragging partner Wouter (Black Book's Theo Maassen) back home with a bullet in his stomach after a robbery gone bad to await the arrival of the mysterious Eugene. Sandra picks up on the tension between the brothers which seems to involved their shared secret from their mother about their late father's affair more than a decade before with the village doctor (Carly Wijs) but it may be something far worse when Alex confesses that he "once photographed a terrible accident… by accident."

The feature film debut of Dutch filmmaker Martin Koolhoven (Brimstone) for the "No More Heroes" project of five features, AmnesiA is an arty black comedy masquerading as a thriller. Beautifully lensed by Menno Westendorp with not a shot squandered by looking remotely "ordinary", the film may be stylistically pretentious and thematically vague; however, AmnesiA constantly disarms the viewer in its ability to seamlessly move between suspense and absurdity to utter hilarity as well as in creating dialogue exchanges that are simultaneously tense and amusing (even more so when the exchanges are between van Huêt and himself). Van Huêt manages the feat of playing twins via mannerisms and subtle make-up differences but it is their similarities that prove compelling – and it becomes evident in the flashbacks with Erik van der Horst cast as the younger version of both brothers that the viewer is supposed to be confused as to which twin is which when they are seen apart from one another – indeed, the conflict between the brothers appears to be Alex attempting to differentiate himself from his twin to the extent of trying to become someone else (his father) while Aram wants him to admit his equal share of the responsibility for what happened in the past. Bulthuis' smothering mother figure fills the silences with the presence of her departed husband, the stories of his personality overshadowing both sons as she uses him to point out Aram's shortcomings and express her favoritism towards Alex. Van Houten's Sandra is ambiguous by design, frustratingly so as we are uncertain whether she is a specter of reproach for Alex's guilt or a fellow lost soul, but she spends much of the running time staring photogenically through flames or asking questions to shed light on the family's backstory. AmnesiA may not be the sum of its parts, but it is a diverting and stimulating journey (even more so with the context of two earlier Koolhoeven television films in this set for context).

Video


Previously unreleased in the United States but available in a Dutch DVD "No More Heroes" boxed set with English subtitles, AmnesiA comes to Cult Epics Blu-ray in an utterly stunning 1080p24 MPEG-4 AVC 1.66:1 widescreen transfer from a new 4K restoration of this Super 16 production by the Eye Filmmuseum's archive whose restoration work has previously graced earlier Cult Epics releases of Dutch cinema (as well as a substantial chunk of the ninety-nine previously lost silents from 1898-1926 that encompass Kino Lorber's Cinema's First Nasty Women set). Fine detail is evident in the textures of hair, clothing, and facial features thanks to crisp focus and the sometime exaggerated rendition of close-ups through wide angle lenses wihtout going full Jean-Pierre Jeunet; indeed, it becomes evident that one means of differentiating the twins visually is the subtle distortion that makes Aram's features jut out and seem more angular while Alex is photographed in reverse angles to seem a bit more recessed in the frame. The naturalistic color scheme is handsome and rare instances of more saturated colors pop while only a few rare specs are evident at reel changes and preceding some opticals.

Audio


Three audio options are available including an LPCM 2.0 rendering of the Dolby Stereo soundtrack as well as DCP-friendly rechanneled rather than remixed lossless DTS-HD Master Audio and lossy Dolby Digital 5.1 tracks. The original stereo track gets the job done as far as a clean rendering of dialogue, scoring, and directional effects (atmospherics are a bit more sparse) and the surround mixes do not really spread things out so much as just give the score and a few sounds some breathing room. The optional English subtitles are free of any obvious errors.

Extras


The bulk of the extras on this limited edition set are on the first disc and pertain to the film. The feature presentation is viewable with an optional introduction by writer/director Martin Koolhoven (1:02) and is accompanied by an audio commentary by writer/director Martin Koolhoven and actor Fedja van Huêt, moderated by Peter Verstraten in which Koolhoven cites his inspirations as being Roman Polanski's Cul-de-Sac, William Friedkin's Harold Pinter-scripted The Birthday Party, and David Lynch's Lost Highway, the means of differentiating the twins, trying to keep van Houten confused about her character to the point of nearly making her cry, and requiring van Huêt to starve himself for this film and then to gain weight for their follow-up film The Cave (in which van der Horst would again play the younger version of his character).

In "A Conversation with Martin Koolhoven and Carice Van Houten", they discuss working together first on the TV film Suzy Q (in which he nearly did not cast her because he though she was too old to play a teenage girl), van Houten recalls trusting him immediately only for Koolhoven to then admit to trying to trick her; whereupon she recalls her frustration at not being able to analyze her character. She also recalls the camera rig falling on her chest during an overhead shot of her epileptic fit.

"The Making of Amnesia" (37:53) is actually an interview with Koolhoven by critic Dana Linssen illustrated with clips – considerably darker than the feature presentation although this may be an affectation of the video piece itself since the interview is also shot in low-key lighting – in which Koolhoven discusses fitting his idea for a feature film debut to the budget of the No More Heroes project, the theme of selective amnesia, location scouting in Belgium where they found a location in which they actually had to remove cars to create walkways for the characters, the subtler points of differentiating the twins visually and in terms of accents (which may be lost on us non-Dutch speakers), as well as the film's digital effects which may go unnoticed because of Koolhoven's decision not to do any flashy "cool" shots (behind the scenes video shows van Huêt's double Rob Bartels who was digitally painted out of the shots in the finished film).

"Behind the Scenes with Carice Van Houten" (1:18) is a very brief piece following van Houten around the set, and the disc closes with the film's theatrical trailer (1:43) and trailers for six other Cult Epics titles (five of which are also Dutch).


The second Blu-ray disc, presumably exclusive to this limited edition and not included in a subsequent standard edition, features two of Koolhoven's earlier television projects. Unreleased in other countries due to music rights, Suzy Q (84:35) is van Houten as a teenage girl at that awkward age in Amsterdam 1967 where she does not fit in anywhere. Neither of her older brothers want to "babysit" here – easygoing Palmer (van Houten's fellow Game of Thrones alum Michael Huisman) has musical ambitions and tunes out with the ganja while neurotic Zwier (Roeland Fernhout) might have murdered someone – mother (Linda van Dyck) insists that everything at home be as perfect as her waning modeling career and has no time to indulge Suzy's insecurities, and dad Ko (Jack Wouterse) -- laid off from his job forcing the family to move from the suburbs to an apartment house where he attempts to start up a business bartering old war rations for services (and alcohol) – pines for the wartime era and sees his children's obsession with pop culture as a weakness (while drinking vodka and watching reruns of "Rawhide" in a cowboy hat). When Suzy hears from her friends that Mick Jagger and Marianne Faithful are visiting Amsterdam, she decides to find a way into their hotel room in the hopes that they will adopt her and get her away from her family. Whether her third wheel position in an awkward threesome with Jagger (Andrew Richard) and Faithful (Murder on the Orient Express's Miranda Raison) is real or imagined, no one believes she met them or that she might be pregnant, and the only one she can truly hit back at with her stories is her father who responds in a typically violent manner that sets about a devastating chain of events.

In Dark Light (54:45), a burglar (It's All So Quiet's Marc van Uchelen) breaks into a remote farm but its owner (The Ardennes' Viviane de Muynck) gets the drop on him and he wakes up chained in the barn. She tells him that he is there to do penance and to bear witness, and he learns just what she has in mind through the story of Job; however, the details of the story provide the young man with some ammunition in the battle of wills between a cynic and a fanatic. Running just under an hour, the film is spare and taut, focused solely on the relationship between the two in all of its inevitable brutality and disarming moments of tenderness; and it really can only end one way.

The disc also features trailers for Suzy Q (1:05) and Dark Light (0:57).

Packaging


The inner sleeve features artwork for the two TV films and a handsome slipcover is also included.

Overall


AmnesiA may not be the sum of its parts, but it is a diverting and stimulating journey (even more so with the context of two earlier Koolhoeven television films in this set for context).