The Film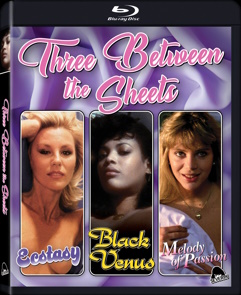 "Indulge your '80s fantasies with two softcore classics produced by Harry Alan Towers (99 WOMEN, Franco's COUNT DRACULA): In BLACK VENUS, former Miss Bahamas Josephine Jacqueline Jones (LOVE CIRCLES) leads a sumptuous orgy of Victorian lust co-starring Florence Guérin (FACELESS), Karin Schubert (BLACK EMANUELLE), Helga Liné (BLACK CANDLES) and Profumo Affair temptress Mandy Rice-Davies. Drive-in goddess Tiffany Bolling (THE CANDY SNATCHERS) stars in ECSTASY – also known as LOVE SCENES – as a Hollywood actress caught between reel passion and her own erotic hungers that include Britt Ekland, Julie Newmar, Monique Gabrielle and Jack Carter. As a Bonus, Austrian centerfold Sonja Martin (RED HEAT, EMMANUELLE IV) stars in MELODY OF PASSION from director Hubert Frank (VANESSA), with all three features scanned in 2K from their original negatives."

In Ecstasy, director Pete Binnes (Ghost Town's Franc Luz) is just coming off of the success of a hit film and wants to stretch his range by making his next project a sensuous possibly semi-autobiographical first screenplay by former starlet Belinda (Batman's Julie Newmar). His producer Sidney (Alligator's Jack Carter) has his doubts but insists that the only way that they can fend off charges that they are making smut is to cast Pete's A-list actress wife Val (Kingdom of the Spiders' Tiffany Bolling) even though she has never done a nude scene and the script calls for a lot of them. Val has her own misgivings but becomes curious after photographer friend Annie (The Wicker Man's Britt Eklund) convinces her to shoot some nude stills for her celebrity book. The first day of shooting is the pivotal scene in which her married character is supposed to fend off the advances of a suitor played by notorious womanizer Rick (Malpertuis' Daniel Pilon) but she becomes so aroused that she forgets she is on a film set and ends up actually having sex on camera with her game co-star. Val is ashamed afterwards but Pete, while not unsettled himself, sees the power of the footage and insists that they can edit around the most explicit bits and asks an incredulous Belinda to do a series of rewrites to take the film in a different direction. Val confesses to Annie that she is ashamed because she enjoyed having sex with Rick in a manner completely unlike making love to her husband in a manner that seems to mirror the script's conflict between her attraction to her lover and her fidelity to her husband played by Pete's buddy Dan (X-Ray's John Warner Williams). As the shoot continues, Val starts to explore her own neglected sexual pleasures while Pete channels his jealousy into the script despite Belinda's warnings – gleaned from personal experience – that he is "playing God" with his marriage and will be the one to lose out.

Despite the novelty to seeing seventies TV regular and exploitation regular Tiffany Bolling frolicking around nude, Ecstasy is a relentlessly dreary affair despite an interesting premise and some earnest (if not necessarily great) performances. The film's sex scenes are fairly tame but the nudity is actually not gratuitous given the scenario which includes various decadent parties attended by both the film's characters and the film-within-a-film's characters with an early appearance by Monique Gabrielle (Emmanuelle 5) among the extras. Despite the plot point of Val exploring her sexuality, she is mostly as passive a character as the one she plays in the movie and, in spite of her justified anger at Pete taking out his jealousy on her for scenes he writes her into, Pete has to put things right by rewriting the ending of the film to cast her lover as a con man and have her husband forgive her and validate her feelings. The film's most powerful moment is the first sex scene which spends far less time on what little it shows of both onscreen participants and more focus on the reactions of those behind the camera (with both Belinda and Sidney watching Pete as intensely as he watches what is unfolding in front of the camera). Much of the film's melodramatics and extracurricular sex scenes are undermined by an extremely repetitive synth and sax score that especially robs the final scene between Pete and Val of any of its emotional resonance. Director Bud Townsend had previously helmed Alice in Wonderland: An X-rated Fantasy and a pair of R-rated sex comedies for Crown International while producer Vernon P. Becker spent the seventies in Sweden helming Dagmar's Hot Pants and producing Joseph Sarno's Swedish Wildcats and The Seduction of Inga, but one cannot help but wonder if credited screenwriter "C. Penning Master" is a pseudonym for uncredited producer Harry Alan Towers (more about him below). Pete's sassy editor is played by the late Carol Ann Susi who spent the final years of her career offscreen in a recurring vocal only role on the sitcom The Big Bang Theory.


Black Venus is Venus (Warrior Queen's Josephine Jacqueline Jones) fresh from the West Indies and the networking the ballrooms of Paris where she catches the eye of art collector Jacques (The Fabulous Journey to the Centre of the Earth's Emiliano Redondo) and poor but talented sculptor Armand (Patricia's José Antonio Ceinos). She agrees to model for his life-size statue of a black Venus and their creative collaboration turns carnal. Armand spends all of his money romancing Venus and ignores the demands of landlord Lambert (The Blood of Fu Manchu's Ricardo Palacios) for rent until he attempts to take it out in trade with Venus' body. Under the threat of Lambert bringing in the bailiff, Venus takes a job as a model in the salon of dressmaker Madame Jean (Horror Express' Helga Liné) to allow Armand to continue working. Taking to the bottle as Venus pays for everything, Armand bitterly assumes that Venus is unfaithful to him with Madame Jean's clients and drives her into the arms of wealthy Marie (The Degradation of Emanuelle's Karin Schubert) who seeks female company while her husband is away. Eventually she winds up working in the upscale brothel of Madame Lili (Mandy Rice-Davies) with country girl Louise (Bizarre's Florence Guérin). When Venus learns from Jacques that Armand is on the brink of death, having refused to sell his statue of Venus even for food and heat, she implores Jacques to help Armand; whereupon Armand decides to take advantage of Armand's illness and Venus' desperation to collect both two pieces of exotic art.

Ostensibly based on a story by Honore de Balzac, Black Venus is one of two softcore period pieces tax break hunting producer Harry Alan Towers scripted for a cable TV deal with Playboy, the other being the Victorian erotica adaptation Frank and I, or Lady Libertine (Towers two other Playboy productions were the "Le Ronde" variation Love Circles and Christina from the fifty paperback "Christina van Bell" series by the pseudonymous Blakely St. James). Towers' script has the literary air he brought to Jess Franco's Sade adaptation Justine with the bookending sequences set in a brothel run by Rice-Davies of the real life Profumo Affair and the not-so-moral perspective of narrator Jacques but it also demonstrates a sensitivity to more than just the plight of its heroine. Armand is not the only character of the mindset that women's only asset is their body, but he is just as subject to exploitation by the moneyed Jacques as Venus is by Marie who tells Madame Jean that she is looking for something "exotic and original" and ultimately sides with her husband when he attempts to turn Venus and Louise into "party favors" when he and the guests catch them in bed together. In the end, however, Armand is as possessive of Venus as he is of his statue, perhaps seeing them as one and the same. Former Miss Bahamas Jones is no thespian but not for lack of trying but the other performances are harder to assess as everyone else apart from Jones and Rice-Davies are post-dubbed. Production values are respectable for the budget but the overall drama is undermined by the extremely cliché classical music choices from Schubert, Rimsky-Korsakov, and Strauss ("The Blue Danube" naturally). Director Claude Mulot had previously helmed "the first sex-horror film ever made" in The Blood Rose as well as the outrageous Pussy Talk (in both softcore and hardcore versions) but Black Venus is more in line with the more gentrified softcore work of the director's later career before his early death at age forty-four. Monique Gabrielle is credited at IMDb but Spanish genre fans are more likely to recognize uncredited appearances by Lone Fleming (Tombs of the Blind Dead) and Emilio Linder (Monster Dog).


In Melody of Passion, German college student Betty (Emmanuelle 4's Sonja Martin) receives a letter from informing her that she has inherited the Casa Flores and the title of contessa from a previously-unknown distant relative. Her boyfriend – who is conveniently unable to accompany her to Spain – warns her that a "casa" can mean anything in Spanish. Upon arrival, shifty attorney Cervantes is also eager to convince her that Casa Flores is an old wreck since the estate under his administration is turning a tidy profit as an exhibition venue for the call girls of madam Antonia (Lola's Marina Oroza) as well as various porn shoots under the nose of the late contessa's faithful retainer Francisco (2069: A Sex Odyssey's Klaus Münster) thanks to the maneuvers of wily maid Carmen (Montse Bayo). Upon arrival, Betty discovers that castle is quite the opposite of run-down but remains ignorant not only to the clandestine goings-on but also to the existence of the late contessa's jewelry. With Cervantes plotting to steal the estate out from under her and a pair of thieves attempting to heist the loot in between heavy petting, Betty seemingly can only trust Francisco and her handsome musician cousin Bobby when someone starts getting more aggressive about scaring her off.

A Spanish/German co-production, Melody of Passion was the penultimate film of Hubert Frank whose twenty-four year career encompassed – with a few exceptions like the Emmanuelle clone Vanessa – mainly German sex comedies, lightweight, very (very) broadly humorous fare often taking the "dirty old man" perspective on nudity and the depiction of sex. This approach was long out of fashion when the film was released in Spain in 1986 – especially compared to the more explicit "S" classification films – and more so in 1990 when the film finally saw release in Germany and abroad in an English-dubbed version; especially stateside when just a few years earlier it would have fit in with the "Private Screenings" video line and Cinemax late night airings of sixties and seventies softcore imports. In spite of the both the era's greater permissiveness, Melody of Passion is not just tame, it's limp. Woman pose and dance topless for male customers with the only novelty being Spanish guitar music and the comedy is just as feebly staged. Martin's Betty does not so much undergo a character arc from naive to knowing so much as move from scene to scene as required; initially reticent about making the trip alone, then stealing a car just to follow a pair to follow the stir made by a pair of gun-toting newlyweds and driving it into the sea, escaping molestation by a motorcyclist only to then hitch a ride with a trucker, and twice escaping awkward situations by crying rape only to then solve everyone's problems with a not-so-novel solution, winding up with the handsome beau despite actually having chemistry with the family retainer (which would have actually been a subversive twist).

Video


Released directly to the Playboy Channel and MGM VHS under the title "Love Scenes", the onscreen title of Severin's 1080p24 MPEG-4 AVC 1.78:1 widescreen transfer is Ecstasy as it was on Severin's 2006 fullscreen DVD which also used the more popular title on the cover. The newer high definition transfer does what it can with a rather dull color scheme and diffused photography – Swedish cinematographer Tony Forsberg was no Mac Ahlberg – yet, while fine detail is not always evident in hair and clothing, the diffusion is not enough to do away with tan lines, freckles, and wrinkles.


Black Venus also went directly to the Playboy Channel and MGM VHS, and the same fullscreen video master made it to DVD from Severin in 2006. The film made its debut in a new remastered transfer as a bonus DVD on the limited edition French UHD/Blu-ray combo of Mulot's Sins of the Flesh followed by the same transfer as an HD bonus feature on the limited edition Blu-ray of Mulot's Knife Under the Throat. The same master has been utilized for Severin's 1080p24 MPEG-4 AVC 1.66:1 widescreen Blu-ray reveals under the softness and grime of an old video master an exceedingly grainy and soft image that suggests 16mm-lensing with heavy on-camera diffusion with fair to poor detail in long shots with blooming light sources and crushed shadows while close-ups reveal better textures in facial features, hair, wardrobe, and set dressing (this is not unusual given the photography of Julio Burgos on his trio of 35mm-leansed Paul Naschy films from the period).


Previously unreleased in the United States, Melody of Passion comes to Blu-ray in a 1080p24 MPEG-4 AVC 1.66:1 widescreen transfer that is the best-looking of the bunch despite some eighties soft focus and backlighting. Colors are well-saturated and detail is fair to good is evident in crisp close-ups despite the glamour treatment afforded to the actresses.

Audio


Ecstasy comes with an English DTS-HD Master Audio 2.0 mono track that is fairly clean but the limitations of some of the location sound recording is evident in the dialogue while the music and effects are more consistent. Optional English SDH subtitles have a few transcription errors but generally get the job done.


Black Venus includes English, French, and German DTS-HD Master Audio 2.0 mono tracks with only the English track including some sync-sound dialogue, and the difference in that and the post-dubbed dialogue is evident but the tracks are all fairly clean. It is a pity that only English SDH subtitles were included since the French track features dialogue in a few sequences where there is only music on the English track (the German dub appears to be based on the English version since those sequences are also without dialogue).


Melody of Passion includes clean English and German DTS-HD Master Audio 2.0 mono tracks in which all dialogue is post-dubbed and cleanly recorded along with the music and effects. Only an English SDH subtitle track is included but the dialogue is probably just as rudimentary in German.

Extras


The only extras are video trailers for Ecstasy (0:49) and Black Venus (1:03).

Packaging


All three discs are housed in a black keep case with a hinged insert.

Overall


Three Between the Sheets brings a trio of "Private Screenings"-type eighties late night Playboy/"Skinemax" softcore flicks to Blu-ray for the nostalgic and the horny.