The Film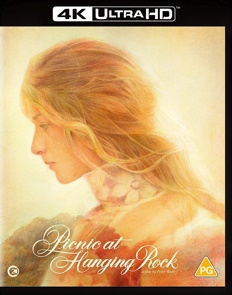 BAFTA Film Award (Best Cinematography): Russell Boyd (winner), Best Costume Design: Judith Dorsman (nominee), and Best Sound Track: Greg Bell and Don Connolly (nominee) - BAFTA Awards, 1977
Saturn Award (Best Screenplay): Cliff Green (nominee) and Best Cinematography: Russell Boyd (winner) - Academy of Science Fiction, Fantasy & Horror Films, 1979
AFI Award (Best Film): Patricia Lovell, Hal McElroy, and Jim McElroy (nominee), Best Direction: Peter Weir (nominee), Best Screenplay - Original or Adapted: Cliff Green (nominee), Best Achievement in Cinematography: Russell Boyd (nominee), Best Actress in a Lead Role: Helen Morse (nominee), Best Actor in a Supporting Role: Tony Llewellyn-Jones (nominee), and Best Actress in a Supporting Role: Anne-Louise Lambert (nominee) - Australian Film Institute, 1976

"This we do for pleasure so that we may shortly be at the mercy of venomous snakes and poisonous ants. How foolish can human creatures be?"

The Day of Saint Valentine, 1900: The girls of upper-class Appleyard College are to enjoy a picnic expedition to the nearby Hanging Rock, a million-year-old geological marvel. Not attending upon orders of headmistress Mrs. Appleyard (Murder on the Orient Express' Rachel Roberts) is orphan Sara Waybourne (The Lost Islands' Margaret Nelson) whose inability to understand her lessons is seen as obstinence and needlework instructor Miss Lumley (Prisoner: Cell Block H's Kirsty Child). French art teacher Mademoiselle de Poitiers (Caddie's Helen Morse) and natural studies teacher Miss McCraw (The Last Wave's Vivean Gray) are to escort the girls along with coach driver Mr. Hussey (Phar Lap's Martin Vaughan). After lunch, head girl Miranda (The Draughtsman's Contract's Anne-Louise Lambert) asks to explore the mountain and is accompanied by aristocratic Irma (Karen Robson), bookish Marion (The Lost Islands' Jane Vallis), and "dumpy" Edith (Christine Schuler). Their ascent up the mountain is witnessed by Michael (The Go-Between's Dominic Guard) – the visiting British nephew of picnicking Colonel Fitzhubert (Deathcheaters' Peter Collingwood) and his wife (Horror of Dracula's Olga Dickie) – and groom Albert (The Odd, Angry Shot's John Jarratt). The idyll becomes sinister as watches stop at twelve and a mysterious slumber overtakes the members of the picnic. The silence is pierced by the hysterical screaming of Edith in flight down the mountain and unable to explain what has become of her three friends nor Miss McCraw who has also vanished at some point. Subsequent sweeps of the mountain by the police and aboriginal trackers turn up nothing which is all the more maddening for Sergeant Bumpher (Return to Snowy River's Wyn Roberts) who can offer confirm nor deny that to the locals that their children might be in danger of a sex maniac, or Mrs. Appleyard who sees the threat to her institution's reputation as the mystery becomes a worldwide media sensation. The mystery of the girls' disappearance proves haunting to Mademoiselle de Poitiers, Sara, and Michael; all of whom were enamored in different ways with the enigmatic "Botticelli angel" Miranda who seemed to know she would not return, telling Sara the morning of the picnic: "You must learn to love someone else apart from me, Sara, for I won't be here much longer."

Immensely popular internationally as one of the early Australian art house prestige films, Picnic at Hanging Rock as film and source novel by Joan Lindsay is a mystery that has resonated in the Australian national and cultural conscience (and unsconscious), drawing myriad interpretations having to do with expatriate British identity, colonial violence, and the erasure of native peoples in favor of a more palatable vision of aboriginal mysticism to even alien abduction (a facetious remark by Weir that seems to have gained some traction among those who insist that Lindsay's text was not "written as a mystery" as she claimed but contains actual clues to a true event and its explanation). With dreamy photography by Russell Boyd and scoring by Bruce Smeaton – with pan flute interjections by Gheorghe Zamfir (who also augmented Ennio Morricone's score for Once Upon a Time in America) – director Peter Weir depicts its entirely white cast of characters – an aboriginal tracker is mentioned but not seen – as standing apart from the environment from the "earthy" locals like Albert to the more recent British transplants and earlier ones who cling to British identity. Although the film offers absolutely no solution as to what happened to the girls who do not literally disappear into the rock, it appears as though the slumber that befalls the girls and their subsequent trance as they discard their stalkings and corsets appears to be some sort of supernatural initiation preceded by a certain detachment displayed by ethereal Miranda ("Everything begins and ends at exactly the right time and place"), Marion ("Surprising the number of human beings are without purpose. Although it is probable they're performing some function unknown to themselves"), and Miss McCraw ("Siliceous lava forced up from deep down below. Soda trachytes extruded in a highly viscous state, building the steep-sided mametons we see in Hanging Rock. And quite young, geologically speaking. Barely a million years") while Irma is rejected for reasons unexplained to be found by Michael who perhaps was also able to briefly enter after falling into the same slumber and trance before also being expelled (possibly Albert was able to enter and find them both without realizing it at all). Lindsay withheld the last chapter from publication at the advice of her publisher – it was posthumously published as "The Secret of Hanging Rock" – which she herself deemed unfilmable, and the film is better off without it (although it is interesting to rewatch the film with its context).

The emphasis of the film is less on the mystery itself than its effect on the people left behind with potential comic relief characters like the school's servants Minnie (Squizzy Taylor's Jacki Weaver), Tom (Lonely Hearts' Tony Llewellyn-Jones), and gardener Mr. Whitehead (Frank Gunnell) expressing the most concern for the emotional plight of the girls next to Mademoiselle de Poitiers who is somewhat restrained by her position while Miss Lumley seems to give her notice as much in personal shame as her loss of faith in her employer. Bumpher's wife (Who Killed Baby Azaria?'s Kay Taylor) provide him with a sounding board and assurance while Albert is actually the voice of reason to suddenly hotheaded Michael who can throw himself headlong into danger but lacks the tact to explain to Irma his true attraction and the self-awareness to realize that he is projecting his own ideas onto Miranda who no longer exists as anything more than an image. Like Weir's later Dead Poet's Society, there is a tragic suicide in the third act; however, in this case, it is as inevitable – the character is likened to a deer that was "doomed to die" – as the death that follows it without necessarily being its catalyst. In retrospect, a further semblance of a true story comes from the way in which the film anticipates both of Fred Schepisi's subsequent distinctly Australian true crime stories The Chant of Jimmie Blacksmith and A Cry in the Dark. Weir would present a more modern and less idealized, but no less surreal, turn on the mystical as experienced by a white protagonist in The Last Wave while Jarrat would later play a far more sinister Ocker as the Wolf Creek's Mick Taylor (who is more like a twisted version of Mick Dundee than Albert Crundall).

Video


Theatrically released in the United States by Atlantic Releasing Corporation in 1979 and in the U.K. by G.T.O. Films in 1976, Picnic at Hanging Rock was difficult to see in these territories for a time apart from long out of print VHS editions until Weir's newly-created director's cut debuted stateside in 1998 on VHS, laserdisc, and DVD from The Criterion Collection in a non-anamorphic 1.66:1 letterboxed edition with remixed Dolby Digital 5.1 sound. The film received an anamorphic overhaul a few years later when Umbrella Entertainment released in 2004 – actually the first pressing was inadvertently encoded in 4:3 but it was quickly replaced – followed by British, German, and French editions; however, this remaster was framed at 1.78:1 since Boyd recalled the aspect ratio as 1.85:1 while Weir recalled it as being 1.66:1. The 1.78:1 ratio remained when the director's cut was upgraded to Blu-ray in Australia, the U.S., the U.K. (in Second Sight's first HD go with the title), and Germany, all looking exquisitely-detailed in spite of the aspect ratio controversy. When Boyd supervised the 4K restoration, a consultation of the Australian film archives documentation revealed that 1.66:1 was indeed the aspect ratio, and that has been utilized for Second Sight's 2160p24 HEVC widescreen encodes of the director's cut (106:50 without the seventy-seven seconds of restoration credits before and after the film) and theatrical cut (119:06 without the seventy-seven seconds of restoration credits before and after the film). While the wide vistas did not seem impeded with the 1.78:1 framing, closer shots including the base of the mountain picnic scenes and the grounds and interiors of Appleyard College and the Fitzhubert's very Victorian outback home regain a sense of stateliness with the narrow framing that emphasizes the clashing "regal" bearing of the British characters like Mrs. Appleyard or Colonel Fitzhubert in contrast to the Australian characters like Sara enclosed in a circle of moonlight as she sits on the stairs mourning Miranda or Albert standing in the doorway of the colonel's study making excuses for Michael not returning from the mountain with him. The on-camera filtration is beautifully-rendered without feeling gauzy or revealing the various weaves of the material stretched over the matte box.

While the director's cut is identical in content to the earlier digital versions, the theatrical cut here is actually the original 119 minute Australian theatrical version which runs longer than the 115 minute version that was sent out internationally and mislabeled as the "theatrical cut" as an extra on Second Sight's earlier three-DVD deluxe edition or on one of the DVDs of Koch's aforementioned Blu-ray special edition which ran 110 minutes with PAL speedup). Restored here in identical quality to the surrounding footage are all the bits trimmed from the director's cut mainly involving the one-sided romance between Michael and Irma as well as a scene involving a photographer trespassing on the Appleyard College ground which was trimmed from the 115 minute international cut but put back into the director's cut. The original cut may seem indulgent by those who first saw the director's cut, and some of Weir's deletions were wise; however, more a matter of pacing than specific footage makes more gradual the mental deterioration of not only Sara but also Mrs. Appleyard (giving a little context to her amplified coldness toward Sara later in the film as well as making the fates of both seem less abrupt if not more shocking).

The 4K standard edition edition under review features two UltraHD discs while a limited edition includes the two UltraHD discs plusts the same content in 1080p on two Region B Blu-ray discs along with a various paper extras. A two-disc Blu-ray standard edition is also available.

Audio


The director's cut features the same remixed surround track in DTS-HD Master Audio 5.1 and the lossless track resonates more "in the breastbone" its undercurrent of disquieting sounds and the more dimensional spread of the scoring and some subtle atmosphere. The theatrical cut features the original mono mix in DTS-HD Master Audio 1.0 as meticulously restored as the picture. Both versions feature optional English HoH subtitles.

Extras


The director's cut on the first disc is accompanied by a rigorously-researched new audio commentary by film historians Alexandra Heller-Nicholas and Josh Nelson which is stuffed to the gills not only with production anecdotes but every sort of interpretation and conspiracy theory surrounding the attempts to relate the events of the novel and film to real life analogues – Lindsay did attend a girls school that subsequently moved to the Mount Macedon area, there was a disastrous expedition to Hanging Rock by a photography class lead by a Miss McCraw, and about twenty years before the setting of the story two girls did vanish in the area never to be found – as well as the film's place in Australian culture and sociology, in its colonial context, and with respect to the First Nations people and campaigns like Change the Date (of Australia Day) and Miranda Must Go. So much is covered that one hopes that one of the limited edition paper extras also includes a bibliography.

Also on disc one is the comprehensive 2004 documentary "A Dream Within a Dream: The Making of Picnic at Hanging Rock" (118:01) by Not Quite Hollywood: The Wild, Untold Story of Ozploitation!'s Mark Hartley featuring new and archival material detailing TV presenter Patricia Lovell approaching Weir about adapting the book, Weir recommending brothers Hal McElroy and Jim McElroy as producers after their previous collaboration The Cars That Ate Paris, Weir approaching Lindsay for approval and breaking the rule not to ask her if the story was true or not, initial choice for adapting the novel David Williamson (who later scripted Weir's Gallipoli and The Year of Living Dangerously recommending Cliff Green, Lambert being initially passed over for Miranda in favor of Ingrid Mason (Eliza Fraser) who subsequently accepted a smaller role as one of the pupils with a speaking part, insights from Lambert, Morse, and Schuler on Roberts – who replaced initial choice Vivien Merchant (Accident!), Lambert being kept away from Guard by the other girls and Lovell's feelings about Lambert's estrangement from the rest of the cast, worries that Nelson might be getting too much into character, Vallis' early death, and Jarrat reflecting on his character and his fast friendship with Guard. Boyd is on hand to discuss the film's visual debt to photographer-turned-filmmaker David Hamilton (Bilitis), Martin Sharp's contribution to the visuals of the film – including Sara's scrapbook – material that was tried but did not work like Michael's hallucination of Miranda as a nude Venus (present in the negative and briefly seen in the documentary), as well as the feelings of Weir and the cast (particularly Lambert) on the material removed for the director's cut.

Disc two shares the theatrical cut with the bulk of the new extras including "Finding the Light" (10:48) in which cinematographer Boyd expands upon his comments in the documentary in capturing an "impressionist look" including the importance of a good assistant director in helping him schedule shots for effect. In "Crashing Through Boundaries" (7:04), camera operator John Seale – who also operated for Boyd on Weir's The Last Wave, Gallipoli, and The Year of Living Dangerously and would subsequently photograph Weir's first three American productions Witness, The Mosquito Coast, and Dead Poet's Society – recalls the "what if" system of Australian filmmaking in which they were more experimental and not constrained by the standard key-fill-back style of lighting and Weir's eye for visuals grabbed on location. In "A Lovely Day for a Picnic" (11:20), actress Robson recalls being recommended the novel and the part of Irma by Sharp, working with Roberts and Guard, her subsequent roles as entertainment lawyer and producer in Hollywood, and Weir contacting her when he undertook his director's cut to apologize for removing some of her scenes.

Ported over from the Umbrella editions is the Australia Council Archival Film Series 1975 interview with author Joan Lindsay (15:00) in which she discusses her memories of Hanging Rock as a child where she spoke her first words, her early interest in painting until she married a painter, starting to write for magazines, her first works, the speed with which she wrote the novel, and her feelings about people who write to her asking for the solution to the mystery. Also ported over is "A Recollection: Hanging Rock 1900" (27:01), a 1975 TV documentary covering Lindsay's visit to the set as well as interviews with Weir and locals about the few details from the novel that have parallels with people and events in the Mount Macedon area.

New to the disc is "Something Beyond Explanation: Thomas Caldwell on Picnic at Hanging Rock" (22:50), a visual essay in which Caldwell also discusses Lindsay's relationship with time (see the above interview), the question of whether the story is true or not, and the influence of the film and its look on Australian television, commercials, fashion, as well as subsequent filmmakers, particularly Sofia Coppola and her debut The Virgin Suicides as well as the more recent The Beguiled (a remake of the Clint Eastwood film as it attributes its basis to both the source novel and that film's screenplay).

Also included is a selection of outtakes (12:31) from the "lost" ending depicting Mrs. Appleyard wandering the rock preceding the discovery of her body. This material is only mentioned in text in the finished film, and the outtakes look very "directionless" as if the filmmakers were trying to get as much material of Roberts wandering the location and would attempt to cut it together later on. While I have not seen the shooting script, Green's second draft screenplay devotes a paragraph that offers little to the reader to construct the ending based on the footage (which includes an apparition of Sara perhaps beckoning Mrs. Appleyard to her death).

The disc closes out with the original long theatrical trailer (4:54).

Packaging


This standard edition features two discs in a black keepcase while the aforementioned limited edition includes a rigid slipcase with new artwork by Thinh Dinh, a softcover book with new essays by Daniel Bird, Kat Ellinger, and Justine Smith, an archive essay by Rebecca Harkins-Cross, a costume gallery, and features on the original marketing of the film and the new restoration, a reprinting fo the original novel with exclusive cover art by Thinh Dinh, and six collectors' art cards.

Overall


Picnic at Hanging Rock is still as much a mystery as ever even with all of the footage and background on everything written about the novel and the film, but it may even be more stimulating and satisfying knowing just how much people have tried to solve a mystery to which there may truly be no solution.