The Film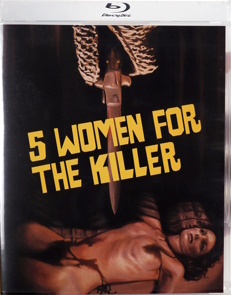 Returning from a conference in Beirut, writer/journalist Giorgio Pisani (Dracula, Prince of Darkness' Francis Matthews) is anxious about being away from his wife during her difficult pregnancy only to come home to learn from his sister-in-law Dr. Lidia Franzi (Lady Chatterley's Lover's Pascale Rivault) that he has a son but his wife did not make survive the birth. While visiting his son in the neonatal ward, he stumbles upon his own medical file and discovers that he was diagnosed with male infertility; whereupon Lidia confesses that she withheld the truth from him due to their bigoted father-in-law's concern about continuing the family line, an attitude shared by her husband Fabrizio (Alessandro Quasimodo) for whom she too has yet to produce an offspring. A disillusioned Giorgio meets cute with American expat Tiffany (The Face with Two Left Feet's Ilona Staller) who reveals that she has wound up pregnant and is discovered the next day dead and sexually-mutilated. Pisani is questioned by the police commissioner (The Killer Reserved Nine Seats's Howard Ross aka Renato Rossini) when an autographed copy of his book is found on the scene, but the subsequent murder of colleague Oriana (Devil in the Flesh's Catherine Diamant) in the same manner after announcing her pregnancy has people around Giorgio wondering if his wife's death and her apparent infidelity have made him unhinged; particularly when his son's nanny Alba (The Designated Victim's Katia Christie) reveals that she is pregnant and claims that he is the father.

Helmed by former cinematographer Stelvio Massi – whose only other giallo Arabella, the Black Angel also involved murders with genital mutilation – a director better known for his action flicks like Emergency Squad and Highway Racer, 5 Women for the Killer is a rather dull and dreary affair lacking in suspense, stylish violence, and sex appeal despite a dollop of de rigueur female nudity including Staller who achieved notoriety later as the famous Italian porn star Cicciolina as well as the novel sight of Last Year at Marienbad's once-debonair Giorgio Albertazzi rolling around naked with a much younger co-star for the purpose of setting up a seeming red herring. The scope photography of Sergio Rubini (Dawn of the Mummy) is occasionally inventive but the mise-en-scθne is ugly and exposition is not Massi's specialty so even the melodramatic exchanges are as dull in their coverage as the police procedural scenes even when imparting important information (and Ross is squandered in the role of an unnamed police detective when usually on the less seemly side of things in gialli like 5 Dolls for an August Moon or The Pyjama Girl Case). The scoring of Giorgio Gaslini (Night of the Devils) is incredibly intrusive as if the filmmakers felt that the viewer attention might wander, but even its stings prove more disruptive than underlining the points made visually compared to his more elegant work in the even sleazier giallo So Sweet So Dead. Matthews is an odd choice for a giallo leading man, particularly an Italian one whose machismo is less apparent to us than his smitten sister-in-law and he is largely passive until the end when we get a clumsy variation on the Argento-esque protagonist who does not realize what they initially saw until it is triggered later on. The notion that infertility could make a man or woman feel not only incomplete but possibly deranged might have been better handled by another director given that the screenwriters Vincenzo Mannino and Gianfranco Clerici – collaborating here with Lucio Fulci regular Roberto Gianviti (Don't Torture a Duckling) – later penned the original scenario for Fulci's New York Ripper that was repurposed into Ruggero Deodato's Phantom of Death in which a fatal affliction or the bitterness stemming from it trigger a series of gruesome murders. An atypical entry in the filmography of Massi, 5 Women for the Killer has all the right giallo elements but bungles them through indifference.

Video


Unsuccessful upon theatrical release, 5 Women for the Killer was never dubbed into English and, upon release to video, the film was shortened by roughly eight minutes while some brief mismatched gore inserts of the mutilation murders were clumsily inserted. Vinegar Syndrome's 1080p24 MPEG-4 AVC 2.40:1 widescreen Blu-ray comes from a 4K scan of a 35mm positive element of the original theatrical cut preserved at the Centro Sperimentale di Cinematografia film school. Damage is evident throughout from flicker and frame tears, but the overall dull look of the film is as much a result of fading as it was the original color scheme that consists mainly of browns, yellows, and oranges with what should be saturated reds looking dull and deep blacks occasionally diluted by gray. Raro Video parent company Minerva Group's YouTube page has a stream of the shorter version but it is cropped to 1.78:1, trimmed of violence and nudity for content standards, and the video source is even poorer.

Audio


The sole audio option is the original Italian dub in DTS-HD Master Audio 2.0 mono sounding reasonably clean with post-dubbed dialogue always understandable and optional English subtitles free of any obvious errors. The scoring is not particularly vibrant while the musical stings that accompany the murders and a few other suspenseful moments seem to have been treated in recording rather than distorting due to the state of the optical track.

Extras


The disc comes with a healthy set of extras, although the film itself is often of tangential importance apart from the audio commentary by film historians Eugenio Ercolani and Troy Howarth who discuss the Fulci connections in the script, Massi's move from cinematographer to director and how the film anticipates examples of his style better exemplified by his action film output, the oddity of casting Matthews who was not one of the many actors who traveled abroad to work during a career slump but pretty much stayed in the realm of British film and television, the appearance of Staller, and noting that while the cast was hired before Massi became involved – elsewhere on the disc we learn that Marcello Avallone (Spectres) had also been offered the film – Albertazzi had previously collaborated with Massi when the director photographed his television production of "Dr. Jekyll and Mr. Hyde" in which the actor starred and directed.

In "My Name is Howard" (20:11), actor Rossini recalls getting involved in films as a stuntman and being recommended by director Mario Bava to agent Giuseppe Perrone who represented other "beefcake actors" like Gordon Mitchell (Blood Delirium) and Mark Forrest (Goliath and the Dragon) but not getting signed until he had a larger role in Hercules Against the Mongols which lead to a string of sword and sandal and then western movies before Bava cast him in 5 Dolls for an August Moon. He remembers Massi warmly along with Matthews who he mistakes for an American and recalls that the actor was mistaken for a mental patient while sunbathing in the park near the hospital where they were filming.


"The Massi Touch" (24:57) is an interview with Massi's son Danilo Massi who recalls being cast as a child in Mi vedrai tornare which was shot by his father and realizing how important the DP was on set, visiting the sets of his first directorial works while in school, and becoming his assistant director from The Last Round onwards, recalling anecdotes from the peak of his career during the poliziotteschi days and having to adapt to changing markets, schedules, and budgets in the late eighties and nineties. He also gets a chuckle from the interviewer by describing Rossini's acting as "dreadful."

"Working with Stelvio" (13:24) is a 2023 "portrait piece" on Massi by actor Luc Merenda who recalls being "adopted" by the Massi and his wife, nearly paralyzing himself during a stunt, and describing Silent Action as feeling like two separate films because he later learned that co-star Tomas Milian wanted nothing to do with him (as was the case with Milian and some of his co-stars in his Lenzi films) but that Massi kept that from him.

"Five Women for a Giallo" (21:42) is an interview with filmmaker and film historian Luigi Cozzi onstensibly on on "Five Women for the Killer and the evolution of the giallo film" but mainly focusing on how the giallo was not a generally well-received genre with audiences and that even Argento considered switching genres after the poor initial reception of The Bird with the Crystal Plumage until word got back about its record-breaking performance in wide release in the United States (leading distributor Titanus to re-release it after Cat O'Nine Tails to high grosses); whereupon the genre shifted to a host of imitators of the Argento body count formula. Cozzi notes that most of the practitioners were craftsmen rather than auteurs with specialty in other genres, noting Sergio Martino as an exception as a craftsman who made interesting gialli. The only place the piece gets close to 5 Women for the Killer is in Cozzi mentioning that he got Gaslini to score Argento's series of four TV movies Door into Darkness which lead to him scoring Deep Red after Argento's dissatisfaction with Ennio Morricone's score for Four Flies on Gray Velvet (with Goblin coming in after Gaslini either refused to make changes or had other commitments depending on the source) while Cozzi's discussion of his own giallo The Killer Must Kill Again suggests we might not be getting a release of it from Vinegar Syndrome as this piece would be more appropriate there.

"Cinematographers in Arms" (13:29) is another "portrait piece" on Massi with friend and fellow director/cinematographer Roberto Girometti (Ratman) who worked with Massi at a newsreel company and recalls that operators and cinematographers initially learned skills valuable in directing films when they often had to gather footage themselves based on the notes of journalists and directors who could not always accompany them when the subject matter required traveling to several locations. He also recalls how the boom in Italian production required more directors, and that cinematographers were often pushed to take the reigns because of their overlapping responsibilities with directors but some apart from Bava, Massi, and a few others often returned to cinematography after directing a few films.


The disc closes out with gore inserts from the re-edited video version (1:12) which could not be found in film form and are shown in context, revealing just how clumsily these bits were added (while also revealing the difference between the prosthetic effects on view and the cruder make-up from the original shoot).

Packaging


The disc comes with a reversible cover while the first 6,000 units ordered directly from Vinegar Syndrome include a special limited edition spot gloss slipcover designed by Dani Manning.

Overall


An atypical entry in the filmography of cinematographer-turned-director Stelvio Massi, 5 Women for the Killer has all the right giallo elements but bungles them through indifference.