The Film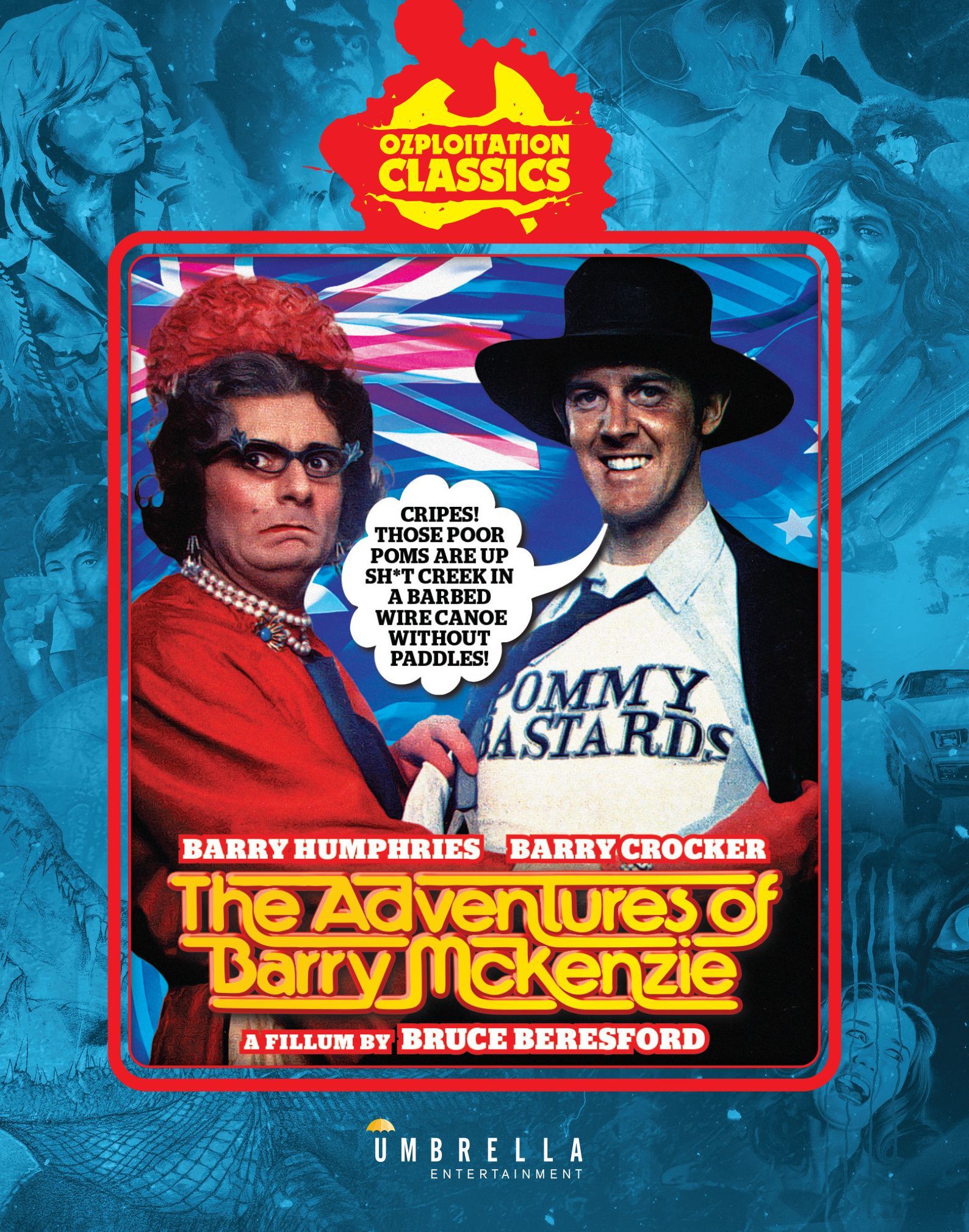 "The Adventures of Barry McKenzie" (1972)

As stipulated in his father's will, Barry McKenzie (played by Barry Crocker) inherits $2000 and must travel from his home of Australia to England to broaden his small minded cultural horizon. Accompanying him on his trip is his aunt Edna (played by Barry Humphries) who is more on the polite side to make sure Barry doesn't find himself in trouble as well as for her to make some reconnections to old friends. But Barry's short stay will find him in various quirky situations, from being scammed by airport customs and a taxi driver, nearly swindled by a group of hippies, nearly arrested by the police, taken to a mental institution, making a television commercial, and other insane happenings.

Barry Humphries first conceived of the Barry McKenzie character in comic book form. A friendly simpleton with a crass mouth who is quick to drink Fosters beer at any chance he has, he is also a well dressed individual wearing a suit with a wide brim hat at all times. His vocabulary was not filled with expletives but comprised of a mixture of Aussie slang and newly created euphemisms, he isn't exactly someone that changes his tone in situations, whether it be traveling overseas or talking to people of importance. He's quick to spit out derogatory terms towards anyone, whether it offends religion, gender, sexual orientation - just anything that gets in the way. But he is not out to offend people, as he is simplistically positive at heart. It's only when confrontation comes in that things get slightly escalated. Humphries' friend Bruce Beresford, who had experience in filmmaking through short films and documentaries suggested that the character to be adapted into a live action feature film. The two co-wrote a script, received funding from the Australian Film Development Corporation, and cast Australian singer Barry Crocker in the lead role. Crocker was a quick choice for Humphries and Beresford, as he was known to Australian audiences as a singer and television star, and had the big chin that the character of Barry McKenzie had. Although Crocker was much older at 37 years old rather than the 20 year old McKenzie and that his star personality was popular on his clean cut persona, it would be a fun challenge for the performer to try something completely against type. Humphries developed his older housewife character of Edna Everage on stage and on television, plus making a feature film appearance in "The Naked Bunyip""The Naked Bunyip" in 1970. While the character seemed an odd choice to pair with Barry McKenzie as their characteristics and personalities seemed nothing alike, they were placed together in the story of Barry's overseas oddball trip.

The plot itself doesn't quite make much logical sense when put together. Why Barry must go to England is not fully explored or his relationship to his other family members. How he so quickly gets cast in a local commercial, gets a gig singing on stage, appearing on national television - none of these make much sense in terms of scheduling or sense. Nor are all the connections from one situation to the next at times. Most of the situations are with Barry and the hijinks he somehow finds himself in, while Aunt Edna is more of a supporting character with a few one liners though there are a few situations of hers that it shown. There are some acquaintances for them in England, with Barry's cousin Curly (played by Paul Bertram) who also loves Fosters beer as much as Barry does, Lesley (played by Mary Ann Severne) who was another childhood friend of Barry's that moved to England years ago who has given up on the hetero dating scene. There is also the Gort family who Edna is looking to reconnect with. The father (played by Dennis Price) seems to be oddly interested in men and submission, the mother (played by Avice Landone) who sees Barry as a possible suitor for their daughter Sarah (played by Jenny Tomasin). In addition, there are some other major names that appear in smaller roles, with comic legends Spike Milligan as a landlord, Peter Cook as a television director and Lesley's ex, plus familiar faces such as Dick Bentley as the detective on Barry's trail, television presenter and journalist Joan Bakewell as herself and more. Even with the cast of many faces, there is little to string the odd plot together as being anything cohesive, Things move quickly from one point to the next and in a way are closer to that of a four panel comic strip in terms of storytelling, which may work on page but is not the best with feature length films.

As for the performances, Barry Crocker does an exceptional job bringing the comic character to life, with innocent yet not so innocent charm, quirky mannerisms, and a sharp tongue with the unique vocabulary. Barry Humphries' depiction of Aunt Edna is what many would expect as she has become a cultural icon over the last few decades, though it is a supporting performance so there isn't too much to be expected for her to shine. There are a few characters that could have used more polish, with Curly getting too little screentime to make an impression and the Lesley being both overwritten and underwritten at the same time. From her move from Australia to England, having little contact with her Aussie family, getting pregnant and then losing custody of her child and now living the life of a young lesbian woman in London, there is not a lot explored about her life and struggles except for just the words. She seems a bit out of place in the wacky comedy, yet not giving enough gravitas to push the character. As for the direction, Beresford does an admirable job for his first feature, giving breathing room for the comedy while giving good direction with the many setpieces seen.

The production of "The Adventures of Barry McKenzie" has a budget of $224,000 with funding provided by the Australian Film Development Corporation, which had just been founded. There were concerns from them about the dialogue and content, though the script was kept intact without forceful censorship. There was also trouble with the production shooting in England in which the English union was concerned with the number of Australians working on the production rather than local workers. Production was nearly shut down due to the disruptions, though there were no major delays. When the film was completed and released theatrically in its home country of Australia on October 12th, 1972, the reaction was incredibly divisive. Critics were quick to call it disgusting and vile, degrading towards the image of Australians, and offensive to all with the toilet humor and rowdiness of the characters and situations. The sex references, the puking, the peeing, there was a wealth of material for them to attack. On the other hand, the public was more than welcoming of a feature that had gross-out humor, wacky comical situation, and especially natural Australian accents to be heard on screen by a rural middleclassman rather than proper grammar and mid-Atlantic accents that dominated the English language film world. The film became the first Australian production to gross $1 million in box office gross, quadrupling the budget. Barry McKenzie and Edna Everage became cultural icons, and it easily led to more work for the cast and crew, as well as the profits to help with new productions, including an immediate follow-up with "Barry McKenzie Holds His Own" in 1974, which was again directed by Beresford and brought Barry and Edna back for an even bigger and wilder adventure. The sequel doubled the budget of the first film and went on to gross nearly $1.5 million making it another major hit. Barry Crocker continued his success as a singer and performer, with a number of appearances and having a string of hit songs, including singing the theme song to the long running Australian soap opera "Neighbours". Bruce Beresford may have had two major hit films on his resume, but unfortunately it became hard for him to be offered directorial work due to the negative critical reactions. Eventually his directorial works would find critical success, such as with the classic Australian war film "Breaker Morant" (1980), the socially conscious teen drama "Puberty Blues" (1981), as well as the Oscar winning films "Tender Mercies" (1983) and "Driving Miss Daisy" (1989). As for Barry Humphries, his character of Edna would far surpass all his other work as a performer, with the character officially becoming Dame Edna by the then Prime Minister Gough Whitlam conferring the title of "Dame" at the end of the 1974 sequel film in a cameo appearance. The title stuck, and the Dame Edna persona became much more than a housewife in later appearances on television shows, commercials, as well as feature films. Unfortunately, Humphries passed away on April 22nd, 2023 after complications from hip surgery. He was 89 years old. This would also bring a close to Dame Edna, whose last appearance was in 2019 on BBC's "Dame Edna Rules the Waves".

More than fifty years later, "The Adventures of Barry McKenzie" hasn't aged particularly well. The humor was offensive in its time and does feel out of place with the changing times having different views on what is acceptable as being funny or not, as does every generation. Though on the other hand, the supposed outrageous content that the film had does feel tame in comparison to what films have done in the following decades. Gross out humor and extremes would easily be surpassed, though it is important to see which films were the trendsetters, and "The Adventures of Barry McKenzie" is easily one of them.

Note this is a region ALL Blu-ray

Video


Umbrella Entertainment presents the film in the theatrical 1.85:1 aspect ratio in 1080p AVC MPEG-4. Transferred from a 4K restoration, the film looks absolutely great here. The image looks very clean with little if any damage marks being visible, with a stable image and bold colors. While the color palate may not match the depth and clarity of anything more modern, it certainly has the period colors and look without any digital sharpening or tinkering, and thankfully keeping the film grain structure intact. Some colors may be slightly on the darker side, the transfer is consistent throughout its runtime and should be very pleasing to both fans and newcomers alike.

The film's runtime is 113:16, which is preceded by a separate 11-second fake "Commonwealth of Australia" "No Poofters Allowed" classification card when the film is played.

Audio


English DTS-HD Master Audio 2.0 Mono
The original mono track is presented in lossless form. Like the image, the sound is remastered, which has good balance between the dialogue, music and effects throughout. Some of the recorded dialogue have issues due to the process with echo and reverb, though most of the time things are clear and easily understood. The music cues are well balanced and never overpowering, and there are no audio issues such as hiss, pops, or cracks to be heard.

There are optional English HoH subtitles for the main feature in a white font.

Extras


Optional introduction by Dame Edna (4:55)
This introduction which was also featured on the Umbrella Entertainment DVD release has Dame Edna giving a humorous talk about the feature many decades later without any major spoilers.
in 720p AVC MPEG-4, in 1.33:1, in English Dolby Digital 2.0 without subtitles

"The Adventures of Bazza in Chunderland" 2006 documentary (127:43)
This documentary from director Mark Hartley runs longer than the film itself, and is an all encompassing retrospective look at the film, its making, and its legacy with interviews with the cast and crew. Bruce Beresford, Barry Humphries, Barry Crocker, Paul Bertram, Mary Ann Severne and others discuss everything from the comic origins, the financing, the difficulties with shooting in Britain with the Australian cast and crew, the casting choices and memories of the shoot, censorship issues, the accents and lingo, the reception, the extreme negative critical reception and the surprise financial hit it became, and much more. Very well edited and paced, and featuring lots of great stories about the film, it's certainly a must watch.
in 720p AVC MPEG-4, in 1.78:1, English Dolby Digital 2.0 without subtitles

"Barry McKenzie: Ogre or Ocher" 1974 documentary (53:17)
This vintage Channel 9 TV documentary was produced to promote the newly released sequel film "Barry McKenzie Holds His Own", which features interviews with the cast and crew, premiere footage, and scenes from the film. It is partially serious with interviews about censorship issues and the difficulty of humor, while there are some portions that are comical with elongated bleeps and other silliness as well. The documentary is in black and white and was shot on film and then transferred to video, which seems to be the source used here. It is not the strongest or sharpest transfer, but still looks fair.
in 720p AVC MPEG-4, in 1.33:1, in English Dolby Digital 2.0 without subtitles

"A Conversation with Barry Humphries" 2002 interview (20:27)
This interview with Humphries has him discussing the origin of the Barry McKenzie character, working together with Beresford, the shooting in Britain, having his friends Spike Milligan and Peter Cook to appear in small roles, Fosters having issues with the character drinking its brand, and more.
in 720p AVC MPEG-4, in 1.33:1, in English Dolby Digital 2.0 without subtitles

"Not Quite Hollywood" 2008 extended interviews with producer Phillip Adams and actor Barry Crocker (27:36)
Mark Hartley's essential documentary "Not Quite Hollywood!" compiled a massive amount of interviews, and featured here are extended interviews with Phillip Adams and Crocker discussing about this particular film. Discussed are the creation of the colorful slang, the controversy the film received, the infamous puking scene, the politically incorrect period of the 1970s, and more.
in 720p AVC MPEG-4, in 1.78:1, in English Dolby Digital 2.0 without subtitles

Beresford & Humphries Short Film Collection
- "La Bain Vorace (Dial P for Plughole)" (1954) (11:22)
- "It Droppeth as the Gentle Rain" (1963) (6:40)
- "Film for Guitar" and "King Size Woman" (1965) (9:33)
Presented here are early short films from Beresford and Humphries before their first collaboration on "The Adventures of Barry McKenzie". The first is "La Bain Vorace (Dial P for Plughole)", a 1954 student film from the Melbourne University Film Club that featured Humphries in a silent spoof of a spy thriller film noir, with comical silent film gags. The transfer here is suboptimal, with the original black and white film having many damage marks throughout, and the soundtrack of library music sounding almost unbearable as it has an incredibly high pitched ringing tone throughout, along with hiss, crackle, and other noise. "It Droppeth as the Gentle Rain" is a student film directed by Beresford and Albie Thoms at the Sydney University Dramatic Society, as a silent film mostly taking place at a dinner party with creative moving intertitles. Again, the black and white image is not in the best of shape with damage marks seen throughout, though the end sequence in the rain seems to have deliberate tramline scratches on the film itself to simulate the rain. The final two are documentary shorts directed by Beresford in Nigeria. "Film for Guitar" features a montage of Nigerian athletes with guitar music performed by Okoli Obazo. "King Size Woman" is a bit of a misleading title, as it is a short that looks at the art of slogans painted on cars and other vehicles backed with music by The Postmen, a Nigerian group led by musician Sonny Okosun. The first short is in quite weak condition with its black and while image having a number of damage marks and the sound being wobbly and weak. As for the second short which was shot in color, this looks much nicer with its image quality and the music tracks being noticeably better in fidelity.
in 720p AVC MPEG-4, in 1.33:1, in English Dolby Digital 2.0 without subtitles

Barry Humphries scene from "The Naked Bunyip" (6:36)
Presented here is an excerpt from the 1970 film featuring Graeme Blundell opposite Barry Humphries as Edna in an early on screen appearance. The transfer is taken from a dated source, which has its issues with damage marks on the image and having hiss and fidelity issues with the audio.
in 720p AVC MPEG-4, in 1.33:1, in English Dolby Digital 2.0 without subtitles

"Guess Who's Mum's Got a Whirlpool" Commercials (6:54)
A series of commercials featuring Edna for Whirlpool appliances which were directed by Bruce Beresford. One of the commercials has been embedded below, courtesy of Whirlpool Australia.
in 720p AVC MPEG-4, in 1.33:1, in English Dolby Digital 2.0 without subtitles



Beresford & Humphries Aussie Trailer Collection (37:27):
- "The Naked Bunyip" (1970)
- "Barry McKenzie Holds His Own" (1974)
- "The Great MacArthy" (1975)
- "Donís Party" (1976)
- "The Getting of Wisdom" (1977)
- "Money Movers" (1978)
- "Breaker Morant" (1980)
- "The Club" (1980)
- "Puberty Blues" (1981)
- "The Fringe Dwellers" (1986)
- "Les Patterson Saves the World" (1987)
- "Black Robe" (1991)
- "Paradise Road" (1997)
- "Mao's Last Dancer" (2009)
- "Ladies in Black" (2018)
A series of theatrical trailers of films directed by Bruce Beresford and/or starring Barry Humphries are presented here. They are all taken from differing sources and in differing aspect ratios, so picture and sound quality will vary. Some have speckles and scratches, others are clean and clear.
in 720p AVC MPEG-4, in English Dolby Digital 2.0 without subtitles

Stills and Poster Gallery (3:09)
A quickly rotating automated stills gallery featuring on set stills, behind the scenes shots, theatrical posters and promotional artwork, and newspaper clippings accompanied by the film's theme song as background music, which sounds quite lively in stereo in comparison to the mono audio heard in the feature film.
in 720p AVC MPEG-4, in English Dolby Digital 2.0 without subtitles

Theatrical Trailer (2:22)
The original theatrical trailer which has also been remastered and looks and sounds as good as the main feature. It has also been embedded below, courtesy of Umbrella Entertainment.
in 720p AVC MPEG-4, in 1.85:1, in English Dolby Digital 2.0 without subtitles




Umbrella Entertainment issued the film on DVD many years ago, which featured the introduction and the trailer (plus some bonus trailers) as the only extras. "Barry McKenzie: Ogre or Ocker" was featured on the DVD of "Barry McKenzie Holds His Own", which hasn't received a Blu-ray upgrade as of yet. This Blu-ray features a wealth of material including those DVD extras and while it may not have a commentary track here, the 2006 documentary is filled with great material that it may have seemed redundant to include one. A great job with the bonus features here with the content.


Other notable clips


Channel 31 (Melbourne) broadcast promo


Compilation of clips from the late Barry Humphries


Barry Humphries' most memorable moments, from 60 Minutes Australia


Barry Humphries: A life dedicated to laughter, from Sky News Australia

Packaging


This is #1 in Umbrella Entertainment's "Ozploitation Classics" numbered Blu-ray series, which features a slipcase with uniform blue artwork. The keep case inlay features alternate artwork plus stills from the film with cartoon speech bubbles with quotable lines from the characters.

Overall


"The Adventures of Barry McKenzie" has lost some of its shock value with the crude humor and political incorrectness over the years, and plotwise it is not the most logical story to be told. It still has its charms and is a landmark feature in Australian comedy, and Umbrella Entertainment did a great job with the Blu-ray's transfer and bonus features.
| | | | | |
| --- | --- | --- | --- | --- |
| The Film: C | Video: A- | Audio: A- | Extras: A- | Overall: B |