The Film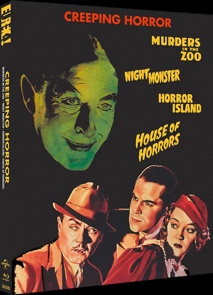 "Four more tales of terror from the vaults of Universal Pictures, starring Lionel Atwill, Bela Lugosi, and Rondo Hatton."

Murders in the Zoo: Returning from Africa with a veritable ark of animals for the local zoo – and short one expedition member who had the temerity to kiss his wife Evelyn (The Island of Lost Souls' Kathleen Burke) – billionaire sportsman Eric Gorman (Man Made Monster's Lionel Atwill) notices the attention paid to his wife by his best friend Roger (The Scarlet Empress's John Lodge). Evelyn's plans to run off with Roger are scuttled when Roger suffers a deadly Mamba bite at a fundraising banquet at the zoo arranged by new publicity manager Peter Yates (The Parent Trap's Charlie Ruggles). With news of a loose snake, the zoo is forced to close down, and biologist Jack Woodford (Supernatural's Randolph Scott) – fiancι of the owner's daughter Jerry (My Man Godfrey's Gail Patrick) – is blamed by Gorman for incompetence for letting the snake out while trying to synthesize an antidote for its venom. Evelyn suspects otherwise but vanishes before she can alert Woodford who may be the killer's next victim as he continues to investigate to prove his own innocence.

Broadway matinee idol Atwill shocked audiences and colleagues by embracing his status as a second tier horror star, moving between Warner Bros. with the color films Doctor X and The Mystery of the Wax Museum and Poverty Row with the likes of The Vampire Bat, as well as a host of memorable supporting roles in studio pictures before becoming part of Universal's horror stable with a memorable turn in Son of Frankenstein; however, a number of his works for the studio proved to be of lesser quality in spite of his presence. A Paramount production inherited by Universal, Murders in the Zoo is the crown jewel of this set even if the other three films come nowhere close to comparing. "Sadist" Atwill is truly in his element here in the film's wonderfully queasy pre-code atmosphere of onscreen gruesomeness and implied sexual perversity, getting lines like "You don't think I sat there all evening with an eight-foot mamba in my pocket, do you? Why, it would be an injustice to my tailor!" Ruggles' comic relief is a bit grating but it perhaps prevents the film from being too grim. What does surprise for a film of the period is the absence of impassive female characters. Burke's Evelyn is no deadly temptress, her cunning only emerging once she has been terrified with proof of her husband's evil, and the intelligence of Patrick's secondary love interest character is gravely underestimated by Atwill's villain during the climax. Gorman's comeuppance involves some back projection shots and an obvious double for a couple angles but is satisfyingly gruesome in a manner unseen in Universal's own later works.

Night Monster: Locals stay clear of Ingston Towers and the surrounding woods when the frogs stop croaking signaling another death, the victim strangled but large footprints and a spot of blood always found nearby. For Margaret Ingston (Captive Wild Woman's Fay Helm), her home is soaked in the same blood and she is afraid that her crippled brother Kurt (Weird Woman's Ralph Morgan) and the housekeeper Miss Judd (The Time Machine's Doris Lloyd) are trying to silence her by having her declared insane. As soon as she announces that she has invited her own psychiatrist to prove that she is not insane, she learns that her brother has also invited his own doctors from the city. Housemaid Milly (Shadow of a Doubt's Janet Shaw) tries to call the sheriff about her concerns about what is going on in the house but she is prevented by butler Rolf (Dracula's Bela Lugosi) and nearly sexually-assaulted by chauffeur/majordomo Laurie (The Carpetbaggers's Leif Erickson) when he tries to convince her not to spread rumors about the family. Local constabulary Cap Beggs (The Grapes of Wrath's Robert Homans) dismisses her concerns, and she returns to Ingstrom Towers to collect her things only for persons unknown to send her ride away leaving her to walk home in the fog.


Doctors King (Lionel Atwill again), Timmons (Dr. Cyclops's Frank Reicher), and Phipps (Savage Drums' Francis Pierlot) were responsible for the operation that left Ingstrom a cripple; but they have accepted his invitation because of his recent generous donations to medical science. Margaret's doctor Lynn Harper (Play Misty for Me's Irene Hervey) arrives separately just in time to hear a horrible scream in the night; whereupon she accepts a ride from Dick Baldwin (Gidget's Don Porter), pulp writer friend of Kurt Ingstrom on his way to the house by invitation. Miss Judd prevents Lynn from speaking to Margaret, and she is waylaid along with Dick and the doctors to the real reason for Ingstrom's invitation: the demonstration of repairing dead tissue by force of will based on the teaching of yogi Agor Singh (The Man in Half Moon Street's Nils Asther) who materializes a skeleton out of thin air that leaves behind a spot of blood. After Minnie's body is discovered in the swamp, Capp Beggs crashes the party at Ingstrom Towers to investigate, arriving just in time for another murder, and another. The choice of victims seems to point to Kurt Ingstrom himself as the culprit, but he lacks the strength or the mobility to kill, and each subsequent suspect is just as likely to turn up the next victim of the Night Monster.

A Universal quickie and the B-feature to a double bill with The Mummy's Tomb, Night Monster really does seem initially like more of the same as far as the lower-tier forties Universal "old dark house" films; however, in execution it is surprisingly diverting given just how contrived and superfluous much of its elements appear from forest murders, the supernatural, mechanical limbs, gas-lighting, materializing skeletons, and some instances of onscreen bloodshed. There is much of the usual cast running from one room to another and discovering bodies but the seeming incoherence of the plot actually keeps the viewer trying to guess not only who the killer is but also what sort of "old dark house" solution at which it will eventually arrive. It appears as if there can only be one logical culprit, and the script actually utilizes the seeming gratuity of elements to offer a "logical" – in the sci-fi sense – alternative to the supernatural one only to pull a nice reversal in which the killings are solved but there are still things that go bump in the night. Top-billed Lugosi seems to make the most of his typecast role given the way the script subverts his usual shtick while Atwill seems wasted even in a non-villain role even as he seems to relish playing a character too arrogant to realize the danger he is in. The rest of the cast is relatively unfamiliar not only in the genre but that also contributes to the viewer not really knowing how the film will turn out.


Horror Island: Three months behind rent on his office and his boat Skiddoo, Princeton-educated wastrel Bill Martin (Fort Apache's Dick Foran) and his long-suffering partner Stuff Oliver (Border Wolves' Fuzzy Knight) are as knee deep in bills as they are in failing "get rich quick" schemes when an opportunity falls in their laps when they fish peg-legged sailor Tobias Clump (The Cisco Kid's Leo Carrillo) out of the water after he has been attacked by a man he calls "The Phantom" who gets half of a treasure map that posits the gold of pirate Sir Henry Morgan in a castle on Morgan's Island which just happens to be owned by Martin's family. He does not believe in Clump's story until his cousin George (Charlie Chan at the Olympics' John Eldredge) offers him twenty-thousand dollars for the island; whereupon, Bill hits upon the money-making scheme of a treasure-hunting weekend on the island charging fifty dollars per person.

The suckers include historian Professor Jasper Quinley (A Letter to Three Wives' Hobart Cavanaugh) who is convinced the map is a fake but up for adventure, private detective Sergeant McGoon (Mr. Deeds Goes to Town's Walter Catlett) who presents him with a cease and desist letter over his claims of a real haunting and is invited to disprove it, bickering couple Rod (Behind Locked Doors' Ralf Harolde) and Arleen Grady (Road to Zanzibar's Iris Adrian), along with Bill's well-heeled skeptical love interest Wendy (The Mummy's Hand's Peggy Moran) and her disinterested blue blooded suitor Thurman Coldwater (Hellzapoppin's Lewis Howard). While Bill and Stuff have rigged the castle with speakers, skulls in the beds, and pigeons in place of harder to source bats, The Phantom not only takes advantage of these tricks to his own devices but also seems know his way around the castle's secret passages. When he nearly frightens Wendy to death, she thinks it is another of Bill's tricks until someone starts murdering the treasure hunters? Is it truly The Phantom or is peg-legged Clump disappearing to do more than search for hollow walls?


One of Universal's later old dark house horror comedy in the set, Horror Island is not particularly horrific or even atmosphere but it manages to be less of a waste of time than Albert S. Rogell 's The Black Cat (not to be confused with the Edgar G. Ulmer masterwork). For starters, Foran and Moran are both likable on their own and an engaging romantic comedy couple. The guests are obvious red herrings but provide the requisite comic relief in the broadest ways. The Phantom is not a particularly chilling figure, eliciting less suspense than the supposed bill collector (The Crimson Ghost's Emmett Vogan) who Bill keeps giving the slip. While the deaths are not particularly grisly, that fact that a lightly comic horror film has no qualms about doing away with so many cast members is novel for this period. At just over an hour, you could do a lot worse.

House of Horrors: After arrogant art critic F. Holmes Harmon (Batman's Alan Napier) talks a rich client out of buying one of his sculptures by dismissing it as "pure unadulterated tripe with an overtone of sheer lunacy," starving, struggling sculptor Marcel De Lange (She-Wolf of London's Martin Kosleck) prepares to jump off a bridge but instead pulls a barely conscious man (The Brute Man's Rondo Hatton) out of the water. Borrowing money from the man's pocket to pay for food, Marcel nurses the man back to health, less concerned that he may the upstate girl killer known as "The Creeper" than fascinated by his "perfect neanderthal" features of which he wants to sculpt a likeness. In between sittings, The Creeper wanders the streets and murders more women of the night while Marcel feigns ignorance. When Harmon adds fuel to the flames of Marcel's anger by recounting his deed in a column where he further denigrates Marcel's work, the sculptor rails against him; whereupon The Creeper pays the critic a visit and snaps his spine. While the murders of the women resemble the work of The Creeper thought to be dead even though his body was never found, police lieutenant Harry Brooks (The Jolson Story's Bill Goodwin) focuses on a more likely suspect in commercial photographer Steven Morrow (The Mummy's Ghost's Robert Lowery) whose had a scuffle with Harmon after he dismissed his work as "devoted
exclusively to girls, luscious blonds, sultry brunettes, all wearing the save vacuous expression and very little else." Fellow art critic Joan Medford (The Big Store's Virginia Grey) provides an alibi for Steven while neglecting to reveal that she know he did not visit Harmon in his office because she visited him herself before the killing in an attempt to seduce him into writing something more favorable about her boyfriend. Brooks remains suspicious of Steven and sets a trap for him by asking critic Hal Ormiston (The Snake Pit's Howard Freeman) to write a review tearing him to pieces despite his having previously praised the man's work. Ormiston makes the mistake in his column of comparing him unfavorably to Marcel and The Creeper pays the artist a fatal visit at the same time Steven shows up to confront the critic. Meanwhile, Joan has been visiting De Lange eager to get a peek at his new masterpiece and The Creeper has got a peak at her.


Saddled with as generic a title as many other Universal B-feature horrors of the forties – presumably the titles were on the release slate before they had scripts to go with them – House of Horrors is a minor but unexpected delight thanks to some very adult elements that somehow made it past the Hayes Office including streetwalker victims, a sexually-motivated murderer, some gay-coded characters, a leering detective and a cheesecake model, and a villain who overshadows the heroes and the heavy. Usually typecast as Nazis – quite willingly for the anti-Nazi cause as the child of Russian-Jewish parents who fled Germany – Kosleck gets fourth billing below the uninteresting love interests and the detective as the film's actual main character, giving a simultaneously sympathetic and increasingly manipulative performance in a part that gives him more to work with than his previous spurned sculptor role in the "Lights Out" feature The Frozen Ghost while Hatton also seems to get a bit more to his character mistaken for being a "brute" man who may not be as stupid as he seems, his delayed remarks suggestive of thoughtful observation and an ambiguity to his ignorance as he observes Joan snatching a sketch Marcel has made of him that could end up revealing to the police that he is still alive. The film ends the obligatory way with the heroine threatened and the villain killed by his "own" monster but House of Horrors remains worth at least one viewing.

Video


A Paramount production sold to MCA for television and thus becoming part of the Universal library, Murders in the Zoo was released to VHS stateside by MCA in 1995 and then appeared on DVD as part of the Universal Horror Cult Collection and made its Blu-ray debut as part of Shout! Factory's Scream Factory Universal Horror Collection: Volume 2 with Eureka's 1080p24 MPEG-4 AVC 1.34:1 pillarboxed fullscreen Blu-ray utilizing the same master which probably looks as good as the elements allow outside of a new restoration. Grain does not seem to have been smoothed away but textures of facial features and clothing are not as defined as one would hope. Definition is such that the film's first and final shock close-ups still register, but one wonders whether the darkness of the alligator pit sequence was darkened further to lessen the impact.

Following its theatrical release, Night Monster hit television in 1957 as part of Screen Gems' Shock Theatre package and then VHS in 1995 followed by a DVD release in the Universal Horror: Classic Movie Archive set stateside followed by single releases in the U.S. as a Universal Vault Series manufactured-on-demand DVDR and in the U.K. from Final Cut Entertainment. The film made its Blu-ray bow stateside as part of Shout! Factory's Scream Factory Universal Horror Collection: Volume 4. Also an older HD master created for DVD, the monochrome image looks reasonably crisp in medium shots and close-ups while some longer shots could benefit from a newer scan and some stock footage of the foggy woods from earlier Universal horror films looks a little coarser than the rest of the film (thanks as much to the optical title overlays).


Released to Screen Gems' Shock Theatre package in 1957 after the theatrical release, Horror Island bypassed VHS befitting its reputation as a lesser Universal horror, debuting on DVD as part of the aforementioned Universal Horror: Classic Movie Archive and then making its Blu-ray bow on the Scream Factory Universal Horror Collection: Volume 2. The film has not been given a new scan for Eureka's 1080p24 MPEG-4 AVC 1.34:1 pillarboxed fullscreen Blu-ray so it looks very similar to the U.S. edition, looking quite good in close-ups with some drop off in detail in the wider shots but overall impressing given what we know of the film's delayed and sped-up shoot and less than a week of post-production to get in on the screen by the locked-in release date.

Also following its theatrical release with Shock Theatre TV syndication, House of Horrors came to VHS in 1994 and made its DVD debut as a solo release as part of Universal's TCM limited edition line and then as part of the Universal Horror Cult Collection set. The film made its Blu-ray debut as part of the aforementioned Scream Factory Universal Horror Collection: Volume 4 and the same older HD master has been used for Eureka's 1080p24 MPEG-4 AVC 1.34:1 pillarboxed fullscreen encode. The bulk of the film is evenly lit with the environs of Steve's photo studio and the newspaper offices while even the alley sets are well-lit. The actual location exteriors are darker and less detailed – one wonders if one or two shots were darkened because they were stock shots from another film and the actor walking was not Kosleck – while the moodier shadows of Marcel's studio can look a bit noisy in some shots. Close-ups sport good detail whether depicting Kosleck or Hatton's even more interesting features but some damage remains that probably could be cleaned without compromising the image if starting with a newer scan.

Audio


Murders in the Zoo's LPCM 2.0 mono track has some surface noise but dialogue and music come through clearly. Night Monster's LPCM 2.0 mono track is overall cleaner but that makes the rough edges of the mix more apparent with uneven dialogue recording, canned effects, and stock music from earlier Universal horrors. Horror Island's LPCM 2.0 mono track has the usual low-level damage to the optical audio track but none of it is distracting. House of Horrors' LPCM 2.0 mono track sounds relatively clean as well with the usual hiss and clicks of damage extending to the audio track. Optional English HoH subtitles are included for all four films.

Extras


Murders in the Zoo is accompanied by an audio commentary by film historians Kevin Lyons and Jonathan Rigby in which they gleefully discuss the pre-code elements of the film including its pronounced sexual sadism, onscreen violence, and the anthropomorphic credits while also noting that seasoned Ruggles has billing over Atwill, Burke, Scott, and Patrick and is indeed the film's star and main character in a role that would be comic relief in later films; as such, they make the case that the film's humor is organic to the story and serves as a contrast with its more brutal side. They also discuss the cast members and the zoo location which was actually an money-making offshoot of another studio that had amassed several animals for their own jungle pics and needed somewhere to keep them, eventually renting it out to other studios. A stills gallery of thirteen images is also included.


Night Monster is accompanied by an audio commentary by author Stephen Jones and author/critic Kim Newman who recall the film as an unexpected favorite when they were able to see it in the U.K, top-billed Lugosi (for the last time at Universal) in a supporting role, the overall "odd" casting in place of the actors expected from other Universal horrors – surmising that the regulars may simply have been busy on other studio films at the time or serving in the war effort – while singling out the sassy turn by Shaw as a highlight, seemingly superfluous elements, the use of sets and second unit footage from The Wolf Man, and suggesting that Universal serial department director Ford Beebe may have taken advantage of the relatively more luxurious shooting schedule (over the serials) and gives a B-horror film more panache than expected. The film's theatrical trailer (1:09) and a stills gallery of eight images is also included.


Horror Island is accompanied by an audio commentary by film historians Kevin Lyons and Jonathan Rigby in which they discuss the delayed shoot, the long hours and the strain it took on Moran, as well as marveling at the rapid post-production schedule. The particulars of the plot are less of an interest in the discussion than their affectionate discussion of several of the cast members including Carillo, director George Waggner who directed The Wolf Man and Man Made Monster the same year and would then go on to write songs and produce The Phantom of the Opera and direct the indirect sequel The Climax as well as highlighting some bits of sexual innuendo that got past the censors. The film's theatrical trailer (1:31) is also included along with a stills gallery of thirty-five images.


House of Horrors is accompanied by an audio commentary by author Stephen Jones and author/critic Kim Newman in which they reexamine the notion of whether the studio exploited Hatton – noting the evidence to the contrary of the claim by actor Kent Taylor that he was originally cast as Brooks and demanded to be taken off of the film because of the treatment of Hatton – revealing that Kosleck was not only billed lower but also paid less as the film's star, some of the code-skirting adult elements, and the career of jobbing director Jean Yarbrough. The film's theatrical trailer (1:10) is included along with a stills gallery of forty-two images.

Packaging


The first 2,000 copies come with a limited edition slipcase and collector's booklet featuring new writing by Craig Ian Mann and Jon Towlson (neither of which were provided for review).

Overall


Creeping Horror assembles one treasure and two minor surprises from the more obscure part of the Universal horror library.