The Film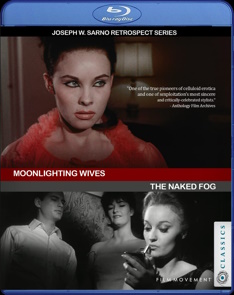 The filmography of director Joe Sarno (1921-2010) encompassed nearly every flesh-bearing exploitation trend of latter half of the twentieth century: from burlesque shows masquerading as drama (Pandora and the Magic Box) and suburban exposes (Sin in the Suburbs) to Scandinavian (Inga) and German skin-flicks (Butterflies), erotic horror (Veil of Blood), hardcore (A Touch of Genie) and hardcore-adjancent softcore films (Deep Throat Part II), to even a brief dabble in direct-to-video erotica (Suburban Secrets). What distinguished Sarno from his contemporaries like Doris Wishman (Another Day, Another Man), Roberta Findlay (Altar of Lust) and Michael Findlay (The Touch of Her Flesh), Barry Mahon (The Beast That Killed Women) and even the pre-Godfather of Gore films of Herschell Gordon Lewis (Goldilocks and the Three Bares) was a recurring fascination with the emotional and psychological lives of his characters – principally women but occasionally men as in All the Sins of Sodom – often caught between stifling moral values and new sexual freedoms and sometimes left feeling empty by the excesses of both extremes that found him dubbed "the Ingmar Bergman of 42nd Street." After a long interval of five years the Joseph W. Sarno Retrospect Series returns with a fifth volume including one of Sarno's long lost features and one of his most profitable (for the distributors, not for him).

After bumming around Europe with the jet set, struggling writer Marge ('s Tammy Latour) emerges out of The Naked Fog in San Francisco, therapeutically falling into bed with George and both emerging days later to attend a party thrown by George's old flame Ella. The affair rapidly turns into an orgy which Marge flees, unwilling to go back to lose herself again; nevertheless, she falls into bed with charming Jeff (The Swap and How They Make It's Rick Sheldon) and two other women only to be caught by his wife. Disgusted with herself, Marge heads back east and avoids human contact, wandering the canals listlessly in search of inspiration to resume her writing career. Against her better judgment, she strikes up a rapport with charter boat business owner Jack (Mike Higgins) in spite of the possessiveness of his sister Marina (The Dicktator's Jan Nash). When she discovers them in a compromising position, she drowns her sorrows at the nightclub that turns out to be a front for the call girl operation of owner Cora (Pat Revere). Waking up in the backrooms unmolested, Marge asks Cora if she can stay and gather material for a fictional work. Observing the ins and outs of the business – including the roughing up of girls who pocket their fees and the antics of Helga (Pleasure Plantation's Susan Winters) and Marta (Sylvia Grant) who find ways to supplement their income by offering up Cora's girls for private parties – Marge strikes up a surprisingly gentle friendship with Cora's repressed son Evan (The Love Merchant's Phil Mason) who is disgusted by the immorality around him while his mother just thinks he needs to get laid and believers Marge to be the perfect partner for her boy. When Marina turns up in need of work after Jack has thrown her out, Marge starts seeing him on the side leading to a violent climax once her betrayal is exposed.

The idea for Moonlighting Wives comes from Joan Rand (The Nake Fog's Latour), a housewife who has started her own stenography business to bring in extra money with a few other housewives in need of pin money. Unfortunately for her husband Charles, Joan spends more money than she brings in to supplant his pay as the night manager of a "sweat shop" and pay for their babysitter. When she accepts the invitation of one of her clients to take her and one of employees Mitzie out to dinner after work – with the promise of paying for their overtime and additional babysitting costs – Joan anticipates what happens next and hits upon the idea of using her business as a front for a call girl ring, blackmailing upper crust housewife Nancy Preston (The Nake Fog's Nash) to introduce her to her golf pro lover Al (Sin You Sinners' John Aristedes) as a means of sourcing clients from the country club set. Joan also hires more girls and has them source other friends and family who want to make a bit of money on the side ("let your conscience be your guide, do whatever it says not to"). When Nancy refuses to join Joan's operation, she exposes the other woman's affair, sending her into the arms of Al who has already plotted with Joan to manipulate Nancy into helping him pay his alimony by taking on clients without realizing who she is really working for. As Joan's business grows, her personal life falls apart without her knowledge. Her husband has started sleeping with the teenage babysitter and rivals she has roughed up are thirsting for revenge while local vice cops Ken and Hank (The Rockford Files' Joe Santos) have learned that a big time operation is poaching customers off the streetwalkers.


Shot after the color Moonlighting Wives but released before it, the monochrome The Naked Fog feels like it would have come before in terms of budget and production value but it actually looks forward to the more intimate in scope (and carnality) films by which he would become known both in their fixation on the female psyche inflamed by temptation and taboo in darkened rooms where inhibitions are shed leading to a confrontation with the self in which the character either accepts that they are trapped or flees. Marge constantly betrays her own stated convictions – the heavy use of narration feels less like Sarno and more like Wishman but for Sarno never totally eschewing sync sound recording – and the episodic feel of the first third perhaps reflects her old patterns; however, apart from some moments that open up the picture featuring Marge and Jack or Marge and Evan wandering desolate upstate locations in the off season, much of the film does not feel like Sarno at the height of his creativity but perhaps may reflect his attempts at finding his footing after the relatively luxurious budget and resources of Moonlighting Wives.

The bright, literally colorful, wryly humorous Moonlighting Wives, on the other hand, may not look all the time like a Sarno film – apart from some wonderful moodily-lit compositions in which characters in the foreground are manipulated, taunted, or badgered by characters looming over their shoulders – but it very thematically is so; having its basis in a true story about an upstate New York prostitution ring run by a housewife just as Sarno's Sin in the Suburbs took its basis from Sarno's own observations about the lascivious goings-on in a bedroom community. Sarno illustrates these these salacious, exploitation-worthy scenarios with the requisite nudity. While the sex became more explicit in keeping with the greater permissiveness of the subsequent years – including scenes in later films where the sex was authentic but not filmed graphically (or anatomically) – Sarno never treats the character conflicts as mere melodrama. Although quite obviously from the start set up by the plot for a downfall, the showier role for Latour as Joan presents her as materialistic and manipulative; and yet, the viewer can understand her dissatisfaction with her life, her husband's resentment that she might be the bread winner while also lacking any career ambition of his own, and perhaps the idea that it is alright for her to spend evenings alone at home while he is out but not for him to do so for her. No matter how much the script compounds her villainy, Joan remains a fascinating Sarno character even when convention dictates that she must be punished at the end (where the film feels most half-hearted). Sadly, Latour's only subsequent credit was Sarno's My Body Hungers but the casts of both films feature some regulars of Sarno's other films of the period and those of his contemporaries including Nash – the bulk of whose other Sarno collaborations appear to be lost – Judy Young who also appeared in Sarno's Sin in the Suburbs but also appeared like a handful of that film's cast in the earlier Joseph P. Mawra film Olga's House of Shame, June Roberts who also appeared the Findlays' Take Me Naked and Wishman's My Brother's Wife among others, and Shep Wild, the masochistic protagonist of Venus in Furs.

Video


Shot after Moonlighting Wives but released before theatrically in 1965, The Naked Fog was subsequently thought to be a lost film until a print turned up a few years ago and was first screened in 2020. Film Movement's 1080p24 MPEG-4 AVC 1.37:1 pillarboxed fullscreen Blu-ray comes from a "2K restoration" that has some print damage to contend with along with restoration efforts that have filtered away a lot of the natural grain, flattening shadows that only seem deeper because of the depth-of-field of the wide angle lens. At this point, it is the only game in town.

With only a handful of prints struck for a profitable theatrical release, Moonlighting Wives has been hard to see in complete form. The 2006 Retro-Seduction Cinema DVD edition was incomplete due to print damage and local censorship with barely any nudity at all. Earlier this year, Dark Force Entertainment put out a Blu-ray of a new 2K transfer from the original camera negative which revealed two versions of the film prepared with or without a hotel foursome scene that is not much more explicit than anything else in the film but dialogue-heavy in setting up the climax in which the characters also appear. Dark Force had access to this scene but apparently did not know where to put it so they included it as a deleted scene. Film Movement's 2K restoration was a composite of three 35mm prints and included the hotel scene in its correct place, running the longest at 91:12 versus the Dark Force transfer at 87:46 and the less complete DVD at 83:32. Film Movement's transfer is full of scratches and is softer than the negative transfer due to the prints' generational loss as much as restorative efforts that included some noise reduction but it has richer hues than the cooler look of the Dark Force color timing. While imperfect, it is the only way to see the film complete with the important deleted scene in its correct position.

Audio


Both transfers feature Dolby Digital 2.0 mono tracks that are relatively clean apart from damage on the print that extends to the optical tracks. They get the job done as far as dialogue and music; however, it is difficult to tell if some of the music has been added to The Naked Fog or altered on both given some of the rights owners' alterations to establish copyright on some of the other Sarno titles. There are no subtitle options.

Extras


Moonlighting Wives is accompanied by a "new" audio commentary by film historian Tim Lucas which was actually recorded some time ago given the gestation of this particular release. Lucas – who is penning a book on Sarno – discusses documentation of the true story behind the film which included the possible involvement of the Cosa Nostra and ended in a less "moral" manner, the hypocrisy of which Sarno surely would have exploited had not the ending been imposed on him by the producer. He also discusses the particulars behind this higher-budgeted production and why it did not lead to bigger things for Sarno as well as parallels with other Sarno films including the aforementioned Sin in the Suburbs. He also points to some blunt edits as evidence of Sarno's self-censorship also apparent in the former film.

Ported from the DVD is an interview with writer/director Joe Sarno (7:09) in which he also sheds some light on the case, his adaptation, and the changes imposed by the producer including adding an "enforcer" character and the ending in which "evil" cannot be allowed to triumph. More interesting is the interview with cinematographer Jerry Kalogeratos (11:40) who immigrated to America, started working at a film lab, and became acquainted with Sarno. He discusses the shoot and his lighting style, working with DIY lighting equipment consisting of strips of photo floods used for both the more intimate house interiors as well as the large swimming pool scene.

Overall


Long in gestation, Film Movement's fifth volume of the Joseph W. Sarno Retrospect Series gives us two films that, while imperfect, sheds light on the thematic path the "Ingmar Bergman of 42nd Street" would explore over the following three decades.