The Film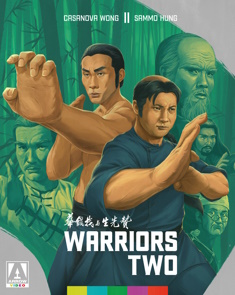 The martial art of Wing Chun was developed by nun Ng Mui who taught it to one of her female students who in turn taught it to her husband when he needed to escape during one of the Chinese civil wars. The style was taught one-on-one and passed down from one pupil to another, eventually to Leung Tsan (The Postman Fights Back's Ka-Yan Leung) who established a medical practice in Foshan province with his niece Gao Fung (Hard Boiled Killers' Man-Ting Cheung ). Wary of the potential of misusing Wing Chun, he has taken on only rice dumpling seller Fat Chun (Encounters of the Spooky Kind's Sammo Kam-Bo Hung) as a pupil and taught him the basics. When young bank cashier Chan Wah (Duel to the Death's Casanova Wang) accidentally overhears the plans of bank owner Mok Kei (Last Hurrah for Chivalry's Hark-On Fung) – actually a criminal playing the long con with a well-established business – to take over the town with the help of bandits lead by Thunder (Game of Death II's Tiger Yang) by assassinating the mayor (Choe Mu Ung), he makes the mistake of confiding in Advisor Yao (Drunken Master's Dean Shek) who is in league with Mok. Yau arranges for Chan Wah to be ambushed by the bandits but he is rescue by Fat Chun. When Mok has Chan Wah's mother murdered to draw him out, the younger man swears vengeance but Fat Chun prevents him from rushing into danger. After Leung Tsan refuses to teach Chan Wah Wing Chun for revenge, Fat Chun attempts to teach him instead. Upon learning the mayor's disappearance and Mok's treachery, Leung Tsan changes his mind; Mok, however, has already been planning to get rid of Leung Tsan as the one village elder who might stand up to his plans.

Sammo Hung's third directorial effort following the more overtly comic The Iron-Fisted Monk and Enter the Fat Dragon, Warriors Two scales back the comedy to Hung's own antics including a scene in which he is scammed by a pair of rip-off men, one of whom is a nearly unrecognizable Eric Tsang (Twinkle, Twinkle Lucky Stars) and Shek's treachery; and yet, in spite of Fat Chun not being one of the titular duo, it cannot be said that his character is any less emphasized – at least not the degree of Gao Fung – nor could the near equal footing of Hung, Wang, and Liang be considered ensemble casting. Hanging the real-life Shaolin fighting style of Wing Chun, its origins, and philosophy on the framework of a rather ordinary scenario, Hung strikes a better than usual balance between melodrama and comedy before the third act turns dark with some mean-spirited twists as Mok and the bandits play dirty without even acknowledging the superiority of the Wing Chun fighting style. Even the twist of Fat Chun getting the names of the bandits wrong and himself, Chan Wah, and Gao Fung being pitted against fighters whose abilities are not matched to their own is only played for a momentary chuckle and the blood soon flows freely. The climax is so dramatic that the final sight gag and jaunty turn in the music score is particularly jarring considering the loss of two compatriots. It is just as well that Hung decided that he could get more mileage out of the origins of Wing Chun.

Video


Unreleased theatrically in the United States and not until 1982 in England in its slightly shorter export cut – and VHS in 1997 from Made in Hong Kong in its Hong Kong version – Warriors Two bypassed a Tai Seng import for a Fortune Star remaster in the early 2000s that appeared stateside from Fox and in the UK from Hong Kong Legends. Unlike a lot of Fortune Star titles, Warriors Two has not had a Hong Kong Blu-ray release – upscaled or otherwise – first turning up on Blu-ray in Scandinavian countries in a boxed set that only included the film's English dub – and apparently trimming the longer Hong Kong cut of the bits that were never dubbed rather than using the export cut – followed by a more definitive U.K. Blu-ray release from Eureka last year. Like that edition, Arrow's 1080p24 MPEG-4 AVC 2.35:1 widescreen Blu-ray comes from a brand new 2K restoration and includes separate encodes of the Hong Kong Theatrical Version (95:38) and the English export version (90:07). Unlike some of the earlier genuine HD restorations of Fortune Star material, the grading does not look "modern" in its blues and greens while the saturated blood pops (literally in one splattery bit involving a bear trap). Shots involving opticals look a tad coarser (I've been PM'd that the titles were digitally-recreated on textless backgrounds).

Audio


Arrow's disc includes Cantonese, Mandarin, and English LPCM 1.0 mono tracks – with English subtitles for portions that were never dubbed into English – for the Hong Kong version along with an English DTS-HD Master Audio 5.1 encoding of discrete surround mix originally created for the DVD editions which replaced a music cue and feature a distracting new foley effects track laid over the original. All tracks are dubbed the Cantonese track is recommended as the most "authentic" and for the classic English dub over the 5.1 version for the aforementioned reasons. The export version features only English DTS-HD Master Audio 1.0.

Extras


Two commentary tracks have been ported over from the Eureka edition. The Hong Kong cut is accompanied by an audio commentary by Asian film expert Frank Djeng (NY Asian Film Festival) and martial artist/actor Robert "Bobby" Samuels in which the actor recalls falling in love with martial arts movies in Philadelphia and New York as the son of a stockbroker – they lived at the Dakota when John Lennon was assassinated – skipping school to watch films, studying martial arts and Cantonese in addition to acting, traveling to Hong Kong where he would have less competition as a black actor, and being introduced to Hung who changed the ending of The Gambling Ghost to create a role for him. They provide background on the lesser-known cast members including Shek (whose death last year was not announced by his family until recently), an unrecognizable Eric Tsang, actors recruited from the TVB network, and Samuels' recollections of working with Hung and Biao Yuen (who is credited but not easy to spot since he plays several stunt roles and doubled bits).

The export cut is accompanied by an audio commentary by action cinema experts Mike Leeder & Arne Venema in which they discuss the streamlining of the film's plotting and momentum compared to companion film The Prodigal Son despite that being the better film. They also have plenty of anecdotes about the cast – Casanova Wang is also the taekwondo instructor for the Chinese military and runs what the commentators call the "Korean equivalent of WWE" – the Category III credits of some of the supporting cast, as well as a hilarious anecdote about Ka-Yan Leung's reaction to the platitudes of Shaolin-trained rapper and Hong Kong film fan RZA who cast him in him in The Man with the Iron Fists.

Presumably since disgraced Hong Kong film expert Bey Logan only figures into interstitial segments, the disc also carries over the 2005 documentary "The Way of the Warrior: The Making of Warriors Two" (47:37) in which Hung discusses the Wing Chun style, the equal importance of its philosophy to the fighting style, and being trained by Sifu Guy Lai who also appears along with Ka-Yan Leung and Hark-On Fung.

Exclusive to the Arrow Blu-ray is an archival interview with actor Leung Kar-yan (5:15) who recalls his role, the need to really know martial arts to work on a Sammo Hung film – especially when doing fight scenes with him – and the time Hung devoted to shooting fight scenes.

The disc closes out with the Hong Kong theatrical trailer (4:02), an international trailer (3:31), and an image gallery.

Packaging


Not provided for review were the double-sided foldout poster featuring original and newly commissioned artwork by Joe Kim, the reversible sleeve featuring original and newly commissioned artwork by Joe Kim, or the illustrated collector's booklet featuring new writing by Jonathan Clements and original press materials.

Overall


Often paired with companion film The Prodigal Son, Warriors Two proves just as entertaining an action film and insightful a look into Sammo Hung's development as a director on its own.