The Film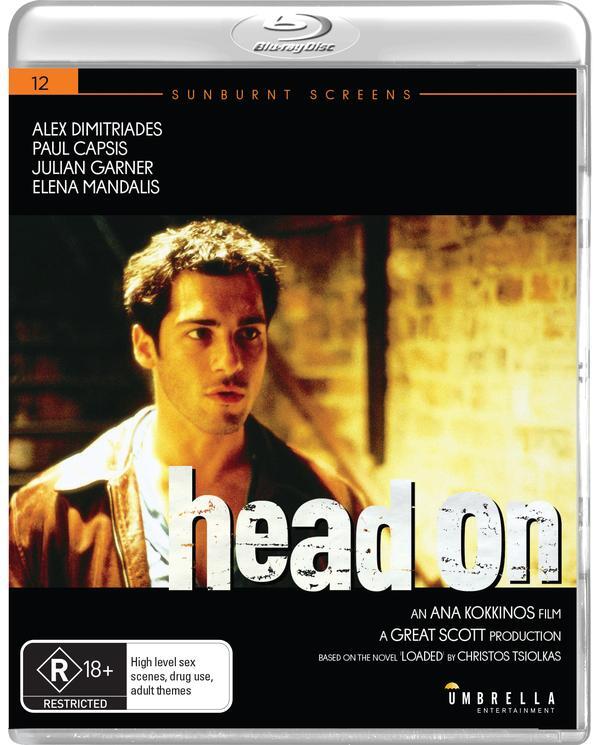 "Head On" (1998)

Ari (played by Alex Dimitriades) is a young 19-year-old who is completely directionless in life. An Australian born son of Greek immigrants, he doesn't feel like he belongs in either circle culturally. His parents were political activists but he sees no reason to care for a social call. He uses drugs but doesn't consider himself an addict. He has sexual relations with both men and women but doesn't see himself as bisexual. He is by choice not going to work or going to school, feeding off from his family and friends. His only motivations are with meaningless sex, drugs, and rambunctious behavior, chronicled in this 24 hour period.

Based on the novel "Loaded" by Christos Tsiolkas which deals with an alienated Greek-Australian young man, the theatrical adaptation entitled as "Head On" is a feature that feels quite of its time with its kinetic MTV style energy with its editing, closeups, music cues, youth culture with clubbing, sexual aggression, and angst. In addition, it does feel a bit ahead of its time in its frankness with sexuality and its ambiguity towards it, especially in the fair number of homosexual situations. The film opens with Ari alone in bed masturbating in the morning, but as the day goes on, he finds himself in alleyways for oral sex with men, in the bedroom with a woman, at a trans friend's home, and none of them feel awkward or even loving for Ari, treating each encounter as just something to do at the time. While the audience does get a glimpse of Ari down under in the opening sequence, nudity is basically non-existent for the rest of the film, with suggestive behavior and carefully staged actors to mask the sexual acts. The content might be graphic but most of it is within the minds of audiences in "Head On". The subject matter and the film has its controversy, but how does it hold up after a quarter of a century later?

Director Ana Kokkinos who is also of Greek descent brought forth the energetic tale of one man's single day in her feature film debut here, and the visual style is certainly one of the main draws, courtesy of the cinematography of Jaems Grant and editing by Jill Bilcock as well as many other crew members, the use of location settings around Melbourne at different times of the day like the suburban areas in the daytime and the city lights of the night come to life, as well as visual techniques with camera speeds, extreme closeups and more for the look straight out of an alternative music video. The film certainly looks its period with the grittiness, though it seemingly has also dated itself of a time capsule of the late 1990s which will have its detractors for the experimental yet mainstream nature.

While the character of Ari might be at the center, the supporting characters are also of note. Paul Capsis as his trans friend Johnny who also goes by the name Toula when he is dressed up is the most memorable, who is living his life as female and taking the name from his late mother, which is something that his father disapproves of. The two of them fool around and have some supposed in depth discussions on love and sexuality, it is a sadly brutal and humiliating moment near the end that certainly leaves a mark with Capsis' portrayal of the character. Betty (played by Elena Mandalis is like a gender opposite of Ari's character, as it would have been also interesting to see her character more, as she is featured in a central scene but little else. Ari's longtime friend Joe (played by Damien Fotiou) is one who is looking to set a forward direction in life, being promoted at his workplace and his commitment to getting married to Dina (played by Dora Kaskanis) and causing a rift in Joe and Ari's relationship. There is also Ari's younger sister Alex (@layed by Andrea Mandalis) who he genuinely cares for, but is concerned that she is dating someone that is not of Greek, but Lebanese descent. Everyone around Ari makes an impact on his life, but none are enough to ultimately persuade him to make differences in his own ways, which is ultimately his downfall of not being able to fully connect with anyone on a truly emotional level. He has jealousy and rage within him, but he is truly a rebel without a cause here.

While there are comparisons to be made with works ranging from "Rebel Without a Cause" (1955) to "Trainspotting" (1996), the aspect that "Head On" doesn't seem to have right is the landing. It's difficult to say without spoiling the ending, but with many classic films about loners, it is about them finding their way through consequences and tragedy hitting them hard. But here, even with some of the cruel happenings and confrontations, Ari seems unscathed and unbothered by the end, and all in all it makes it a frustrating outcome as nothing seems to make a difference. That does seem to be the foundation, that some people are just hopeless wandering cases. That may be true in reality, but for a storytelling standpoint, it almost seems pointless with the moral emptiness. If it is to make one think about their own morals and how to deal with life, then in a way that does work for the audience. "Head On" seemed to be a group of situations stitched together, and while it does maintain a linear and logical direction, it seems that more could have been done to grab the audience instead of having the sexual aspect take the attention.

The film was first screened at the Cannes International Film Festival in May 1998, followed by a theatrical release by Palace Films in Australia from August 13th, 1998. The film showed a side of Australia that was rarely seen in media works, with gay and trans characters at the center and immigrant families and their children, which received praise and notice. The film received 9 AFI nominations and won 1 for Best Editing. It was also nominated for 8 awards by the Film Critics Circle of Australia and won 3 with Best Actor for Dimitriades, Best Supporting Actor for Capsis, and Reader's Award for Favourite Australian Film. It also won the Australian Writers' Guild award for Feature Film Adaptation, Best First Feature at the San Francisco Lesbian & Gay Film Festival, Outstanding Foreign Narrative Feature at the L.A. Outfest, and Best Film at the Milan International Lesbian & Gay Film Festival.

Umbrella Entertainment gave the film its debut in HD on Blu-ray for the first time in 2014, but seven years later they gave it a re-release with some upgrades, but also a slight downgrade here in this 2021 reissue.

Note this is a region ALL Blu-ray

Video


Umbrella Entertainment presents the film in the theatrical 1.85:1 aspect ratio in 1080p AVC MPEG-4. The HD transfer here is sadly not very good, as it comes from a theatrical release print rather than being transferred from the original negative. With this said, there are noticeable flaws such as having scratches and debris as well as cue blips every ten minutes or so with a reel change start and end. Besides that, the image is more on the clearer side, but there are occasional damage marks that can easily be spotted. As for colors, they look very thick and bold as if put through a filter for every shot, crushing the black levels and giving little detail in darker portions. While it may be a stylized look, it seems very different in comparison to the same shots in the extras with the clips in the roundtable feature and theatrical trailer, with all three looking quite different. Since there was no major restoration done with the picture, film grain is also left intact though it looks very grainy as well, looking as if it was filmed in 16mm rather than 35mm as it states on IMDB. The extras make no mention of the types of camera that were used, but it doesn't have the sharpness or clarity of what 35mm productions of the late 90s usually offered. For a grindhouse look, it certainly works but it doesn't seem quite true for what the film represents. There is no information about the transfer or if it was filmmaker approved. It's certainly watchable, but quite disappointing visually.

The film's runtime is 104:07.

Audio


English/Greek DTS-HD Master Audio 2.0 stereo
The bilingual English and sometimes Greek language dialogue is presented here in lossless stereo. With a film that has quite a number of music cues from 90s artists such as Lunatic Calm and Primal Scream, some 70s tracks with Isaac Hayes and Betty Davis, plus Greek folk songs, the stereo separation is important and the track does that quite well, balancing it with the dialogue which is always front and centered. While balance and clarity is great, there are issues when it comes to reel change timings as stated above, which has some hiss, pops, and crackle in the sound at those moments. These have not been corrected and sound fairly awful for this transfer.

There are burned-in English subtitles for the Greek dialogue and optional English HoH subtitles for the main feature. The burned-in subtitles are part of the original print and are in a slightly large font that is not particularly sharp. The HoH subtitles are in a white font in a standard size are well timed and without errors, though line breaks are sometimes in odd places, when lines that should have just been two lines being oddly broken into three.

Extras


Audio commentary with director Ana Kokkinos
This newly recorded commentary for this Blu-ray release has Kokkinos reflecting back more than twenty years later. She talks about Ari's character extensively, from the expectations of a migrant child, his Greek heritage, his ambiguous sexuality, relationships with family and friends, and more, as well as discussing the film and the character's reception. Unfortunately, this is a commentary that focuses way too hard on the singular subject of the main character without diving much into the background - from the adaptation of the novel, the technical aspects such as the camerawork, editing, or lighting, or any behind the scenes stories that one would expect to hear. In addition there are some moments of Kokkinos coughing which should have easily been edited out. This probably would have worked better with a moderator or having someone else from the production join her. At least she is able to talk quite a bit without too many pauses.
in English Dolby Digital 2.0 without subtitles

"Head On: Six Years On" roundtable discussion (42:35)
This vintage feature has Ana Kokkinos, Andrew Bovell, Alex Dimitriades, Mira Robertson, Tony Nikolakopoulos, Elle Mandalis, and Jane Scott sit together for a roundtable reunion on December 7th, 2004, as they rewatch the film and comment on individual scenes. The scenes they are watching is presented in a picture-in-picture format and they have a remote to pause playback of the film itself to talk about things more in depth when necessary. Some interesting stories such as Dimitriades having to learn to smoke for the role, the representation of Greek migrant parent, the casting choices, the family dynamic, the political subtext, and sexual boundaries are all discussed at length by group with candid memories. This seems to have been edited down from a full discussion as they watched the entire film, and there is a lot of great information to be heard. The transfer is windowboxed and a bit jittery, though it is still in a watchable state. What is interesting is that the transfer that they are watching which can be seen in the windowboxed screen has a completely different color timing to that of this Blu-ray release, without the warm and thick colors and having a more natural brighter look. This was previously available on the Fox Australian DVD and Umbrella Entertainment's 2014 Blu-ray.
in 1080p AVC MPEG-4,in windowboxed 1.78:1, in English Dolby Digital 2.0 without subtitles

Paul Capsis music video (6:21)
Presented here is Paul Capsis' soulful cover of John Lennon's "Jealous Guy" performed live, with an introduction from Capsis. This was previously available on the Fox Australian DVD and Umbrella Entertainment's 2014 Blu-ray.
in 1080p AVC MPEG-4, in 1.33:1, in English Dolby Digital 2.0 without subtitles

"Head On in Athens" premiere footage (8:24)
Presented here is footage from the Athens International Film Festival at the Greek premiere for the film with Ana Kokkinos, including footage before and after the screening, and audience reactions. Some of the footage, such as the audience reactions is in Greek without subtitles. This was previously available on the Umbrella Entertainment's 2014 Blu-ray.
in 1080p AVC MPEG-4, in 1.33:1, in English/Greek Dolby Digital 2.0 without subtitles

Behind the Scenes Photo Gallery (3:00)
Presented here are a series of stills from the production in an automated slideshow format without music. This was previously available on the Fox Australian DVD and Umbrella Entertainment's 2014 Blu-ray.
in 1080p AVC MPEG-4

Theatrical Trailer (2:00)
The original Australian theatrical trailer, which has a bit of a red push with the color palette is presented here. This was previously available on the Fox Australian DVD and Umbrella Entertainment's 2014 Blu-ray. It has also been embedded below, courtesy of Umbrella Entertainment.
in 1080p AVC MPEG-4. In 1.78:1, in English Dolby Digital 2.0 without subtitles




As stated above, some of the extras were originally from the Australian DVD release and later ported to the 2014 Umbrella Entertainment Blu-ray, which both contained a 5.1 audio mix. The new 2021 Umbrella Entertainment Blu-ray adds a new commentary, though it downgrades the audio to a 2.0 stereo mix. In addition, there is a German DVD release which has exclusive extras, with a differing commentary by Kokkonis and Dimitriades, plus an interview with the two of them.

Other notable clips:


An introduction to the film by SBS featuring Paul Capsis


Paul Capsis performing "Jealous Guy"


Music video for Lunatic Calm's "Leave You Far Behind"

Packaging


This is #12 in Umbrella Entertainment's Sunburnt Screens series. The cover is reversible, with the opposite side of the inlay containing identical artwork to the front except for the R18+ rating logo removed, while the opposite side inlay has the original theatrical poster art.

The packaging mistakenly states the audio is 2.0 mono when in fact it is in stereo.

Overall


"Head On" is gritty and kinetic with its 24-hour period of a singular character, though it never seems to have a true message for the character of Ari or the audience in the end, leaving the story flat without a cause. The Umbrella Entertainment reissue Blu-ray is a bit of a disappointment, with the image being lackluster, downgrading the audio from 5.1 to 2.0 only, and the new commentary track not being as in depth as one would have hoped.
| | | | | |
| --- | --- | --- | --- | --- |
| The Film: B- | Video: C | Audio: B | Extras: B | Overall: B- |