The Film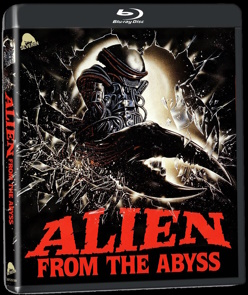 On a tropical island in the Philippines, American chemical company E-CHEM has supposedly been decontaminating atomic waste in a plant at the base of a volcano. Greenpeace activists Jane (Fashion Crimes' Marina Giulia Cavalli) and Lee (Zombi 3's Robert Marius), however, suspect that more nefarious things are going on. Sneaking onto the island by rubber raft to evade the plant's security forces, they discover elevated radiation levels and the volcano seemingly about to erupt any day. The local missionary who first contacted them about the plant's activities arranges for them to stowaway on a supply truck and they infiltrate the plant where they discover that the plant is simply disposing of contaminated waste by dumping it into the live volcano. The two split up after being discovered, with Lee captured and tortured by ruthless Colonel Kovacs (The Silence of the Lambs' Charles Napier) for the whereabouts of their video evidence while Jane is rescued by American snake venom gatherer Bob (Good Morning Babylon's Daniel Bosch) who then endeavors to help her sneak back into the plant to rescue Lee and retrieve the tape. A seeming advantage to their mission is a diversion in the form of a fiery object from space that crashes into the lake near the plant. With much bloodshed, Kovacs' team retrieves a strange claw-like organism that Dr. Geoffrey (Strike Commando's Luciano Pigozzi) determines is only part of a much larger bio-mechanical organism attracted by the dangerous amounts of atomic energy emanating from the volcano which is only making it stronger and more bloodthirsty.

One of the latter day productions of prolific Italian jobbing director Antonio Margheriti (better known in both Italy and abroad as "Anthony Dawson), Alien from the Abyss – or "Alien from the Deep" as the title appears in the title sequence as it had on all previous English-language versions – marks a return to his roots in science fiction while the obviously low budget does not have quite the same stretch or afford the same kind of resources he brought to his early science fiction films like Assignment: Outer Space, Battle of the Worlds, and the Gamma 1 quartet, the pioneering handmade in-camera visual effects and model work of which brought him to the attention of Stanley Kubrick during the long pre-production period of 2001: A Space Odyssey. The model work is obvious here but quite endearing for fans of old-fashioned movie-making, and there is some good grue, but the alien itself is rather disappointing as mainly a large roving crustacean-like claw ultimately revealed to be attached to a life-size but uninteresting-looking and awkwardly-puppeteered sub-Alien alien (along with a sub-Aliens forklift versus creature standoff). Apart from the always-entertaining Napier as yet another corrupt baddie, performances are serviceable, while the combination of synthesizer tracks by Andrea Ridolfi and recycled Robert O. Ragland (Evils of the Night) orchestral tracks do most of the dramatic work in a film that may only be interesting for most viewers as a Margheriti production from his more variable post-Yor period. The film was produced by Gianfranco Couyoumdjian (Zombie) who had previously produced Margheriti's Philippines-set The Last Hunter, while associate producer Franco Gaudenzi was in the midst of a number of Bruno Mattei/Claudio Fragasso action and science fiction flicks shot in the same locations.

Video


Given theatrical release in some territories, Alien from the Abyss was a primarily produced for the video market – where most of Margheriti's productions from this period wound up stateside – but it did not receive an official home video release over here, being available primarily in gray market dubs of the Japanese VHS release until the DVD era when Germany's Marketing Film released an English-friendly PAL DVD in 2002. A stateside release of questionable legitimacy finally made its bow in 2011 from dodgy MYA Communications' successor company One 7 Movies. The film made its Blu-ray bow in Germany earlier this year.

We have not seen that edition but Severin's 1080p24 MPEG-4 AVC 1.33:1 pillarboxed fullscreen Blu-ray comes from a 4K scan of the original camera negative and reveals that the framing is much too tight for theatrical matting (presumably French and German screenings were only matted to 1.66:1). Fine detail is subject to the amount of diffusing smoke and ability of the actors to hit their marks and stay in focus – which sometimes is just not the case – but textures are evident in the weathered features of Pigozzi and Napier, sweaty faces, clothing, and the gritty authentic power plant locations while the enhanced resolution also makes the model shots even more obvious than they always were in Margheriti's work (even in the grainiest, blurriest video transfers). It is quite obvious that many of the shots of the roving alien claw are underlit given the final reveal of the creature, but the colors of the jungle greenery and red gel lighting pops of the plant interiors pop throughout.

Audio


English and Italian DTS-HD Master Audio 2.0 Mono audio options are offered with only an accompanying English SDH track for the English track – in which Napier certainly dubs himself as do possibly Bosch and Marius (Cavalli is dubbed by familiar Italian horror English dubbing voice actress Carolyn de Fonseca). The post-dubbed voices are clean-sounding and the original and recycled music tracks have some umph, but the overall sound design is rather flat for both an action movie and a late eighties production.

Extras


Extras start off with "From the Center of the Earth" (12:52), an interview with Margheriti's son Edoardo Margheriti who worked on some of his father's films but not Alien from the Deep since he was in Manila directing the Fred Williamson action film Black Cobra 2 before going into pre-production for Black Cobra 3. He recalls that his father had been wanting to direct the project for some time before but was disappointed in the restrictions of the budget on the production, preferring the non-alien scenes and less satisfied with the alien itself. Margheriti notes that his father had to use local effects technicians rather than ones from Rome, and that he refused to use stop motion since he wanted to be able to see the end result through the camera lens.

A nice companion piece to the Margheriti documentary that supplemented The Film Detective Blu-ray release of Battle of the Worlds is Edoardo Margheriti's documentary "The Outsider: The Cinema of Antonio Margheriti" (61:32) from 2013 which takes its title not only from the name coined by the lead scientist for that film's alien intelligence but also his father who came to filmmaking from the outside, and attempting to make projects on his own before coming under the wing of Titanus Distribuzione's Goffredo Lombardo. With various archival interviews from his father along with new ones from producer Turi Vasile, screenwriters Dardano Sacchetti and Ernesto Gastaldi, actors Alberto dell'Acqua, Franco Nero, Corinne Cléry, John Steiner, Barbara Bouchet, Richard Harrison, Fred Williamson, and Frank Pesce, filmmakers Enzo G. Castellari, Luigi Cozzi, and Bill Lustig, along with critics and film historians Mike Molloy, Steve Della Casa, and Antonio Tentori among others, Edoardo Margheriti provides a broad overview of his father's work in different genres and turning down offers for more prestigious work – including Dino de Laurentiis' King Kong – in favor of smaller films over which he had more control.


"Son of The Outsider" (13:31) is another interview with Edoardo Margheriti in which he recalls running a website for ten years devoted to his father's work that reached thousands of fans. He chose to close the site down when he could no longer update it and when the requirements to redesign the site were beyond his grasp, and instead focused on creating a documentary tribute interviewing as many of his father's collaborates as possible and utilizing the few video interviews in which his father appeared, shooting and assembling it independently with next to no money as it appears here (as it did previously on the German Blu-ray of The Commander).

The disc also includes the film's English-language international trailer (2:45) which, like the feature presentation, utilizes the original "Alien from the Deep" title.

Overall


A passable time-waster Alien from the Abyss' key point of interest may be as an example of director Antonio Margheriti's post-Yor output.