The Film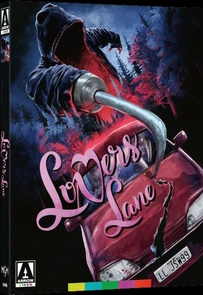 One night, a hook-handed killer butchered a couple on Lovers Lane, one of which turned out to be the wife of police deputy Tom Anderson (Delta Farce's Matt Riedy) whose corpse was found in the arms of town stud Ward Lamson. Tom's psychologist brother Jack Grefe (WKRP in Cincinnati's Richard Sanders) reveals that Ray Hennessey (Ed Bailey) was a patient of his and obsessed with Tom's wife. Thirteen years later, the Lovers Lane killer is an urban legend for all but now-sheriff Tom, his seventeen year old school outcast daughter Mandy (Lolita's Erin J. Dean), and Ward Lamson's school principal wife Penny (Suzanne Bouchard) who has concealed the details from her popular son Michael (Not Another Teen Movie's Riley Smith). Michael is in an unhappy relationship with Grefe's daughter Chloe (Chuck's Sarah Lancaster) who gets suspended for her anger issues after she attacks Michael for dumping her on Valentine's Day. Penny is happy to suspend and ground her son too upon learning that Ray Hennessey has escaped from local mental hospital, and Tom so sure that his daughter will be spending the night home at usual so he only has to keep an eye on his niece Chloe since Grefe believes that Ray will go after her. What none of them realize is that Chloe means to get even with Michael by getting caught with his best friend Brad (Voodoo Academy's Ben Indra) and pressures desperate-to-be-popular Doug (Shredder's Billy O'Sullivan) to direct their circle of friends' planned night out up to Lovers Lane. In spite of not having a date, Michael sneaks out and joins Doug, Tim (Collin F. Peacock) and Cathy (Megan Hunt), new cheerleader Janelle (The House Bunny's Anna Faris) who already has a crush on him, and Mandy who has been asked out by Doug purely to up their respective reputations at school. Upon discovering that Michael is gone, Penny and Tom must get past the awkwardness of their spouses' mutual cheating to find their children when the killer crashes the party on Lovers Lane.

One of the lesser-known titles of the post-Scream/I Know What You Did Last Summer slasher resurgence, Lovers Lane feels slightly more ambitious in terms of production value than the glut of lower budget direct-to-video films that followed but – in spite of some refreshing characterizations and character dynamics – it does not quite approach the cleverness or quirkiness of the likes of Cherry Falls (or even writing/producing team Rory Veal's and Geof Miller's slightly-better follow-up Shredder). While not encouraging their children, the sheriff and principal seem very sex-positive models compared to the so-repressive-he-might-be-a-red-herring psychiatrist, Chloe is not the school slut or the school bitch, she's the "leader of the varsity psycho squad," and no one makes any truly stupid decisions. The climactic twist makes sense in retrospect although it does rely on some convenience – and perhaps some stupidity on behalf of the killer – with the only true stumbling block being the de rigueur final shock. What makes the film fail to rise too far above its lower budget ilk is a sense of "making do" not only with a not-fully-developed script but also with some less-than-striking locations, some underlit and grainy night scenes, and kills that seem not so much restrained or censored as lacking the budget to pull off the effects gag. Apart from the adult characters, most of the characterization is rather flat with the charisma of the younger cast making more of an impression that what they have to work with; particularly Faris who has a few rare moments to convey why she would be cast to send up the Sydney character in Miramax's own Scream parody Scary Movie. "Rediscovered" and restored, Lovers Lane reveals itself to be a diverting footnote of the second slasher boom.

Video


Released direct-to-video by First Look International followed by a nondescript, barebones in 2002, Lovers Lane was long in receiving a remaster, coming to Blu-ray via Arrow Video in a 2K restoration of a 4K scan of the original camera negative. The disc offers 1080p24 MPEG-4 AVC encodes in both the open-matte 4:3 home video aspect ratio and the intended 1.85:1 aspect ratio. While the open-matte option does not reveal any boom microphones, cables, or crew members, and is overall well-framed, the 1.85:1 option may be preferable simply because it never really impedes any vertical compositional information. Colors are rich and fine detail is great during the well-exposed moments, but there are some night scenes that are simply underlit – compare the opening sequence of the couple making out in the car shot in the blacked out garage of one of the producers to the later scene of Chloe and Brad in which there are some shots where it is difficult to make out what is going on, detracting from the performances during an intense scene – while in other scenes the darkness may have helped by removing the need for prosthetic wounds for a kill or two.

Audio


The sole audio option is an LPCM 2.0 stereo track in which the uneven recording of production dialogue and some ADR is sometimes evident – the sync may be slightly loose in the ADR but it is difficult to tell if that is an error on Arrow's part or a fault of the original mix – while some swipes and jabs of the hook, an explosion, and a car crash offer some directional activity over the blanketing score. Optional English SDH subtitles are included.

Extras


The film is accompanied by an audio commentary by writer-producers Geof Miller and Rory Veal in which they reveal that the film came about out of frustration after they had been working quite regularly in "Movies of the Week" for CBS until the network canceled that program lineup, resulting in three of their projects in development – out of twelve pitched – vanished suddenly along with nearly fifty other projects lined up for the year. Frustrated with trying to break into movies, they decided to greenlight their own, penning the first draft during a Christmas haitus, and raising funds privately. They discuss how the idea took off from the urban legend of the hook-handed lovers lane killer, the need in the nineties for production value and a name actor to land a video deal and foreign distribution, anecdotes about the cast – opening scene actress Diedre Kilgore had lived in Egypt and was kidnapped twice by religious cults who mistook her red hair and white skin to mean she was a goddess, musician/cowboy Smith was lassoing cast and crew between takes, and Faris later married Indra before her later marriage to Chris Pratt, while Riedy and Lancaster would more recently appear together in The Judge – the local and Hollywood cast getting along, the seminary used for both the asylum and the high school, shooting the swimming pool scene around real swimming lessons – one of the scenes that was rewritten by director Jon Steven Ward – and a scene with high schoolers as extras nixed because parents did not want their kids in a horror movie.

"Screaming Teens: The Legacy of Lovers Lane" (31:37) features Veal and Miller along with actors Riedy and Carter Roy who plays one of the hapless lovers lane teens in the opening. Veal and Miller cover some of the same information but go into some more detail about casting and crewing the production in Washington state – including effects technicians accidentally burning down a house they intended to only give the illusion of blowing up – Riedy recalls how the film put him in the first of many cop uniforms he would wear during his long career as a character actor, and Roy recalls auditioning for one of the bigger roles.

The disc also includes an extensive image gallery and the film's theatrical trailer (1:55).

Packaging


The cover is a reversible sleeve featuring original and newly commissioned artwork by Ilan Sheady while the first pressing includes an illustrated collector's booklet featuring new writing on the film by Lindsay Hallam, and double-sided foldout poster featuring original and newly commissioned artwork by Ilan Sheady.

The title is also available with a slipcase with alternate artwork from Arrow Video directly.

Overall


"Rediscovered" and restored, Lovers Lane reveals itself to be a diverting footnote of the second slasher boom.