The Film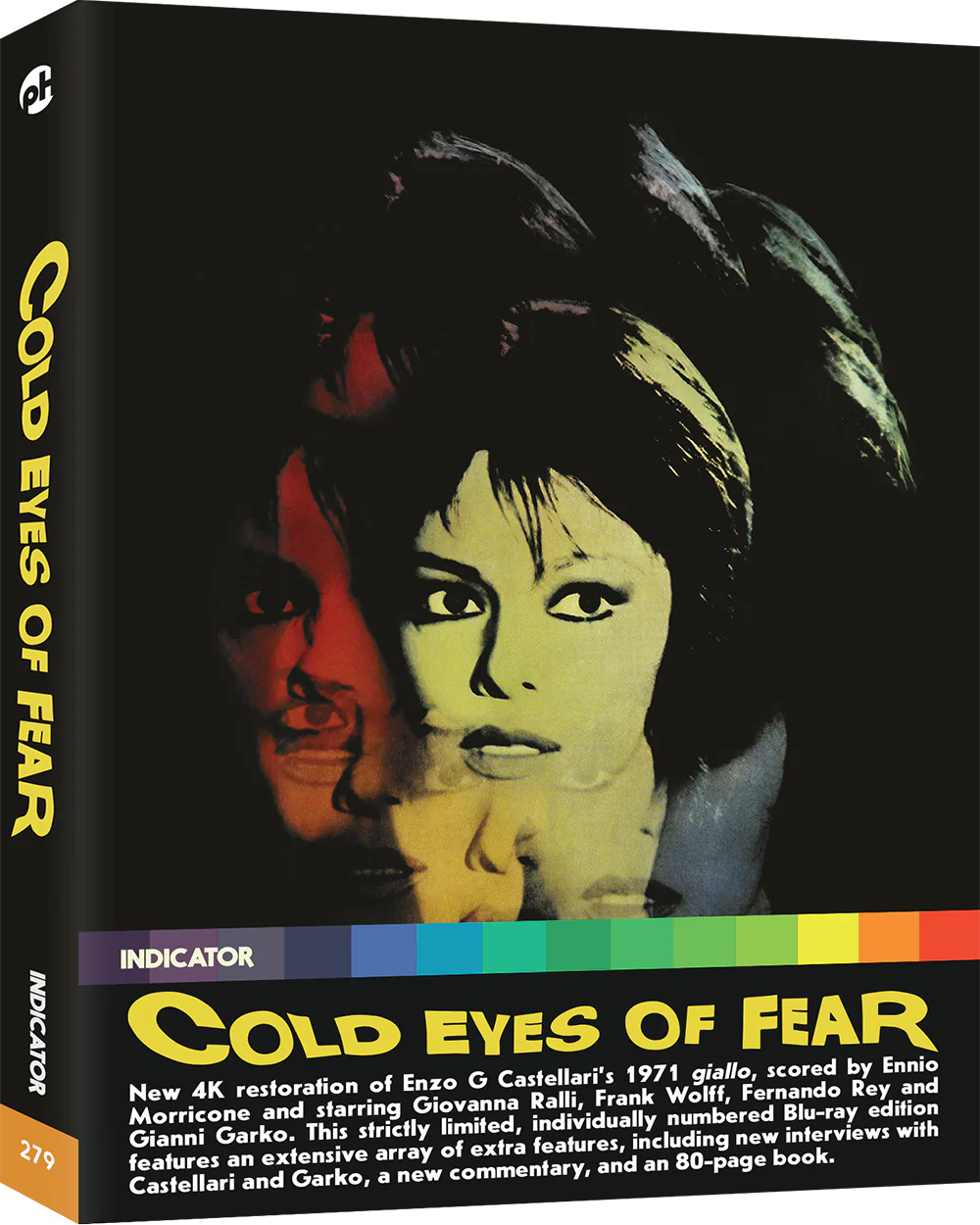 Directed by Italian genre-film stalwart Enzo G Castellari (Inglorious Bastards), Cold Eyes of Fear (Gli occhi freddi della paura) is a tense and brutal thriller which features an all-star line-up, including Gianni Garko (If You Meet Sartana Pray for Your Death), Fernando Rey (The French Connection), Giovanna Ralli (What Have They Done to Your Daughters?), and Frank Wolff (Once Upon a Time in the West).

When wealthy playboy Peter Flower picks up the beautiful Anna and takes her back to his uncle's house, he and his guest find that their plans for the evening are cut short by the shocking discovery of a corpse and the surprise appearance of a pair of violent criminals.

With its vibrant London locations and discordant jazz score – composed by the great Ennio Morricone and performed by the legendary free-improvisation collective, Gruppo di Improvvisazione Nuova Consonanza – this stylish home-invasion thriller is presented in an all-new 4K restoration from the original negative.

Video


Essentially a Giallo variation on The Desperate Hours (1955), Enzo G. Castellari's solid thriller is one that's had a decent fist of it on home video in the UK with a Redemption VHS release in the '90s. It received a welcome DVD / BD issue in 2013 from Kino Lorber in the USA as part of their licensing agreement with Redemption.

From the booklet (see extras below):

Cold Eyes of Fear was scanned, restored and colour corrected in 4K HDR at Final Frame Post, London, using the original 35mm negative. A combination of MTI and Nucoda DVO image-processing tools were used to remove many thousands of instances of dirt, eliminate scratches and other imperfections, as well as repair damaged frames. No grain management, edge enhancement or sharpening tools were employed to artificially alter the image in any way. The original mono audio tracks were remastered by Michael Brooke.

Colour values are strong and healthy due to the vivid nature of the cinematography and the fact the elements seem to be excellent shape. Black levels are extremely rich and velvety with no unintended crush. Contrast is layered and gives this sometimes dark film plenty of depth and allows shadow detail to be exceptional.

Being a 4-perf 35mm (as opposed to a 35mm 2-perf Techniscope) production this looks very strong. I suspect it's hard matted during shooting to 1.85:1 with compositions appearing very tightly and carefully framed. Grain is ever present and naturally filmic. An exceptional transfer and about as good as it can be, the 4K will no doubt look even better ('A+')
1080p24 / AVC MPEG-4 / BD50 / 1.85:1 / 91:21

Audio


English DTS-HD Master Audio 2.0 Mono
Italian DTS-HD Master Audio 2.0 Mono
Subtitles: English HoH (for the English Track), English (for the Italian Track)

Right off the bat there are some distinct differences between the English and Italian tracks. In the opening credits of the Italian, the theme is much bassier and it fair throbs by with a slightly less range and a pronounced amount of hiss that's especially noticeable when one toggles between the two in the quiet scene that immediately follows the credits. By comparison, the English track has slightly more range, is a little cheesier with some dodgy English accents. It does come over as a little tinny with the occasional harsh sibilants leading to very mild distortion when characters shout. That said, I found the Italian track is classier and a tad echoey but is overall the lesser experience die to baked in issues with the elements. In any case, the film seems to have mostly been shot in English and the English track matches the lip movements the closest, so is the preferable option.

Excellent subtitles are provided in two flavours, English for the Italian dub and English hard of hearing for the English ('B').

Extras


Audio commentary with David Flint and Adrian J. Smith (2023)

Historians Flint and Smith have been involved in many extras on discs down the years and are both published writing on the subject of cult European cinema. They open by commenting on the jazz score, the European look of the film and the Christmassy nature of the location footage. Topics covered include the "on the hoof" nature of the location shooting - they speculate that it was probably without any permissions, the manic editing, home invasion cinema and how Cold Eyes of Fear fits in with that sub genre, all the major cast members get discussed, the shifting loyalties of characters, class conflict, the choices of the voice cast and inadequacies of such, the fatalistic noirish aspects of the script amongst many others in this chatty, slightly unfocused but jam packed track. Presented in lossy Dolby Digital 2.0 mono.

"An Italian in London: Gianni Garko on Cold Eyes of Fear" 2023 interview (29:24)
"The Men in the Editing Room: Gianfranco Amicucci on Cold Eyes of Fear" 2023 interview (26:52)
"Directing Fear: Enzo G. Castellari on Cold Eyes of Fear" 2023 interview (24:16)
"A Fearsome Collaboration: Lovely Jon on Ennio Morricone and the Music of Cold Eyes of Fear" 2023 interview (15:07)

97:39 worth of new interviews that cover the making of the film well with plenty of trivia. The Garko piece covers his career including his episode of Space: 1999 ("Dragon's Domain" one of the few with his real, deeper voice), his Sartana films and The Psychic amongst others. Most interesting is the section on his feelings about not having his own voice on most of his roles. The Amicucci and Castellari segments are likewise comprehensive. Castellari has done many commentaries on his films and been interviewed on many discs down the years, both largely focus on Cold Eyes of Fear. The wonderfully named Lovely Jon goes into some depth bout Morricone's strident score. Most interesting is his discussion of Gruppo di Improvvisazione Nuova Consonanza (New Consonance Improvisation Group AKA The Group). A collective that Ennio Morricone was a member which had been formed by Franco Evangelisti in 1964. Presented in 1080p24 1.85:1 with lossy Dolby Digital 2.0 stereo and optional English subtitles.

Desperate Moments Theatrical Trailer (3:17)

Jazzy trailer set to Morricone's strident score looks very dupey (possibly an upscale). Presented in 1080p24 1.85:1 with lossy Dolby Digital 2.0 mono and no subtitles.

Cold Eyes of Fear Image Gallery: Original Promotional Material (16 images)

HD image gallery.

80-page liner notes book with a new essay by Roberto Curti, a career-spanning archival interview with director Enzo G Castellari conducted by Mark Wickum, an archival interviews with actor Gianni Garko, a new interview with Giovanna Ralli, archival news reports on the death of actor Frank Wolff, an overview of contemporary critical responses and full film credits

Indispensable hardcopy companion to the film. Most interesting to me was the pieces on the sad death of Frank Wolff.

Packaging


Unknown, not sent for review.

Overall


One of Enzo G. Castellari's most atypical films, one of his very few Giallos (he specialised more in westerns and crime films) gets the deluxe 4K treatment and looks absolutely stunning on this BD version (the 4K UHD disc was not sent for review). The film is very tense and engrossing with some flashy moments, intense acting and surrealist sequences. Sound is less impressive but still very good. The extras are first rate including a rollicking, chatty yaktrak and a solid brace of interviews that cover the production. Highly recommended (overall 'A-').
| | | | | |
| --- | --- | --- | --- | --- |
| The Film: B- | Video: A+ | Audio: B | Extras: A+ | Overall: A- |