The Film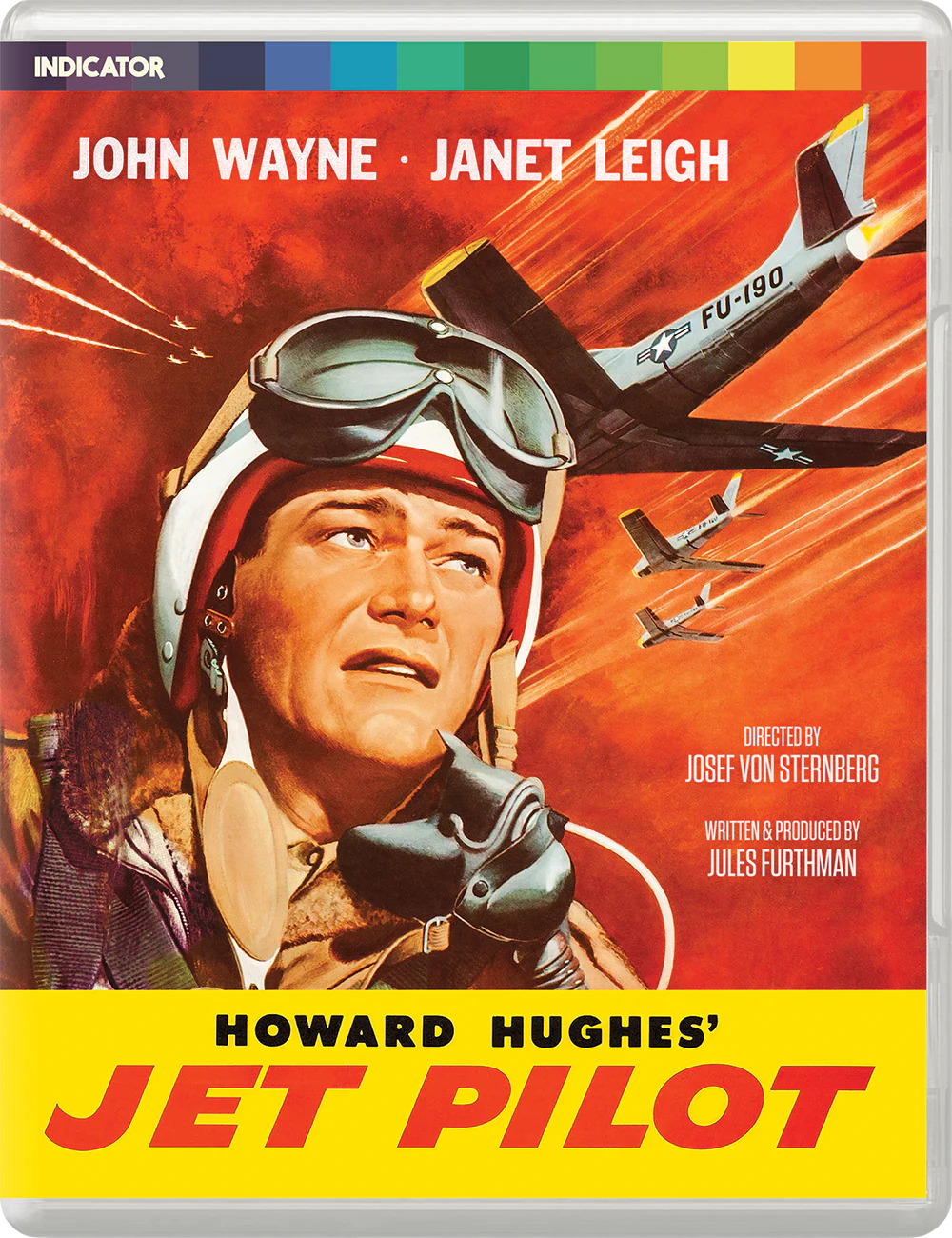 The only colour film directed by the great Josef von Sternberg (Morocco), Jet Pilot brings together John Wayne (Hellfighters) and Janet Leigh (Psycho) in a Cold War blend of romance and thrills.

When Soviet defector Anna (Leigh) lands her plane on Colonel Shannon's (Wayne) base, the two soon fall in love and marry. However, after it comes to light that Anna is still spying for her homeland, the couple flee to Russia, putting Shannon in danger from the Soviet authorities. Soon, Anna must choose between her love for her husband and her love for her country.

Written and produced by Jules Furthman (Blonde Venus), and famous for its extended period of post-production at the hands of studio boss Howard Hughes, Jet Pilot highlights the absurdity of the Cold War, and was hailed by critic Andrew Sarris as a precursor to Stanley Kubrick's Dr. Strangelove.

Video


This silly Howard Hughes confection smashes cold war tensions together with romance and generally comes up shirt but it's still lots of daffy fun. It's technical specs are pretty spectacular with stunning Technicolor hues provided by the great Winton C. Hoch Who'd go on to shoot The Quiet Man (1952) not long after. More famous for it's troubled, elongated production in which Hughes kept tinkering with Josef Von Sternberg's original 1949 lensing, it didn't come out til 1957. In any case, it's got a heavy dollop of comedy and both John Wayne and Janet Leigh are at the height of their appeal.

Universal's HD master is the basis of this transfer according to the booklet:
Both presentations of Jet Pilot were sourced from Universal's HD restorations, created from a 35mm 2-strip Technicolor interpositive in 2015. The film's original mono soundtrack was remastered at the same time.
Although this is now an older transfer, it's a stunner that could only be bettered in my view by a bang-up new 4K image harvest with HDR and / or a Dolby Vision grade.

The colour palette sears the eyes with it's well delineated colours that just pop off the screen with vivid primaries (reds are intense), flesh tones are ruddy. The dynamic range of the image is excellent with deep, rich blacks and vivid highlights; no crush nor blowouts. Grain is consistent, filmic and the encode superb. Detail is exceptional on all focal planes with close ups obviously especially detailed. There's occasional softness and mild density issues usually during scene transitions, fades, opticals etc ('A').

My comments mainly apply to the original, and I think preferred, 1.37:1 version. Obviously, thinks get a little grainier and a little softer when matted to 1.85:1 but most of the footage frames best at 1.37:1. That said, the film looked good matted without too much egregious cropping.

1080p24 / AVC MPEG-4 / BD50 / 1.37:1, 1.85:1 / 112:37

Audio


English LPCM 1.0 (48kHz, 16-bit)
Subtitles: English HoH

Sound is strong and clear with a surprising amount of range and depth for a mono track. It's obviously no match for a modern Atmos soundtrack but for a late '40s-'50s mono it's sterling and does it's job well. Bronislau Kaper's fine score comes off well and with no distortions even when the volume is cranked up. Excellent subs for the hearing impaired are provided. Overall, as good as can be given the original elements ('B+')

Extras


"Something in the Air: Tony Rayns on Jet Pilot" 2023 interview (29:42)

Another fine overview of a film by estimable Rayns. I've been enjoying his comprehensive pieces on discs like this and Arrow's Shawscope sets. It's all about von Sternberg, Hughes, briefly their careers and the film itself. Rayns feels it represents it's period very well, better than many other more highly respected films; Jet Pilot was not well received in '57 but is more highly regarded these days. He likes it's witty, amusing Earthbound cold war drama with innuendos and it's spectacular aerial sequences. Presented in 1080p24 1.78:1 with lossy English Dolby Digital 2.0 stereo (48kHz, 192Kbps) with optional Hard of hearing English subs.

Textless Opening Sequences (1:31)

What it says on the tin, titles sans text in 1080p24 1.37:1 with lossy English Dolby Digital 1.0 (48kHz, 192Kbps).

Theatrical Trailer (2:50)

Vintage promo in 1080p24 1.78:1 with lossy English Dolby Digital 1.0 (48kHz, 192Kbps) with optional Hard of hearing English subs.

Jet Pilot Image Gallery: Original Promotional Material (71 images)

Excellent HD gallery of promo images.

"The American Scene, a Series: Number Four, The Town" 1943 short film (11:27)

Vintage documentary piece about an American town influenced by it's European immigrants (Madison, Indiana). Presented in 1080p24 1.37:1 with lossy English Dolby Digital 1.0 (48kHz, 192Kbps) with optional Hard of hearing English subs. In B&W with excellent if slightly soft image quality, perfectly balanced gamma, deep blacks and low key contrast. Most likely from a print source. The booklet states:
The Town was scanned in HD by the US National Archives and Records Administration.


36-page liner notes booklet with a new essay by Glenn Kenny, an extract from Josef von Sternberg's autobiography, archival interviews with von Sternberg, an overview of contemporary critical responses, and full film credits

Superb hardcopy companion to the film which greatly increases one's appreciation of this previously unloved production.

Packaging


Stndard, clear BD Keepcase.

Overall


An excellent release is afforded Jet Pilot, a controversial, big budget Howard Hughes star vehicle for John Wayne and Janet Leigh. Excellent image and sound coupled with solid extras make for a recommended release ('B+').
| | | | | |
| --- | --- | --- | --- | --- |
| The Film: C+ | Video: A | Audio: B+ | Extras: B | Overall: B+ |