Sakra AKA Tin lung baat bou (Blu-ray) [Blu-ray]
Blu-ray B - United Kingdom - Signature Entertainment
Review written by and copyright: Rick Curzon (24th July 2023).
The Film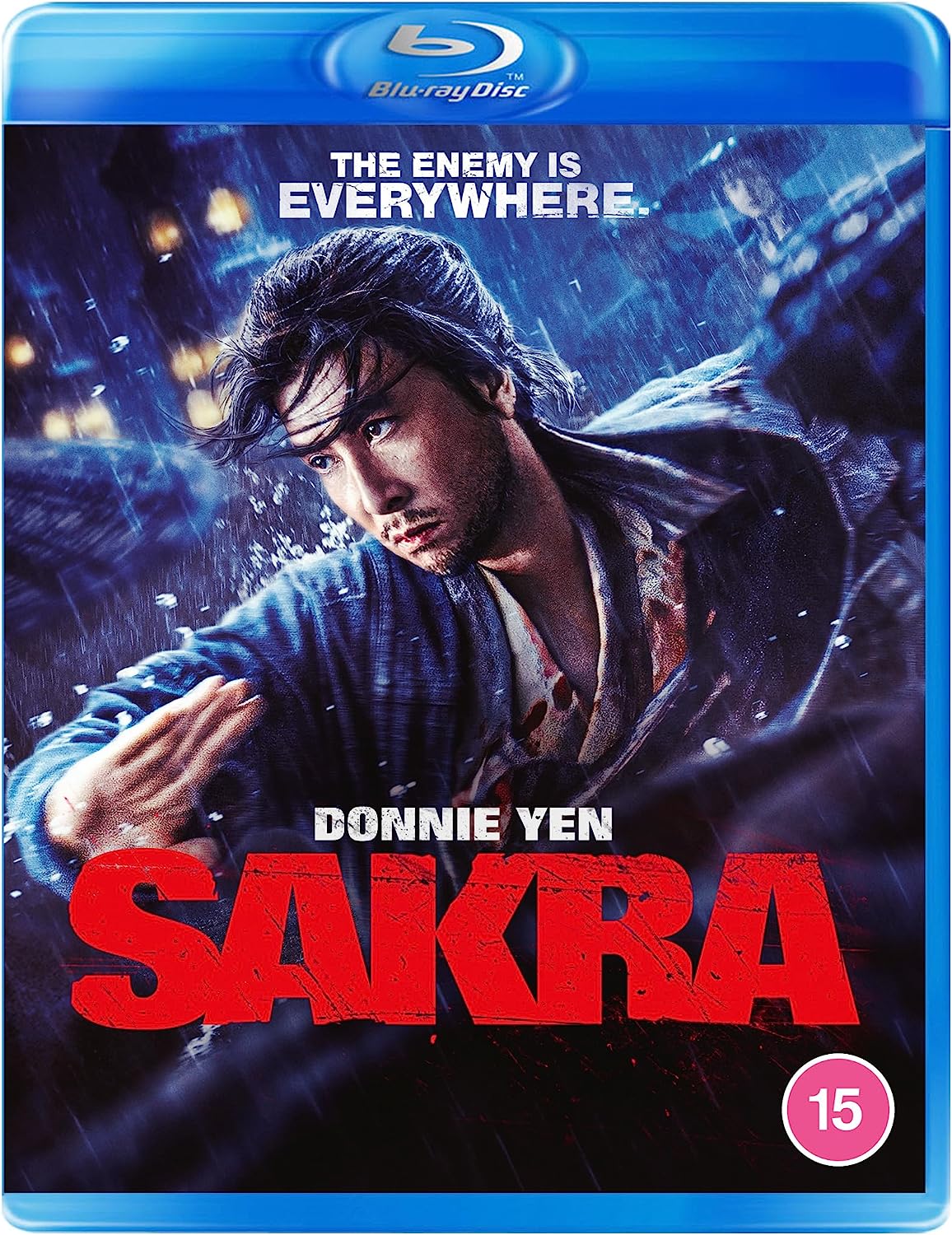 A fantastical action spectacular directed by and starring action legend Donnie Yen. When a respected martial artist is accused of murder and subsequently exiled, he must search for answers about his own mysterious origin story and the unknown enemies working to destroy him. Sakra is led and directed by Donnie Yen (John Wick 4) in his first directorial project in nearly two decades, and also stars Yuqi Chen (Heavenly Sword and Dragon Slaying Sabre) and Eddie Cheung (Throw Down).

Video


This is a digitally lensed Spaghetti Western-style martial arts film and according to IMDB technical specs are thus:
Camera: Red Gemini, Zeiss Ultra Prime, Fujinon Premier Cabrio, Angenieux EZ and Optimo Lenses; Negative Format: Redcode RAW; Cinematographic Process: Digital Intermediate(4K, master format)Redcode RAW(6K, source format); Printed Film Format: D-Cinema

Colours are muted when compared to productions lensed photochemically. But, this may be a choice of the filmmakers as primaries rarely kick out - red is intense only once on lips and a dress for instance - and flesh tones are naturalistic. I detected a touch of the orange and teal grade at times. There's no grain and the encode is good enough to handle the frantic movement on screen. CGI looks like CGI and seems to be slightly separate from the images captured on set in amongst the stunting and superheroics. Black levels are excellent, deep and rich with plenty of shadow detail. Contrast is low key and supportive. There's no crush and no blown out highlights,

Detail is generally good although post-production grading and manipulation has muted it a tad. Overall and excellent presentation of the film precisely as it was made albeit in 1080p24 and not the full resolution 4K with HDR ('A+').

1080p24 / AVC MPEG-4 / BD50 / 2.39:1 / 130:35

Audio


Cantonese DTS-HD Master Audio 5.1
Cantonese LPCM 2.0 Surround (48kHz)
Subtitles: English (optional)

Bizarrely, the US edition of this disc has a Dolby Atmos track, but Signature have not included this.

It's a back up to date modern film (I mostly cover vintage films with mono or basic stereo soundtracks) so we get a thumpingly effective, full-bodied 5.1 track. Dialogue remains at the front but score and sound effects dance around the sound field nicely with plenty of LFE welly which kicks the subwoofer into gear nicely; especially thunderous in the numerous CGI and action stuff. There's lots of ambiance and surround activity with fine delineation. The English subtitles have no errors that I detected ('A').

Extras


"Sakra: Making of" 2022 featurette (5:39)

Superficial EPK puff piece of little value; little more than a making of trailer. Presented in 1080p24 1.78:1 with Cantonese LPCM 2.0 surround (48kHz).

Startup Trailers:
- The Witch, Part 2 (1:38)
- The Black Demon (2:14)

Promos for other Signature Entertainment releases. Presented in 1080p24 2.39:1 (The Witch, Part 2, in Korean with forced English subtitles) and 2:1 (The Black Demon, in English) with LPCM 2.0 surround (48kHz).

Packaging


The standard blue Blu-ray Keepcase.

Overall


If overlong, frenetic, modern blockbuster cinema is your bag you'll be in hog heaven with this excellent presentation from Signature Entertainment. Image and sound are up to the usual high technical standards of 21st century action cinema. The only real gripe is that Signature haven't ported across the Atmos track. Extras are the same dispiriting lot the US and Canadian discs have. However, this is a cheap disc to be had so is well worth picking up. Especially for those who aren't equipped with Atmos.
| | | | | |
| --- | --- | --- | --- | --- |
| The Film: C+ | Video: A+ | Audio: A | Extras: E+ | Overall: B- |

---
Rewind DVDCompare is a participant in the Amazon Services LLC Associates Program and the Amazon Europe S.a.r.l. Associates Programme, an affiliate advertising program designed to provide a means for sites to earn advertising fees by advertising and linking to amazon.co.uk, amazon.com, amazon.ca, amazon.fr, amazon.de, amazon.it and amazon.es . As an Amazon Associate, we earn from qualifying purchases.