The Show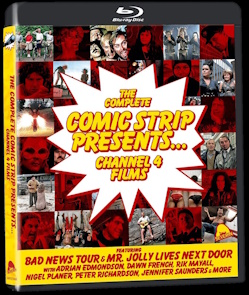 The Channel 4 television spin-off of the titular comedy group, The Comic Strip Presents… brought to the British small screen pioneers of "alternate comedy" who would soon embody the mainstream including Adrian Edmundson (Bottom), Rik Mayall (Drop Dead Fred), and Nigel Planer (Yellowbeard) – who were all shooting The Young Ones along with Alexei Sayle (Gorky Park) for BBC – along with the series' prime mover Peter Richardson (Eat the Rich), Keith Allen (Shallow Grave), and Robbie Coltrane (Harry Potter and the Chamber of Secrets), as well as Jennifer Saunders (Blandings) and Dawn French (Delicious) of, of course, the sketch show French & Saunders (before splitting off to create and star in, respectively, Absolutely Fabulous and The Vicar of Dibley).

The Comic Strip Presents… Channel 4 Films compiles the first three series and a couple specials from the periods between 1982 to 1988 and a handful of specials from 1998 to the early 2000s when the show was under contract with the then-new Channel 4 with a brief stint of specials at BBC2 in the early nineties and subsequent specials for Gold as late as 2016.

Disc One – Series 1 (1982-83) Episodes:

"Five Go Mad in Dorset" (31:20) – Stuffy Julian (Richardson), indecisive Dick (Edmondson), tomboyish George (French), "proper little housewife" Anne (Saunders), and dog Timmy arrive in Dorset for a cycling holiday only to become entangled in an adventure involving their kidnapped scientist Uncle Quentin (The Fiend's Ronald Allen). Premiering on Channel 4's first night on the air, this send-up of the children's books of Enid Blyton plays up the classism, racism, and general bigotry underlying her idealized England as the "Famous Five" in which anything "foreign" or "queer" that would spoil the bucolic countryside is suspicious, villainous, unpatriotic, symptomatic of "the welfare state", and always worthy of derision within earshot of the victims.

"War" (28:20) – When England is invaded by the Warsaw Pact countries, decidedly middle-class punks Hermine (French) and Godfrey (Trail of the Pink Panther's Daniel Peacock) decide to get away from it all in the countryside where roughing it means mixing their own cocktails. Their idyll, however, is disrupted by violent commandos and the pair are separated with Godfrey experiencing just about every war movie clichι from psychotic Deer Hunter-esque Russian Roulette-playing Vietnam soldiers in the same to tunneling British POWs in the same few days during which Hermine is romanced by a Russian soldier and switches sides. Far from being the "straight men", Hermine and Godfrey surrender their identities as quickly as their fellow Brits cosplaying Mexican bandidos and Australian GIs.

"The Beat Generation" (31:55) – When his parents are away, Desmond (Edmondson) hosts a weekend party for unflappably cool Beat poet Alan (Richardson), desperate muse Eleanor (French), Kix (Peacock) whose poetry makes his delinquency and vandalism endearing, lovesick and suicidal Jeremy (Mayall), feminist filmmaker Anne (Saunders), and Alan's agent and occasional lover Charlies (Planer). Possibly disorganized to reflect the structure of Beat poetry or just not very well thought-out, the episode cycles through deadpan delivery of gags poking fun at its pretentious characters under the sheen of French New Wave monochrome until a limp punchline.


"Bad News Tour" (31:31) – Probably the most famous episode of the first series – and possibly the entire series, this one anticipates (and betters) the still in-production This is Spinal Tap as a film crew and music journalist Sally (Saunders) follow the private lives of their metal band hopefuls "Bad News" – house painter Alan Metcalfe or "Vim Fuego" (Edmondson), fellow house painter Den Dennis (Planer), stoned drummer SpiderWebb (Richardson), and posh Colin (Mayall) whose only in the band because of his brother's PA system. Infighting about the future direction of the band, tripping over scripted spontaneous dialogue, the inability to ignore the camera crew, and undermining one others stories of anarchic punk behavior threaten to derail the band's meteoric rise… but things become apocalyptic when they discover how much the catering has eaten into their recording budget ("I mean, we'd be as rich as the Stones if only we'd sold as many records as them.").

"Summer School" (31:30) – The most accomplished and ambitious from a production value standpoint of the first series is another faux-documentary following a group of volunteers for a social studies experiment living in the Iron Age in a straw-strewn village of huts in the middle of a university quad during the summer session. While Liz (Saunders) tries to work out what language they would have used at the time starting with a series of grunts, Peter (Edmondson) fends off the fertility ritual overtures of both oversexed Ursula (French) and phallus-worshipping Desmond (Coltrane), Nick (Richardson) tries to pick up a Japanese coed, and Tarquin (Mayall) attempts to maintain the illusion by chasing off (and possibly killing) any one unfortunate enough to cross the quad on the way to class.


Disc One – Series 2 (1983-84) Episodes:

"Five Go Mad on Mescalin" (31:37) – The "Famous Five" are back, staying at the farm of Mrs. French (The House on Straw Hill's Fiona Richmond) when they discover that "outrageous homosexual" Uncle Quentin has escaped and is using drugs and a commune on "Love Island" to make the nation's youth "lie around for years on end doing nothing." The jokes are stretched a little thin this time around, with obvious targets from the "ugly Americans" who want to develop the countryside, the state of the farm and its hospitality being symbolic of their hostess' moral failings, a less-than-motivated shop girl as presumably retarded, adopted, or from a broken home, and Uncle Quentin being deserving of the same sort of treatment as Rudolph Hess.

"Dirty Movie" (31:42) – The same year The Young Ones coined the term "Video Nasty", the same crew were involved in a silent film-esque farce in which a local chief of police (Coltrane) is trying to tamp down on "photography" (he means pornography) while his men (Richardson and Planer) victimize a mild-mannered postman Mr. Bean (Edmondson) – not that one – trying to gain entrance to the local theater to see "The Sound of Muzak" not knowing that manager Terry Toadstool (Mayall) has arranged a private screening of porn loops. French plays seemingly equally-mild-mannered wife while Saunders plays Toadstool's oblivious wife.

"Susie" (34:34) – The titular protagonist Susie Darling (French), a village schoolteacher imagines herself as "Julie Christie in that Thomas Hardy film" as she cheats on her dull husband (Edmondson) with a van driver (Planer), throwing both of them over for a flighty, fading pop star (Richardson) who has bought the local manor, setting in motion a series of tragedies. Not particularly amusing or clever but focused more on plot than gags and featuring the first appearance of "transsexual disco diva" Al Pillay as the pop star's personal assistant ("I never really wanted to be gay but I was forced into it by the recession").


"A Fistful of Travellers' Cheques" (39:16) – Miguel (Richardson) and Carlos (Mayall) are two Brits who settle on holidaying in Almeria, Spain to live out their dream of being in a spaghetti western but they might be the least odd of the people they cross paths with including the proprietor of the Hotel Bastardo (Allen), a pair of motorists (French and Saunders), a hitchhiking stoner (Planer), a serial rapist (Edmondson), and a cafe owner (The Adventures of Barry McKenzie's Christopher Malcolm) driven mad by his customers. A showcase for Richardson and Mayall, the episode is primarily an excuse for the pair of indulge in spaghetti western homages culminating in a comic cafe brawl.

"Gino - Full Story and Pics" (32:13) features Allen on the run from the police whose every encounter with a frustrated writer (Edmondson), an elderly taxi driver (Chitty Chitty Bang Bang's Lionel Jeffries), an actor (Pillay), a suicidal secretary (Saunders), a gun-wielding hitchhiker (Coltrane), a murderously dysfunctional couple (French and Mayall), and a savvy cop (Richardson) becomes embellished and sensationalized turning the delinquent into a modern-day Clyde Barrow. Although the titular character, Allen as a performer is overshadowed by the rest of the cast (odd given accounts of his outrageous stage acts); which is perhaps appropriate as the actual attention-seeking characters use him to their own sometimes nefarious ends.

"Eddie Monsoon - A Life?" (31:32) showcases Edmondson as a South African television performer addicted to entertaining… and to various other substances in a documentary look at his rise and fall amid on-the-air psychotic breaks, criminal activities, fatwas, fake suicides, exploitation by his wife (Saunders) and agent (Richardson), and the cancellation of his television comeback ("Channel 4 is the home of child porn and homosexuals, and my show had both!"). In one of his usual loud, chaotic roles, Edmondson actually manages to give such a rotten character a little bit of pathos. Hosted by BBC Television's Late Night Line-Up's Tony Bilbow. Saunders would christen her Absolutely Fabulous character Edina Monsoon.

"Slags" (31:45) closes out series two in a dystopian future where Passion (French) and Little Sister (Saunders) get out of prison and return to their old haunts to discover it has been taken over by the fun-loving Hawaiians (lead by Buffy the Vampire Slayer's Anthony Head). Blade Runner as narrated in recollection by former gang member-turned-writer Ace (Edmondson) gives way to "Romeo and Juliet" by way of West Side Story when star-crossed lovers turn a simple turf war into a poolside showdown. Less interesting narratively or for laughs, Slags impresses on a visual level in its economic yet imaginative photography and set design. The episode also features an early appearance by Emma Thompson (Dead Again).


Disc Two – Series 3 (1988) Episodes:

"The Strike" (61:38) – The third series switched over to an hour-long format, and truly the show's most accomplished and ambitious episodes is The Strike in which MC of The Comic Strip's stage show Alexei Sayle plays writer Paul whose screenplay about miner's strike gets the attention of Hollywood exploitation producer Goldie (Coltrane) who thinks it would be an ideal star vechical for Al Pacino (Richardson) as Arthur Scargill… if only he weren't a loser, there was a love interest part for Meryl Streep (Saunders), and a little daughter for him to rescue from a mine collapse. Although the film is to be shot on location in Paul's home town, it is not English enough for the art director (Edmondson) who thinks the town is too eighties and decides the film would be better set in the thirties. As the miner extras are replaced with equity card-carrying Londoners, and Paul re-tailors the script to Pacino's acting tics and adds race-against-time happy ending, he is too blinded by the stars in his eyes until all of the authenticity has been stripped away from his passion project. This episode and the other Sayle headliner in the series prove that the comedian is most "funny" as the straight man while Richardson's over-the-top characterization – a nod to the utter absurdity of casting Pacino as the lead in Revolution – reminds the viewer of Pacino's broader range in the period of films between The Godfather and Scent of a Woman.

"More Bad News" (52:56) – A more successful follow-up to a previous scenario than "Five Go Mad on Mescalin", More Bad News retains the faux-documentary format as journalist Sally (Saunders) follows the efforts of Vim Fuego (Edmondson) to get the band back together after the success of the Channel 4 documentary. Signing up with a shifty agent (French), the band record a music video for the "poetical political" song "Warriors of Genghis Kahn" which Sally surmises from the monotonous lyrics "Burning, looting, raping, shooting" as "macho-male egotistical dominance along with orgiastic blood letting and violence against women." The highlight of the episode is the band's actual live performance on stage at the Castle Donington Monsters of Rock festival – intercut with reactions from Def Leppard, Ozzy Osbourne, Scorpions, and Motφrhead's Lemmy who may or may not be in on the joke – before a well-deserved comeuppance for their attempt to blow Ozzy off the stage.

"Mr. Jolly Lives Next Door" (51:41) – Mayall and Edmondson run "Dreamy Time Escorts" who – in between collecting protection money from local businesses for stocking their Fairy Liquid-laced beer – violently coerce clients into paying for their drunken nights out. They poach a client from next door neighbor Mr. Jolly (The Wrong Box's Peter Cook) in TV presenter Nicholas Parsons unaware that gangster Mr. Lovebucket (Richardson) meant something different when he ordered him to be "taken out" and spend the rest of the episode trying to murder him. Mayall's and Edmondson's shouting yob act is obnoxious without the context of their "Dangerous Brothers" persona which would have been more familiar to British audiences from The Comic Strip stage shows and various BBC specials, but the episode moves at a good clip, carried along by the pair's energy and seeming willingness to injure each other and themselves.


"The Yob" (57:25) – Patrick Church (Allen) is a music video director who refuses to realize that he is no longer on top when he has to "accept" a job directing UB40 rather than Bowie. Trying to score some coke during a UB40 gig, Patrick stumbles into what he believes is a bathroom stall but is actually a teleportation machine of a pair of scientists (Edmondson and The Princess Bride's Betsy Brantley) at the same time as Arsenal fan Steve (The Cook, the Thief, His Wife and Her Lover's Gary Olsen). A gradual personality shift in the two characters gives way to physical changes in the vein of The Fly, but the whole episode is really just an excuse to strike out at everyone. Peter Wyngarde (The Innocents) has a small role as Steve's father but would get to lampoon his iconic Department S "Jason King" character in the later Comic Strip special "Detectives on the Edge of a Nervous Breakdown".

"Didn't You Kill My Brother?" (55:32) – Sayle takes on a dual role styled on the Kray brothers, one is Carl who is released five years into his sentence having attained over four hundred educational degrees during his confinement; the other is Sterling who is the pride and joy of his mother (The Killing of Sister George's Beryl Reid) for keeping the family's criminal organization running. Probation officer Pauline Sneak (The Long Good Friday's Pauline Melville) will not let Carl apply his education, and Sterling has some help in trying to put his brother back behind bars for a crime he committed in corrupt copper Chipstick (Richardson) who failed to catch him five years ago – Carl having hidden in the only place Chipstick did not look: his own wife's bed – and Judge Hate (Britannia Hospital's Graham Crowden) whose thirty year sentence for Carl was overturned on appeal. A dual role for Sayle, he is more effective as the good twin, but the usual chaotic car wreck of gags and squeezed-in material for the ensemble just barrels along until the required running time.

"Funseekers" (50:02) – In the final episode of the third series an under-thirties vacation package gives the titular "funseekers" the excuse to lay waste to Benidorm starting with a nun praying a shrine being struck by a beer can tossed carelessly from the tour bus. Loudmouth Tony (Planer) alienates everyone around him – including a pair of equally obnoxious prank-playing brothers played by Allen and his brother Kevin Allen (Trainspotting) – before being exposed as an over-thirty by roommate Jamie (Joking Apart's Mark Elliott); whereupon Tony finds himself an outcast ("We have kids whose parents are 34") in the company of a pregnant hotel maid (Matador's Lola Peno) ignored by the holiday-makers and ostracized by her family and the church, as well as Maria (Breaking the Waves's Katrin Cartlidge) who may be an incarnation of the Virgin Mary. Some fun bits, particularly with Richardon's abusive activities coordinator and the overall vulgarity of what Benidorm-bound Brits consider fun, but the compelling serious moments are few and far between.


Disc Three – Specials (1984) Episodes:

"The Bullshitters: Roll Out the Gunbarrel" (42:25) is the first of three specials shot in between the second and third series and is a hilarious parody of The Professionals and a whole spate of seventies and eighties buddy cop shows. When his actress daughter Janie (Widows' Fiona Hendley) is kidnapped outside the Royal Academy of Dramatic Arts and held for ransom by a out-of-work actors (Pillay and Jimmy Fagg), tough-as-nails Commander Jackson (Coltrane) finds himself suspended and sidelined. Working on the sidelines, Jackson attempts to recruit former cops Bonehead (Allen) and Foyle (Richardson) who had a falling out after Bonehead was involved in several career-ending homosexual incidents ostensibly due to a Russian "gay serum" and is teaching at the "Knob Academy for TV Tough Guys" while Foyle is acting on stage in the West End. The pair track down Janie but she's got Stockholm Syndrome – much to the irritation of her kidnappers since she can neither sing nor act – and stumble upon a bigger plot, but get distracted since the homoerotic subtext of most buddy cop dramas is not so… sub-textual. Possibly due to its hitting all the genre tropes, "The Bullshitters: Roll Out the Gunbarrel" is more structured than usual and the jokes are funnier – such as Bonehead's advice for economic cop show blocking that simultaneously saves film and ensures a good profile shot – leading to a typically (for the series) chaotic ending that is nevertheless perfectly in keeping with the kinds of series they are lampooning.

"'Consuela' (or 'The New Mrs Saunders')" (37:19) is a mini-masterpiece that hilariously sends up Daphne Du Maurier's "Rebecca" with "The New Mrs Saunders" Jessica (Saunders) finding herself ruthlessly undermined by sinister housekeeper Consuela (French) who attempts to make Jessica look like a madwoman – with the help of a sinister toreador (Richardson) and a Don't Look Now dwarf (Labyrinth's Linda Spriggs) – in the eyes of her priggish and decidedly non-brooding husband (Edmondson) and his friends. Her only confidante is estate manager Richard (Mayall) but even he may not be able to excuse the carnage of the final act. Although the episode is named after French's Spanish housekeeper, it is Saunders' show all-the-way, and their simultaneously tense and funny interactions make up for a muddled plot. Consuela only passingly mentions the "first Mrs Saunders" and the episode focuses more on the bigoted British perception of the foreign as sinister as well as British bad behavior abroad (linking the episode casually to series three's "Funseekers").


"Private Enterprise" (35:02) – On the other side of the music industry from the Bad News episodes is this ex-con toilet paper delivery driver Keith (Richardson) steals a cassette from a recording studio of a single by the band Toy Department (lead by Mayall) hoping to make a quick buck by selling it to Hard Corps Records exec Derek (Planer). Needing a single for a tax loss, Derek gives Keith a contract. Unfortunately, the temperamental band has broken up so Keith and his buddy Brian (Edmondson) must come up with ways to delay the inevitable when the song is a hit and Derek demands that the band do a tour. Whereas corporate greed underscored the professional opportunities of the fame-hungry but naive Bad News group's adventures, here they are in the foreground with hustling Keith looking even more ridiculous and pathetic than Vim Fuego in his willingness to do anything for a con job.

"Four Men in a Car" (30:42) is the first of two related specials from their late nineties return to Channel 4 after three series at BBC. Four yuppie car salesmen – Ian (Edmondson), Tim (Planer), Steve (Richardson), and Alan (Mayall) – carpool to a conference in Swindon, each hoping to land a promotion. Hoping to arrive on equal footing – their actual achievements seeming to matter less than who their boss sees first – the dysfunctional quartet wind up stranded in the snow after Ian is on the receiving end of a bout of road rage, carsick Peter vomits all over Tim and his gas station biriani dish, Alan is driven insane by an eighties CD that skips on Spandau Ballet's "Gold", and Tim breaks multiple limbs as they shelter in the cabin of shotgun-wielding reclusive diabetic Helen (Saunders). If the "Famous Five" episodes demonstrated childishly entitled behavior through having adults play ten year old brats, then this episode shows just how petty and juvenile four adults can be beneath their slick yuppie veneers until they realize that they possess no further depth than the surface.


"Four Men in a Plane" (34:27) reunites Ian, Tim, Alan, and now Tony (Richardson in a different role) in North Africa to attend a conference. Electing to hire a private plane over a fifteen-hour bus trip across the desert, the usual combination of arrogance and cheapness leave the quartet stranded in the middle of nowhere with limited supplies and endless bickering. Boasting larger production values than the previous "Four Men" special, this one nevertheless feels very much like a retread with the comedic value in the ways they have attempted to reinvent themselves while still indulging in the same behaviors. Tim find sout he is two miles short of the thousand miles he needs to upgrade his flight so he is humiliated by having to fly economy with Millwall fans while the other three abuse the advantages of first class: Ian berates a stewardness over complimentary face spray, Tony tries to join the mile high club, and Alan watches pornography at full volume in full view of the other passengers.


Apart from returning a few times to brutally skewering the bigotry of Enid Blyton and her insufferable "Famous Five" (well, four, the dog's okay), most of the episodes were unconnected to one another, consisting of single sustained sketches structured around the antics of the ensemble, homages that were excuses for a series of gags, and a few focusing on a single titular protagonists displaying an evolution towards more cohesive if not always satisfying narratives. Binge-watching the show makes the viewer more aware of the hit-and-miss nature of the episodes while also offering such pleasures as the surprise of just where Coltrane will pop up and wearing what (he dons drag in more than one episode and even plays multiple roles in some as do the rest of the cast), the budget-stretching contributions of Derek Jarman production designer Christopher Hobbs and art director Michael Buchanan (who assisted Hobbs on Ken Russell's Gothic, and the talented directors and behind the scenes craftspeople turning to the television medium during the decades long slump in British feature filmmaking apart from the likes of Spice World, director Bob Spiers worked almost exclusively in episodic television, as did Sandy Johnson (Jonathan Creek) while Stephen Frears was prepping My Beautiful Laundrette, Prick Up Your Ears, and Dangerous Liaisons in between directing "The Bullshitters: Roll Out the Gunbarrel", "'Consuela' (or 'The New Mrs Saunders')", and "Mr. Jolly Lives Next Door".

Video


While Severin's set only features the Channel 4 films, previous DVD incarnations have encompassed more of the series run starting with VCI's 2005 nine-disc complete collection and an identical 2007 from Channel 4 themselves after VCI merged with BBC to form 2entertain. Despite the poor quality of PAL-to-NTSC conversions, the U.S. release from eOne featured the original uncut episodes while Richardson fashioned director's cut versions of several episodes from series six through eight and the Channel 4 special "Four Men in a Plane".

Those editions utilized the existing video masters, Severin Films' Blu-ray set features the same masters upscaled apart from a new 2K scan of the original 16mm film materials for "Mr. Jolly Lives Next Door". The first three series and three of the five specials in 1080i60 MPEG-4 AVC 1.33:1 pillarboxed fullscreen presentations – retaining the original 25fps/50i framerate – while the "Four Men in a Car" features a 1080i60 MPEG-4 AVC 1.66:1 pillarboxed presentation and "Four Men in a Plane" is 1080i60 MPEG-4 AVC 1.78:1 from digital video masters. The film-sourced transfer is variable with some archival damage while the rest feature softer resolution, some hard-to-read upscaled video-sourced end credits sequences, and the rough edges of non-permitted shooting – as described in the documentary anecdotes – and detail fares better in close-ups and more so those in interiors and brighter day exteriors. Grain is heavier in the darker scenes and harsh shadows, but that is organic to the production circumstances and even lends some nice texture to certain episodes like the post-apocalyptic "Slags" and the scorched setting of "A Fistful of Travellers' Cheques.

Audio


The first three series and the earliest three specials feature DTS-HD Master Audio 2.0 mono audio tracks that are presumably derived from the video masters and are free of any distracting defects, remaining true to the original location recording and TV facility audio post-production while the latter two specials feature DTS-HD Master Audio 2.0 stereo tracks in which music and a few effects get much in the way of separation since the episodes are most driven by dialogue. Optional English SDH subtitles are included. The DVD sets did not include subtitles and the ones here could have used some proofing (a band called "The Hounds of Zaroff" is transcribed as "The Hand of Zara").

Extras


Special features are mostly archival and derived from the earlier sets, but "The Rise of The Comic Strip" (93:31) is a brand new piece featuring contributions from Planer, Richardson, and Sayle along with Frears, Johnson, and cinematographer Oliver Stapleton (The Grifters), as well as comedian Simon Pegg (Hot Fuzz) and filmmaker John Landis (who recalls approaching Mayall and Edmondson about appearing in An American Werewolf in London). Richardson, Planer, and Sayle discuss forming The Comic Strip in a venue that was a strip club until midnight and a comedy club after, recruiting Allen, Edmondson, and Mayall, and eventually auditioning a pair of would-be schoolteachers in Saunders and French before moving to an unused, two-hundred set venue above Paul Raymond's gentleman's club – hence the casting of Fiona Richardson who also briefly appears in the documentary – the making of a short film by Julien Temple (Earth Girls Are Easy) which Richardson disliked, pitching six script ideas to the upcoming Channel 4 network and deciding to focus on that show since there was no role for him on The Young Ones and the contributions of late writer Pete Richens (The Pope Must Die). The bulk of the documentary is an overview of several of the episodes with commentary from Johnson and Stapleton focusing heavily on their episodes – particularly the documentary shooting style of the Bad News films – and Frears who let Stapleton do the prep work and showed up on the days of shooting, leaving the comedy to the performers (Richardson mocks Frears' oft-repeated question after calling cut: "Is that funny?") and Frears has little concrete recollection but expresses his admiration for some of the performers like Saunders.

The documentary makes a good companion piece to the 2012 UKTV Gold documentary "30 Years of Comic Strip" (96:18) which includes the participation of the late Coltrane (interviewed in drag) and Mayall (Planer shows up so late and so briefly that one wonders if there was a falling out at the time), actors Stephen Mangan (Episodes) and Harry Enfield (The Windsors) who appeared in later episodes, as well as a handful of critics, actors (Pegg again along with The Inbetweeners' James Buckley and Suzy/Eddie Izzard), and politicians (Ken Livingstone on Coltrane's depiction of Charles Bronson playing him and Joan Ruddock on French playing Cher playing her as well as how dead-on the characterization of Saunders' "Ice Maiden" version of Margaret Thatcher for the BBC2 episode "GLC: The Carnage Continues". French and Saunders appear, addressing the sidelining of female characters in a roudabout way, noting that A Fistful of Travellers' Cheques was Richardson and Mayall pulling each other's "todgers." In addition to coverage of episodes not included in this set, it also has additional comments from an earlier interview with Frears in which he recalls of Richardson's and Mayall's make-out scene that it inspired his direction of Daniel Day-Louis in the ear-licking scene from My Beautiful Laundrette.


The disc also includes the aforementioned Temple film "The Comic Strip" (30:25) which introduces the stage show by a way of a Brechtian telling of "The 10p Opera" with Saunders in search of her sister French who is desperate to become a star. Sayle plays both the Brecht stand-in as well as doing his stage MC act with turns from Richardson, Planer, and "Dangerous Brothers" Edmonson and Mayall. In the new documentary, Richardson expressed his distaste for the film since Temple did not film the actual audience but a "conducted" audience that did not represent their usual viewers and were directed when to laugh.

The disc also features "Bad News: The Whole Sordid Story" (12:34) which appears to be extracted from the sections on the Bad News films from the "30 Years of Comic Strip" documentary, the "Bad News' Bohemian Rhapsody" 1983 music video (3:44) and a behind the scenes (5:49) piece for it.

"More Bad News Tour Stories" (3:24) is the only other new piece which features an outtake with Richardson, a "Bad News" photo gallery (1:09) and a series trailer (9:52).

Overall


While not the "complete collection" seen in earlier DVD releases, Severin Films' The Complete Comic Strip Presents... Channel 4 Films boasts one new transfer from the series' heyday and a substantial set of extras.