The Film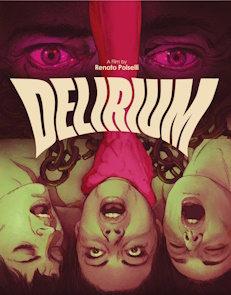 Dr. Herbert Lyutek (Bloody Pit of Horror's Mickey Hargitay) is a respected criminal psychologist with an eye for the ladies… unfortunately, he also has the hands of a killer. When a bartender fingers him as the last person to see the latest victim of a sex killer alive, even Herbert is surprised when another woman is murdered in the middle of his interrogation – the last moments of her life captured in a desperate phone call – and suspicion falls on the victim's pimp: parking valet "Croquette" (How to Kill a Judge's Tano Cimarosa). Herbert's wife Marzia (Nude for Satan's Nude for Satan) suspects that he is the killer, and Herbert is so disturbed by how willingly she submits himself to his impotent sexual sadism that he decides to arrange his own capture by telling colleague Inspector Edwards (Nick the Sting's Raul Lovecchio billed under his singer billing as "Raoul") that he has surmised the time and place where the next murder will occur. The police set up a bait victim in Lyutek's former student Miss Heindrich (Katia Cardinali) and Herbert shows up; however, the killer once again strikes at another female victim nearby, and Croquette once again finds himself in the wrong place at the wrong time. When the police release Croquette to tail him to obtain more evidence, however, he starts trailing Herbert and discovers strange goings-on at Herbert's villa involving his wife, her cousin Joaquine (The Reincarnation of Isabel's Christa Barrymore), and the maid Laurel (Cristina Perrier) who has spied on Herbert and Marzia in the bedroom and may be too willing to submit to the killer believing it to be another sex game.

Although he started his directorial career with post-Italian neorealism films, director Renato Polselli became one of the many jobbing directors of the sixties and seventies working in a number of popular genres; however, his execution of these genres was anything but typical and many of them were little seen outside of Italy. His first stab at Italian gothic horror in The Vampire and the Ballerina made it stateside via MGM and saw him working with the genre tropes at his most conventional; however, his follow-up Monster of the Opera was indicative of the direction his horror-oriented films would take, with hypnotized (or narcotized) performances, surreal twists, and a protagonist's hysteria seemingly being communicable to other individuals or even on a mass scale. Monster of the Opera was never dubbed and rarely seen outside of Europe apart from bootlegs until earlier this year, and his more permissive revisiting of this approach in The Reincarnation of Isabel (which also starred Hargitay, Calderoni, Raoul, and Barrymore) was also not exported but became better known as one of the inaugural Redemption Films laserdisc/DVD releases on both sides of the pond. Delirium was dubbed and released internationally, but even with two DVD releases in the states it has remained rather obscure due to the difficulty in classifying it.

Broadly, the film is giallo, but we know who the killer is (at least one of them), the victims more or less random – as exploitable as victims of sexualized setpieces to both Herbert and the camera – and the character forced to carry out his own investigation by threat of arrest or death is far from the straight-man protagonist as he is from the "name value" imported star of most examples of the genre (it almost seems as though Cimarosa had a hand in the screenplay like his sergeant character who constantly undermined his detective superior with logic in his directorial effort Reflections in Black but it may be as indicative of Polselli's own personal compassion for outsider characters as the focus on Hargitay's killer over the victims and the investigation). The film focuses instead on Herbert's psychological deterioration – the English version of the film adds an "explanation" in bookending segments that establish him as a Vietnam vet and anticipate not only the cinematic treatment of shell-shocked vets in films from later in the decade and into the eighties but also the "Owl Creek" denouement of Jacob's Ladder – and the way if affects in his radius (including one victim whose fatal mistake is her professional respect for him).

For a kinky exploitation thriller, the film has some sense of psychological nuance with a nightmare scene of naked women rolling around on the floor of Herbert's basement dungeon while both Herbert and Marzia are chained up and forced to watch (the chains just as likely symbolizing Herbert's impotence as Marzia's subconscious feelings of sexual frustration). When Herbert discovers the identity of the other killer and their motives, his refusal to be complicit can either be interpreted as hypocrisy and cowardice (as one character charges) or his refusal to accept another character's pathology as a tribute or an act of devotion (particularly since the scenes depicting those killings are played for sadism rather than surface imitation). In spite of that confessional aspect, there actually is a mystery here, and it surprisingly does not circle around to the reveal of the similar but grungier late Lucio Fulci film Touch of Death. Polselli would also work in this pseudo-giallo vein again in the hard-to-see The Truth According to Satan and Mania; the latter of which was thought lost until a reference video copy from the Centro Sperimentale di Cinematografia hit the bootleg circle followed more recently by a better condition transfer of mysterious origins.

Hargitay reins in his performance compared to his previous psychopathic "Crimson Executioner" so Polselli regular Calderoni manages not to be overshadowed by him even at her most passive; however, the real surprise during the climax is Barrymore. The photography of Polselli-regular Ugo Brunelli is far less experimental than in some of their other collaborations, but his compositions and stripped-down color schemes have a comic strip look very suggestive of one of the many lurid Italian fumetti of the period more so than the fotoromanzo adaptations of these kind of films that told the story through monochrome stills with narrative text and word bubble dialogue and sometimes featured additional nudity and sex scenes not shot for the film. It is criminal that the hammond-organ driven score of Gianfranco Reverberi (Django, Prepare a Coffin) has never been released apart from a 45RPM single of the theme song performed by actor Raoul who also performed English-language songs for a handful of spaghetti westerns during the sixties (especially since the film seems stop its momentum as soon as it starts to savor the main title time in its entirety as an improbably jukebox tune). The film was the penultimate Italian feature of Hargitay who moved back to Hollywood and worked in real estate – appearing in one episode of his daughter Mariska Hargitay's show Law & Order: Special Victims Unit and having Arnold Schwarzenegger portray him opposite Loni Anderson in the 1980 TV movie The Jayne Mansfield Story, while Polselli toiled in increasingly censor- and producer-compromised exploitation works including films like Revelations of a Psychiatrist in the Perverse World of Sex and Oscenità that incorporated hardcore sequences as well as a brief foray into anything-but-standard pornography with the likes of a Marina Hedman bestiality film in the eighties before his death in 2006.

Video


Released theatrically in the United States through Matt Cimber's Romatt Releasing, Delirium was difficult to see after that apart from bootlegs of a French version with added sex inserts and two German cuts of the film until Anchor Bay put out a DVD in 2002 (reissued as a direct port by Blue Underground in 2008). This release featured an attractive-for-the-time anamorphic widescreen transfer of the Italian version (~102 minutes) and the American version (~86 minutes), the latter a reconstruction using the Italian master with aforementioned Vietnam bookending scenes upscaled from a Dutch-subtitled VHS release and other exclusive footage (see below). While the later Italian DVD turned out consist of NTSC-to-PAL conversions of both cuts from the U.S. DVD release, Germany's filmArt label put out a limited two-disc set featuring the Italian cut, both German cuts (both of which incorporated some of the American footage including the Vietnam scenes in one but not the other), and a reconstruction of the French "sex version" (the standard edition featured only the Italian version).

Vinegar Syndrome's 1080p24 MPEG-4 AVC 1.85:1 widescreen Blu-ray features a 4K scan of the original camera negative for the Italian version, revealing just how dingy and ugly the earlier 16:9 standard definition master really looked by giving the saturated colors here some nice pop, cleaning up sickly skin tones formerly diluted by gels and an overall color cast, and slightly brighter grading revealing more detail in the moodily-lit exteriors and interiors with more or less identical framing to the earlier master. The Italian opening and closing credits overlays appear to be lost – apart from an abbreviated version of the opening sequence seen on the German video version – so while Anchor Bay grafted the English title sequence onto the Italian version for their DVD edition, Vinegar Syndrome has used the French title sequence with the title "Sexes en Delire" (the French video version was titled "Au-delà du désir") – but not any of the footage exclusive to that version – while the freeze-frame image montage with the theme song still unfolds without any end credits whatsoever.

The U.S. version (85:53 versus the Italian version's 101:58) is also included as an upcale with the same Dutch-sourced opening and closing sequences, and the body of the film appears to be the previous Anchor Bay reconstruction upscaled rather than a new version with the HD master. This version is far from just a novelty. While it prunes back the sexual explicitness of the Italian version, it includes two additional murders, one of a character that gets away in the Italian version after Herbert warns her away from him, and the other of a character (Carmen Young) who does not appear at all in the Italian version and whose murder not only replaces the other voices on the phone that torment Marzia and Joaquine in the Italian version but also radically (but less interestingly) changes the motivations of one of the characters during the climax. The perpetrator of the two final killings is also altered by exclusive footage and some clever recutting. These bits were shot by Polselli along with the Vietnam scenes even though they were not used in his preferred cut, and the lack of burnt-in subtitles on the latter scenes suggests that there was indeed film material for these bits even if the Vietnam bookends only seem to exist on Dutch and German VHS now.

Audio


The Italian DTS-HD Master Audio 2.0 mono audio track renders Reverberi's beautiful Hammond organ and guitar theme and other cues coming through with some nice umph and the post-dubbed dialogue clearly (Hargitay's cry of "hyena" is particularly piercing). Optional English subtitles are included.

The U.S. version features an English Dolby Digital 2.0 mono track and burnt-in Dutch subtitles for the aforementioned Vietnam scenes. The track was digitally cleaned up for the Anchor Bay release and appears to be the same here, with the score threatening to distort at the high ends and Hargitay's dubbed performance affected more by the soft-spoken delivery more so than the overall volume levels of the track and the original mix.

Extras


The Italian verison is accompanied by an audio commentary by film historians Troy Howarth and Eugenio Ercolani who discuss the film in the context of Polselli's earlier dramatic films, his Gothic horrors, gialli, and later sex films and make the case that Polselli's treatment of the giallo is not "stilted" but "hyper-stylized" in keeping with a certain overall approach to his filmography, even arguing that it may be an auteurist approach. They also provide some background on Hargitay and Poselli's regulars including Calderoni, Cimarosa, and Raoul (as well as The Hanging Woman's Isarco Ravaioli who does not appear in this film).

"Gothic Polselli" (12:44) is an interview with screenwriter Ernesto Gastaldi – who also contributed an interview on Poselli for the Monster of the Opera in the Severin boxed set Danza Macabra - Volume 1: The Italian Gothic Collection – recalling meeting Polselli through the other man's girlfriend who was a classmate at the Centro Sperimentale di Cinematografia, working with him on The Vampire and the Ballerina and the aforementioned follow-up, the anecdote about Polselli saying he would not cast Gastaldi's later wife Mara Maryl unless he slept with her – and later telling Gastaldi he should be thankful since Maryl instead made her debut in Gastaldi's directorial effort Libido – and parting ways with him after starting a longtime collaboration with producer Luciano Martino and his director brother Sergio Martino (The Strange Vice of Signora Wardh) with whom he had previously worked on projects for Ugo Guerra (Il Demonio).


"The Polselli Clan" (36:52) is an interview with director Renato Polselli's daughter Vanessa Polselli who recalls when her mother and father separated, her father hanging out with the local winos and telling her and her siblings their stories to instill a compassion for outsiders, and how he saw life like a film – even composing his children in holiday photographs – yet discouraged them from getting into the movies because of how much he had to struggle. She discusses his films – apart from the sex films as well as noting that some of the scenes of sexual sadism in his other films are hard for her to watch – noting that her favorite films include the vampire gothics, Mania, and the earlier drama Solo Dio mi fermerà.

"The Polselli Factor" (14:39) is an interview with filmmaker and film historian Luca Rea who knew Polselli towards the end of his life, discusses his lesser-known career writing gialli pulp novels early on, working as a screenwriter for producer Oscar Brazzi (Psychout for Murder) and his actor/director brother Rosanno Brazzi (South Pacific) before splitting from them and using the profits to fund The Truth According to Satan, as well as working behind the scenes in production planning for studio Titanus. He also discusses Polselli's style and notes some films that are Polselli-like including Nude for Satan which also starred Calderoni, and Crazy Desires of a Murderer.

"Fear and Delirium in Cinecittà" (31:14) is a new edit of an archival never-before-seen archival interview with actor Hargitay who recalls never intending to be an actor even when he appeared with Mansfield in The Loves of Hercules but being signed by American International to do more peplum films in Rome upon returning to Hollywood, having to loose weight and muscle to be believable in spaghetti westerns, working with multilingual casts and being dubbed, working on Bloody Pit of Horror, and his memories of Poselli.

Ported from the Anchor Bay DVD is "The Theorem of Delirium" (14:23) with Polselli and Hargitay in which Polselli recalls the confusion in meeting Hargitay who thought he was American because the actor's agent used his pseudonym Ralph Brown, casting Calderoni and shooting sex scenes, as well as the American version of the film with Hargitay taking credit for the idea of turning his character into a Vietnam vet and the other additional scenes.

Packaging


The disc comes in a keep case with a reversible cover while the first 6,000 copies ordered directly from Vinegar Syndrome include a special limited edition embossed and spot gloss slipcover designed by Robert Sammelin (a standard edition without slipcover can also be purchased for a lower price).

Overall


A giallo is anything but a typical giallo when it is directed by Renato Polselli as evidenced by Delirium.