Night Has a Thousand Eyes (Blu-ray) [Blu-ray]
Blu-ray B - United Kingdom - Powerhouse Films
Review written by and copyright: Rick Curzon (20th August 2023).
The Film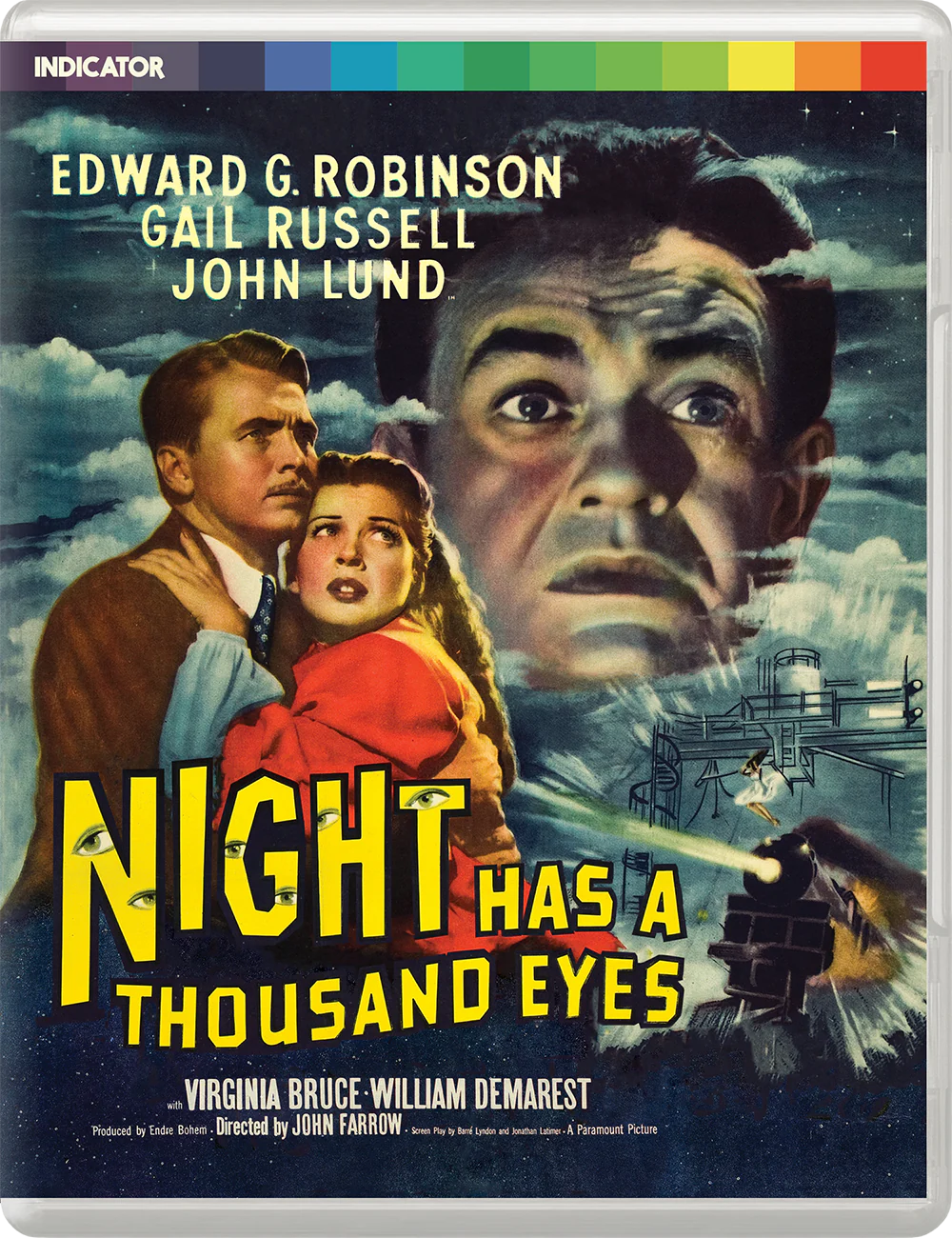 Edward G. Robinson (The Whole Town's Talking, Tight Spot) and John Lund (A Foreign Affair) lead the cast of this tense and disturbing thriller from director John Farrow (A Bullet is Waiting).

When clairvoyant John (Robinson) tells wealthy heiress Jean (Gail Russell, The Uninvited) that she will die within a week, her lover, Elliot (John Lund), is sceptical, believing John to be a con artist who is only after money. But, as the foretold night arrives, Jean waits in fear for her life ...

Based on a novel by Cornell Woolrich (Rear Window), Night Has a Thousand Eyes is a pioneering fusion of film noir and psychological horror.

Video


This is one of those gloriously atmospheric studio pictures that classic Hollywood did so well in the golden age. A creepy horror film about a clairvoyant and his visions. Top notch script, direction, performances and production. It's a small scale film very much focussed on it's characters are carefully built up mise-en-scene.

According to the booklet:
Night Has a Thousand Eyes was sourced from Universal's* HD restoration, created from a 2K scan of a 35mm finegrain print in 2021. The film's original mono soundtrack was remastered at the same time.


There's an inherent softness to the image which is typical of a print source a general or so off the OCN but it's still a great looking film with lots of well defined shadows and deep inky blacks with decent shadow detail. There's some mild crush occasionally but nothing to get umpty about. Contrast is low key and supportive and this allows detail to shine nicely on all focal planes, but closeups are especially nicely defined.

I saw no signs of digital tinkering; this is a very grainy filmic presentation that has been superbly encoded with a maxed out bitrate. Gamma is perfectly balanced with colour bias creeping in ('B+').

1080p24 / AVC MPEG-4 / BD25 / 1.37:1 / 81:03

* It was originally a Paramount film and that logo appears on the print.

Audio


English LPCM 1.0 (48kHz / 24-bit)
Subtitles: English HoH

A pretty standard 1940s era mono track with generally decent fidelity, some base, no distortions and some mild ever
Resent hiss. The latter is par for the course I find with the vast majority of films from this era. It's effects are modest but dialogue is always clear. Hard of hearing subtitles are excellent ('B+').

Extras


Audio Commentary Glenn Kenny and Farran Smith Nehme (2023)

Nehme's online Criterion bio states that she "... has written about film and film history for the New York Post, Barron's, the Wall Street Journal, Film Comment, the Village Voice, and Sight & Sound as well as for her blog, Self-Styled Siren." And, as we have seen with other yaktraks that she's done, she does a great job working in concert with Kenny. Wikipedia describes Kenny as "... an American film critic and journalist. He writes for The New York Times and RogerEbert.com." I've become familiar with both in recent years and their contributions to a disc release is always welcome and informative. They cover all bases one would expect and seem to get along which leads to an easy fact-filled track. Presented in lossy Dolby Digital 2.0 mono (48kHz, 192kbps).

"Between Heaven and Earth: Tony Rayns on Night Has a Thousand Eyes" 2023 interview (23:38)

Rayns does his usual excellent summation of the film and the careers director John Farrow who feels is under appreciated and Cornel Woolrich who write the book on which this film was based. Presented in lossy Dolby Digital 2.0 mono (48kHz, 192kbps).

"NBC Theatre - Screen Director's Guild Assignment: Night Has a Thousand Eyes" 27 February 1949 radio episode (30:01)
"Suspense: The Man Who Thought He Was Edward G. Robinson" 17 October 1946 radio episode (28:12)

Two vintage radio adaptations of the film presented in lossy Dolby Digital 2.0 mono (48kHz, 192kbps). Both sound vintage in that they're sonically limited with a small amount of hiss, but there's no real age related artefacts beyond that.

Theatrical Trailer (2:19)

Vintage promo piece in 1080p24 1.37:1 with uncompressed LPCM 1.0 sound.

Night Has a Thousand Eyes Image Gallery: Original Promotional Material (32 images)

The usual HD still gallery.

A 42-page liner notes booklet with a new essay by Jill Blake, archival interviews with actors John Lund and Gail Russell, an archival profile of screenwriter Jonathan Latimer, an overview of contemporary critical responses and full film credits

Powerhouse Films' booklets have always been excellent and this one is no different. The perfect hard copy companion to the film and extras that give the viewer a nice pocket crash course on the production and it's history.

Packaging


The usual clear, BD Keepcase.

Overall


A classic Hollywood horror film from the Golden Age gets a nice special edition from Powerhouse Films. Image and sound are string given the source elements and based on Universal's fine 2021 HD master. Extras are top notch if not has all encompassing as some of the more stacked editions from Powerhouse but they compliment the film beautifully and bring plenty of contextual added value ('B+').
| | | | | |
| --- | --- | --- | --- | --- |
| The Film: A- | Video: B+ | Audio: B+ | Extras: B+ | Overall: B+ |

---
Rewind DVDCompare is a participant in the Amazon Services LLC Associates Program and the Amazon Europe S.a.r.l. Associates Programme, an affiliate advertising program designed to provide a means for sites to earn advertising fees by advertising and linking to amazon.co.uk, amazon.com, amazon.ca, amazon.fr, amazon.de, amazon.it and amazon.es . As an Amazon Associate, we earn from qualifying purchases.