The Film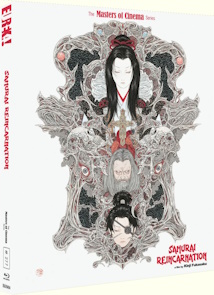 Award of the Japanese Academy (Best Art Direction): Norimichi Igawa and Yoshikazu Sano (winner), Best Sound: Shigeji Nakayama (nominated), and Newcomer of the Year: Hiroyuki Sanada (winner) - Awards of the Japanese Academy, 1982

In the grisly aftermath of the Shimabara Rebellion, where the Tokugawa Shogunate slaughtered over twenty-thousand Christian rebels – and cut the heads in half to claim a body count of over forty-thousand – the troops that have remained behind to put the heads of their enemies on pikes hold a celebration in the presence of the head of the rebellion leader, young Shiro Amakusa (Hiruko the Goblin's Kenji Sawada) who cursed them before his execution. Amid the festivities, the winds rise and a lighting bolt strikes the party, killing everyone except a soldier dressed up for a mocking stage act of Shiro who then reveals himself to have become possessed by the ghost. Shiro announces to the heavens that he will pray for the delivery of his slaughtered brethren while turning his back on the God who betrayed them in order to remain on Earth to seek revenge against the Tokugawa Shogunate. Shiro calls upon the demons of Hell to help him in his goal.

Shiro calls forth the restless spirit of Lady Gracia Hosukawa (The Inugami Family's Akiko Kana), a Christian convert who remained chaste as her husband took multiple concubines, and came to believe that her husband arranged for her to be killed when he was away at war and the enemy were at the palace gates, knowing that for her suicide was a sin not an honor and was beheaded by her guard. Despite the ghost's claims that there is nothing that ties her to the world of the living, Shiro exposes her rage and regret to have never been truly loved by another man and gives her the opportunity to realize it by becoming a demon.

The pair then work on the conscience of skilled swordsman Musashi Miyamoto (Mishima: A Life in Four Chapters's Ken Ogata) who has defeated all of his opponents but death and regrets that he will never know if Tajima Yagyu (Shogun Assassin's Tomisaburô Wakayama) and his son Jubei (The Street Fighter's Sonny Chiba) escaped dueling with him through their titles or because they thought him an unworthy opponent. A far easier conquest is Inshun Hozoin (Kagemusha's Hideo Murota) who has rigorously studied Buddhism in an attempt to resist his sexual impulses which have mutated into sadism and fantasies of slaughtering women, giving him the opportunity to realize his desires in the flesh.

Visiting his Iga ninja rebel friends in their mountain hiding place, Jubei arrives too late to discover that they have all been slaughtered by the forces of his lord Ietsuna (Death of a Ninja's Noboru Matsuhashi); however, he recognizes among Shiro's retinue not only Mushashi and the dead Inshun but also his good friend Kiriamaru (Ninja in the Dragon's Den's Hiroyuki Sanada). Jubei rides back to Edo to tell his father of his experiences; however, Tajima has already realized that Ietsuna's newest concubine Otama – who has blinded Ietsuna to the unrest outside the palace as the villagers cannot pay their taxes and tributes due to Shiro's curse which has destroyed all of their crops and livestock – is not who she claims to be and has planned to behead her with a demon-killing sword created by exiled sword-smith Muramasa (You Only Live Twice's Tetsurô Tanba).

Before Tajima can act, however, Mushashi appears to him for a duel and then preys on Tajima's own regrets of never having the opportunity to fight his own son Jubei to determine who was best – after the shame of having accidentally blinded him in one eye as a child during training – and Kirimaru lays waste to the generals who ordered the Iga massacre. Realizing what has happened to his father and aware that the tensions between the villagers and the Shogunate are about to spill over, Jubei tracks down Muramasa and his adopted daughter Otsu (Hunter in the Dark's Ai Kanzaki) to forge a new sword to do battle with the demonic underworld as Edo erupts into an inferno of bloodshed.


If the concurrently produced American-funded, Japanese-lensed Toei co-production The House Where Evil Dwells might be likened to a Japanese horror film directed by Antonio Margheriti (Castle of Blood), then Toei's Samurai Reincarnation feels like a fusion of the Toho Gothic horrors of the sixties and seventies as if helmed by Mario Bava (Black Sunday). A change of pace for Toei's yakuza film director Kinji Fukasaku (Yakuza Graveyard) - who also directed the international and widely-distributed Chiba vehicle Virus for Kadokawa just before this – the film has a very old-fashioned look and feel, not just due to the setting, with scenes like Jubei's first encounter with his demonically-transformed father seeming like something out of a classic ghost story, and the film's swordplay is proficient but takes a backseat to the horror theatrics for the most part.

Rather than the Ringu and Ju-on-type curses of recent Japanese horror film folklore where the undying rage resulting from a wrongful death creates a reproducing cycle of death that is not assuaged by revenge upon the murder and simply continues endlessly… or virally, the weaknesses of the demons of Samurai Reincarnation are their dying regrets and curses. Driven mad in life, Gracia Hosukawa goes mad again beyond her initial seduction of Ietsuna who she comes to confuse with her husband, Mushashi gets to fight Tajima and is weaker while facing off against Jubei during the climax, and Kirimaru feels drawn to destruction by Jubei after avenging himself and his fellow ninjas even as he tries to find redemption with Mitsu (Yűko Kikuchi); as such, it makes sense that Shiro proves a much more formidable opponent to Jubei, and that his own rage can seemingly never be truly satiated. "I shall return as long as human beings exist on earth," he tells Jubei even as he is consumed by the flames of the burning Edo, not so much setting up a sequel as suggesting that his demon thrives on those who would forsake whatever deities they worship to avenge a wrong against them. An accomplished fusion of swordplay and ghosts reminiscent of classic Japanese horror, it is regrettable that Samurai Reincarnation got lost in the glut of Asian martial arts films that flooded the video market in the West.

Video


Despite its Toei pedigree and the awards it won in Japan, Samurai Reincarnation was consigned to video stateside at a time when there were fewer and fewer Asian action films even in the grindhouse with its latest VHS release coming in the nineties from Xenon when video audiences wer rediscovering Sonny Chiba with the likes of New Line Cinema's VHS and laserdiscs of The Streetfighter and its sequels; and it continued on in that fashion during the DVD era in various box sets until an official release from Media Blasters the year after Chiba appeared in Kill Bill Vol. 1.


The film made its Blu-ray bow last year stateside as part of Shout! Factory's The Sonny Chiba Collection which is presumably struck from the same new 2K master utilized for Eureka's 1080p24 MPEG-4 AVC 1.85:1 widescreen Blu-ray. The transfer looks at its best in brighter scenes and in moodily-lit studio interiors while some of the real exteriors and sound stage forests and graveyards evince blacks that fluctuate between inky and slightly-diluted (although nothing on the level of the milky grays of some of the earlier Japanese digital transfers), and what flaws there are seem to have more to do with the materials – possibly the same that were used to create the earlier DVD-era standard definition master – rather than any overzealous re-grading or sharpening.

Audio


Audio options include the original post-synch Japanese LPCM 2.0 mono track and an English LPCM 2.0 mono dub. More so than in some cases, the English dub here is best-avoided as it feels not so much jokey as hackneyed with the exaggerated "ghostly" voices of the demon characters giving things a cartoonish feel that goes against the dramatics. Optional English subtitles are available for the Japanese track while a second track is enabled with the English dub for onscreen text as well as an extended bit during Jubei's visit with Muramasa that reverts to Japanese.

Extras


The film is accompanied by a new audio commentary by writer Tom Mes who discusses the career of director Fujasaku and Chiba during a transitional period away from Yakuza films, the real life historical figures depicted in the film including Shiro Amakusa who was supposedly fifteen-years-old when he lead the Christian rebellion and whose description as a "beautiful boy" lead to the casting of singer-turned-actor Sawada who was in his thirties at the time but had a reputation as a fashion icon akin to David Bowie including an androgynous look, his "rogues' gallery" of ghosts turned demons who were also historical figures with traditions of cinematic and anime adaptations, and the Yagyu clan and Jubei who Chiba had previously essayed in Fukasaku's The Yagyu Clan Conspiracy as well as two television series.

"Samurai Fictions" (27:51) is an interview with the director's son, filmmaker Kenta Fukasaku (Battle Royale), who recalls his father's work at Toei and its two branches – Tokyo where the yakuza films were made, and Kyoto where the period pieces were made – and his desire to adapt the Fűtarô Yamada source novel with Kadokawa initially involved after Virus before the project wound up back with Toei. He also provides some background on manga artist Sanpei Shirato whose works were also integrated into the adaptation and the look of the characters.


The disc close with the film's Japanese theatrical trailer (2:59).

Packaging


The disc is housed with a 19-page collector's booklet featuring the essay "Samurai Showdown" – the film having been a major inspiration for the Japanese game "Samurai Shodown" – by Jonathan Clements who notes that the film's premiere was at 6pm on June 6, 1981 to recall the publicity of the Omen trilogy and how the film entered popular culture through the popularity of Sawada, as well as the way the film reimagines Japanese history and the lives of several real personages, as well as the literary traditions that inspired it.


The first pressing of 2,000 copies comes in a slipcase featuring artwork by Takato Yamamato.

Overall


An accomplished fusion of swordplay and ghosts reminiscent of classic Japanese horror, it is regrettable that Samurai Reincarnation got lost in the glut of Asian martial arts films that flooded the video market in the West.