The Film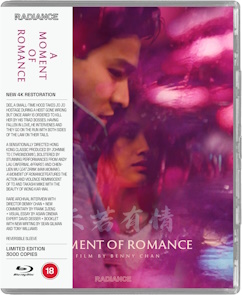 Hong Kong Film Award (Best Supporting Actor): Man-Tat Ng (winner), Best Newcomer: Jacklyn Wu (nominee), Best Original Film Score: Ta-Yu Lo and Fabio Carli (nominee), and Best Original Film Song: Ta-Yu Lo (nominee) - Hong Kong Film Awards, 1991

Wah-Dee (Infernal Affairs' Andy Lau) is a low-level Triad member who lives for the night and illegal street racing. When ruthless gang member Trumpet (Fallen Angels' Wong Kwong-Leung) wants him for the getaway driver on a jewelry heist as a tribute to their Godfather, Wah-Dee accepts on the advice of mentor Brother Seven (Miracles' Chu Tit-Wo) despite the older man's own suspicions about Trumpet. When the police show up in the middle of the robbery, Wah Dee creates a diversion only to crash his stolen car. He takes a hostage in sixteen-year-old Jo-Jo (The Phantom Lover's Jacklyn Wu) and claims he will "take care of her" when Trumpet and the others want to kill her after she sees their faces.

When Trumpet gets arrested, Wah-Dee narrowly escapes a beating as a suspected snitch by getting arrested himself. Jo-Jo shocks them by lying about not recognizing any of the gang in a line-up; convincing everyone but Inspector Kong (Last Hurrah for Chivalry's Lau Kong). Jo-Jo tells Wah-Dee that she did not go to the police but they found her dropped purse. Indebted to her, Wah-Dee must defend her again when Trumpet wants to silence her for good; however, Brother Seven intervenes and takes responsibility for Wah-Dee who assures them that Jo-Jo will not say anything. Wah-Dee tries to discourage Jo-Jo from hanging around him, even putting her in danger in one of the street races; however, sparks fly (quite literally) and he must admit the attraction is mutual. Unfortunately, their star-crossed relationship is threatened on all sides with Inspector Kong still trying to pin the robbery on Trumpet and Wah-Dee, Jo-Jo's disapproving mother (Blood Reincarnation's Shirley Wong) who wants to send her daughter to college in Canada, and Trumpet who wants to get rid of any troublemakers as he plans to ascend to the top with the imminent death of the Godfather.

The feature directorial debut of Benny Chan (New Police Story), A Moment of Romance was a box office success and a landmark film in Hong Kong film making, appealing widely as it does to fans of heroic bloodshed, Triad films, melodramas, and youth movies. With Chan, producers Johnnie To (Election), Ringo Lam (City on Fire), and Wong Jing (Royal Tramp) arranging for the film's box office proceeds as the pension for their retiring mentor (and Jing's father) Wong Tim-Lam (Slash: Blade of Death), the film is very much designed in that manner.

Wah-Dee is the young rebel who seems to be more interested in racing than moving up in the organization, Jo-Jo is the "poor little rich girl" who can change the bad body – especially once she learns that his mother was a prostitute who committed suicide and is now cared for by three former prostitutes-turned-surrogate mothers – Brother Seven is the stalwart mentor who has passed on his (outdated) chivalrous code to Wah-Dee and Tai Bo (Fight Back to School's Ng Man-Tat) is the loving but incompetent "uncle" who spends his days topping up the parking meters of Triad members, Trumpet is the two-dimensional villain who demonstrates his evilness by shooting out the kneecaps of the guy they need to open up the jewelry store safe, Kong demonstrates a modicum of sympathy for the young lovers while wanting to crack his case, and Jo-Jo's mother is a harridan who overshadows her husband (Prison on Fire's Jian Rui-Chao) and has Kong's superior (Bullet in the Head's Lam Chung) eating out of her hand when she wants to press trafficking charges against Wah-Dee and then drops them once the young lovers are apprehended in order to rush her daughter out of the country.


The film delivers in the action and stunts, the cinematography is often stunning – with night scenes that anticipate To's "Triad noir" look and a picturesque side trip to Macao where Wah-Dee hides out with his estranged grandfather (veteran director Ng Wui) who regards the fated couple fondly – and the score features a love song and a power ballad that spawned a highly-successful EP single. What keeps the film from feeling like a manipulative exercise of the heart strings is the chemistry between the performers. Lau and Wu have instant star power and Ng is warm and funny that the viewer must root for the tragic finale simply because it feels like they were born for it and will be reincarnated in similar form in antother film (Wu would appear as a different character in Chan's A Moment of Romance II opposite The Monkey King's Aaron Kwok while both Lau and Wu would reunite in the To's period piece A Moment of Romance III).

Video


A box office success in Hong Kong, A Moment of Romance was popular enough to go beyond a standard rental market laserdisc to a Mei Ah "Gold" series reissue disc. When the DVD era came around, it hit DVD via Megastar and English-friendly that disc was directly ported stateside by Tai Seng. In spite of the film's popularity in Hong Kong, the film made its Blu-ray debut as a limited boxed set in South Korea. While we have not seen that transfer, Radiance Film's US/UK/Canadian territory release features a 1080p24 MPEG-4 AVC 1.85:1 widescreen transfer from a new 4K restoration, and the presentation is utterly free of damage. There are some moments of roughness in focus and black levels due to the guerilla shooting of some of the street scenes, but that is part of the texture of these Hong Kong productions that often worked around the daily bustle rather than getting permits.

Audio


The sole audio option is the original post-sync Cantonese mono track in LPCM – sync-sound recording and surround mixing in Hong Kong production were just a couple more years away with the releases of Supercop and Once Upon a Time in China II – with clear dialogue, a supportive if not dimensional sound design, and showcasing the film's "music video" song moments. Optional English subtitles are provided ("Tai Bo" was originally called "Rambo" in the old subtitles).

Extras


The film is accompanied by a new audio commentary by Asian cinema expert Frank Djeng in which he discusses the circumstances of the film's production and the decision of Wong Tim-Lam to retire in 1990, Chan making his feature debut, the support of To and Lam, the casting of TVB actors, and the overnight fame of Wu. He also reveals that the film was initially conceived to be set in the thirties but the budget was not sufficient – one wonders if the third film directed by To is closer to the original conception since it is a period piece – as well as discussing Lau's career and noting that he is almost playing the same character he essayed in Wong-Kar Wai's As Tears Go By.

The disc also includes an interview with director Benny Chan (21:21) from 2016 (Chan passed away in 2020) in which he recalls only having experience directing television and reveals that To was present on the set as an organizer and directed some scenes to keep the shoot under schedule; as such, Chan does not regard the film as totally his but as the collaboration as designed.


"In Love and Danger: HK Cinema Through A Moment of Romance" (25:59) is a visual essay by critic and Asian cinema expert David Desser who discusses the film's genre-blending and its various cinematic antecedents within various genres – including the previous To effort All About Ah-Long with Chow Yun-Fat – and the films it in turn influenced.

The disc closes with the Hong Kong theatrical trailer (4:10).

Packaging


The disc comes with a reversible sleeve featuring original and newly commissioned artwork by Time Tomorrow, and the first pressing of 3,000 copies includes a limited edition booklet featuring new writing on the iconic cast and crew by critic Sean Gilman; and a profile of Benny Chan by Tony Williams, co-editor of Hong Kong Neo Noir, and is presented in full-height Scanavo packaging with removable OBI strip leaving packaging free of certificates and markings.

Overall


Designed to be a widely-appealing crowd-pleaser, A Moment of Romance became an influential Hong Kong blend of action and melodrama.