The Film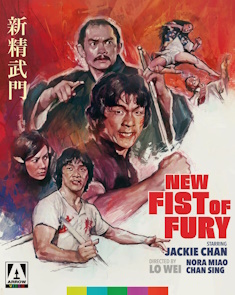 After her lover Chen Zhen is murdered at the conclusion of Fist of Fury, Li-Er (Dragon Fist's Nora Miao) wants revenge against the Japanese. Since it is too dangerous for her to stay in Japanese-occupied Shanghai, she resolves to travel with her "brothers" (The Magnificent Butcher's Chiang Kam and The Killer Meteors' Ching Kuo-Chung) – actually followers of Chen's school – to Taiwan where her grandfather Master Xu (Fist of Vengeance's Han Su), hoping to mobilize his Kung Fu school against the Japanese that occupy the island. No sooner does she arrive than her grandfather orders her to leave since Japanese martial arts master Okimura (Aces Go Places' Chan Sing) wants to unite all of the island's schools under his own and has resorted to violent and murderous means to do so with the help of his fierce daughter Chiyoko (Cheng Siu-Siu). Xu's school is also under scrutiny by corrupt local police chief (Sun Lam) for suspicion of harboring anti-Japanese rebels.

After discovering that thief Ah Lung (Drunken Master's Jackie Chan) has a natural affinity for martial arts – including the usage of Chen's nunchuks which he and his uncle (Chin Lung) have stolen – Li-Er tries to convince him to train, especially after he is beaten up and left for dead after refusing to work for Su's rival Yang for cow-towing to Okimura. Feeling disrespected by Xu, Okimura and his daughter crash the man's eightieth birthday celebration and goad him into a heart attack. Ah-Lung still refuses to train with Li-Er when she reopens her grandfather's school until Okimura makes a public scene of crushing the opposition. In the face of his defiance, however, Okimura decides to wipe out the leaders of all the Chinese schools and deploy the Japanese and Taiwanese armies to massacre any opposition.

Produced three years after Bruce Lee's death amidst the Chinese film industry's race to promote a successor – with many stuntmen rechristened with sound-alike names and either playing Lee's characters in unofficial sequels or characters out to avenge his supposed murder – New Fist of Fury was the effort of Fist of Fury producer/director Lo Wei to promote Chan who had been toiling in largely uncredited roles throughout the first half of the seventies before briefly emigrating to Australia where his parents had been living and taking a job as a construction worker. Lo Wei's Jackie Chan vehicles were pretty much all box office flops but usually have redeeming elements; this is not the case with this film.

Overlong in its original two-hour 1976 Mandarin cut, the film is a retread of the basic framework of the Lee film with plenty of gratuitous plot elements brought up and dropped, including Ah-Lung believing he is an orphan and his uncle concealing the secret that his mother is a wine girl at the brothel patronized by Okimura and his cadre and the anti-Japanese rebels who hide around the school but do little else. Chan's character takes a back seat to the dramatics of Li-Er – who both fiercely proclaims her desire for vengeance but also whines "but I'm still a girl and I need your help" – her grandfather, Okimura, and his various school master rivals, doing his training montage late in the film – most of the earlier heroic action is handled by Miao and Han Ying-Chieh (A Touch of Zen) as Xu's disciple and the film's action director – only getting to showcase his skills in the climax which actually is thrilling but not enough to be worth the wait.

The film's anti-Japanese sentiment is particularly unsubtle, with Okimura's tantrum in the town square extending to "I kill you like dogs" in the English dub. As has been argued on various interviews and commentaries about Chan, Wei did not seem to recognize the incompatibility of the stoic Lee archetype with Chan's more comic bent, here most of all with the actor reigned in considerably to the point of being bland and Wei's camera and editing coverage of the fight scenes looking particularly stiff and unconvincing. After the film flopped on original release and export, Wei trimmed the film of roughly forty minutes and redubbed it in Cantonese for re-release in 1980. Cut to the bare bones to bring Chan to the fore, the film's lazy construction became more apparent and seemed even more indistinguishable from other examples of "Brucesploitation."

Video


New Fist of Fury's muddled release history extended to home video, with a center-cropped Simitar VHS and DVD of the longer Mandarin version followed by an anamorphic Columbia Tri-Star DVD which clipped all instances of Chinese text and rephotographed the credits while the version in Shout! Factory's Jackie Chan: Beginnings - The Killer Meteors/New Fist Of Fury was the 1980 cut with only the English dub. While we could usually depend on the U.K. for improved releases of Asian martial arts films on DVD during this period, New Fist of Fury proved problematic aside from the earlier BBFC-related issues and James Ferman's phobia about nunchuks. Eastern Heroes' 2002 DVD featured the 1976 version with additional cuts of roughly ten minutes, was cropped to 1.78:1, and only featured the English dub track while Cine Asia's Hong Kong Legends special edition release only featured the 1980 Cantonese cut with a Mandarin track created for the reissue version.

Germany's 2014 Splendid Film Blu-ray featured both 1976 and 1980 cuts of the film but upscaled from Fortune Star's older SD masters while English-dub-only Scandinavian release from last year featured a 2K scan of the 1976 version. Things improved with 88 Films' 2020 British Blu-ray which featured 2K restorations of both versions from the original camera negative, both with their respective English dubs and Mandarin or Cantonese dubs. The same Fortune Star-supplied masters have been used for Arrow Video's US-only 1080p24 MPEG-4 AVC 2.35:1 widescreen Blu-ray. Both versions (120:05 and 82:40, respectively) are certainly the best the film has looked ever, the rough edges of the productions are more apparent, from the distortion of the older anamorphic lenses during pans to uneven black levels in the night exteriors.

Audio


88 Film's edition featured Mandarin and English DTS-HD Master Audio 2.0 mono tracks for the 1976 version while the 1980 version included Cantonese and English DTS-HD Master Audio 2.0 mono tracks. Arrow include these tracks in DTS-HD Master Audio 1.0 but they have also added a Cantonese dub to the Mandarin version as well as an alternate Mandarin mono mix. The 1980 version tracks are identical to the 88 Films version, albeit as 1.0 encodes. All tracks have their share of recording and age-related issues; however, most noticeable on the Cantonese track is that the Japanese dialogue was not redubbed but taken from the Mandarin version originally and sounds inferior to the Cantonese dialogue around it. Both versions have optional English subtitles.

Extras


Arrow has not carried over the 88 Films commentary tracks but has recorded their own, one for each cut of the film. On the Mandarin cut, there is an audio commentary by martial arts cinema experts Frank Djeng & Michael Worth, co-producers of "Enter the Clones of Bruce Lee" in which they discuss the difference between the two cuts – as well as Lo Wei's general attempts to revive the pre-Drunken Master Mandarin Chans with new Cantonese dubs and sometimes cuts or new footage – as well as the rival Fist of Fury sequel Fist of Fury Part II. They also discuss the film's story shortcomings like not giving Chan much to do until thirty-odd minutes into the film, treating Chen Zhen's nun chucks like a holy relic but then having Chan adopt a different weapon, and the absurdity of having Li-Er flee the Japanese occupation which is confined to the city center to a country that is completely occupied.

The Cantonese cut is accompanied by an audio commentary by action cinema expert Brandon Bentley which focuses less on production anecdotes or story analysis and more on the effect of the recutting, redubbing, and rescoring – much of the original stock music is replaced here with a synth score – comparing the film at its worst to the Miramax and New Line Cinema reworkings of Chan films in the nineties and at its best in how some cuts improve the pacing and in some cases make more effective introductions to some characters.

Also new to this release is "New Fist, Part Two Fist" (7:35), a video essay by Bentley which focuses on the ways the two rival sequels compare and diverge, including the way both treat Nora Miao character, the setting – Fist of Fury II stays in Shanghai but is also shot in Taiwan – how both depict Lee's successor characters, and the different endings.


The disc also includes an image gallery as well as a trailer gallery featuring the film's Hong Kong theatrical trailer (3:38) and the English export trailer (3:15), as well as a Chen Zhen trailer reel (17:54) spanning from the Lee film through the rival Fist of Fury II and its Fist of Fury III to Fist of Legend, Legend of the Fist: The Return of Chen Zhen, and the 2019 Fist of Legend.

Packaging


The disc comes with a reversible sleeve featuring original and newly commissioned artwork by Tony Stella while the limited first pressing includes a double-sided foldout poster featuring original and newly commissioned artwork by Tony Stella and an illustrated collector's booklet featuring new writing by Jonathan Clements and an archival retrospective article by Brian Bankston.

Overall


Lo Wei's Jackie Chan vehicles were pretty much all box office flops but usually had redeeming elements; this is not the case with New Fist of Fury but it is nevertheless an important work in Chan's filmography.