The Film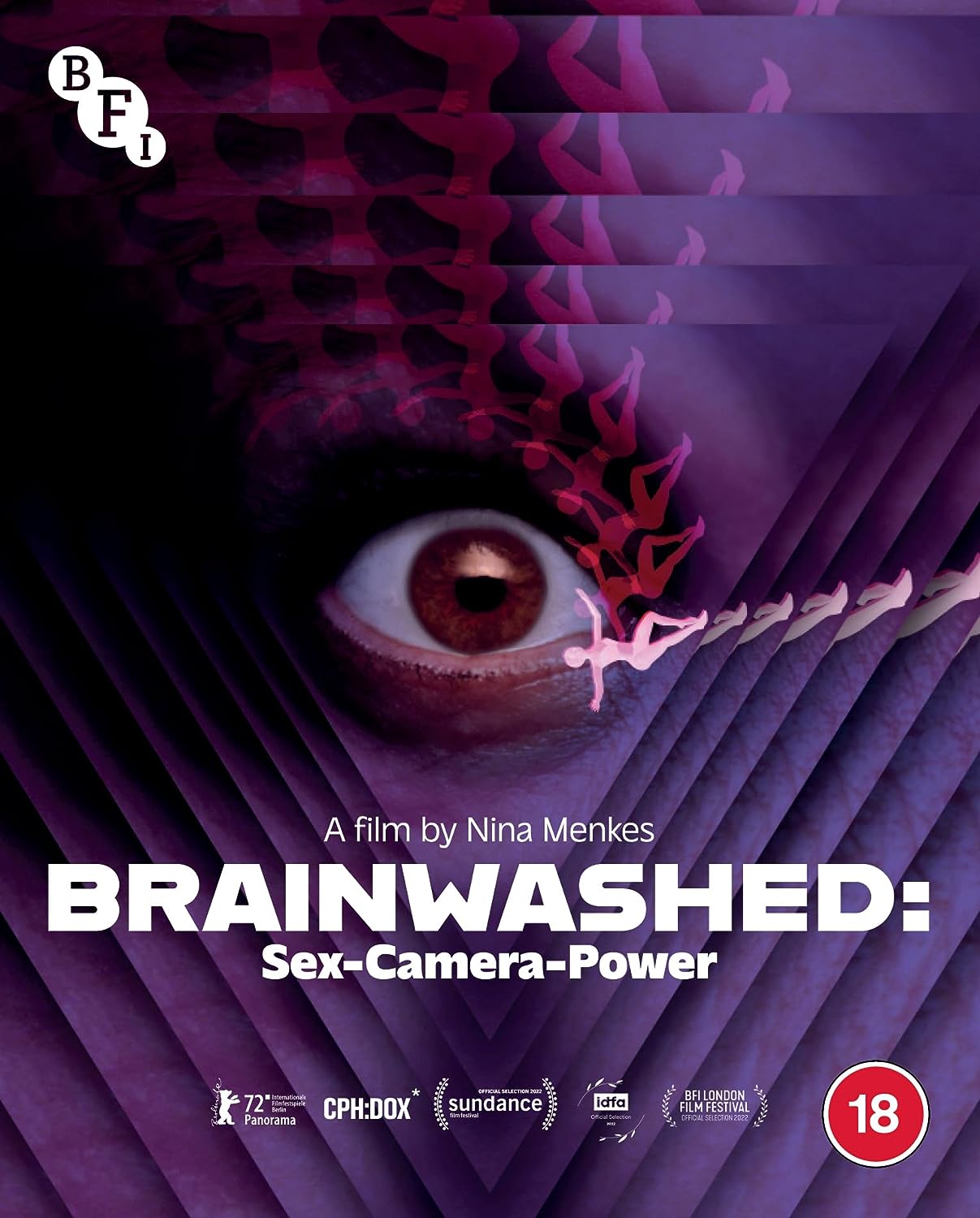 "Brainwashed: Sex-Camera-Power" (2022)

Experimental filmmaker and teacher Nina Menkes wrote the article "The Visual Language of Oppression: Harvey Wasn't Working in a Vacuum" in 2017 following the Harvey Weinstein scandal's waves in the media and the start of the #MeToo movement. Her essay was not only critical of the disgraced producer, but for the many factors within the Hollywood system that led to behaviors like his become acceptable behind closed doors. Cinema is over a century old and it continues to be a dominant artform to reach the masses in the twenty-first century. Throughout its history, it has been a medium that for a large part has been created and developed by men, from heads of studios, producers, directors, cinematographers, and many other top positions. Females had little opportunity for powerful positions over the years and throughout the course of history in the entire world of filmmaking, there has only been a small percent of women in the creative force. Menkes believes that the language of filmmaking, from the framing, lighting, editing, and subject matter for the most part were shaped by men, and have been given a subliminal male gaze. In 2018 Menkes expanded on the essay to give fully illustrated presentations on the subject, entitled "Sex and Power, the Visual Language of Oppression" at various locations, which included visual examples from film clips and illustrated guides, plus discussions. In 2022, Menkes went one step further by with "Brainwashed: Sex-Camera-Power", an expansion of the presentation with additional film clips, footage from her presentations, and interviews with various participants.

For film buffs, it's no surprise that most of the top positions in the filmmaking world have been and still are held by men. In Oscar history, only seven women have ever been nominated for Best Director. That is not to say there are not enough women who are wanting to become directors, but the filmmaking world in general not giving able women the opportunities, and that goes for other high positions. There is the argument of "A woman can't make a film in a man's perspective..." or "A man can't make a film in a woman's perspective..." which may sound absolutely absurd, but there is a factor in which many do not think about, and that is the history of filmmaking and film studies. Menkes points out how filmmakers have tended to put female performers in fantastical lighting, with beautiful make-up, and being given revealing wardrobe choices in comparison to supposedly equal male performers. With these factors basically becoming part of how female characters are presented on screen, the entire gender has been given a pedestal to stand on, and audiences over the years have subconsciously began to accept what was on screen to inspire trends and culture. Others such as slow motion being used for sexy shots for women, but for men slow motion would be used most commonly for action sequences. True, there are examples of female super heroes in slow motion, or Daniel Craig exiting the water in "007 Casino Royale" in sexy slow motion, but they are few examples in comparison.

Menkes lists the following five points in her presentation: 1. POV/Subject/Object, 2. Framing, 3. Camera Movement, 4. Lighting, and Narrative Position. Using over one hundred clips of films from the early silent era to modern productions, foreign language films, female directed works, and also her own features, there are a large number of works that are extremely well known such as "Metropolis" (1927), "The Lady from Shanghai" (1947), "Vertigo" (1958), "Carrie" (1976), "Raging Bull" (1980), "Do the Right Thing" (1989), and "Superbad" (2007). Within each part of the presentation, she shows examples of how the male gaze is placed in the sequence or the shot, how it affects the audience and how it can make unacceptable behavior seem acceptable because it is through the eyes of the characters. The presentation as well as the film is well organized and well edited with the clips, though it is not only her thoughts and voice to be heard.

Throughout the documentary there are a number of notable figures that give their thoughts on the subject as well as personal incidents to emphasize the points. Directors like Catherine Hardwicke and Julie Dash, performers like Charlyne Yi and Rosanna Arquette all recall their difficult experiences. Lara Dale shares her story of how her acting aspirations ended. Film theorist Laura Mulvey offers her extended thoughts on the subject matter. Along with the other participants, Menkes is able to connect the dots between the filmmaking world and how its malecentric guidance has continued to influence the world by objectifying women and silencing their voices in the process.

There are examples of counter-arguments within the documentary, such as how there are examples of men being objectified through the lens in certain films, how men are given the female lighting set-up, and examples of female directors using the male gaze in their films. She also makes an important comment that the choices to show women in sparkles and men in harsh lighting, etc. are not particularly a conscious decision by filmmakers but more or less a subconscious decision due to years of male eyes trying and testing their skills with the cinematic medium for over a century to great success. In addition, she is giving audiences a chance to see films in a new light - in a way they may have not noticed before. It's not about hating or boycotting what was already produced as she even mentions that there are a number of masterpieces that fall into the "male gaze" category, but about acknowledging the information and making substantial changes within the artform.

While Menkes is able to bring a lot of fascinating information to the limelight, there are a number of factors that are not mentioned either. The male gaze has been around long before cinema, as artworks in painting and drawing, much of them being done by male artists over the years have emphasized female beauty rather than men. Make-up, skincare, hair products, and other beauty-care have put more effort into the female spectrum to make them conscious of care and appearance more than for men. Women's lingerie has and still is a major business but for men there is very little in choices for underwear fashion in comparison. Magazines, television, commercial advertisement, and much more have also placed emphasis on the male gaze throughout the years and with the new millennium and the internet, the best Instagram posts and the most viral TikTok videos have come from the best looking female influencers. Sure there are ways that women have taken the factors into their advantage, but the inequality is undeniable on many levels. Menkes may not be placing all the blame on Hollywood, but "Brainwashed" sometimes feels like it. As much as there are examples to think about, there are some examples that are not given enough context to make a full decision.

"Brainwashed" has great discussion points, but it will take quite a lot to make big enough changes to make the stereotypes and film language of the last hundred years to change. Granted in the post-#MeToo and post-#OscarsSoWhite movements, there have been some emphasis for the industry to make changes to become more inclusive. But now with the writer's strike and actor's strike of 2023 still continuing and bringing the business to a standstill, it clearly shows that there are many other serious roadblocks to separate the executives from the creators. Menkes has updated her presentations on a number of occasions to expand certain elements and also include differing film clips. Maybe one day, she will be able to make one with more positive updates, but it will be some time until new and fresh ideas can come along.

"Brainwashed" first screened at the Sundance Film Festival in January 2022, and was later screened at various festivals worldwide from Berlin to Istanbul to Jeonju to London, receiving praise for the production and the awareness, and criticism for the one-sided viewpoint and content. It is hard to change the minds of cinemagoers, but the documentary's purpose is not to discard and change minds completely. It is to raise awareness and make people question where filmmaking will go in a more inclusive future.

Note this is a region B Blu-ray

Video


The BFI presents the film in the 1.78:1 aspect ratio in 1080p AVC MPEG. The documentary portions were shot and edited in HD and the results are excellent, with bright and bold colors with great depth and sharpness, courtesy of cinematographer Shana Hagan. As for the film clips, they are presented in their original aspect ratios, from 1.33:1, 1.85:1, to 2.35:1, with black bars to fill the extra portion of the frame. Most of the time they are HD transferred clips and look excellent. There are a few examples such as clips from "High Desert Kill" (1989) and "Mandingo" (1975) that come from less than ideal video sources. But for the most part, the image looks excellent throughout.

The film's runtime is 107:23.

Audio


English DTS-HD Master Audio 5.1
English LPCM 2.0 stereo
There are lossless 5.1 and uncompressed 2.0 stereo options available. The dialogue is almost always centered while the surrounding channels are used mostly for music cues by composer Sharon Farber and some background noise. When film clips play, the surround channels are also utilized. For mono films they will stay in mono, but films with stereo or 5.1 original audio will have some stereo or surround activity placed. Voices are always clear and music is well balanced throughout.

There are optional English HoH subtitles for the main feature in a white font which are well timed and easy to read. When foreign language film clips are played, there are burned-in English subtitles for those scenes on the frame.

Extras


Audio Commentary by Nina Menkes and Cecily Rhett
This commentary which was recorded in November of 2022 has Menkes joined by editor Cecily Rhett. They discuss about the challenges of choosing from over 500 films, having the main focus being cinematic techniques, how the interviews were conducted, information on Menkes' own works, the editing process, and more. While there is a good amount of information included, it seems a lot of it is repeating what was already established in the documentary itself.
in English Dolby Digital 2.0 without subtitles

Nina Menkes Q&A (31:26)
Moderated by curator, writer, producer and script editor Rachel Pronger, Menkes is interviewed on stage after a screening at the BFI Southbank on May 10th, 2023. Talked about are the choice of film clips, the reactions to the presentation and documentary, the inclusion of female filmmakers, elements she couldn't include, and more, which also include questions from the audience members. The Q&A has also been embedded below, courtesy of the BFI.
in 1080p AVC MPEG-4, in 1.78:1, in English LPCM 2.0 without subtitles



UK Theatrical Trailer (1:45)
The original British trailer is presented here, with a number of critical quotes. The trailer has also been embedded below, courtesy of the BFI.
in 1080p AVC MPEG-4, in English LPCM 2.0 with optional English HoH subtitles



Booklet
The first pressing also includes a 24 page booklet. First is an introductory statement from Nina Menkes. The first essay is "Brainwashed" by filmmaker and curator Sarah Wood which looks at the documentary, its themes, and its responses. Next is "Explanation as Composition: or Brainwashed Is the Most Important Film Ever Made" by poet, screenwriter and author Kenneth Reveiz on the film's message and importance. There is also "Nina Menkes: Giving Voice to Female Rage and Despair" by Sophia Satchell-Baeza, which is a written biography on the filmmaker. There are also full film credits, special features information, transfer information, acknowledgements and stills.


There is also a US Blu-ray from Kino Lorber available, which has the same commentary, the US trailer, plus isolated excerpts of the score and a differing Q&A with Nina Menkes. (We currently do not have full specs for the disc itself.)

Other notable clips:


BFI Player introduction by Mark Kermode


Short interview clip with Menkes from the Sundance Film Festival


Trailer for Arbelos' "Cinematic Sorceress: The Films of Nina Menkes"


Discussion with Menkes on the film from the Alliance of Women Film Journalists


Conversation with composer Sharon Farber and editor Cecily Rhett

Overall


"Brainwashed: Sex-Camera-Power" is an eye-opening discussion on the objectification of women through cinematic means through a fascinating presentation plus a variety of interviews. Some of the elements are debatable and that is essentially the point. By making conversation and discussion points. The BFI's Blu-ray is excellent, with a great transfer and a good but short selection of extras.
| | | | | |
| --- | --- | --- | --- | --- |
| The Film: B | Video: A | Audio: A | Extras: B- | Overall: B+ |