Song of Songs (The) (Blu-ray) [Blu-ray]
Blu-ray B - United Kingdom - Powerhouse Films
Review written by and copyright: Rick Curzon (12th August 2023).
The Film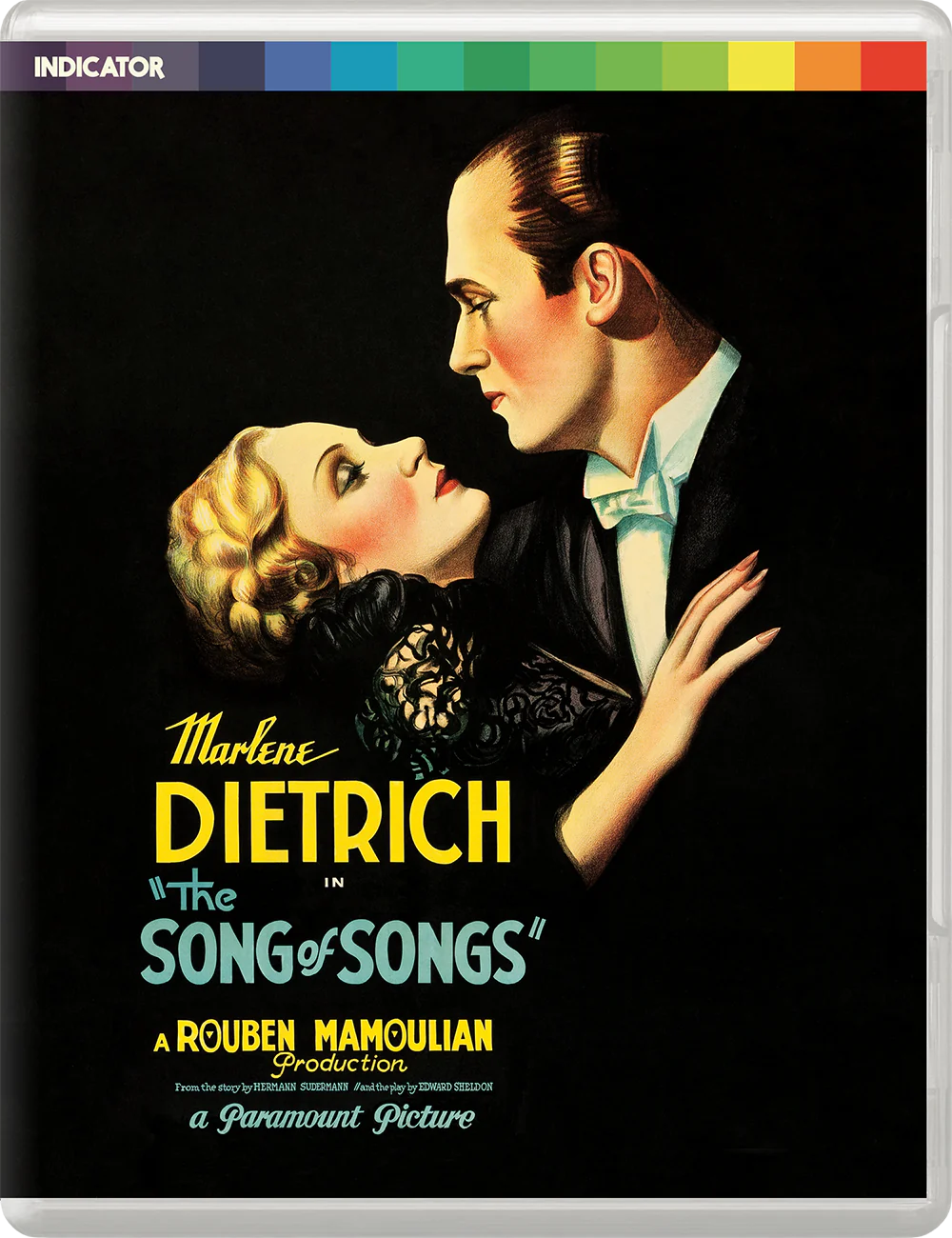 Marlene Dietrich (Blonde Venus) took a break from her classic run of films with Josef von Sternberg to make The Song of Songs, an atmospheric romantic drama co-starring Brian Aherne (A Bullet Is Waiting) and Lionel Atwill (The Devil Is a Woman).

Peasant girl Lily (Dietrich) moves to Berlin, where she falls in love with sculptor Richard (Aherne), for whom she poses. When Richard gets cold feet, Lily enters into an unhappy marriage with a wealthy Baron (Atwill), but longs to return to her true love.

Ravishingly shot by director Rouben Mamoulian (Dr. Jekyll and Mr. Hyde), and co-written by Samuel Hoffenstein (An American Tragedy), The Song of Songs is an exquisite and daring pre-Code melodrama.

Video


An enjoyable if fairly typical star vehicle in which an innocent young person grows up and becomes corrupted by the world.

According to to the booklet:
The Song of Songs was sourced from Universal's HD restoration, created
in 2008. The film's original mono soundtrack was remastered at the same time.
. It's an older master but it's been expertly encoded and although the image is a little soft, I think this is to be expected from a film of this vintage; the vast majority of films I've seen from the early '30s look similar. If I had to guess I'd say the image harvest is from a print source rather than a negative. Still, there's plenty of filmic grain beautifully managed by the encode with no compression artefacts.

Gamma os perfectly balance so no colour bias creeping in and saw very little evidence of speckles and other age-related damage. Online sources say the US Kino has some so additional cleanup seems to have been performed. Black levels and contrast are perfectly balanced with plenty of detail evident. No unintended crush nor blown out highlights. The transfer is as good as we can expect shy of perhaps affording a higher bitrate (it hovers in the early 20s on a single layered disc) or UHD and HDR ('B+').

1080p24 / AVC MPEG-4 / BD25 / 1.37:1 / 89:55

Audio


English LPCM 1.0 (48kHz)
Subtitles: English HoH

Simple mono track typical of the period. Fidelity is generally good, dialogue always clear and the score comes off well although there's little range and the usual amount of low level hiss. The track can sound a tad canned but that's typical of early sound films. When volume is cranked up some crackling and distortion does appear about this is to be expected. Excellent hard of hearing subtitles are provided. About as good as we can expect overall ('B+').

Extras


Audio commentary by film historian David Del Valle (2020)

Del Valle is one of those great characters found in Hollywood and in fandom who's been around for decades and has known more celebrities in the film world than I've had meals in my 56 years! His steady, warm presence is always a welcome addition to any disc release. He's done his research and knows his stuff kicking off with discussing Dietrich and her working relationships with Von Sternberg and Malmoulian and how they came to work on this film. This track covers the films trappings of early pre-code era risqué qualities, the careers of the key contributors, the films themes, individual scenes etc but the main focus is Dietrich and her mystique. As with every Del Valle yaktrak, we get plenty of personal reminiscences from the perspective of a fan and from having known and interviewed some of those onscreen. Presented in lossy Dolby Digital 2.0 mono (48kHz, 192Kbps).

"The Malmoulian Touch: Geoff Andrew on Rouben Mamoulian and The Song of Songs" 2020 interview (32:22)

Excellent interview with the venerable Andrew who gives us an in depth analysis of Mamoulian's life and career. Presented in 1080p24 1.78:1 with lossy Dolby Digital 2.0 stereo (48kHz, 192Kbps). Sadly, there are no hard of hearing subtitles.

"Lux Radio Theatre: The Song of Songs" 20 December 1937 radio episode (53:29)

Vintage radio adaptation has all the usual traits one would expect of a recording of this vintage: a slightly canned quality and limited range but it's all very listenable with dialogue, sound effects and score coming over clearly albeit with some hiss. If you've heard other radio programmes from this era then you know what to expect. Presented in lossy Dolby Digital 2.0 mono (48kHz, 192Kbps).

Theatrical Trailer (2:41)

Vintage promo presented in 1080p24 1.37:1 with lossy Dolby Digital 1.0 (48kHz, 192Kbps). There's plenty of minor damage here and it's a a tad contrasty with some blown out highlights, plenty of grain. Initially there's some minor weave but it stabilises quickly.

The Song of Songs Image Gallery: Original Promotional Material (31 images)

Lovely collection of HD images.

40-page liner notes booklet with a new essay by Rick Burin, archival articles, an overview of contemporary critical responses, and full film credits

Another excellent hardcopy booklet that supports the film and increases one's appreciation and enjoyment.

Packaging


Not sent for review.

Overall


Another Hollywood classic of the pre-code era gets the deluxe treatment from Powerhouse Films. The transfer used is older but has strong image and sound quality and has been expertly handled by the superb encode. Extras are very good if not has comprehensive as on other discs from this company. Pride of place goes to Del Valle's yaktrak which is a wonderful warm, learned reminiscence. Next is the excellent Mamoulian featurette and booklet. It's all good really and highly recommended ('B+').
| | | | | |
| --- | --- | --- | --- | --- |
| The Film: C+ | Video: B+ | Audio: B+ | Extras: B+ | Overall: B+ |

---
Rewind DVDCompare is a participant in the Amazon Services LLC Associates Program and the Amazon Europe S.a.r.l. Associates Programme, an affiliate advertising program designed to provide a means for sites to earn advertising fees by advertising and linking to amazon.co.uk, amazon.com, amazon.ca, amazon.fr, amazon.de, amazon.it and amazon.es . As an Amazon Associate, we earn from qualifying purchases.